By Athena McKenzie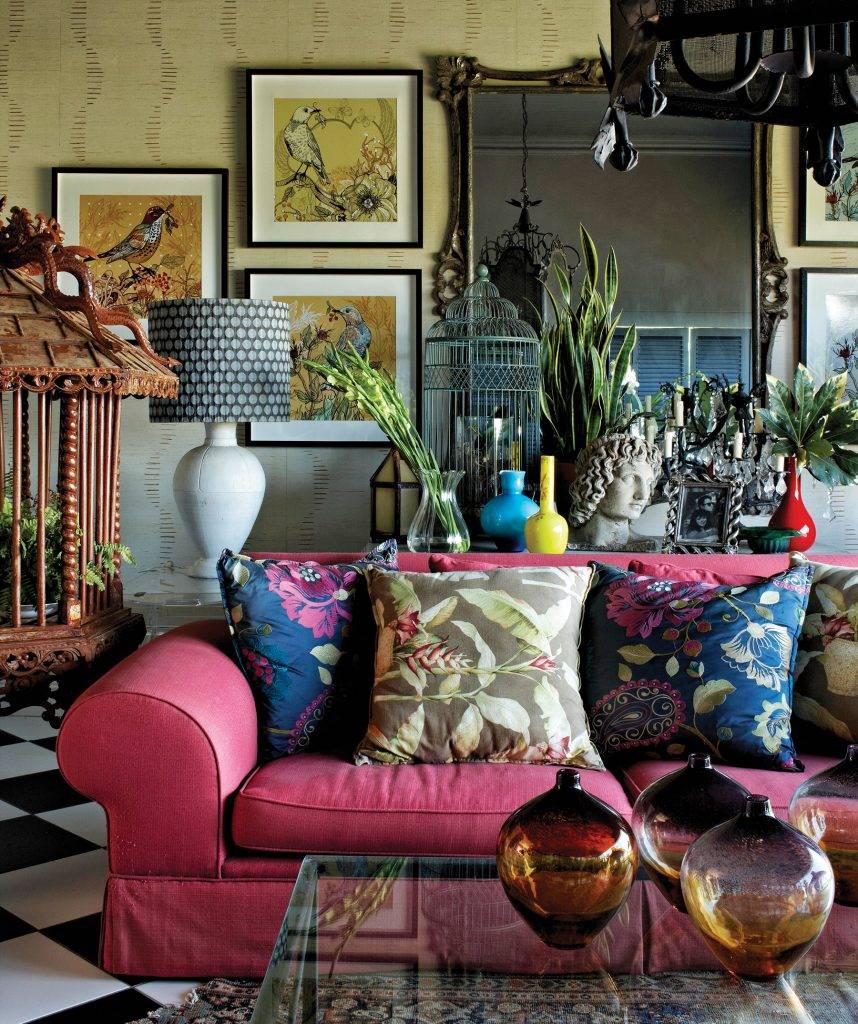 My good friend often deploys a quirky parlour game when she's entertaining new guests: she asks everyone to define their décor esthetic. On the rare occasion, she's been met with alarmed silence, but more often than not, a writerly round of one-upmanship follows.
"Bohemian science-lab."
"Victorian funeral-parlour chic."
"Bordello meets natural history museum."
"1980s stockbroker party pad."
In our home, where my partner and I have combined massive book collections, we call our vibe "Hipster bookshop hygge."
Recognized interior design styles, which have decidedly more serious names, run the gamut from minimalist and Hollywood regency to bohemian and mid-century modern. The popularity of these styles are constantly in flux, and they evolve with the times. While most people's homes do not fall within one specific, well-defined style, there are looks that one may gravitate to and use for inspiration.
Here are three trends that offer a little something for everyone: the bold more-is-more of maximalism, the natural minimalism of Scandi rustic, and the quaint appeal of cottagecore.
Living Large
If the internet is anything to go by, the embrace of the maximalism trend can be placed squarely at the feet of Marie Kondo. Tired of minimalism and decluttering, many are embracing the sea change in the world of interiors and leaning into maximalism. The ornate look encourages personalizing your space in the boldest way possible.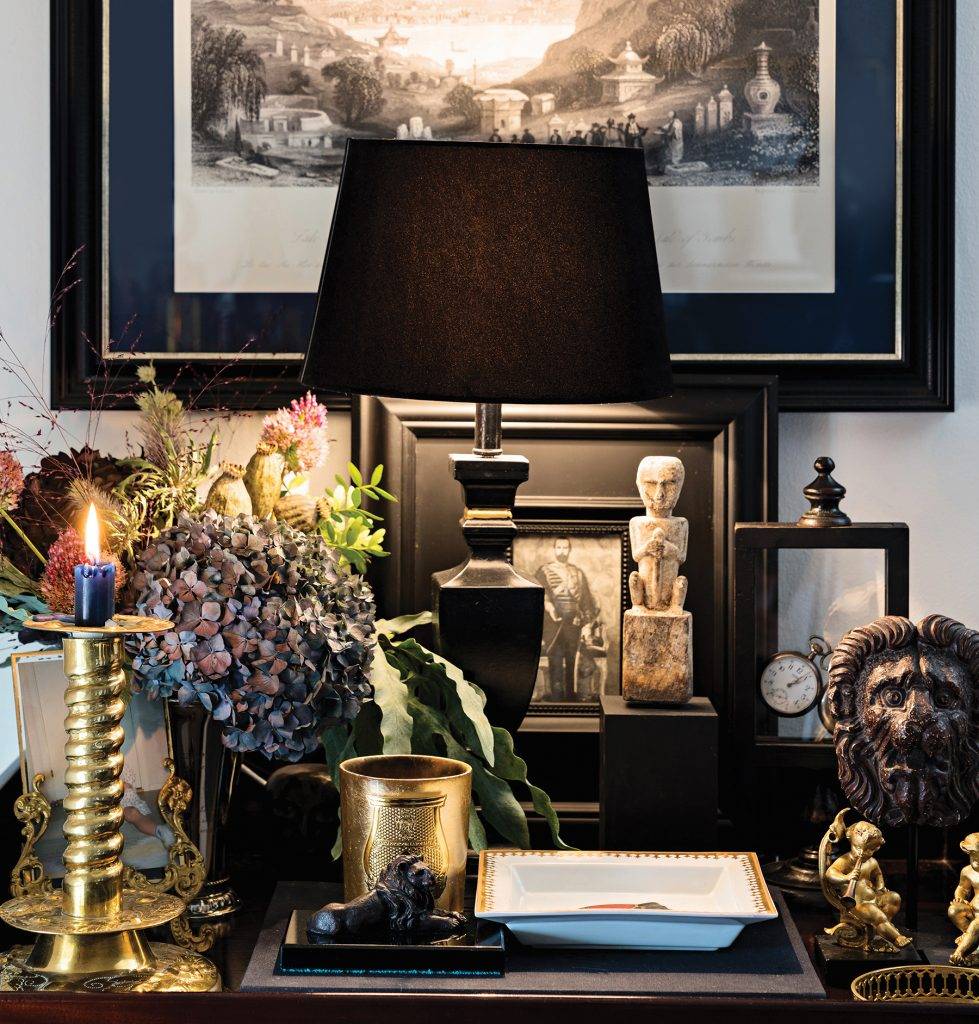 As the name suggests, maximalism is a highly stylized type of décor that experiments with materiality, colour, form, texture and layering. It is a strikingly visual style, with an old-world feel that makes abundant use of patterns, excessive — but curated — collections and saturated colours.
"It's curating elements in the right order and in the right proportion," says Victoria-based interior designer Ivàn Meade, who describes many of his own projects as maximalist. "It's creating a sense of rhythm and scale."
He cautions that eclecticism and maximalism are not the same things. While eclecticism, which mixes and matches different elements, can be maximalist, maximalism is highly curated and may not be eclectic.
A common misconception around maximalism is that it's just glorified clutter. While it does embraces the use of excess, it's meant to be done in a mindful, curated method.
"Maximalist interiors have had a bad rap in the past, because spaces can look like they've been decorated by someone who's had seven cups of coffee while nursing a hangover: chaotic and messy with overwhelming thoughtlessness and disarray that feels jarring and not at all serene," writes international design influencer Abigail Ahern in her recent book Everything: A Maximalist Style Guide. "Yet it doesn't have to be that way. I'm championing a new kind of maximalism. One that — when you get it right — feels considered, curated and magical."
She describes maximalism as "a highly stylized type of décor, and it holds comfort at its very centre. It's a full-on sensory experience that lifts your spirits and provides inspiration in a way that minimalism just can't."
To bring the maximalist esthetic into your own décor, it's important to tap into your own personal sense of style. Be sure to include rich, bold colours; layers of texture; the repetitive use of patterns (such as florals, abstract and animal prints); unique statement pieces; vignettes of items, such as statues, artwork and books.
"A great starting point is your colour palette," Meade says. "That will add continuity to your space, and you can bring it in through wall treatments, textures and fabrics."
He also believes the maximalist look is a wonderful way to use some of Victoria's specialized artisans.
"From Victoria Lampshade, who creates beautiful bespoke lampshades, to the plaster expert who can install unique ornamental elements, such as cornices, these are the ways we add different layers to make the space more special," Meade says. "At the end of the day, it's the combination of these small details that make a maximalist space so memorable." 
Natural Appeal
If "beauty in simplicity" sounds more like your speed, the Scandi rustic trend might be just your thing. While white walls, wood floors, modern furniture and minimalist décor are all hallmark traits of the Scandinavian esthetic, this design trend has evolved by bringing in homespun and natural elements.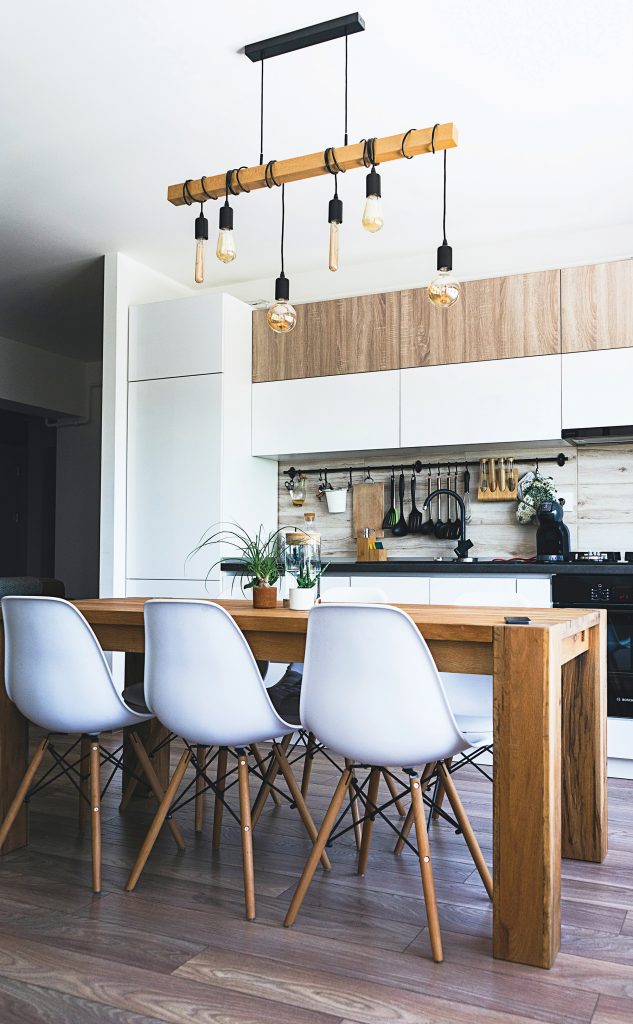 As Rebecca Lawson and Reena Simon write in Scandi Rustic: Creating a Cozy & Happy Home, this design sensibility grew out of the practice of hygge, and treating one's home as a sanctuary, which should create feelings of well-being and contentment.
Rustic Scandinavian interiors achieve this sense of comfort and calm by creating a strong connection with nature.
"One way to do this is by adding texture that is derived from nature," says Mari O'Meara, principal designer of Mari Kushino Design in Victoria. "Wood elements can create a more cozy, welcoming feel to what could be a stark space. Incorporating greenery, which can be landscape greenery through the windows or indoor plants, is one way to fill negative space and add texture. Even sheepskins add so much dimension and texture."
Other defining features are the simple monochrome colour palette and pared-down décor.
"If your interior palette is minimalist, it allows you to calm your mind," says O'Meara.
While there are no hard and fast rules, Lawson and Simon recommend using three or four key neutral shades and repeating them for a sense of rhythm, continuity and flow. Pale bleached tones are the ones most commonly used with this look, though dark and moody shades, such as charcoal, midnight blue and earthy brown, can also lend a rustic feel.
Lighting is one of the most important considerations with any look, and it plays a crucial role in creating the right atmosphere in a Scandi rustic space.
"Light fixtures are a great way to bring in natural texture and organic lines," O'Meara says.
In their book, Lawson and Simon suggest that each room should have three to four layers of light, including ambient, statement and task lighting. Ideally, these fixtures should be beautiful in form and practical in function.
These elements all work together to create a living space that invites the mind to rest.
"I personally think the appeal of this look is that it allows you to clear your mind," O'Meara says. "It allows you to live in the moment."
Country Charm
If you've somehow escaped hearing the ubiquitous term "cottagecore" this past year, it's the movement taking over everything from fashion and gardening to cooking and décor. Basically, it's a call back to a simpler agricultural life that is more harmonious with nature. Or as the New York Times described it in a recent piece: "Take modern escapist fantasies like tiny homes, voluntary simplicity, forest bathing and screen-free childhoods, then place them inside a delicate, moss-filled terrarium, and the result will look a lot like cottagecore."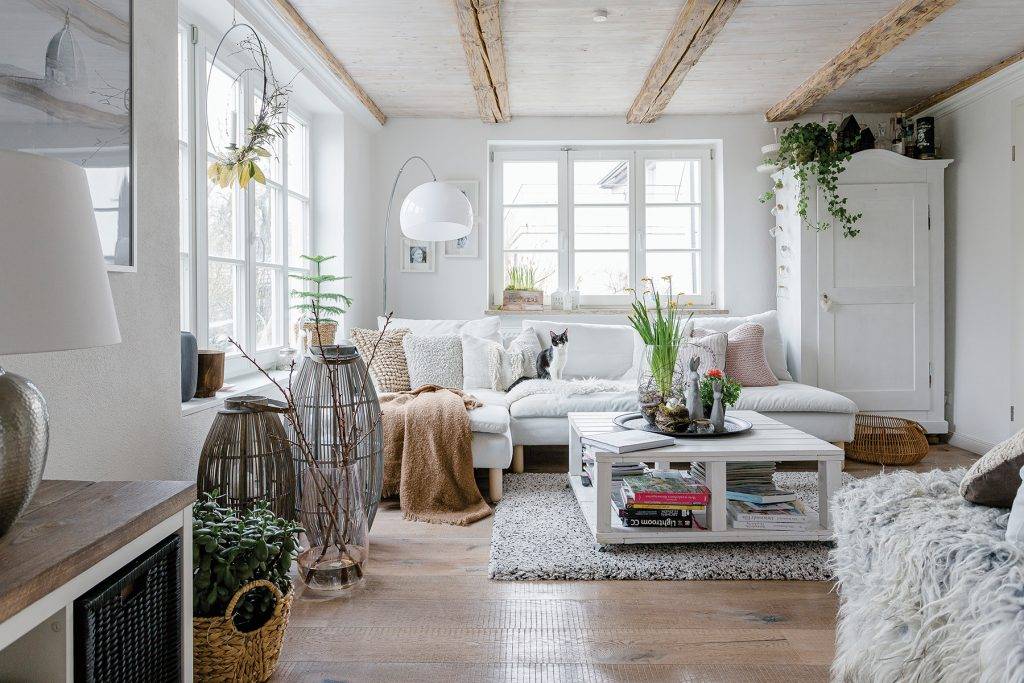 From a décor perspective, it's a nod to a traditional English countryside style, fully embracing the romantic and nostalgic. It should be noted that cottagecore is more of a way of life than a true décor trend. It often involves the pursuit of traditional skills, and these endeavours — such as container gardening, quilting and candle making — often end up affecting a person's surroundings. One has to display all their knitted throws, macramé plant holders and handspun ceramics, after all.
As with Scandi rustic, a key component of the vibe is bringing natural elements indoors but with a more maximalist, vintage feel. The colour palette is also neutral but leans to the warm tones. Think bunches of dried flowers or fresh flowers and houseplants, floral wallpaper, collections of vintage dishes and muted chalk paints.
Handmade elements are a trademark of this look. If you have a collection of crocheted quilts or woven wall hangings, this is the time for them to shine. Sleek, modern materials and minimalist design are not a part of this movement. Vintage furniture, wooden kitchen counters and open shelving are all embraced.
The best part? Perfection is not the goal with cottagecore. This look lets you create a homespun, cozy, comfy space that takes granny chic to a whole new level.