John and Yoko's Montreal Bed-In for Peace was one of the most significant cultural events of the 20th century, and Joan Athey is making sure no one forgets it.
By David Lennam // Photos by Jeffrey Bosdet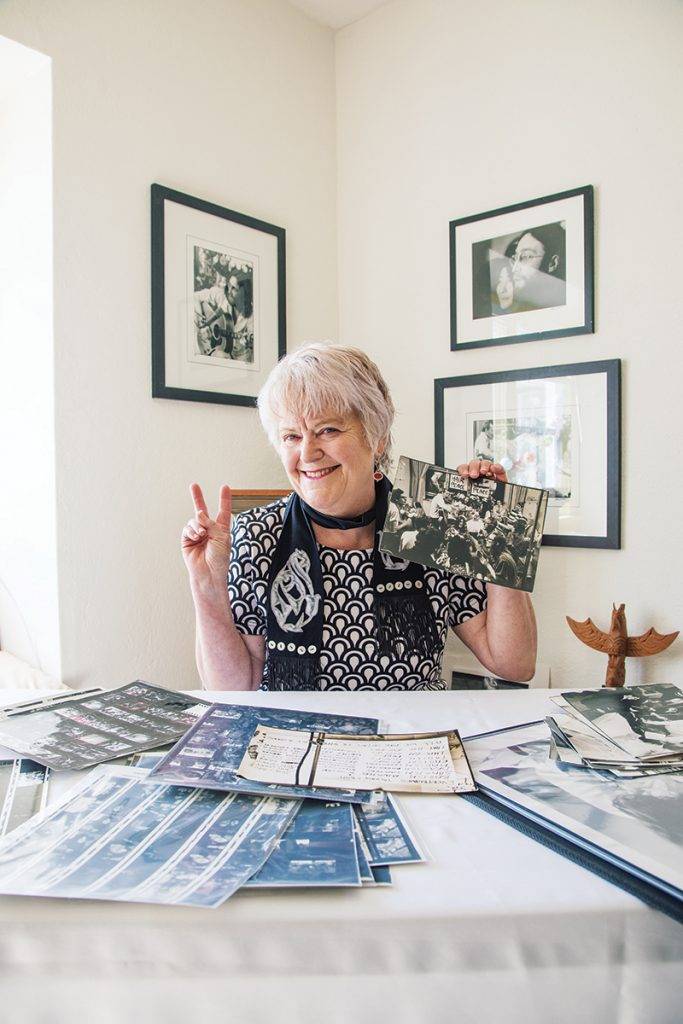 Let me put it this way," says Joan Athey, "how often do you get a chance to be involved in one of the greatest love stories of the century?"
Spoken without hyperbole.
The Victoria publicist, entrepreneur and bit of a gadabout is as good as tucked into bed with John Lennon and Yoko Ono in that famous hotel room in Montreal.
In case that was before your time, here's what happened: Lennon and Ono hunkered down at Montreal's Fairmont Queen Elizabeth for a week in 1969 to show the world that their love (any love, really) could bring peace to the planet. Their second Bed-In for Peace — the first was held at a Hilton in Amsterdam two months earlier — epitomized everything hippie counterculture valued.
It was a love-fueled ad hoc commune where LSD guru Timothy Leary lent his vocals on Give Peace A Chance, the anthem born of the happening. Also joining in on vocals was comedian Tommy Smothers, human rights campaigner Dick Gregory, poet Allen Ginsberg and a rotating cast of celebrity visitors, hangers-on and like-minded celebrants. 
The week was intimately chronicled by hotshot news photographer, Gerry Deiter, on assignment for Life magazine.
You Had Me at Bed-In
That's where Athey comes in, years later.
A chance encounter in a bar (though, with Athey, nothing is by chance) eventually turned into her becoming the owner of all 350 of Deiter's negatives and slides of that seminal week. Never one to miss an opportunity to promote, Athey assembled and toured the photos internationally — Tokyo, Liverpool, Chicago, Florida, seen by more than 160,000 people — and published a book, Give Peace A Chance: John and Yoko's Bed-in for Peace, that sold 18,000 copies.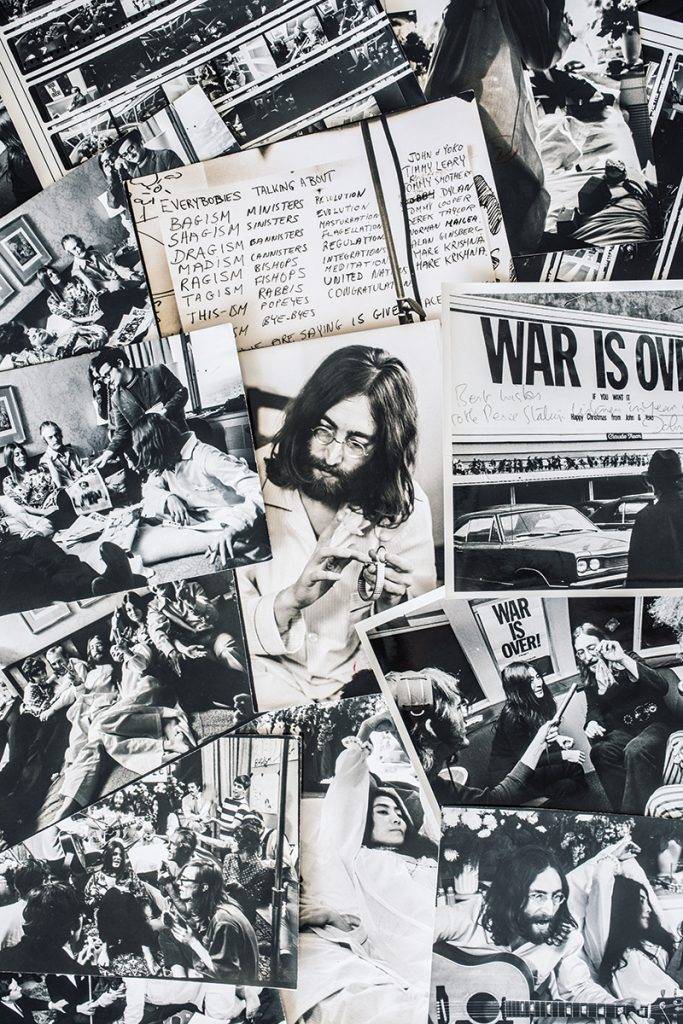 A revised edition comes out this month for the Bed-In's 50th anniversary. The photos will also be on display at Montreal's DHC/ART until mid-September. (While there, make a pilgrimage to Room 1742, the Queen Elizabeth's John and Yoko Suite.
The Genuine Article
"I like talking to men in bars," says Athey with a nod and a wink and that room-filling laugh.
Turned out she and Deiter both had a favourite watering hole at a back-in-the-heyday Swan's Pub in Victoria.
One night there, friends told Athey to go talk with that guy in the corner. He's from Brooklyn, he's interesting, he used to be a photographer in Greenwich Village … and, oh, he has pictures of John and Yoko at the Bed-in.
"I found him to be a totally authentic person, the genuine bohemian article," recalls Athey. "He didn't dine out on his stories. He was just as involved with modern issues and culture, but his belief in art and activism just simply hadn't changed."
She first saw Dieter's photos in 2001 at the Fran Willis Gallery. At the urging of his son, Deiter had finally put them on exhibition after they'd been boxed away for 30 years. Life had never run them, at the last minute bumping the feature to cover Vietnamese leader Ho Chi Minh's death.
It was at the Fran Willis Gallery, when the show closed, that Athey first saw the photos ignobly stacked in a little pile on the floor.
"I saw the first one, flipped to the second one and by the third one I just couldn't help it. 'What are these doing on the floor?' They so surpassed anything I could imagine Gerry was talking about in a photograph."
Under Athey's persuasive guidance and get-'er-done gumption, a pair of shows were arranged, the first in 2004 in Vancouver, on the Bed-In's 35th anniversary. The following year, they were up at the Royal BC Museum as part of the Linda McCartney travelling photo exhibition.
And three days after the opening, Deiter was found dead on the sidewalk on his way to Swan's. The 71-year-old suffered a heart attack one day after commemorating the 25th anniversary of Lennon's death.
"I was angry with him after he died. I wanted to ask, 'Why didn't you tell us more about these pictures?' The fact was he never looked at them," says Athey.
Deiter's son decided to sell the images, and Athey started looking for buyers until her partner, Rob, said, "Joan, why don't you buy them? [Deiter] would have wanted that."
With two goals in mind — to establish Deiter as one of the great 60s photographers and to rekindle the spirit of Give Peace a Chance, which was Deiter's intention — Athey has been the perfect steward for the collection.
"If I hadn't bought them I know exactly what would have happened to them," she says. "They would have been bought by a collector, and they never would have been seen. They would have been cut up. This is often what happens, they cut the negatives up and sell them individually, and the whole collection is gone. You lose the story."
Athey put in months researching each photo, identifying and reaching out to everyone who was in the room, including journalist Charles Childs, who was sent by Life to write about the Bed-In; Tony Lashta, the hotel bellboy who later became an employee of Lennon's; Gayle Renard who, as a 17-year-old, snuck in an open window at the hotel, knocked on the door and was let in by Ono; and even the woman who embroidered the Yellow Submarine blanket seen in some of the shots.
"I know more about the bed-in than Yoko does, I'm quite sure," Athey laughs in her throaty chuckle. "I never thought I'd spend my sunset years being an expert on a week in 1969, but I am."
The whole thing, she says, "almost feels like sitting on the edge of their bed," and she's pretty sure Lennon is looking over her shoulder, making things happen.
"I give him a call every once in a while to give me a hand to make some obstacle shift."
---
This article is from the May/June 2019 issue of YAM.