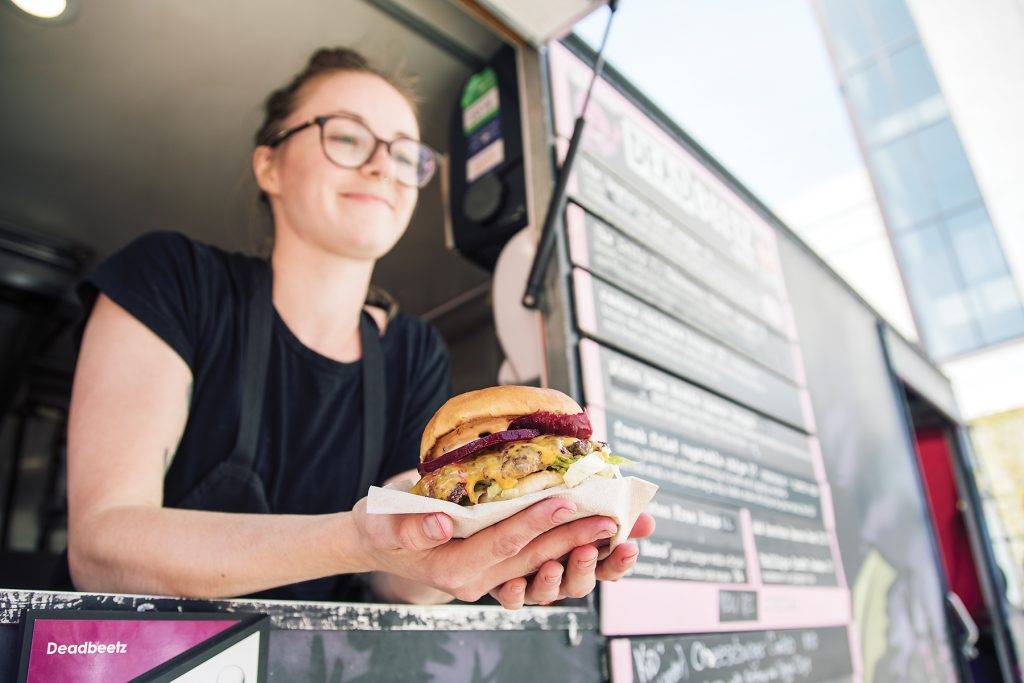 by Cinda Chavich
A great way to enjoy local dining in the great outdoors is to truck on down to visit one of the city's great little restaurants on wheels.
Food trucks offer fresh, local food, cooked to order, and a place where chefs can test out their creative chops.
The culinary student-run Camosun Cuisine Machine is a perfect example, serving a weekly lunch at Camosun College — think shawarma and falafel wraps, grilled cheese sandwiches and homemade soups.
Deadbeetz is on site with other food trucks behind the Royal BC Museum — the Beetrice Burger with pickled beets is their signature. And there may be no better place to take away fish and chips than the truck that sits outside Finest at Sea in James Bay. Try a cheesy breakfast sandwich at Melt Truck, a big burrito stuffed with tender pork belly and Asian slaw from Taco Justice, and arancini (risotto balls) from the Indecent Risotto truck. Songhees Seafood & Steam offers Indigenous flavours, from the wild sockeye salmon burger with Saskatoon berry barbecue sauce and nettle mayo on bannock to their tasty yam, salmon and clam chowder. Try Greek on the Street for souvlaki and gyros wraps, or get a breakfast sandwich and vegan Mylkshake from Morning People, both in the courtyard in Cook Street Village.
Food trucks park full time behind the Royal BC Museum downtown, but you'll also find them popping up at the RoyalBay food truck court in Colwood, the Courtyard on Cook Street, at farmers' markets and many outdoor events. Follow their social media feeds or checkstreetfoodapp.com, to see their hours and locations.
Spring is in the air and the trucks are revving back up!
DA BOMB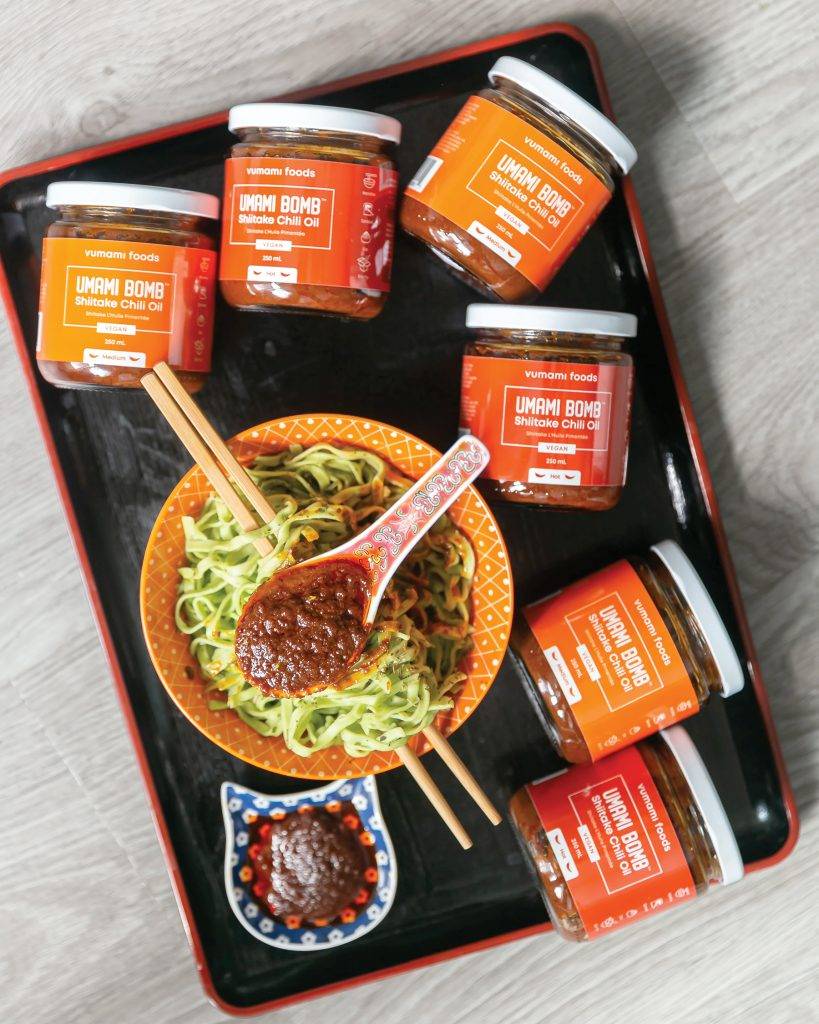 Umami is that unique meaty glutamate flavour that comes from meat, mushrooms, aged cheeses and fermented foods. It's what makes fish sauce a secret soup booster and gives seaweed its savoury edge.
When Sidney couple Lauren Isherwood and Nicholas Baingo adopted a vegan diet, they were missing the rich flavour of umami and set out to find a solution. Their new product, Umami Bomb, is the result. A spicy condiment that combines shiitake mushrooms and chili oil with other savoury stuff, it comes in four variations (medium, hot, extra hot, garlic) to spoon into your stir fries, spread on a sandwich, dip your dumplings in or toss with noodles.
"It's a very unique product and flavour profile," says Isherwood, "and there's really nothing else like it."
A portion of the profits from every jar sold is donated to Food Banks BC.
DOUGH, A DEER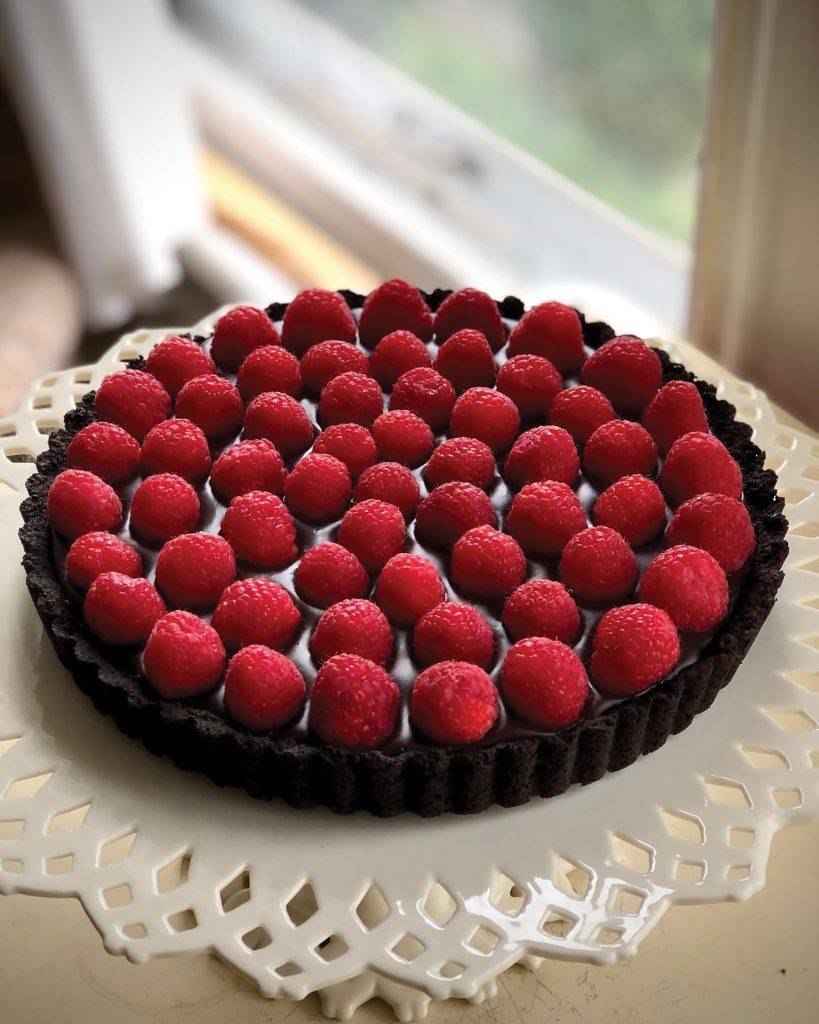 If you love pie, you'll want to put your order in at Deer & Dough Bakery. It's Melinda Friedman's new micro-bakery project, with a variety of baked goods available only to preorder and pick up from her 130-year-old house in James Bay.
Check out her Instagram account to see what's cookin' — from fancy cakes and butter cream brownies to mini bundt "flights" and those perfect pies, both sweet and savoury, encased in laminated layers of buttery pastry. Beautiful home baking to go.
GOURMET DIP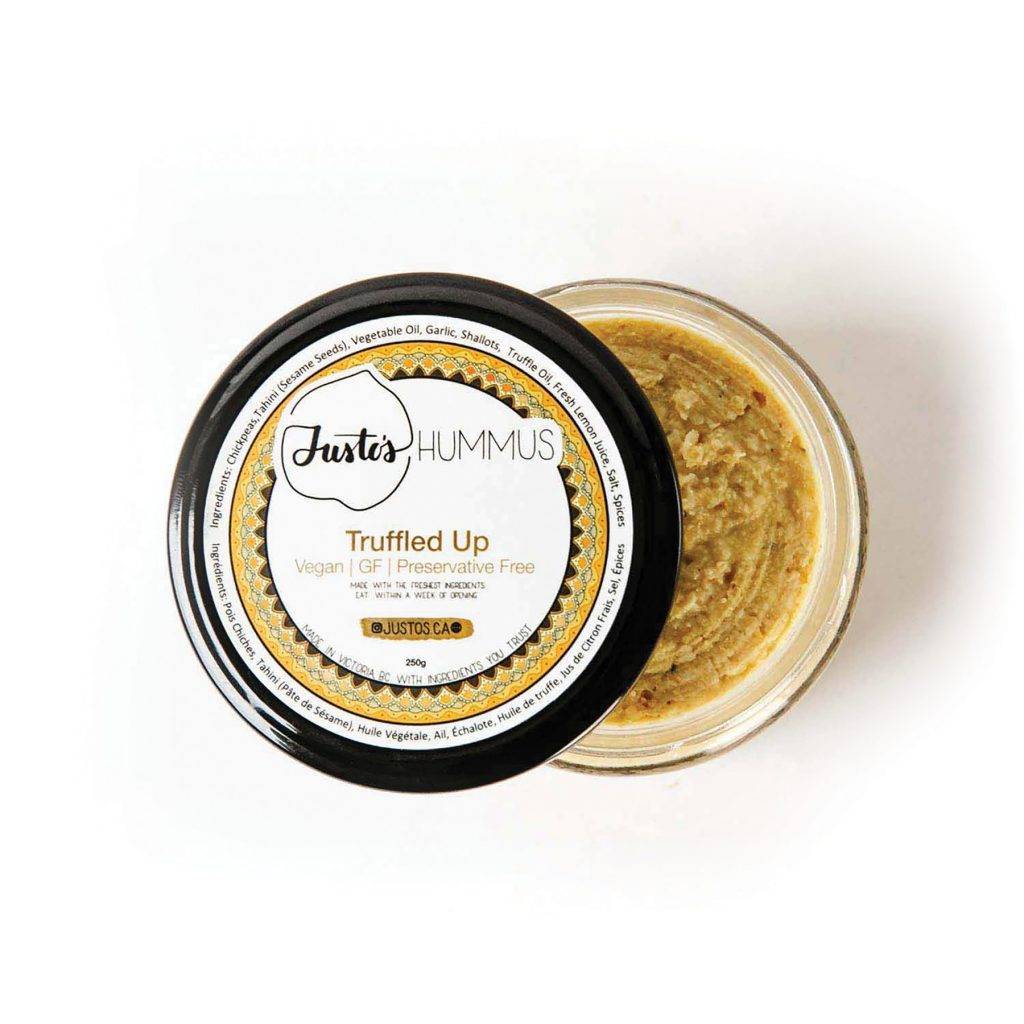 Justin Kopetzki, co-owner and CEO of Justo's Craft Dips, fell in love with hummus while living overseas.
"Hummus is a delicious, healthy and versatile plant-based snack that I often ate across multiple meals throughout the day,"he says. "I noticed upon returning home that there was little variety in flavours, most brands used artificial preservativesand their products were overly processed."
Justo's contains 95 per cent Canadian-grown ingredients, uses no artificial preservatives, and comes in unique flavours like Smokey Chipotle, Truffle and Lemon Cumin.
"Best of all, our glass packaging is 100 per cent recyclable," Kopetzki says. "In addition, we have started a Hummus Helps initiative, where we donate one serving of hummus for every jar sold, as well as an additional serving for every jar returned. In our first year, we were able to donate over 800 pounds of hummus to our charity partners in Victoria, who feed underserved and vulnerable populations."
Baked Falafel & Hummus Recipe
• 1 can chickpeas, drained and rinsed
• 1/2 red onion
• 1/2 heaping cup fresh parsley
• 1/2 heaping cup cilantro
• 1 clove garlic
• 1 tbsp lemon juice
• 1 tsp cumin
• 1/2 tsp baking soda
• 1 tbsp all-purpose flour
• Justo's Hummus, for serving
Preheat the oven to 400°F. Add all ingredients to a food processor or blender and mix until desired consistency. Form into roughly two tablespoon-sized balls and press the tops down slightly to form a disc.Bake for 30 to 35 minutes, flipping halfway. Serve with Justo's hummus to dip in. Enjoy!