YAM visits Laura Harris in her downtown studio and discovers why this Victoria artist, celebrated for her abstract florals and landscapes, has traded the comfort zone for life on the creative edge.
By Susan Hollis
Photos by Jeffrey Bosdet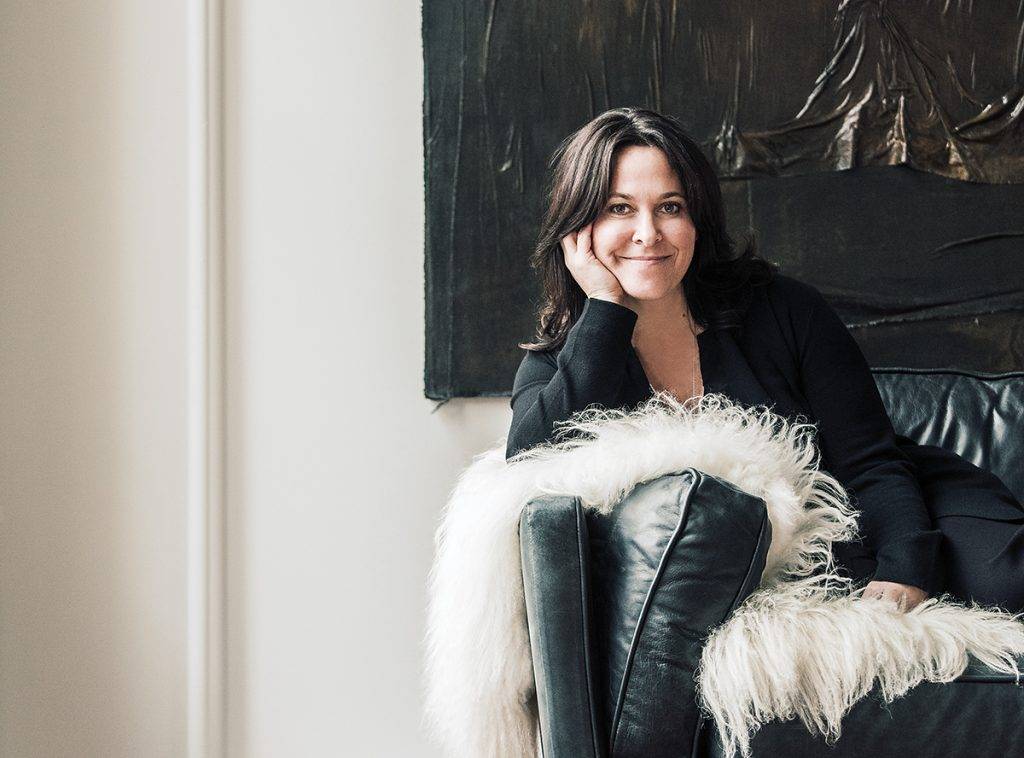 ---
Seeking discomfort isn't a prevailing human instinct, but when Victoria painter Laura Harris looked around the backyard cottage studio that had been her creative sanctuary for 17 years, she realized leaving was the best option she had. And although it made little financial sense for her to commute and pay rent for a downtown workspace when she had a perfectly good home studio, she knew she needed to shake off the cobwebs of convenience to elevate her artistry.
"[The cottage] was too comfortable and it felt stagnant," she says. "I think as an artist who's been doing it this long — and knowing what sells and knowing you can get into a wicked routine — I had to change. I've seen other painters lose that ability to experiment with their work in that unapologetic way."
In her downtown heritage studio and gallery above Hughes Clothing, Harris's painting corner and walls of finished canvases are illuminated by museum-grade track lighting installed by her partner, Pete Ells. Light pours in from a cathedral skylight and an enormous bank of windows overlooking Yates Street. It's relatively quiet in the studio, except for an occasional scolding bark from Harris's rescue dog, Chester, but the streets below are full of busy energy, a marked contrast to the serene backyard studio she left behind.
Today she sits in front of clean, white walls hung with paintings that will go to various galleries, shows and collections around Canada. She gestures to a painting she recently completed, one with magnetic, tumbling layers of cerulean blue, pointing out the tiny details — a wave of acrylic, a thread of linen — as she explains her process. Her paintings have life and character and individuality, so when they sell it's not solely a commercial transaction — it's an adoption of sorts. Buyers are collecting pieces that were created by an artist who is able to access an intense inner landscape and who has something to say.
"I want to make pieces people react to," she says. "When you see someone have a powerful reaction, that's my favourite. I've had people experience strong emotion with my work, and I think that's what kind of growth I want — I want to continue to be that kind of relevant."
The paintings that line the perimeter of the studio are quintessential Harris — a signature brand of expression that falls into the category of abstract realism. Evocative and moody, her paintings are layered to catch the eye and draw the viewer into the minutiae of thoughtful brush strokes and organic fabrics shaped and painted into place just so. Like their creator, they offer a sense of processed complexities — thoughts translated to a sublime expression of the natural world.
"The florals have been around the longest — people love them," she says. "I keep doing them because they can be so emotional. They're almost like little characters; you can bend them and make them feel sad or joyous."
Dressed simply, with little makeup and a black sweater, Harris appears in every way a woman in charge of herself, unfussy in appearance and diction — the hallmark of one who said goodbye to general frivolity in favour of unobstructed emotional clarity a while back.
Talking about her work, she projects enthusiasm combined with a deep sense of focus, and it's clear that after maintaining a 20-year career high as a painter, she has no intention of slipping into cruise control.
"It's hard to stay honest [as an artist], and reinvention is really important to me. As I get older I just want to get better," she says. "I don't want ever to think, 'Oh, it's time to wind this down.' I want to stay fresh and stay current, and I'm interested in what's going on and what trends are happening. I want to be uncomfortable."
Pushing the Limits
With two teenage daughters at home, plus a number of side gigs, including clothing design, Harris admits her life can get hectic, which isn't always good for creative expression. She recently slammed her painting hand in the car door and, seeing it as more than just a temporary moment of bad luck, took it as a sign to slow down and refocus on the things that matter to her.
Gone is the mania to produce paintings no matter what — she has learned to ask herself what she needs, and if it isn't painting, she'll honour that until she's able to step back to the canvas with her heart in place. That said, Harris has taken very little time away from her art in the past two decades.
"Her paintings are ever-evolving — Laura is never content with the status quo, instead pushing her limits both technically and emotionally," says Liz Harris [no relation], owner of Adele Campbell Fine Art Gallery in Whistler, who has known Harris for 15 years.
"Her creations are sometimes turbulent, sometimes serene. They're romantic, pensive and elegant. "
Non-Conforming
A born artist, Harris has been attracted to the abstract disciplines since early childhood. But she values her earliest education — one rife with rules and precision — which taught her that to play outside the lines she must first learn to play within them.
"My dad was my first teacher," says Harris, a fourth-generation Victorian. "He's a realist — a mechanical engineer — so he's very accurate, very tight. He taught me perspective."
That perspective, she adds, is the best gift she's been given. "He gave me an awesome little fighting spirit that had to defend what I thought was right," she says. "… what really is most valuable now is standing up for what I believe is right — my style, unapologetic and not conforming. And he gave me that."
After high school, Harris studied graphic design at Camosun College and started a design firm with a focus on branding and visual identity, a skill set she credits as critical to her success as a painter. When a friend asked if she was interested in sharing a studio space on Herald Street to paint for fun, she thought she'd give it a whirl. That led to her first sold-out solo show and the decision to close her graphic design business in order to paint full time.
That was two decades ago. Today, Harris is still a full-time artist, something few people can claim to have achieved. She's also heavily involved in managing the business side of her career, teaches painting at international retreats, has plans for a cookbook and, with a friend, is designing a line of lounge wear to be released this spring.
She's at a stage of life, she says, where routine can be dangerous. Instead, she seeks the untested path, taking issue with words like "inspiration" and "talent" for being a little too easy. She says the artists she admires, people like Andrea Soos, Fern and Rick Long, Tim Hoey and Michelle Heslop, are workers who respect the need to hustle, to do better, and to go all-in.
"[Success] takes getting to work," she says. "Step in front of the canvas and do the work — some days I do that and it feels like work, and some days are absolute bliss … I'm proud of being a woman in this industry who's been at it for this long and is still having successful solo shows."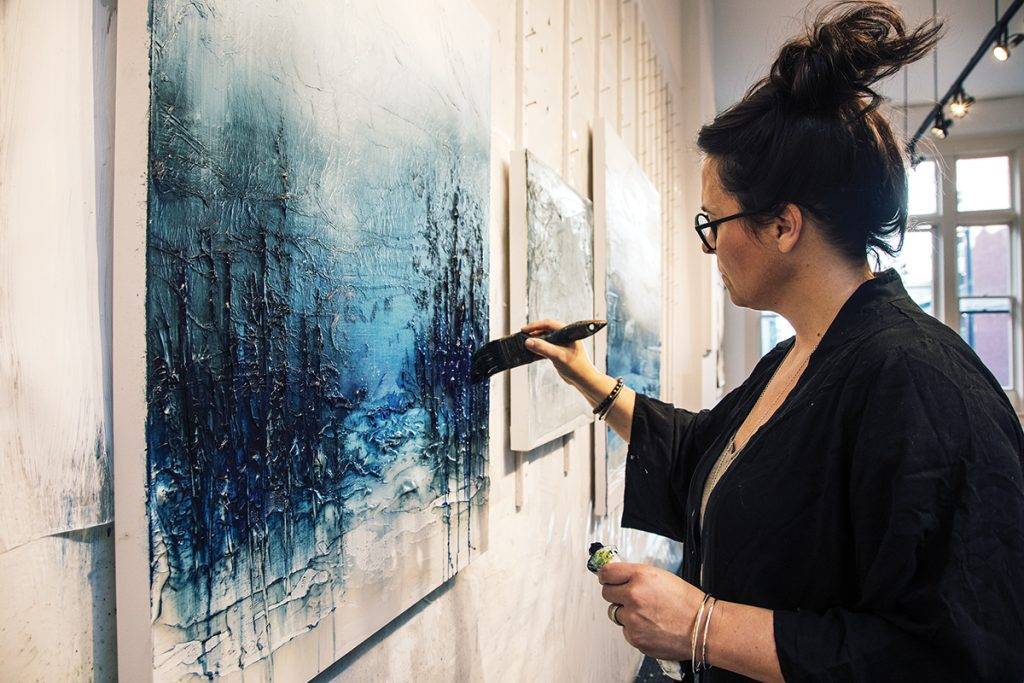 Real Moments
Today, Harris's reputation has spread across the country, and her works can be found in the collections of Mercedes Benz, the Ritz Carlton and Canaccord, among others. She puts together two solo shows per year, plus regular commissions for the six galleries that represent her paintings across the country, including Adele Campbell Fine Art, Mayberry Fine Art and Canada House Gallery. Now commanding anywhere between $1,200 and $25,000 per painting, she still remembers when her paintings were going for $60 per canvas in the 90s.
When asked how it feels to charge $25,000 for a painting, Harris says she's only uncomfortable about it when someone in her family sees the prices.
"I've worked hard, and I've been at it for a long time, and I think I've gone about it the right way, and my work is still being pulled through the market," she says. "It's very much something that I've earned."
While she has no plans to put an end to the trademark style that has brought her such success as a painter, Harris is moving in new directions artistically, building on the body of knowledge she's developed to test new ground. Some of the boundaries she wants to push come not only from a sense that she should do more, but that she can do more.
"I have so much further to go, and I want to get better," she says. "When you're a young artist you're just so happy to get any opportunity, and now I'm at a point where I can pick and choose how I move forward."
---
This article is from the January/February 2019 issue of YAM.