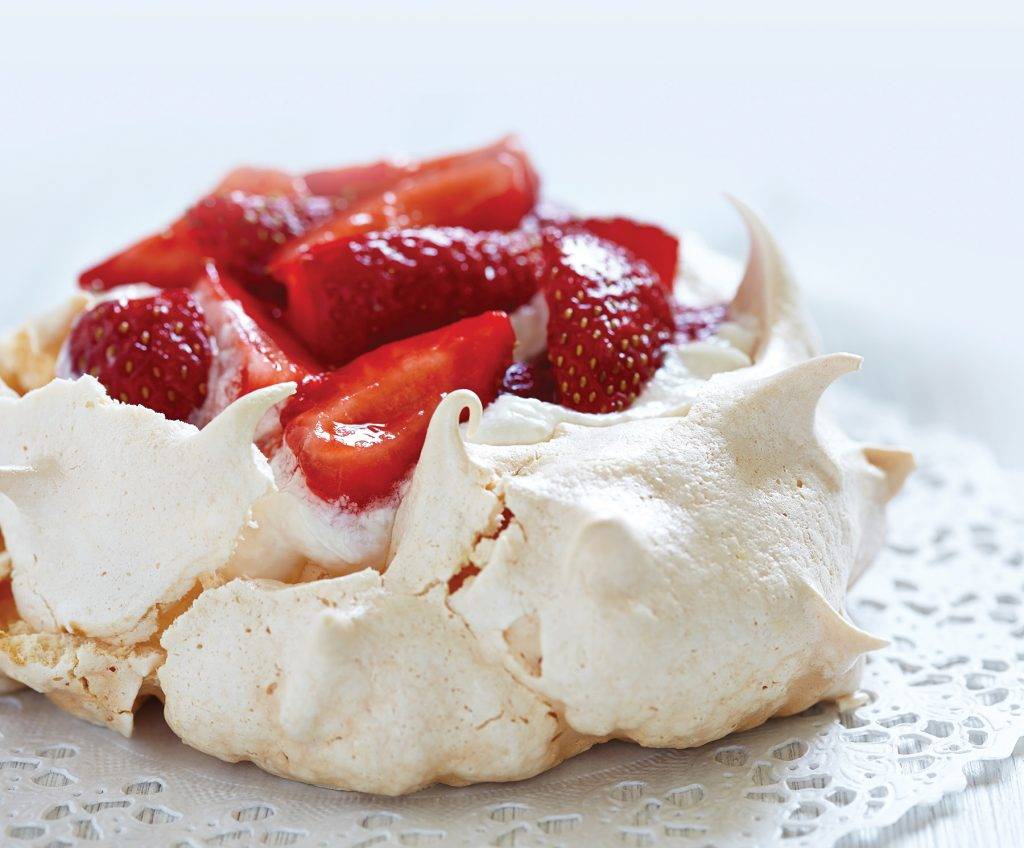 By Cinda Chavich
The lemon custard tempers the sweet meringue in this version of classic pavlova. You can fill with any seasonal fruits or berries.
• 4 eggs, separated
• 1 teaspoon vanilla
• 1/4 teaspoon cream of tartar
• 1/4 teaspoon salt
• 1 1/3 cups sugar, divided
• 1/3 cup lemon juice
• 2 tablespoons minced lemon zest
• 1 cup whipping cream (or plain Greek yogurt)• 4 cups ripe strawberries, sliced (or other berries/fruit)
Line a cookie sheet with parchment and draw a 9-inch circle (or eight 4-inch circles for individual pavlovas).
Using an electric mixer, beat egg whites, vanilla, cream of tartar and salt at high speed until soft peaks form. Add 1 cup of the sugar gradually, a tablespoon at a time, and beat until the whites are glossy and stiff.
Using the parchment as a guide, spoon the meringue onto the baking sheet. Mound it higher around the edges, forming a bowl in the middle for the lemon custard.
Preheat the oven to 200ºF and bake the meringue for 1 hour, until crisp. Turn off the heat, leave the oven door ajar and allow to cool in oven.
In a saucepan, whisk the egg yolks with remaining 1/3 cup of sugar and lemon juice and heat over low heat.Cook, stirring constantly, until the mixture is thick and smooth, about 5 minutes. Stir in the lemon zest and set aside to cool.
In another bowl, use an electric mixer to whip the cream until stiff. Fold the whipped cream into the cooled lemon custard, just to lighten it. Alternatively, simply combine lemon custard with yogurt to create a sauce.
Just before serving, fill meringue(s) with lemon cream mixture and decorate with fruit.
Serves 8.