Victoria is a literary destination, as much built on books as bricks. In this city of words, writer Robert J. Wiersema — bookseller turned novelist — shares lessons from 23 years of talking to readers about books.
By Robert J. Wiersema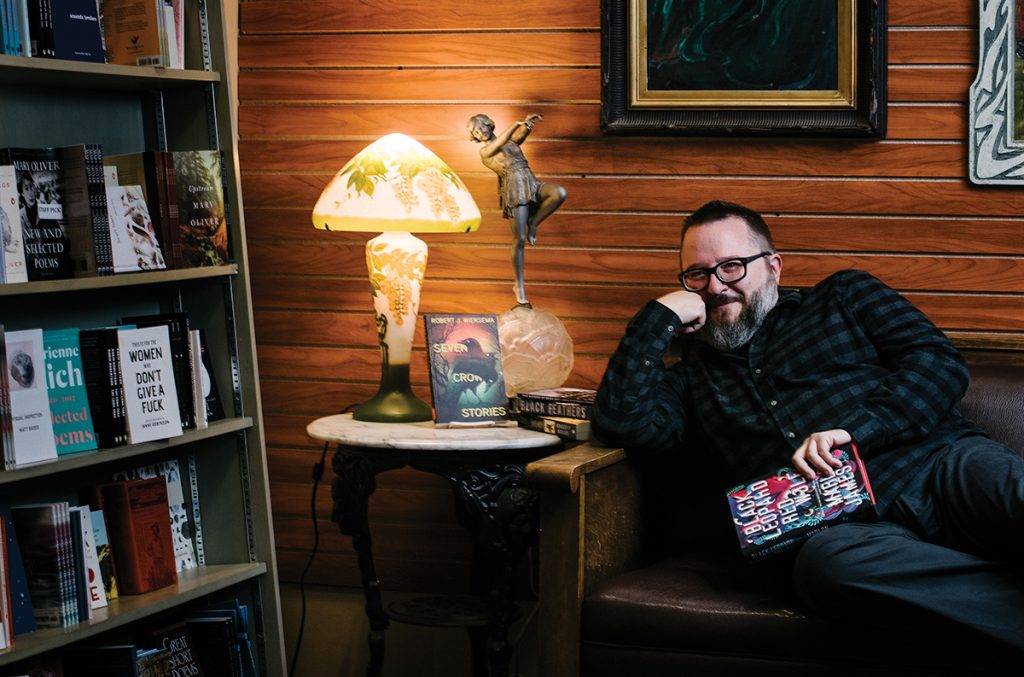 I began working as a bookseller in the summer of 1990, after stints as a lifeguard and a video store clerk. It was the year Nelson Mandela was released from prison and the Berlin Wall came down. We didn't have cell-phones to record the events, nor did we have the internet to keep up on breaking news.
I was 19, about to begin my third year at the University of Victoria, when I started at the Victoria branch of the Book Warehouse chain, at the corner of Government and Yates. Yes, where the Starbucks is now.
It was only ever supposed to be a part-time job, a means to avoid student loans.
Somehow, I ended up spending most of my adult life in the book trade, most of that time as the event coordinator at Bolen Books.
I've long said — to anyone who will listen — that working in a bookstore is the best education a writer can receive. My years working with books gave me an insight into readers, stories and the relationship between the two that I never would have gotten from academic study.
But working as a bookseller also gave me lessons that have been vital in navigating life beyond writing and retail — lessons for living.
Build a happy life on what brings you joy
Looking back at how I ended up in the trade, I realize one of the keys to a happy life is to build on those things that bring you joy. I spent my childhood as a bookish kid, much preferring to spend hours with Tom Swift, dinosaurs and the Hardy Boys, than with other kids. Sure, I explored the forests and fields around my house in Agassiz, but I always had a book. I was like Lewis Barnavelt, from John Bellairs' The House With a Clock in Its Walls: chubby, quiet and generally leery of other people. Books were where I found friends and community — and joy.
Even as I became (moderately) more social, (slightly) more comfortable with other people, there was still nothing I liked better than disappearing into a good book; shopping for books was a very close second.
I spent hours browsing the new Book Warehouse store, poring along the shelves, practically diving into the bins of "hurt" Penguins. I was there so often, I developed a nodding recognition with the store's co-owner. In midsummer, he offered me a job: 12 hours a week, and he would work around my class schedule as much as he could. That was the beginning of a career I would hold for almost a quarter century, but it really began years before, sitting in the apple tree in my grandmother's field, reading.
You never know who's paying attention
While I loved being a bookseller, and quickly became a full-time staffer and, eventually, the store manager, I wasn't always happy. Some workplaces are like that.
When the job ended, with no shortage of rancour, I was devastated — then surprised.
Sharman King, the founder of the chain, suggested I give Mel Bolen a call. So I set up a meeting with Mel and her daughter Samantha, who was the store manager at Bolen Books. I updated my resumé. I dressed up. I went to Hillside expecting a job interview.
Instead, Mel and Samantha bought me lunch. They took my resumé, but I don't know if they ever looked at it; it turns out Sharman had spoken so highly of me, I had a job before I called. I hadn't been aware, while working far from the main office, just how closely I was being observed and how appreciated my work was. You never know who's watching.
Family is where you find them
Working at Bolen Books was an entirely different experience. From that first lunch, I felt like I was a member of the extended store family. This didn't mean things were always smooth — whose family is always smooth going? — but that I had people who had my back, who knew I had theirs.
When I had an emergency appendectomy, Samantha was one of the first people to visit me in the hospital; I was delivered to Emergency by a co-worker who knew before I did that something was wrong. I went to parties and funerals, was thrown a baby shower, saw relationships start and crater. I suppose this sort of inclusion isn't unique, but I had never experienced it before in the workplace.
Don't judge a person by the books they read
Bookstores, and stores like Bolen Books and Munro's in particular, are more than retail establishments: they're cornerstones of community. It's not a matter of ringing a purchase through a till; bookselling is about connecting with people, finding out what they are like so you can think about what they might like, book-wise.
The process is called "hand-selling," but it's not about the individual sale; it's building trust and relationships, creating a two-way conversation, which can continue for years. You can't judge a person by the books they read any more than you should judge a book by its cover, but part of life as a bookseller is getting to know people through their taste in books.
Humanity really is beautiful in its seeming contradictions: the aging former academic with a taste for historical romances. The suburban mom with a hankering for contemporary westerns. The pensioners buying copies of Fifty Shades of Grey for their granddaughters (which, I'm pretty sure, is the bookstore equivalent of "asking for a friend").
You're part of a community
Those connections run deeper than the transactional. I was shocked, in my early days, when one of my regular customers at Book Warehouse was killed attempting to break up a fight on the street. I've mourned customers who had become everyday regulars — people whose names I didn't even know, though I felt I knew them intimately through our relationship through books. Then there's the young man I see regularly at the Victoria Public Market; to me, he'll always be the little kid attending the science fiction and fantasy author events with his mom. You're a part of a community, whether it registers or not.
Don't be an asshole
With community comes responsibility. I'm still haunted by an author event that went wrong, with distressing results. I'm not going to name the author; I'm sure they were tired, and I know that touring is gruelling. But the simple fact is: This bestselling, celebrated author for children made a customer cry. Not any customer: a seven-year-old girl in a Brownie uniform. Who had lined up for hours for an autograph. I never thought "don't be an asshole" needed to be spelled out. For the record, I never hosted that author again, and I go out of my way to avoid them when our paths cross at festivals. It's not pettiness; she was a seven-year-old girl in a Brownie uniform!
Keep your friends close and your competitors closer
What people often find surprising, especially with the cutthroat nature of so many businesses, is that bookselling is actually a pretty close community. Sure, bookstores compete, but it's a courteous competition, one which often looks a lot like cooperation. Short some books for an event? "Let's see if Munro's can lend us a few copies to tide us over." Getting questions about a book in the media? "Call Bolen's, see if they know what's up." Especially with staff members drifting from one store to another, the bookselling community is very close-knit.
Change is the only constant
In my time as a bookseller, I was witness to — and participant in — a staggering amount of change. The industry changed, with the onslaught of the big-box stores and the rise of online shopping, the introduction of e-books and the popularity of self-publishing.
I also changed over those two decades. I went from a (I'll admit it) snotty, know-it-all, academic kid to someone who was wise enough to have questions, rather than answers. I went from a lifeguard-fit youth to someone who is (sad to say) neither of those things. I went from a boy, who had spent my life dreaming of becoming a writer to having all my dreams come true. And my bookselling family was there. No one was prouder than Mel and Samantha when my first book came out, and I will never forget walking into the store on publication day to find piles of Before I Wake
on the new-release table.
Home comes in the most surprising of places
My career as a bookseller ended in 2013, when I was at a point where I could — and needed to — focus on my writing. In the years since, though, I've realized that you never really leave bookselling behind. It's not just that I find myself automatically straightening shelves whenever I can. Or that I have to force myself not to make recommendations when I hear someone asking a question in a bookstore (I often fail at keeping my mouth shut: I live to handsell).
No, it runs deeper than that: In my heart, I'm still that little kid, clutching a tattered paperback to his chest, and I'm grateful that I found a world that took me in. I'm not alone in this: Victoria is blessed with the best bookstores in the country, and every one of them feels like home.
---
This article is from the May/June 2019 issue of YAM