Missing the communal experience of live theatre? Local theatre companies like SKAM, Phoenix Theatre, and The Belfry are finding new ways to present their work.
By David Lennam | Photo by Jeffrey Bosdet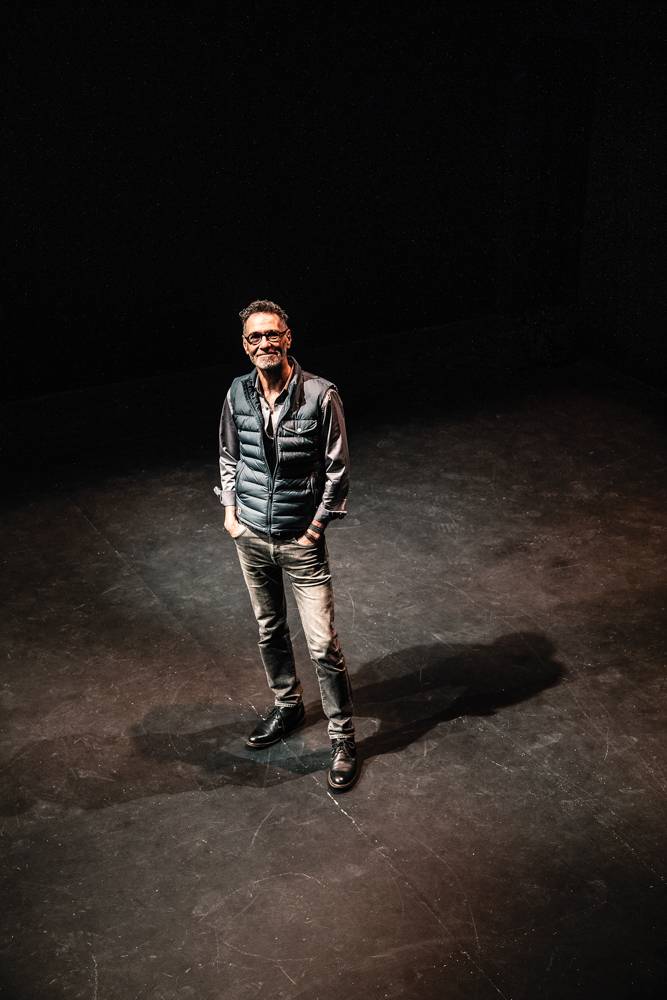 Theatregoers and theatre makers have duly lamented the pandemic- forced closure of local stages. At the onset of COVID's wrath, audiences were left in the dark, unable to attend some of the approximately 130 different shows each year in Victoria. Words such as "gutted," "depressed" and "devastated" were used in describing how they felt when curtains closed indefinitely.
Theatre companies, meanwhile, need plan strategically for the upcoming season given the unpredictability of pandemic restrictions. It's a mug's game to lay out what will or won't take place — but some local companies hardly missed a beat, pivoting, like many restaurants did, to present something like "take-away theatre."
Smaller companies like Theatre SKAM and SNAFU, for instance, have found new delivery methods. SNAFU offered an adult drive-in puppet show in December and hopes to do more of the same in early 2021. SKAM continued where they left off pre-COVID.
"Since July we've been as busy as normal, if not busier," reveals SKAM's production manager Logan Swain, overseeing their outdoor summer festival SKAMpede, as well as pop-up and home-delivery theatre. (Book a show and they come to you, outdoors, of course.) They were the first to bounce back with live shows in the age of protocols and protection.
But Swain had to hold his breath hoping it would return. He was in the audience at the Belfry's SPARK festival, during the final show before shutdown.
"There was a strange energy in the audience," he says. "You could just sense the suspense. OK, we're seeing this now, and when's the next time we're going to have this feeling?"
For Langham Court, the largest community theatre in town, there won't be a season, nor will there be for Puente Theatre. The Canadian College of Performing Arts will go ahead selling 20 seats for the musical If/Then in February, like they did for Yerma and Paradise Lost late last year.
And they hope to mount a year-end musical, outdoors in May. UVic's Phoenix Theatre will go ahead with a couple of student productions, but it's unlikely the public will be invited.
Online is a Steep Learning Curve
Pocket-sized audiences, difficulties obtaining rights to broadcast work online and the sheer logistics of trying to rehearse with social distancing have created challenges for theatres to carry on.
For the larger companies, online is where the plays have migrated. The Belfry is full throttle into a spring season of live streaming. Beginning in March, they'll stage three shows, including two world premieres. Fifty tickets will be offered to subscribers — and are expected to be snapped up immediately.
The rest of us will have to tune in as the Belfry morphs into a TV studio, adding an additional camera operator on stage, embedded in the action, along with the stationary cameras.
Artistic director Michael Shamata acknowledges both the steep learning curve and added expense of this radical venture.
The Belfry will pay camera operators, a switcher and, apart from the union representing stage actors, they've had to strike a deal with ACTRA, due to the plays being broadcast.
Even so, Shamata realizes how vital live theatre (even live-streamed theatre) is to supporters.
"A number of people have said how much the Belfry means to them," he says. "I know our audience is loyal, and I don't think I realized how important the work we do is to people's lives."
For Clayton Jevne, the pandemic closures brought a huge sense of floating without a rudder.
"I was in a bit of a state of numb shock," says the Theatre Inconnu artistic director. "The level of activity and routine I've been following for the last 30 years came to an abrupt halt, and I thought, will it just die? Is it going to never come back?"
Jevne doesn't foresee a future where live-streamed theatre has any traction.
"If you're trying to get people to become emotionally engaged … they're not going to have the willing suspension of disbelief online."
Theatre has Been Here Before
Blue Bridge Repertory Theatre's producing artistic director Brian Richmond says he wasn't scared for the company he founded in 2008 because he's seen all too many crises in his time in theatre.
"To me it was just another crisis, and how do we deal with this one?"
This isn't the first challenge theatres have faced, nor, historically, the first time they've had to lock the doors — closures have occurred for reasons as varied as the bubonic plague to religious interference.
"People are always talking about how the theatre is going to die," Richmond says. "It's always on the verge of death, quite frankly. This is the most serious threat to the theatre, and I don't want to be glib about how serious it is. I think there are going to be a lot of theatre companies and arts organizations and businesses, unfortunately, that will not survive."
That said, Blue Bridge will offer smaller fare, like their Great Debates series and hope to present a season of the four plays that had to be scrapped last summer.
They'll Be Back
Amid the distraction of huge change, theatre companies were reminded how much their audiences missed them.
"It does sort of highlight the fact that it is a community and that community has been interrupted," acknowledges Jevne. "[Theatre] is a communal experience. People bond for a short while with a common experience. These things are a type of ritualistic experience that keep communities together."
It's that shared experience that theatres hope will be their salvation, says Richmond.
"I really, really hope that people, once the environment is safe again, will come out and start coming back. If that doesn't happen we really will be put back a half century in this country."