THIS DOWNTOWN SPACE — HOME TO CURTIS VERTEFEUILLE OF MOE'S HOME COLLECTION — IS PACKED WITH SOPHISTICATED STYLE.
By Julia Dilworth / Photos by Joshua Lawrence
---
Sometimes the perfect apartment finds you, and in Curtis Vertefeuille's case, it was when he wasn't even looking."A friend of mine was actually coming to look at places in this building and asked me to come along," says the local Moe's Home Collection owner. "I opened the door, and I literally said, 'I'm going to move here.'"
Vertefeuille was already renting a spot in Chinatown, but the two-bedroom on the west end of Fort Street was too good to pass up."You walk in, and it has wider hallways than usual, and the three huge old windows that stare out at the street — it's amazing."
The whole building had been expertly restored a couple years before, so the unit has a sleek modern kitchen and new hardwood floors, yet the original heritage brick runs the entire length of the 900-square-footspace, and even extends into the bathroom's shower."I've never seen that," says Vertefeuille, who still wakes up excited that he lives here. "When I pictured the perfect forever apartment, this is what I pictured."
With such great bones, Vertefeuille said he didn't have to do much to style it ("less is more in a space like this"), and even though it's a rental, he didn't hold back in the slightest from personalizing it."I think you have to make your space your space, regardless," he says. "I know people, it takes them six months to unpack, and I'm just like, 'How are you living like this?'"Vertefeuille is already on his third living-room sofa — Moe's Luxe in caramel leather — and he's constantly swapping out new things until he gets them right.
"Of course, it helps when you own a furniture store," he says, with a laugh.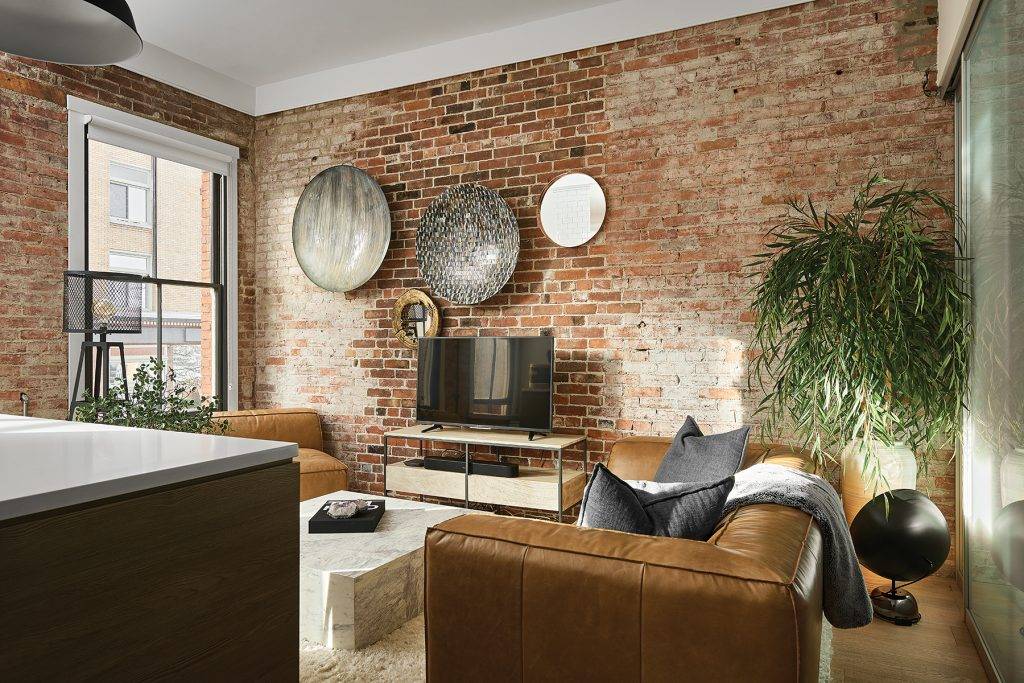 ---
SMALL SPACE, BIG STYLE
A self-described minimalist, Vertefeuille doesn't subscribe to cluttered shelves of décor and tchotchkes. The spare accents that you do see, like Buddha heads and wall plates, are whittled down to coveted favourites. Plants from GardenWorks add some life to the industrial-modern background, a glittering gold steer head adds some sparkle and large-format abstract paintings are his artwork of choice throughout.
The open-plan kitchen was the only spot that initially gave him pause."The kitchen was strange; there are no upper cabinets!" he says. But everything fit just fine in the lower drawers, which are topped with white quartz countertops. Charlie, his beloved Sheltie mix, has his big round dog bed at the end of the island, "right in the middle of the action, so he doesn't miss much," Vertefeuille says.
The kitchen's more industrial touches, white subway tiles and black powder-coated hardware, just feel right next to a photograph of his dad's childhood farmhouse in Saskatchewan.
While the vibe in the living room and kitchen is modern and industrial, the master bedroom is all about calm, with lots of soft textures and a palette of off-whites and light greys. In the corner sits a fluffy white chair, his favourite piece in the whole apartment."It's thick sheep's wool and probably the most comfortable chair you'll ever sit in," he says. "It elevates your legs, it fits everybody — it's like sitting inside an Ugg boot — it's amazing."A practical tufted leather bench sits in the wide hallway that reinforces the main themes: everything has a function, and comfort is king."I think you get to a certain age where it's got to be comfortable," says Vertefeuille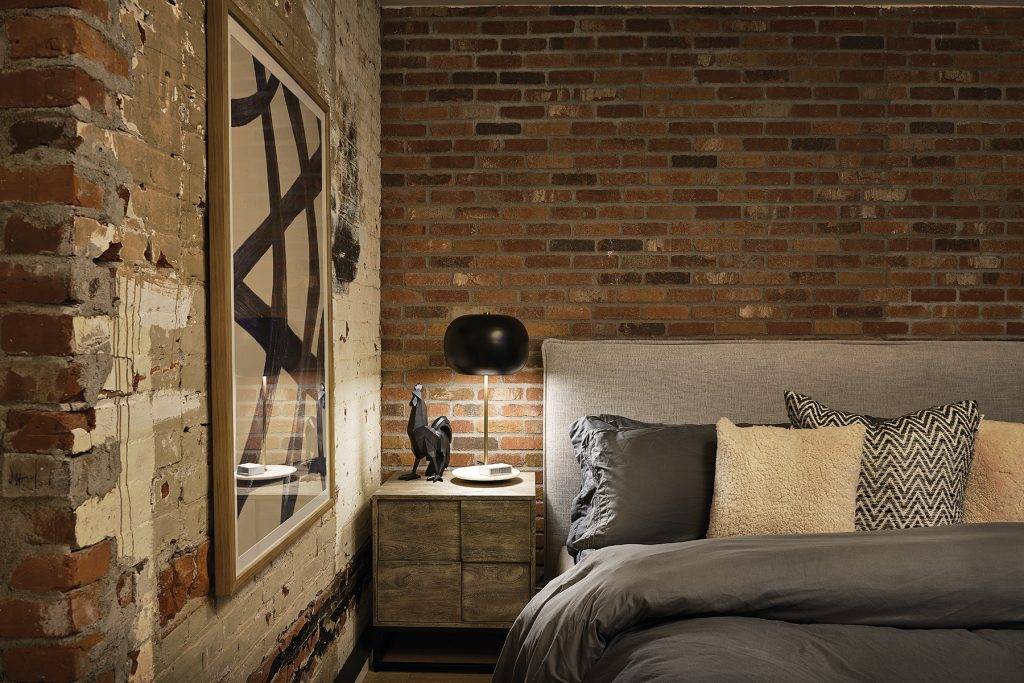 ---
PERKS OF DOWNTOWN
Pre-COVID, he loved to entertain, so his new open-plan apartment is ready to host when the time comes. Day-to-day, the kitchen doesn't see a ton of action because he has healthy meals delivered weekly by Balance Meal Prep. "It's a husband and wife team, and it's really good," says Vertefeuille. "Otherwise I'd be at McDonalds every week."
And while living above Little Jumbo can be "dangerous" at times (one phone call and he's got dinner ready for him to pick up after work), he really appreciates his downtown location."Honestly, I live two blocks from my work, and I don't really leave this bubble, which is kind of nice," he says. "You can walk everywhere. You want to go eat, you walk out your door. Everything is here, and I'm right in the heart of it.