JIMBO on making space for everybody to be weird.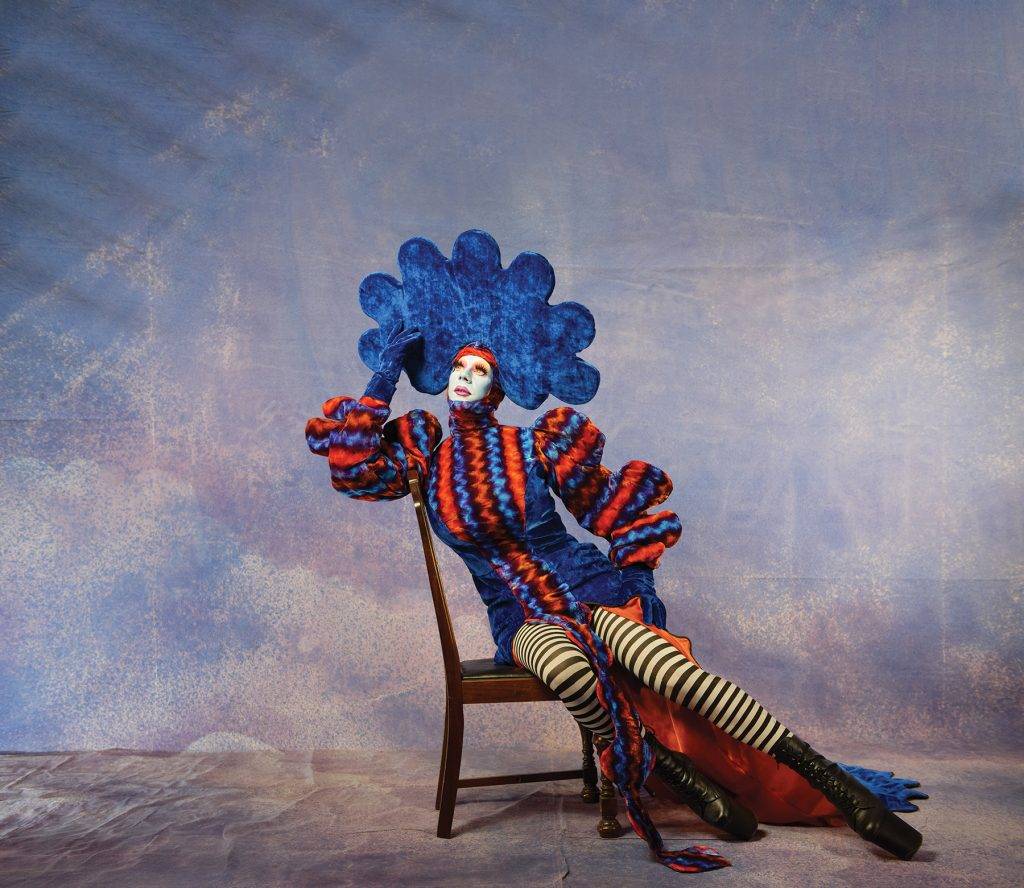 By Aldyn Chwelos
From their first runway on Canada's Drag Race, Victoria-based queen JIMBO was a fan favourite for their humorous, boundary-pushing characters. The clown-inspired performances weren't always welcomed by the drag community, but JIMBO's Drag Race success has led to more acceptance locally and globally.
"It's made space for other queens doing alternative drag as well," says JIMBO. "A little more credibility to be weird, to be different, to be yourself."
When not touring Canada and the U.K. with their Drag Race sisters, JIMBO is creating a new sketch comedy show called House of Jimbo. The crowdfunded project will be filmed in their Chinatown studio full of sets, props and costumes and feature other drag queens and performers.
"My biggest hope is to create a platform to showcase alternative artists," says JIMBO. "To create another platform to showcase drag outside of our competition setting, more in a setting of play and experimentation."
What is your idea of perfect happiness?
My idea of perfect happiness is to have all I need, to give all I can and to be all I can be … and to twirl around in beautiful things.
What is your greatest fear?
My greatest fear is a combination of things: My face falling off would be the worst, being lost in outer space or dying alone and then being eaten by your pets is also terrifying.
What is your greatest extravagance?
My drag. Buying expensive things is part of the gig and to quote Dolly: "It costs a lot of money to look this cheap."
What do you consider the most overrated virtue?
I'd say modesty is the most overrated virtue. Who has time to be modest these days?
On what occasion do you lie?
I lie mostly while I'm sleeping but occasionally on towels at the beach and on friends' floors after parties.
What or who is the greatest love of your life?
The greatest love of my life will be my capacity to love and to give in this world. To be open, to be accepting, to be patient, to be giving, to be joyful and generous.
If you were to die and come back as a person or a thing, what would it be? Why?
If I could die and come back as anything, I would be a blue whale because they have the biggest smile in the world. Or Inkalamu, the world's largest emerald, 'cause I'm that bitch.
What is your most treasured possession?
My most treasured possessions are our new kittens Misty and Milo, although I don't really possess them, just love them and feed them. They are the sweetest little angels.
Who are your heroes in real life?
My heroes in my life are all the people I know who are loving, giving and keep going everyday. Life's hard, and I think we are all heroes in our own ways.