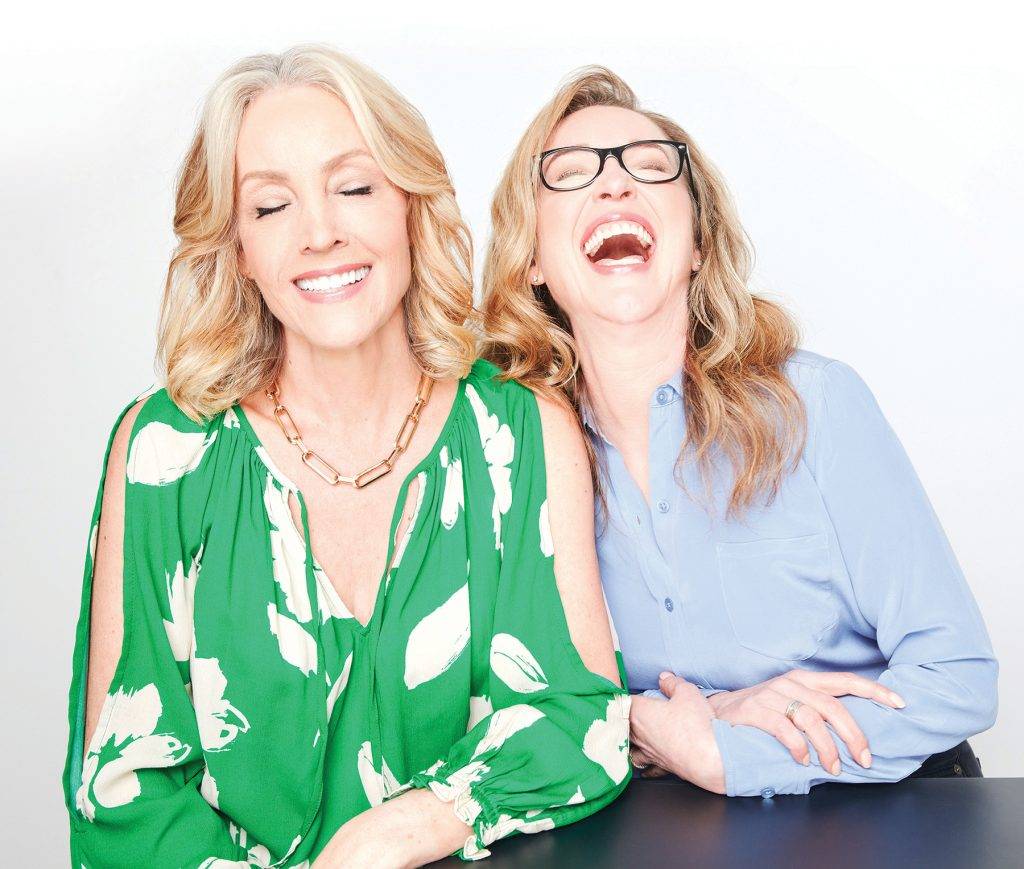 BY DAVID LENNAM
She is the first woman in Canada to host her own prime-time sports show.  And she is a one-time Broadcast Performer of the Year and recipient of the Radio Television Digital News Association Lifetime Achievement Award.
She received a Paul Carson Sports Broadcast & Journalism Excellence Award for Leadership in Sports. She's a CKNW talk radio legend who even had a day named in her honour in Vancouver. She trained as a chef and got her break serving drinks at legendary band manager Bruce Allen's birthday party. She received the first-ever BC Care Providers Association Family Champion of the Year Award. She knew she wanted to be a sports anchor when she was a child.
Can you guess?
She is Lynda Steele. And she is Jody Vance.
Collectively, Steele and Vance — whose new talk show began airing on CHEK TV in September (Thursdays, right after Jeopardy) — are both renowned broadcasters in B.C.
"The two of us have worked really, really hard for others and worked well with others, and built the thing that sold the stuff, and this is OUR show," says Vance. "There are no rules unless we make them." That said, Rule No. 1 is: "Enjoy it."
Working on separate but parallel careers, they've been talked to, talked at, talked about, analyzed, dissected, lauded and fêted. Television, radio, print, podcasts, social media — the only way you'd not recognize them is if you've had your electricity cut off for the past 30 years.
But for those who have been living in the dark, a primer.
Steele was a Global TV anchor in Edmonton, host of the consumer investigation segment Steele On Your Side at CTV Vancouver and, recently, host of the Lynda Steele Show on CKNW radio.
Vance has carved out an impressive career that has seen her all over the airwaves (Sportsnet, Leafs TV, CBC, CTV Breakfast Television, the FM radio station Shore 104, Roundhouse Radio). Lately, she's been freelancing for Al Jazeera English, co-hosting the UnSpun podcast, writing a column for The Orca and filling in at CKNW.
It was at CKNW that she met Steele, working as her co-host for the afternoon drive show. The on-air chemistry was instant.
"In those early days of filling in, she said we should go out for a glass of wine," recalls Vance, noting there was a mutual admiration and a shared affinity for salty snacks. "We hit it off right away. [Lynda's] such a conversationalist. She's an unbelievable touchstone of a woman in this industry, and women sticking together in broadcast and media is so important. And she's the greatest leg-up mentor giver of props."
There may have been thoughts of teaming up for a gig, but it had to wait.
Steele was being forced into another kind of decision. Her father was diagnosed with Alzheimer's disease. Her mother had passed away 18 months earlier with dementia. Steele had already spent stressful years helping her mom and dad navigate the long-term care system.
Now she was back at it again. And there was no way she could juggle a daily radio talk show with caregiving, so, two years ago, she sent out a now famous tweet.
"My career can wait. And my family cannot."
Steele left CKNW, not knowing when she'd be back behind the mic. But she had a pretty good idea who she wanted to work with.
When her dad's declining health forced him into long-term care, Steele was ready to return to work and cobbled together a list of media women whom she'd take out to lunch, one at a time, and pick their brains. "I was suffering creatively and wondering how I could scratch that creative itch," she says now.
Vance was at the top of that list.
"And she surprised me," recalls Steele. "The screw top wasn't off the bottle of wine when she said, 'Let's do a podcast' and I was like 'What?' "
Almost before the bottle was finished, they were meeting on Zoom to rehearse what was originally conceived as a podcast on the (now defunct) Orca website.
Those practice sessions started at a half-hour, but when CHEK picked up on their pitch, they realized they'd have to fill an hour. No problem.
"What was happening was we were getting cut off from Zoom, saying your time is up, after an hour and 15," says Steele with a laugh.
Vance says she and Steele are very different, but those differences make for better banter. "If you unpack each of our lives, we bring to the table almost polar opposites, but not in a societal sense of the word. Our opinions are similar, but we come from very different day-to-day," she says. "I have a child. She never had kids. I have two dogs and might be the craziest of crazy dog ladies, and she has yet to get a dog, but I will talk her into getting one. She does not cook. I went to culinary school and live with a chef."
I'd heard Vance in an interview mention this was a chance for her and Steele to "scare themselves," so I asked her how two savvy veterans would get the shakes.
"There's no net, no control room, no producer in your ear. This is Lynda Steele and Jody Vance talking about the news, about things that are going viral, about the issues around the city, around the province, around the country, around the world and how they land on the kitchen table here."
"Nervous excitement," is how Steele frames it. "Every broadcaster, if they're truthful, when the mic goes on you're a little bit amped up and ready to go, but there's always a little element of being on three wheels, enjoying the circus ride, so to speak."
Asked whether the affiliation with the employee-owned CHEK, truly Canada's only independent television station, was key, Vance doesn't hesitate. "Absolutely," she says. "Can you put that in all caps for me?"
CHEK Media Group CEO and general manager Rob Germain was thrilled to give them a weekly spot. He'd noticed the spark when the duo briefly co-hosted at CKNW. "All we have to do is give them a platform and stay out of the way," he says. "These strong female voices will create the content they, themselves, would want to watch and listen to, and that is underrepresented in B.C."
Steele & Vance: Who's who
YAM: Who's funnier, you or Lynda?
Jody Vance: Oh, Lynda's funnier.
Lynda Steele: Hmm… I think we're both funny — in different ways, maybe. Jody makes me laugh, I know that. And we have lots of laughs whenever we're together.
YAM: Who's the strict and serious one?
Vance: Lynda. I'm more Jimmy Kimmel to her Walter Cronkite.
Steele: Definitely me. I'm the planner/worrier. She's the free-spirit type who's ready to go at
a moment's notice. A perfect match, I think.