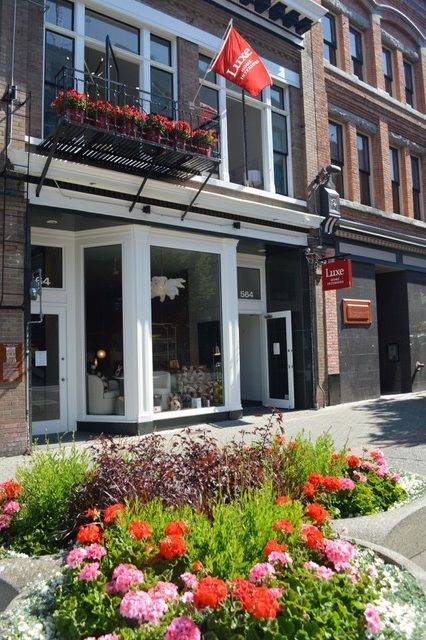 It's a 160 year old heritage building that has been the site of a silent movie theatre, a supply store for miners en route to the Klondike, and the offices of the Women's Temperance Union. And now, the exposed brick walls, tall ceilings and natural light that pours in from the skylights of 564 Yates St. is the perfect new location for LUXE Home Interiors. "We chose the space because we wanted to be a part of the positive downtown energy and the free one hour parking across the street for our clients is so convenient," says co-owner Scott Elias. "Luxe has finally found its home and welcoming clients to this location puts a huge smile on our faces."
Over the past year we all learned how vital human connection is, as well as the importance of creating a home that is comfortable, functional, and visually appealing. "We believe in shopping local and the beautiful human connections that happen with in-person shopping," adds Darren Ausmus, co-owner. "Luxe is committed to exemplary service with a passion for quality, design and aesthetics. With the expert help of our team members, our clients can clearly visualize what a piece will look like in their own space and experience the texture and quality of the pieces we offer."
Luxe's belief in making it easy to shop local extends to their commitment to offering beautiful product lines they selected from mostly North American manufacturers, with an eye to further increasing their suite of Canadian products in the coming year. Elias notes, "We are proud to support a robust Canadian furniture manufacturing industry and to partner with local Vancouver Island artists. Standout brands for us would be Trica Furniture from Quebec, Anvil Island Design from Nanaimo, CR Laine Furniture from North Carolina, and Rande Cook from Victoria. For example, this stunning 'Humpback and Baby' from Halair Artistry in Nanaimo has been extremely popular and making waves lately. In the future, we look forward to travelling to the various furniture and home décor markets to find exciting new discoveries and bring them back to Victoria."
Clients find that Luxe staff make it a genuine pleasure to narrow things down to that 'just-right' piece. "We like to have fun and laugh. We want our clients to really enjoy the shopping experience, so our atmosphere is not stuffy and high pressure," says Elaine Balkwill, Luxe designer who has been with the company for 20 years. "Luxe is a people-business that sells furniture, not the other way around." Since the staff are all experienced interior designers and everyone on the team has at least a decade of experience in furniture retail, they can easily assist clients beyond merely testing out the array of high quality floor models. Team members like Colleen Jamison help clients navigate through the variety of fabric, wood and metal samples Luxe always has on hand. When it comes to upholstery, a client can choose style, size, fabric, leather, softness of the seat and even what colour the legs are going to be. There are also numerous custom options when it comes to bedroom and dining furniture.
After-sale client care is also paramount at Luxe. "We deliver anywhere trucks can travel. We have delivered as far as Halifax, Nova Scotia," adds team member Janine Lange, "Our delivery services include setting up in the client's home as well as removal of any packaging. The client is left with just their furniture to enjoy for years to come."
As Elias notes, "We opened the new 564 Yates location on May 1st and hope to stay forever. We want to get settled in the new location to get it really humming along, perfecting our systems and partnerships in our new space." Though Luxe may have physically moved locations, the team's continued commitment to servicing their loyal clientele is definitely staying put.
Learn more about them at http://www.luxevictoria.ca.