Meditation — the practice of gently focusing and quieting a busy mind — is definitely having a moment in Victoria. Victoria meditators told YAM they meditate to ease depression and feel calm and grounded. It has helped them accomplish all kinds of goals, from weight loss to boosting productivity.
By Linda Barnard // YAM Magazine
In these stressful times, meditation is helping people deal with anxiety, uncertainty and disconnection. But it's always had a home here in Victoria. Whether it's a West-Coast thing, part of our Vancouver Island counterculture vibe or an offshoot of the growing self-care movement, we're a city of meditators.
Dozens of organizations, meditation centres and groups offer practices to ease self-judgment and encourage people to feel happier by living in the present — even if the present isn't a comfortable place to be. Victoria meditators told YAM they do it to ease depression and feel calm and grounded. It has helped them accomplish goals from weight loss to boosting productivity.
Confused about meditation versus mindfulness? Meditation is learning how to focus and still the mind. Mindfulness is the approach to living that happens as a result of that work.
Thousands of years old, meditation takes different forms, depending on its tradition. Though rooted in religion, it doesn't have to be spiritual. Today's practices vary, from guided workplace meditation to Instagram feeds, video channel sessions and apps.
This is Your Brain on Meditation
During COVID, people embraced group meditation with video conferencing. It can be done solo while walking on a trail or at 30,000 feet with the Headspace in-flight audio channel on airlines, including Air Canada and WestJet. Try it at a free weekly drop-in at several Victoria meditation centres. Classes, courses and retreats are available at various prices.
Even the province recognizes the positive impact meditation has on health and well-being. Courses taught through the non-profit British Columbia Association for Living Mindfully (BCALM) may be covered by the provincial medical services plan (MSP).
So, does meditation actually work?
Olav Krigolson, associate director of the University of Victoria Centre for Biomedical Research and an associate professor of theoretical and applied neuroscience, says research shows meditating changes the brain.
"There's no doubt whatsoever the brain is in a different state with mindfulness," he says. Different patterns in brain activity emerge when a person meditates. But what's missing in the research is a causal link between brain states and benefits. Maybe that's not so important.
"Even if it is a placebo effect, if it works, who cares?" Krigolson says.
He hears more questions today about the scientific validity of meditation than he did 10 years ago. Does that stem from a generation seeking more mindful lives?
"There definitely seems to be a counter push. People are talking more and more and putting the phone down and paying attention," he says.
Meditation is nothing new in Victoria, which was the first Canadian city the Beatles' Indian guru Maharishi Mahesh Yogi visited, says Helen Foster-Grimmett, director of the Transcendental Meditation Centre in Victoria.
When the centre closed with the COVID-19 outbreak, she was surprised to see how well virtual TM group meditations worked. People said they felt a sense of connection by meditating in silence with people all over the world.
Celebrities can be credited, in part, with meditation's pop-culture influence. Oprah Winfrey, Katy Perry and even Howard Stern are regular Transcendental Meditation practitioners.
"It's not just for people that are famous," says Foster-Grimmett, who began practicing Transcendental Meditation in 1970. Two daily 20-minute meditations helps her with consciousness and clarity.
As meditation goes increasingly mainstream, it's recognized as an effective way to ease stress- related issues. Foster-Grimmett and her husband have taught TM to 30 Greater Victoria police officers, continuing to work with them to help ease stress around the job during the pandemic.
Veterans Affairs Canada is funding TM programs for the Canadian Women's Wellness Initiative to help veterans and their families dealing with stress. The U.S. Department of Veterans Affairs also funds TM classes for service members.
Everyone Can Meditate
Who doesn't want to inject some inner peace into their life? I always liked those moments of stillness at the end of a yoga practice, so I tried
a YouTube meditation a few years ago. I wasn't able to push those thought clouds aside and stop the endless brain loops of to-do lists.
It's all about the training, Foster-Grimmett explains. "Everyone can meditate," she says reassuringly. "There is no type of meditation person."
Victoria author Moira Dann has a name for those ceaselessly scurrying thoughts I was unable to quell: "monkey mind."
"I have found the lockdown or self-isolation, very much like all-the-time meditation," says Dann, who does some sitting and walking meditations each day.
B.C. Provincial Health Officer Dr. Bonnie Henry's reminders about staying calm were helpful, while meditation has also helped Dann with occasional sleeplessness.
Dann has seen the perception of mediation change over the years, from being the butt of jokes, to something people take seriously. She researched which style was the best fit for her when she first considered meditation.
Her mother suggested they try The World Community for Christian Meditation at the now-closed Benedictine Priory of Montreal monastery. But the closed-eye meditation wasn't for Dann. Shambhala, the secular arm of Buddhism, uses open-eye meditation, with a low downward gaze. That suited Dann. So did the freedom to do walking meditations.
If done right, she said, meditation results in feeling "incredibly relaxed and invigorated simultaneously."
It's also healing. An eight-week Art of Living Mindfully course through BCALM helped "haul me out of a bout of depression," Dann says. She enjoys group classes more than solo meditation and goes on the occasional retreat. Ikebana, the
Japanese art of flower arrangement, is another form of meditation she uses.
Focus on Goals
Lori Elder used meditation and mindfulness to successfully lose weight. She took an eight- week therapeutic choices course led by family physician Dr. Trish Snozyk to learn skills like body scanning and making healthy choices.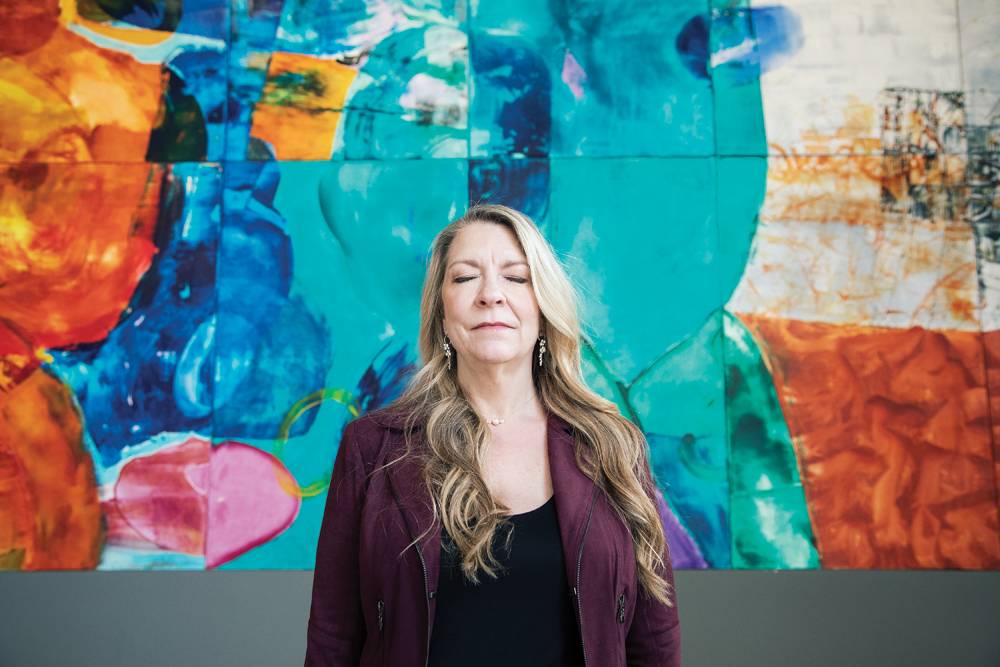 She followed up with a second program with Snozyk that taught mindfulness and meditation and how it relates to food.
"I never would have known to do this for myself before. I would have thought this was woo-woo and not for me," says Elder, who runs the Victoria communications firm PR4Good.
She lost a total of 63 pounds and although some of the weight came back, she's using what she learned in the courses to get on track, including the key lesson that change requires patience and self-compassion.
With lockdown seeing many of us turning to comfort eating, Elder says working from home meant more temptation. Meditation helped her focus on goals.
It wasn't easy to learn to meditate, she says. Her thoughts kept straying. "Some days are easier than others."
To continue her practice during the pandemic, she does daily YouTube meditations led by former monk Jay Shetty.
"It's helpful under normal circumstances, but especially so during times of added stress and uncertainty," she says.
Meditation isn't always about sitting still with one's eyes closed. Victoria kinesiologist and professional training coach Gabriel Shaw started meditating when he began martial arts training at age 13.
As a yang tai chi instructor, the simple repetitive moves and focus on breathing make for a relaxing standing meditation, he says. Walking, gentle motion, lying down with eyes open or closed can all lead to the same place of relaxation and focus.
He believes a search for secular spirituality in a modern world is also what's drawing younger people to meditation — an opinion that was shared by several people who talked to YAM for this story.
"I think [meditation] is so much more at the front of the public discourse," Shaw says. "In the last three to five years, companies, start-ups and
tech companies have started getting tuned into the idea of meditation as performance improvement."
Urban Meditation
That trend was evident when I settled into a cushion alongside 10 people from Victoria online booking company Checkfront at a downtown drop-in run by Here: Urban Meditation earlier this year.
If Here Group CEO Eric Gerritsen had his way, every office would have a meditation room. Regular practice can mean ongoing benefits around decreasing stress and boosting productivity, he said.
Yoga teacher and guided meditation instructor Sam Streeter led our 20-minute practice. She calls meditation "a rebellious act of self-care" and says it's useful at a time when people, especially millennials, tend to glorify being swamped with work.
I discover I prefer group meditation over going it alone. It was easier for me to feel relaxed with an instructor and having others around me. But that preference may change with COVID, making me wary of even small groups.
Family physician Dr. Mark Sherman is founder and executive director of the British Columbia Association for Living Mindfully (BCALM). He started developing courses in 2004 to help his patients reduce stress through mindfulness. He has meditated daily for 30 years.
Since he started BCALM in 2013, more than 5,000 people have taken his Art of Living Mindfully courses, learning strategies to deal with stress. Courses may be covered by MSP with a doctor referral, or participants can pay a fee for the course.
Meditation and mindfulness help people in times of uncertainty and fear, he says.
Realizing there was "a thirst for this," when BCALM shut down in-person sessions during COVID, the organization began offering
free online drop-in meditation practices for people who had completed the Art of Living Mindfully series.
"More people than ever are reaching out to virtual platforms, and I think with meditation as well," said Dr. Sherman, who is seeing a renewed interest in contemplative practices since the pandemic began. "I think people, consciously or unconsciously, are drawn to what they need."
Online meditation sessions aren't for everyone, Dr. Sherman said. BCALM hopes to resume in-person services in September.
"There's a certain critical mass of practice in Victoria that certainly uplifts everyone," he says, but he underlines that "being present and kind" comes with practise. "My concern with the popularity of the 'McMindfulness' movement is that it is easy for these powerful teachings to get diluted and misused."
Hamish Tucker, head of practice and education of the Victoria Shambhala Centre, agreed that there is some cynicism about the mindfulness movement among long-time meditators.
"It's so incredibly simple, and, on the other hand, you do need an understanding of what you're doing," he says.
While an app or a class is a good entry point, Sherman believes nothing can replace learning from an experienced teacher who respects the traditions.
Learn more about wellness: Health and Wellness Trends of 2020