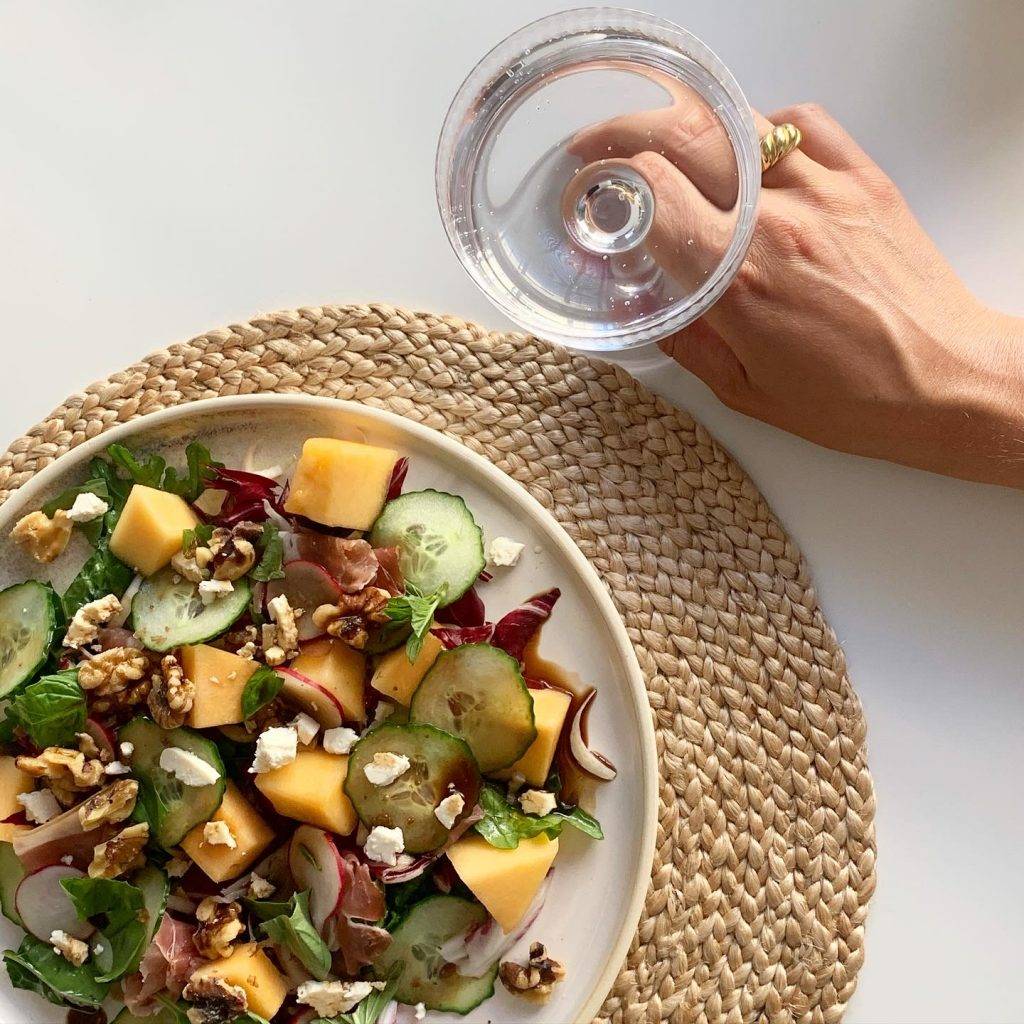 Spring is here, and that makes us think of light, bright, and colourful salads.
This salad recipe from Karolina Gnat, RHN, is refreshing and satisfying. Enjoy the contrast between the sweet melon, the salty prosciutto and the crisp, pungent and peppery flavour of the radish, endive and radicchio. It's well rounded and hits all the bullet points of taste.
"I love that certain foods can trigger memories and take you back to a time or place. This salad makes me feel like I should be in a quaint little Italian town by the sea. I look forward to enjoying a salad similar to this one somewhere along the Mediterranean in the near future, but for now, I love that I can make this easily at home," says Karolina.
Enjoy al fresco, if you can, preferably with a glass of chardonnay.
Serves 2
• 1 cup kale 
• 1 small cantaloupe 
• 1 radish 
• 1/2 endive 
• 1/4 radicchio 
• 1/4 cucumber or 1 small Persian cucumber 
• 85 g prosciutto, cut into chunks 
• 1/4 cup feta cheese 
• 1/2 cup walnuts, toasted 
• Basil, to top 
• Salt and pepper, to taste 
Dressing: 
• 1/2 cup balsamic vinegar 
• 1 tbsp honey 
• 2 garlic cloves, smashed 
Combine all ingredients for the dressing in a pan on medium-high heat. Bring to a boil, then reduce to simmer for 5 minutes, stirring frequently. Pour into a jar, including the garlic cloves, and store. 
Directions
1. Earlier in the day, you can begin prepping the salad by removing the stems of the kale, and chopping the leaves. Next, lightly drizzle with olive oil and salt and massage the leaves with your hands. This helps soften the kale and gives it more flavour. Store it in an airtight glass container in the fridge until ready to use.
2. Slice your cantaloupe melon in half, then into wedges, removing any seeds. Cut off the rind and slice into smaller bite sized pieces.
3. Using a mandolin, or a sharp knife, thinly slice the radish, endive, radicchio and cucumber.
4. Top assemble the salad, layer the kale, cantaloupe, radish, endives, radicchio, cucumber, and prosciutto onto your serving platter. Add the feta cheese, and walnuts. Tear the stems off the basil but leave the leaves whole and let them loosely fall over the ingredients. Drizzle the balsamic vinaigrette all over the dish, and sprinkle a generous pinch of flaky sea salt & fresh cracked pepper.