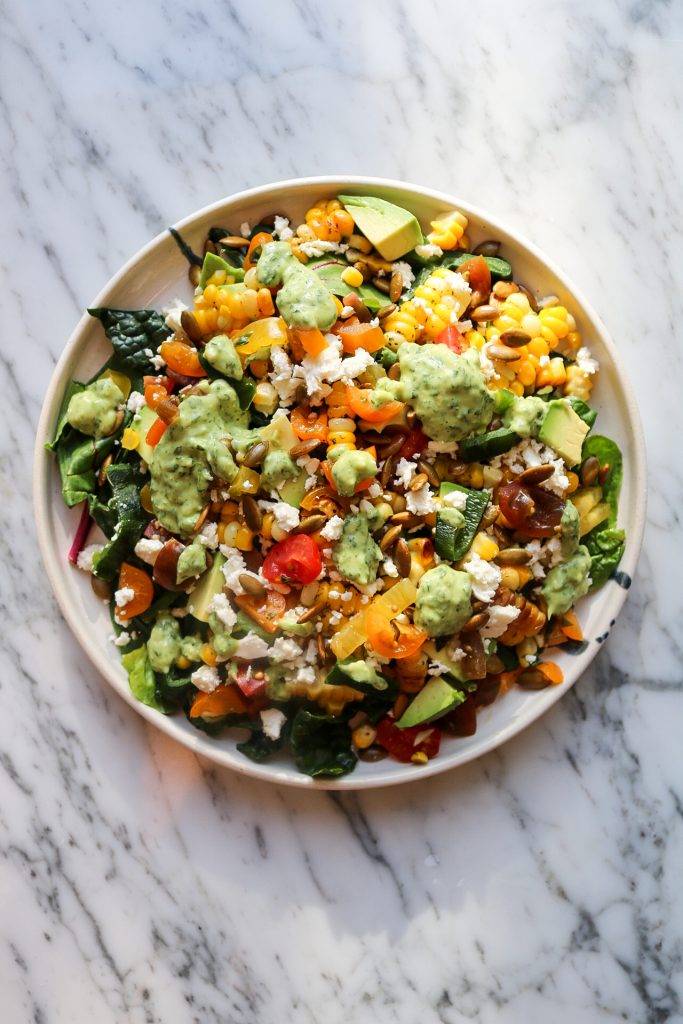 Just in time for Cinco de Mayo, this salad is Karolina Gnat's refreshing take on a classic Mexican salad.
If you haven't tried a poblano pepper before, they are one of the most popular peppers used in Mexican cuisine because they're mild in heat, and have a really great flavour, especially when roasted.
Serves 2.
Ingredients:
2 ears of corn
1 tbsp butter
Salt and pepper
Olive oil
¼ cup pepitas
1 poblano pepper
1 cup cherry tomatoes
1/2 avocado
4 cups of mixed greens
¼ cup feta cheese
Dressing: Root Cellar Green Sauce
Instructions:
Preheat your grill to high. Remove the husk from the corn and butter generously on all sides. Season with salt and pepper. Wrap the corn in aluminum foil and place on the grill. Turn every few minutes, for about 10 minutes total, or until you reach your desired level of char.
Preheat your oven to 325 F. Drizzle a bit of olive oil on your pepitas and sprinkle with salt and pepper. Spread them out on a sheet pan and bake for 12 minutes. Allow them to cool completely before putting them in the salad.
Roast the poblano pepper in a cast iron pan on medium high. Allow the skin of the pepper to completely blacken before flipping sides. This should take several minutes. Once you're done roasting, throw the pepper in a bag and seal shut for 5-10 minutes. The skin of the pepper should peel off fairly easily from there. Once peeled, slice the pepper into thin strips.
Slice the cherry tomatoes in quarters. Slice the avocado into cubes.
To assemble the salad, divide mixed greens among two bowls. Add the shucked corn, sliced peppers, cherry tomatoes, and avocado. Sprinkle the pepitas and feta cheese over top. Add a few dollops of the Root Cellar's green sauce and enjoy!