By Kerry Slavens  |  Photography by Jeffrey Bosdet
Some people just aren't destined to live in ordinary houses.
That's certainly true of YAM's contributing fashion editor Janine Metcalfe and her husband L.J. Smith, a film industry lighting technician. Through a blend of wishful thinking and serendipity, these two innovative expats from Toronto's fashion and film scene ended up buying one of Victoria's most architecturally unique homes and renovating it into a creative casa worthy of its mid-century modern and Mexican-inspired heritage.
---
The Dream House
The story of the relationship between the home and its current owners began about four years ago. "Moving here from Toronto, I would just drive around different areas of town and look at homes," says Janine, who had spent the previous 20 years as a stylist in Toronto's film and fashion industries. "I used to drive by this house all the time and think 'oh my god, that is the house, my dream house."
Built in 1956 in a style that would come to be known as mid-century modern, the home's curved exterior is dominated by 10 massive windows flanked by rows of imported Mexican tile. It was a decidedly unorthodox addition to Rockland, a neighbourhood steeped in heritage.
---
But the dream home wasn't for sale, and tired of living in suburban Victoria after a life in their 1887 Victorian home in the on-the-go, creative centre that is Toronto, Janine and L.J. made plans to move to Vancouver.
Then one day, just before their move, while cycling to a party in Rockland, they rode by the dream house.
"Janine said 'Oh my god, it's for sale!'" L.J. recalls. "And I said 'Yeah, that's great. Too bad we're moving to Vancouver, right?'"
They arrived at the party and in one of those moments when dreams gain traction, the first guest they met there was a son of the home's builder and original owner.
"I mean, what were the odds?" says Janine.
"I was in real estate at the time," says L.J., "and Janine kept asking, 'When are we going to see the house?' I kept putting her off. Finally she said, 'If you don't show me that house I'm going to find another agent who will!' So we went and saw the house and it needed lots of work, but Janine was like, 'We have to get this house!'
"When something is right, it's just right, you know?" Janine laughs. They bought
the house.
A Visionary Home
The mid-century modern home was designed and built by Peter Hartnell, whose family owned the Queen Victoria Hotel in downtown Victoria. Hartnell's visionary approach broke the mold of Rockland, where Victorian and Arts and Crafts houses abounded. The house was also a truly radical departure from the boxy style of many homes built during the 50s post-war era.
An article published in 1958 in Western Living noted that Hartnell chose white stucco and colourful Mexican tiles, which he imported, for the home's exterior. Apparently, he wanted to show how this tile — considered very exotic in Victoria at the time — could be adapted to the Island's blue and green hues.
Located in the neighbourhood of Government House, the home is surrounded by Rockland's greenery, and from its location on a bluff high above Fairfield, it offers glimpses of the distant ocean.
Hartnell also built the Modernista house right next door to Janine and L.J.'s dream home. This second home was inspired by Antoni Gaudi whose work Hartnell had encountered on a trip to Spain, according to a blog post by one of his sons, Geoffrey Hartnell. Standing side by side, the two homes would certainly have been considered eye openers at the time they were built. Even today, they continue to surprise the eye and push the envelope of Rockland's architectural traditionalism.
---
The Interior Revolution
While Janine and L.J. were thrilled with their dream home's exterior and many of its architectural features, they knew it was sorely in need of an interior-design reno — actually, more of a revolution — and so they set to work, doing much of the design themselves.
"We love to entertain and we wanted a home where people would feel comfortable and be able to easily circulate," says L.J.
"The very first thing we did was get rid of the thick 1950s or 60s swirled texture someone had applied to all of the walls and even the ceiling. To me, it was like walking inside somebody's esophagus … it was terrible. It took weeks to get rid of it."
With the old material gone, the walls were plastered and dry-walled with a smooth, contemporary finish. Next, they began to strategically open up the house to improve the flow, taking out many of the awkwardly placed interior doors and removing the wall between the dining room and kitchen.
They decided against taking out the fireplace wall between the kitchen and living room. "In such an exposed house, we wanted some kind of room divider," says Janine.
Today, much of the home's 1,300 square foot second floor is a study in openness. Light flows in through ten 3'x6' louvered panes, some capped by jalousie windows for fresh-air circulation. The windows run the entire length of the adjoined living room/dining room, overlooking a front lawn with a mid-century modern-esque concrete patio which L.J. recently constructed as a surprise for Janine. A huge Garry oak in the front yard softly filters the light.
"The living room is definitely my favourite room," says Janine. "I like to sit here, have a cup of tea and look out at the oak tree and glimpses of ocean and windsurfers, and the architecture of Rockland."
The focal point of this entertainment-sized room is the fireplace, once decorated by Mexican tiles that proved too difficult to restore. Instead, Janine and L.J. took the fireplace down to the bricks and created a new facade of grey slate and large, 3D interlocking panels made from bagasse, the crushed pulp left after the juice is squeezed out of the sugarcane. The panels are lightweight, eco-friendly and easier to install than heavy ceramic tiles. L.J. and Janine chose retro-style panels featuring a geometric pattern reminiscent of the early 70s mod era.
---
Global Influence
The now stripped-down and opened-up home serves as the perfect canvas for Janine and L.J.'s carefully chosen furnishings, contemporary Canadian art and mementos of their travels throughout the globe to Turkey, Albania, Bolivia, South Africa, Laos, Spain and more.
For Janine, whose parents were teachers in Africa, travel has been a life-long reality. For L.J., it began in his 20s when his experience in the U.S. Peace Corp took him to Mali where he spent three years living in a mud hut, exploring this fascinating part of Africa. The urge to travel to locales off the beaten track has been with him ever since. Their mutual love of travel, as opposed to being tourists, has been an ever-present theme throughout their relationship and the "finds" from their journeys add a storied subtext to their home.
"It's one of those houses that is always evolving because we travel so much," says L.J. "We bring back things from other places, we get ideas from other places and move this around and that and redo this and that."
From the moment you step into the gallery-like entry of their home, with its 20-foot ceilings, you encounter evidence of their travels: Janine's brass and wood chest from Zanzibar is tucked beneath a contrasting Charles Eames coat hanger with brightly coloured plastic balls for hooks. Two of the walls above are filled with the mesmerizing, extensive collection of masks and gris-gris from L.J.'s time in West Africa.
A stairway carpeted in a shade of deep purple is lined with abstract art and a wall mosaic L.J. created from paint-colour chips, inspired by a visit to a museum in Mexico City. "It took me a long time to make it look random," he says. "Because you want it to look good random without being totally random. That's the trick."
In the airy living room, an entire wall is devoted to white, open shelves filled with books and travel mementos. "I like open shelves because I like to see everything," says Janine. "We love to travel and bring back things that catch our eye, that speak to us and are beautiful, so why close them away in a cupboard?"
---
And there is a lot to see in this house. A mid-century teak sideboard on the back wall showcases a jewel-toned glass tea set from Turkey. Another set of shelves holds painted Day of the Dead figurines from Mexico. Most of the rugs in the home are from Turkey.
---
The Elements of Style
Both the living room and dining room feature a restrained eclecticism that blends mid-century modern with contemporary, and touches of folk art. A custom-made sectional sofa in a grey cotton/wool blend was originally designed for their Toronto home but seems like a natural fit in their Rockland home, anchored in this room of expansive, original oak floors by a multicoloured wool area rug in a geometric Persian style. At one end of the sofa, a three-legged stool in studded black leather and cowhide serves as an end table. An original Noguchi glass-topped table stylishly forms the centrepiece. Flanking the fireplace is an original 1955 Hoop Chair by Canadian designer John Hauser.
"We like to mix it up," says Janine. "There's no rule to follow except what looks good together."
That philosophy also holds true for the dining room where a mid-century teak dining set is contrasted with the drama of a curved, white Phantom S Chair inspired by Verner Panton. The piece de resistance for this room is a dramatic pendant light designed and built by L.J., made from a metal frame and containing (according to one party guest) 1,019 clothes pins.
The pendant light was inspired by a visit to a wine bar in Mexico. "We went in and I thought, 'Wow, the lighting is really great' and right next to us was this light made of clothespins," says L.J.
"I just loved the fact that they used such a simple element as clothespins to make such a sophisticated, beautiful light so I asked the owner if I could take a couple pictures. I did these 'secretly' so Janine wouldn't see me. When we got back to Victoria I asked Victoria Lampshade Company to try a few types of frames. I worked with it and that's the result. It took me a couple weeks … and I surprised Janine with it."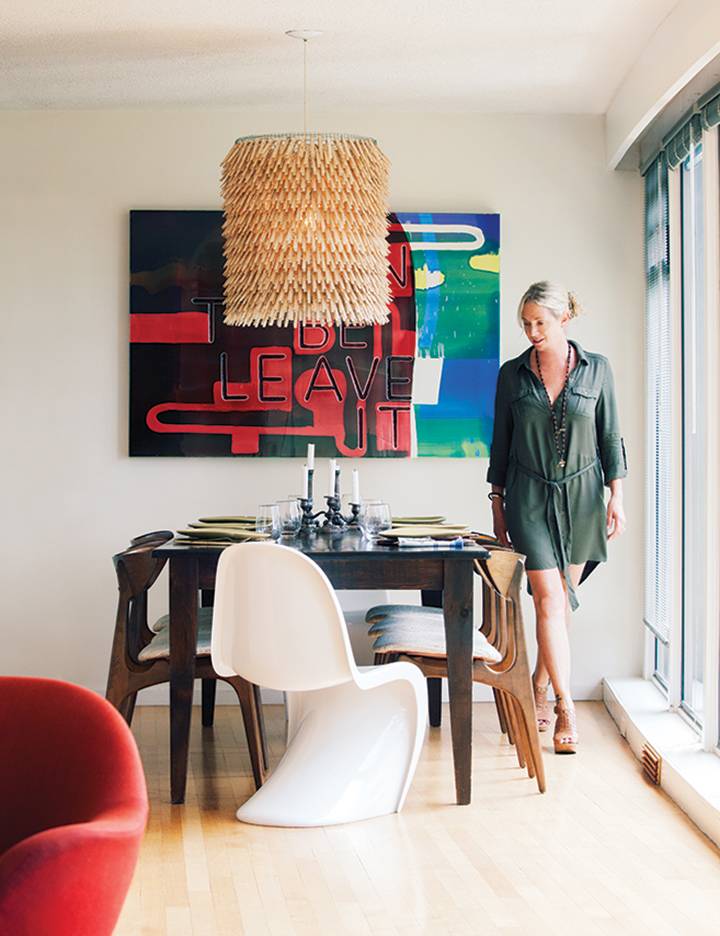 ---
Rustic yet sophisticated, the pendant casts its unique pattern above the dining table, bathing the room in patterned light. The backdrop for the room is the painting "I Can/t Be Leave It" by Graham Gillmore, a Canadian artist known for exploring word as image and image as word.
As in any home, people are drawn to the kitchen. "We took the entire kitchen down to the studs," L.J. says. Designed by Janine and designer Jonathan Aitken, the kitchen has a semi-industrial feel with its stainless steel appliances, gloss-white cupboards and shelves, and countertops in unique white and grey granite that resembles marble, and black ceramic flooring that looks like painted wood planks. One wall features decals of a single fork and knife against a white background. A black industrial-style pendant light hangs above the island.
---
The kitchen is the perfect blend of sleekness and warmth found in the mahogany-topped island (they pre-tested the idea by having a piece of plywood serve as the island for several months before deciding it was the right space for it). A well-used blackboard and strategic touches of leaf-green paint are down-to-earth yet stylish touches. Once again, the shelving is open.
"I love having access to everything and I just love the contrast of having something so modern against his Mom's old crockery," says Janine. "We want friends and family to feel at home here and having that contrast really contributes to the warmth."
Coming Home
"This house is just the perfect house for us," says Janine. "I mean, we were going to leave Victoria when we found it was for sale."
"In Toronto," she adds, "we had a great house but we were so busy with our careers that we didn't have time to be as creative as we wanted to be with it. So in Victoria, we deliberately set out to have more time for ourselves, and our house has become our canvas, which may sound cliché but it's kind of true. We both get easily bored and we're both very creative. This house lets us be who we need to be."