By Susan Hollis | Photo by Jeffrey Bosdet
Kurva Design's Mike Randall has a simple ethos — if it's not needed, it's not there. YAM Talks to Randall about his designs and his style inspirations.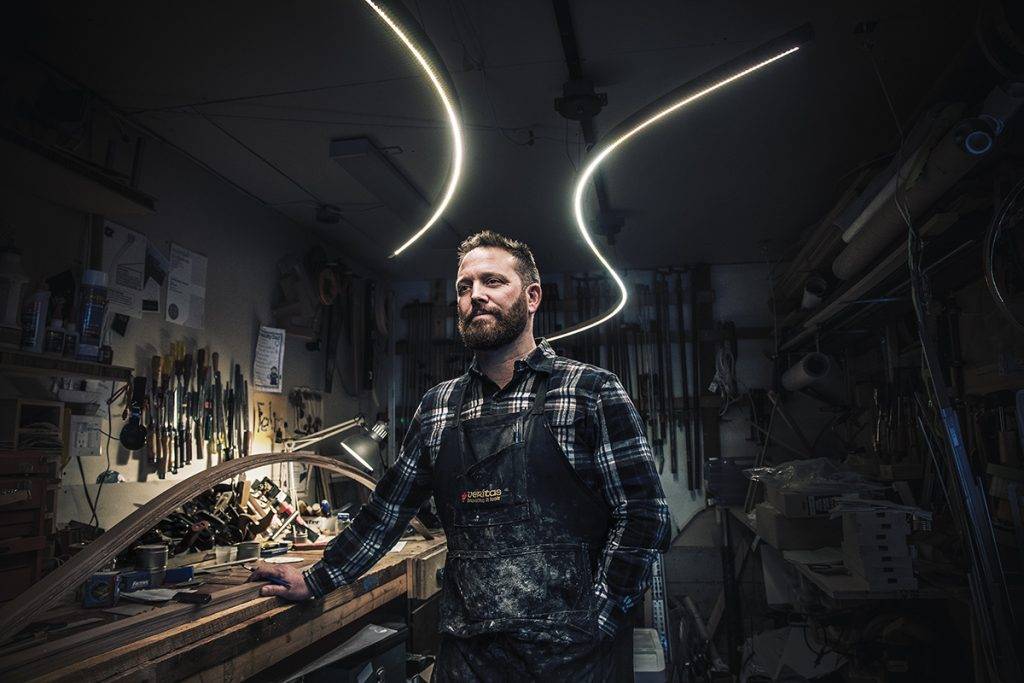 Kurva Design's Mike Randall gleaned his minimalistic approach to design from years of living and working on boats where tight spaces demanded a thoughtful layout. It's a style that put his furniture and lighting creations on the map as a regular at the Interior Design Show in Vancouver and earned him a finalist designation in the Architizer A+Awards decorative lighting category.
A graduate of Camosun's fine furniture program, Randall began Kurva in 2012 with the goal of creating wall-and-ceiling fixtures that take advantage of light-emitting diode (LED) technologies, namely flexible strip lighting that can hug and hide in wooden curves.
"I discovered the mid-century modernists, and because I don't do the small, easy things I got into bending big wood," he says. "That's where the lighting really lends itself to the new LED technologies in creating sculptural pieces."
That kurva means bend in Swedish was no afterthought — Randall takes on sweeping lighting design projects for clients across North America.
Where are you happiest?
Getting away with my family, travelling, which we don't do enough, but I love it. If there's an ocean involved, I'm golden.
Whose style do you most admire and why?
Probably Charles and Ray Eames. They were among the first makers to really push wood bending to extremes.
Who has been most influential on your approach?
Brent Comber [of Brent Comber Originals] and Judson Beaumont [of Straight Line Designs] — mainly for their outlook on running a business and how they design. Brent's work is instantly recognizable, which brands him, and that's something that I strive to achieve. And Jud has an excellent work ethic and is well-known for thinking outside the box and having fun with projects. He has a very free and artistic approach and is not afraid to push the limits on materials — that I really appreciate.
If you could be any animal, what would you be and why?
An orca. I spent years working with them and watching them with various whale-watching companies and on research vessels. They're amazing animals with a highly complex, developed social system.
What's your greatest fear?
Letting people down. My wife has really made it possible for me to do what I do, and my biggest fear is it not working — I lose a lot of sleep over it.
What do you admire most in your friends?
Being community-minded and caring. We have a very strong community of friends who are like family in our neighbourhood. All of our kids have grown up together and know they are part of a very special clan.
What trait do you most deplore in others?
Selfishness.
Which living person do you most admire?
I've always really admired David Attenborough and his work on the environment. I admire people who are caring and put their energies into making the world a better place.
What's your greatest extravagance?
Probably food with friends. We love cooking for people and hosting get-togethers. Craft beer has to be on that list, too, along with a nice single malt.
On what occasion do you lie?
Probably when something goes wrong in the shop — if there's a loud bang
and something hits the wall and I'm bleeding, it's like "I'm fine!"
What's your most treasured possession?
Maybe the gold pendants I've worn on a chain since I was a kid. They were given to me by my mum and my abuelita [grandmother]. I'm not religious, but they're very sentimental to me.
What do you consider your greatest achievement?
Getting to where I am today and being able to follow my passion. I'm dyslexic and partially deaf. No one recognized I was dyslexic until I was a teenager. I spent most of my early years in English boarding schools struggling academically, being belittled and put down.
It's taken me many, many years to build the courage and confidence to recognize my strengths and pursue my goals. I also love being a parent. Having my kids in my life feels like one of my greatest achievements. I think they are amazing people, and I feel very lucky to have them in my life.
If you were to die and come back as a person or a thing, what would it be?
Dolphins are pretty cool. They're social, gregarious and on top of the food chain.
---
This article is from the March/April 2020 issue of YAM