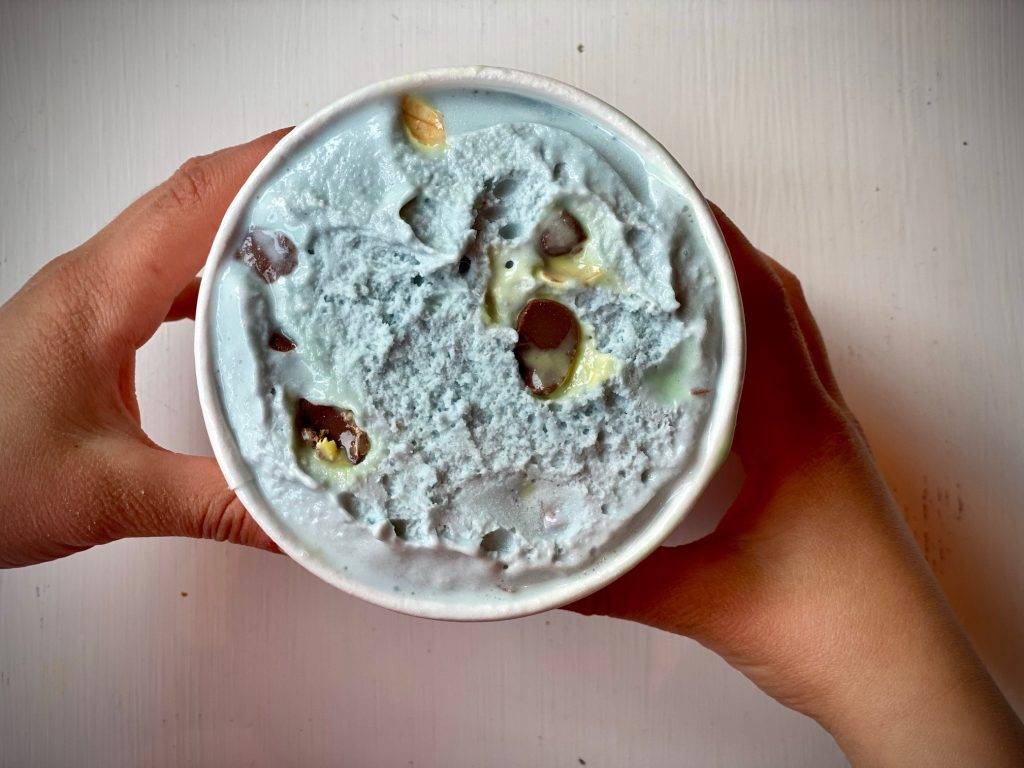 by Carla Sorrell
Getting a tub of mini egg ice cream in Victoria is not just a matter of 'popping down to the shops.' Competition is fierce, and the coveted batches sell out quickly. My first attempts at Cold Comfort and Parachute were failures, the former selling out half an hour before I came in (and a mere few days after posting the new batch on instagram) and the later out of stock until the next day, despite reports of availability of the coveted flavour from friends that had visited a few days prior.
But I wasn't deterred. I had promised my kids we would have a mini egg ice cream tasting session and had promised YAM I would share the results.
I got in touch with Cold Comfort to find out when their next batch was coming out, something I can't guarantee would be revealed to anyone who calls — but it's always worth a try. I went straight after work that day. Before these visits I hadn't been to Cold Comfort since it was transformed into Coco's Provisions a few months back. I loved the experience: they now stock an incredible selection of high quality home supplies. The store was buzzing both evenings, with customers eager for their coveted treats.
49 Below doesn't have a storefront and offers a delivery service (including an ice cream subscription!), so mine was conveniently dropped off at work. It gave me the chance to meet and catch up with 49 Below's owner, Dan Edler after a day of churning ice cream and crushing mini eggs. Mid-way through last year he moved out of his Rock Bay premises and into his garage-turned-ice-cream-factory. Thus creating a dreamy work-life balance.
I visited Parachute a day too soon, and was told mini egg ice cream would be back in stock the next day. Eager not to miss the batch, I asked my sister to pick it up for me. She lives nearby so this was a safe bet and secured us a tub.
The Tasting
We created the ultimate mini egg ice cream tasting scorecard. It included the categories: packaging and presentation, texture, number of mini eggs, size of mini eggs, ice cream flavour and more-ish-ness. The judges were myself, my husband, my sister and my two sons (ages five and eight).
The Results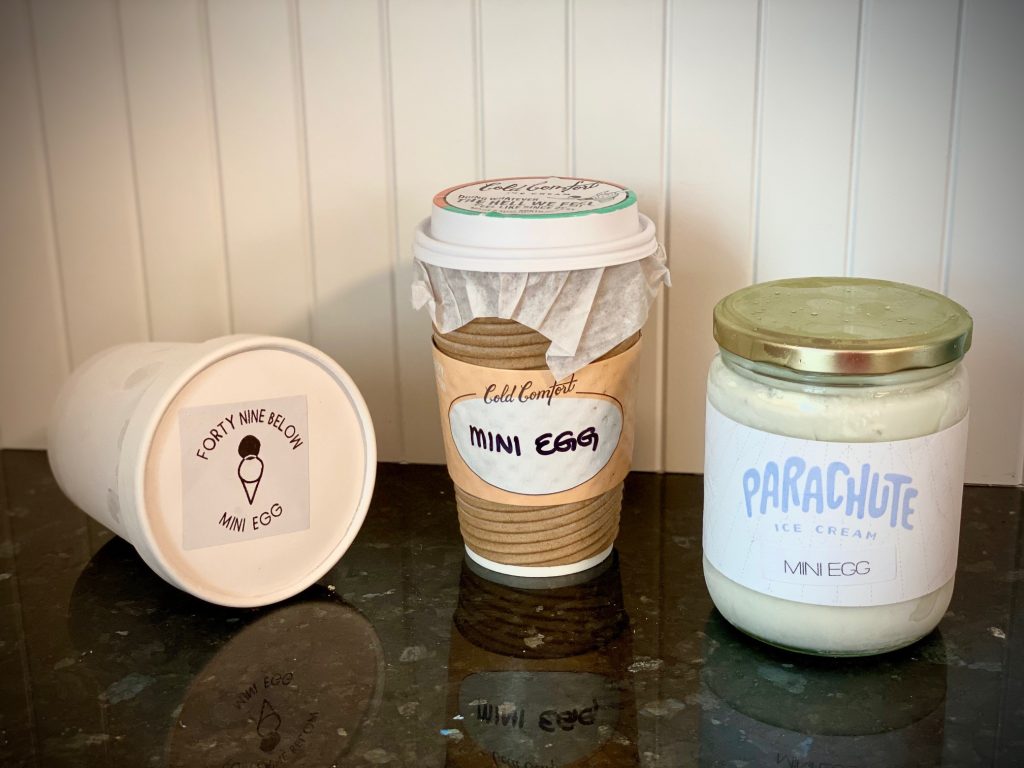 49 Below's mini egg ice cream is the best full experience. The deceptively simple white tub revealed robin's egg blue ice cream packed with large, rough chunks of mini egg. The appearance of the ice cream really replicated the feeling of a bag of mini eggs. The flavour of the vanilla base captured some of the sweetness of the candy-coated outside of a mini egg — part that I always savour. This one scored very high on the texture, size and number of mini eggs. My kids absolutely loved this one: my five year old skewed the results of our tasting by refusing to consider any others (blue is his favourite colour).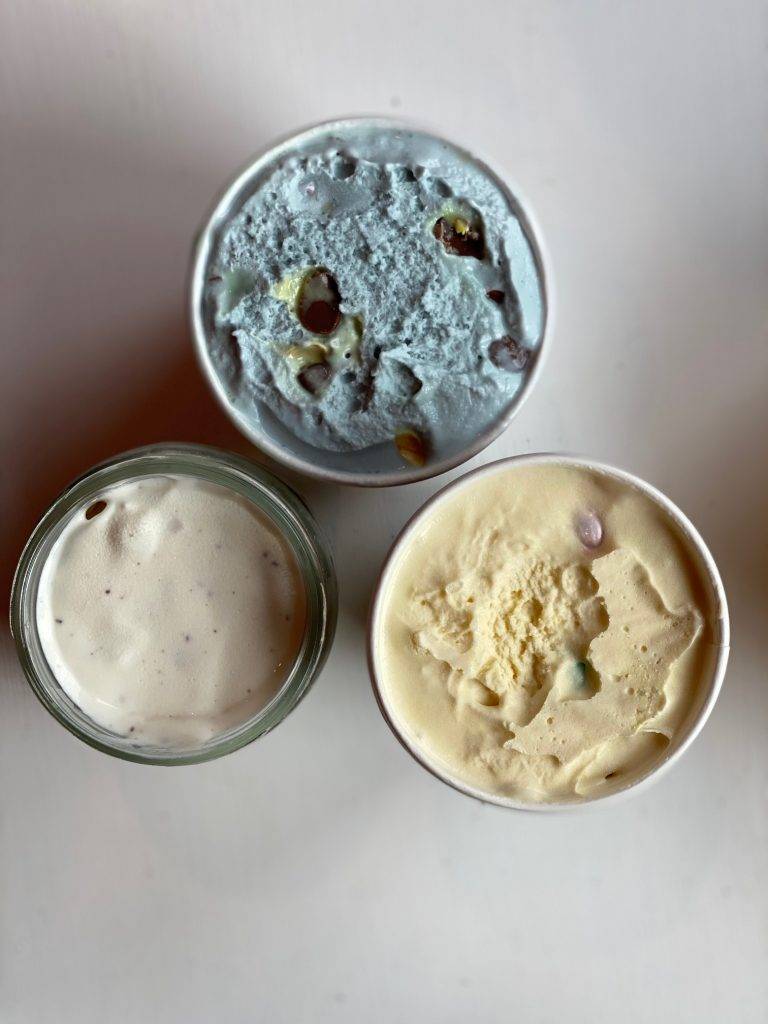 Cold Comfort's mini egg ice cream is the purist's choice. Those who are already fans of the classic Plane Jane ice cream sandwich will recognize Cold Comfort's perfect vanilla flavour. The mini eggs are whole and mixed through the pint; finding them is much like an easter egg hunt. This one scored very high on flavour, packaging (the pint in a travel coffee cup is a unique signature serve). The search for an egg is subtle and playful, who would expect anything less?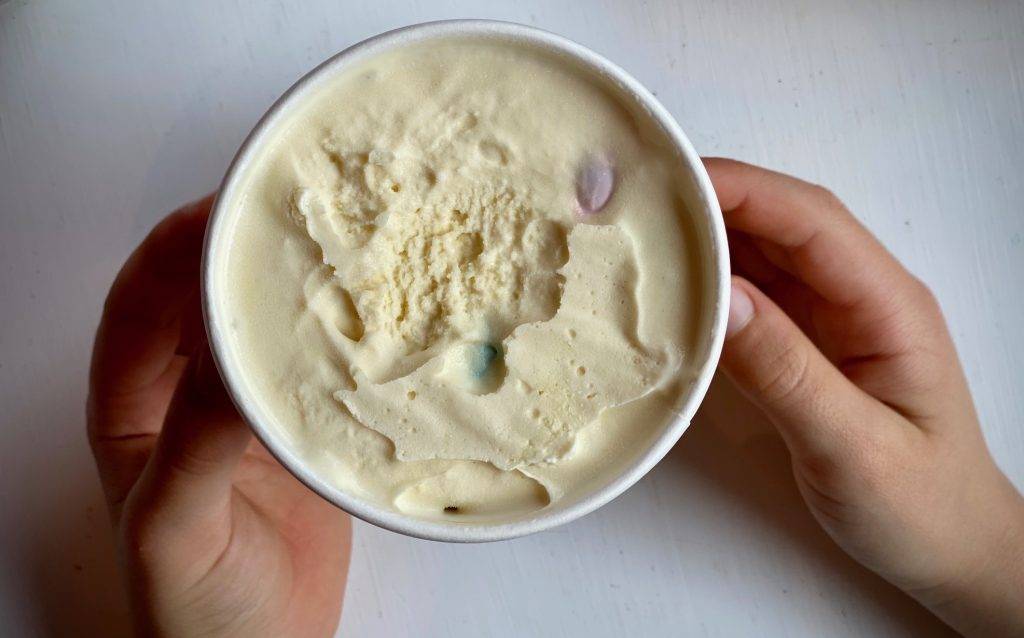 Parachute's mini egg ice cream is the wild card. Mini eggs have been completely crushed into tiny flakes of chocolate and mixed evenly through the vanilla ice cream. The delicate, crunchy texture feels like the shell has been peeled off the mini egg and crushed in. This one scored high on texture, flavour and packaging (my eight year old liked the sustainability of the glass jar). Overall, the flavour of this one was very elegant, and the result a bit like stracciatella — hence we can call this one the Italian's choice.
Not surprisingly, they all scored very well on more-ish-ness!