By Cinda Chavich // Photos by Jeffrey Bosdet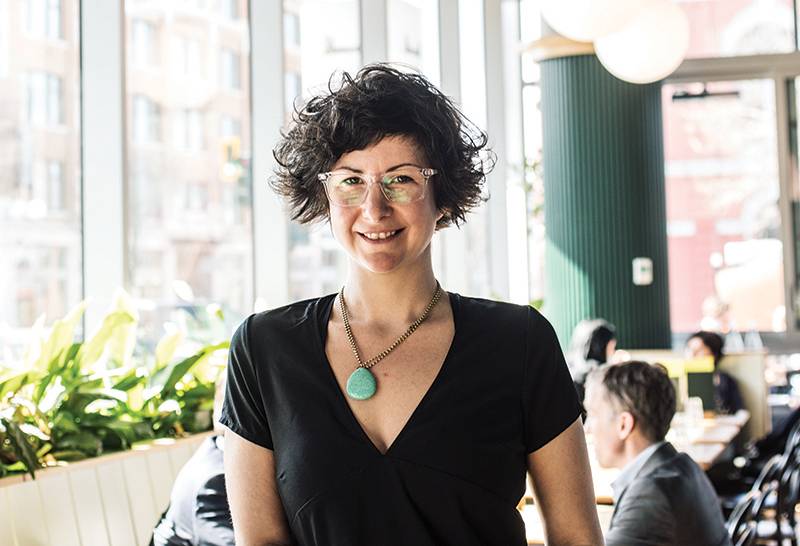 For Sherwood bar manager Jane Allen, living and working in Victoria is all about being part of a passionate and supportive community.
"What stuck out for me about Victoria, especially in my industry, is the amount of collaboration and very friendly competition, the incredible support network and camaraderie," she says. "It's something we really value and cherish as young people living here."
Allen has been part of the new Sherwood project since it opened downtown last year — Shane Devereaux's all-day café that's designed as a community gathering place, whether you're coming in for a breakfast meeting, a quick coffee or a casual evening with friends.
"The idea is to be approachable, lighter and brighter," says Allen of her abbreviated but carefully curated cocktail menu, focused on lower ABV (alcohol by volume) drinks. "Most are originals — classics or variations."
Her Odd Dog combines Odd Society Mia Amata Amaro with Aperol and grapefruit juice ("a riff on an Italian classic Greyhound"), while the Dark Arts blends dark Flor de Cana rum with sweet vermouth, apricot brandy and the café's signature locally-roasted Bows and Arrows coffee. The House Radler combines Slow Hand Pilsner with house-made rhubarb shrub, while Dazed and Amused is based on Imperative Dry Vermouth, a local collaboration between the Island's Ampersand Distillers and Rathjen Cellars.
The Game Theory cocktail Allen created to represent both the café and the city pulls in both of those concepts, leaning on the local community for ingredients and ideas. Her refreshing beer-based cocktail celebrates two of the city's craft brewers, with beautifully balanced bitterness and citrus coming from the hoppy Fat Tug syrup, sweet orange aromas and a spicy, savoury note from the amaro and cardamom. Seasoned with a hint of saline and topped with Hoyne Pale Ale, it's a frothy, fresh combination that really plays well.
And the game theory reference?
"It's the economic model that looks at all of the different ways we can collaborate and compete," she says. "That's what's special to me about Victoria."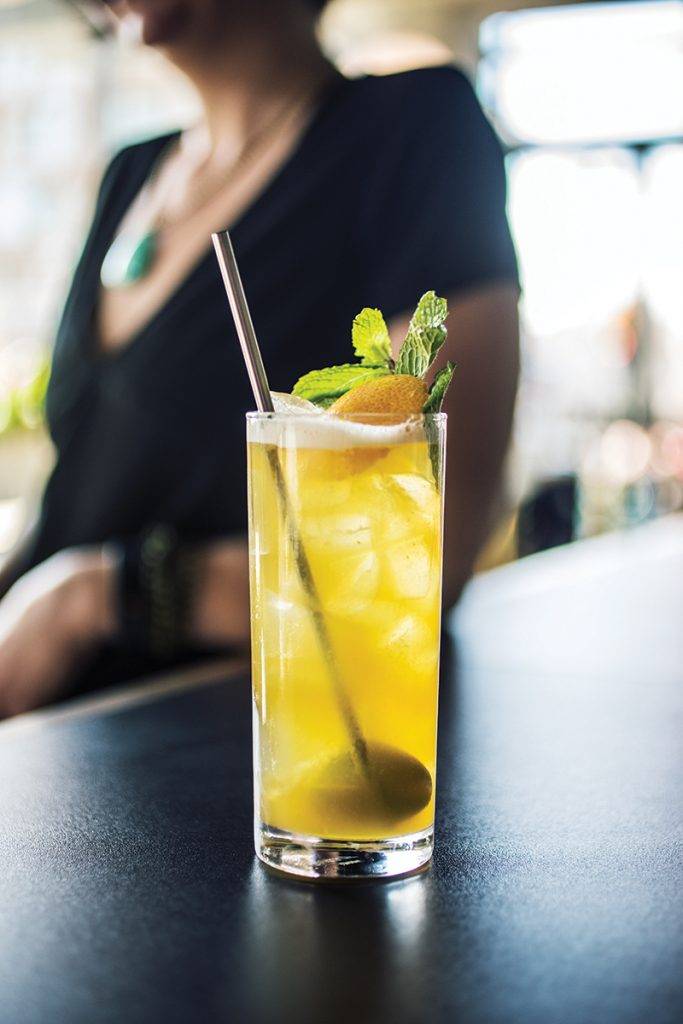 Game Theory
• 1/2 oz/15 ml Fat Tug grapefruit syrup (see below)
• 1/2 oz/15 ml freshly squeezed lime juice
• 1/2 oz/15 ml orange blossom water
• 1/2 oz/15 ml Cointreau
• 3/4 oz/23 ml Mia Amata Amara (Odd Society)
• 1 oz/30 ml Hoyne Brewing Down Easy Pale Ale (or try other ales for variation)
• Dash cardamom bitters (Scrappy's)
• 6 drops saline solution (see below)
• 6 mint-leaf tips to garnish
• Grapefruit twist
Fat Tug grapefruit syrup:
• 250 ml Fat Tug IPA (Driftwood Brewery)
• 125 ml fresh-squeezed grapefruit juice
• 250 ml granulated sugar
Saline:
• 10 g sea salt
• 100 g distilled water
Stir until dissolved. Store in a dropper bottle.
To make the Fat Tug grapefruit syrup, in a saucepan, combine beer, grapefruit juice and sugar, and set over low heat, stirring, just until sugar dissolves. Cool and then bottle. For the cocktail, combine all ingredients (except mint) in a cocktail shaker, fill with ice and shake well for 15 seconds.
Make sure you have a strong seal, as there will be slight carbonation in the tin. Double strain over ice into a large rocks glass. Clap the mint tips and twist the grapefruit to express aromatics, then use to garnish the cocktails. Enjoy often!
---
This article is from the May/June 2019 issue of YAM.