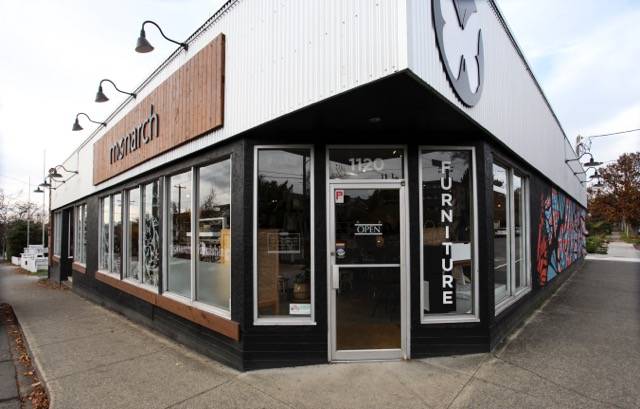 Monarch Furnishings, located at 1120 Hillside Ave, has become a Victorian destination furniture store offering a wide range of original pieces for every room in the home. Operating in Victoria for 15 years, Monarch is owned by husband and wife team Tony & Karen Martin, who moved from Australia to open their first store in a small location off Douglas Street in 2005. Monarch later moved to both Herald Street and Store Street downtown, and has now ended up in its new location, which opened in October 2018. The new store offers an inviting showroom that is easy to access and has free parking, a big plus for customers.
"We have finally settled into a location that really suits our business. There is plenty of natural light which shows our furniture well, it's easy to get to, and on a purely selfish level, it's half the distance from our home than our old downtown store," says Tony.
Sitting adjacent to Courtside Sports on the corner of Hillside Avenue and Prior Street, Monarch's store stands out due to the eye-catching mural painted on its wall by Luke Ramsey, Victoria's artist in residence.  The 50ft mural is a beautiful piece of street art with subtle depictions of the monarch butterfly. The Martins named their business Monarch Furnishings after the butterfly, taking inspiration from the long distances it travels; drawing parallels with their life travelling the world before ending up in Victoria BC.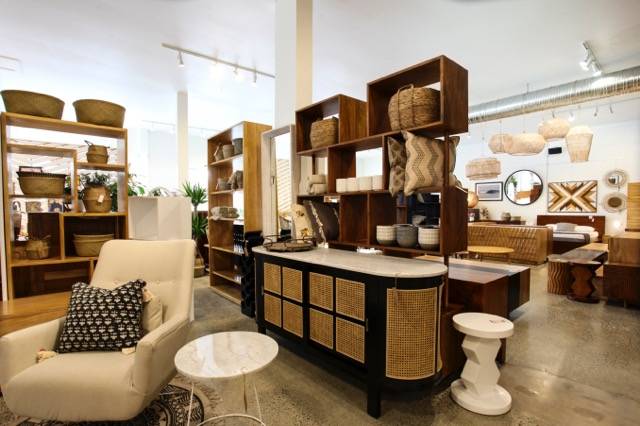 Monarch imports a line of solid wood furniture from an Australian owned factory located in central Java, Indonesia. The Martin's close friend runs the operation and the friendship has enabled them to secure North American exclusivity rights on the beautiful range. Being the only Monarch store, this means that many of the pieces found at Monarch cannot be found anywhere else in North America. 
"We have access to very unique designs not available anywhere else, not just in Victoria but in all of Canada and the US. We have combined our exclusive imported lines with furniture from a number of Canadian companies to offer a wide range of beautiful choices to our clients," said Karen. Since moving to their new store, the Martins have also added a larger range of home wares and, more recently, gorgeous area rugs from India.
Monarch is open 7 days a week on Hillside between Quadra and Cook and its range of products, as well as a virtual tour can be viewed at monarchfurnishings.com
This sponsored post is from February, 2020.