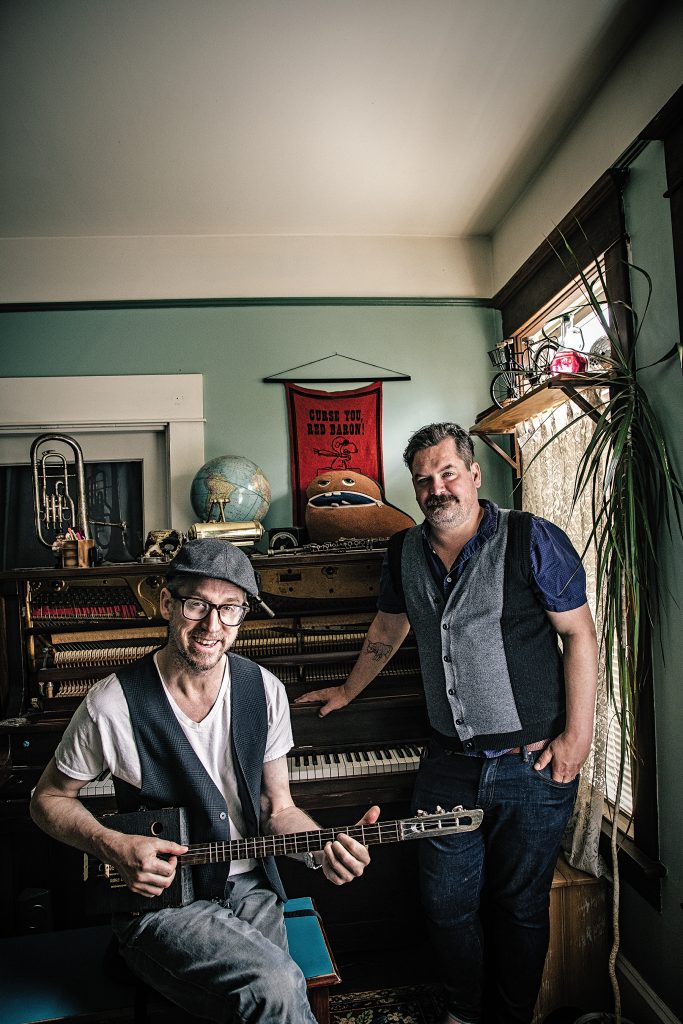 by David Lennam
It's not typical for fans of a stage musical to have to wait more than a decade for an album.
But the made-in-Victoria Ride The Cyclone has kept its rabid following salivating through umpteen incarnations of the show. Version upon version and rewrite upon rewrite (thousands, the creators will tell you) has turned and tweaked Jacob Richmond and Brooke Maxwell's dark comedy, from an idea honed on the Atomic Vaudeville stage as far back as 2008, to a slick singalong joyride that roller coastered across Canada and the States, selling out, vacuuming up awards and assembling a monster cult fan base.
The far-out tale of a fatal midway ride for the members of a small-town Uranium City, Saskatchewan, school choir and their chance to return to life — if they can appease the Amazing Karnak, the show's mechanical fairground fortune teller — was a critical darling that made a sizable splash off-Broadway.
Perhaps it was some weird fortune that the bring-it-all-to-a-crashing-halt pandemic allowed the creators and cast to record a soundtrack. No one was preoccupied performing Cyclone (or much of anything else, for that matter).
Having the world hit pause did make the album project simpler — even if simpler meant wrangling singers across the continent to record remotely while Maxwell and a band of Victoria's best musicians hammered out bed tracks and background vocals at Joby Baker's studio for Cyclone's leads to sing to.
Maxwell's musical profile hasn't been about writing musical theatre. It's been about playing live gigs at venues like Pagliacci's where his group The Canoe Standers (formerly the New Standards/Gnu Standards/Knu Standards) have held court for 15 years. He'll tell you immediately that he's not a musical theatre guy; his tribe is musicians.
Homage to Musical Genres
It was the 49-year-old's Beatles-influenced desire to play in such a range of styles that led him to compose Cyclone as an homage to just about every genre: hip hop to Bowie, show tune belter to cabaret confessional — and then to have to keep changing them at the whim of directors and producers.
"Our show has been challenging because of my indulgence as an irresponsible child in the studio because we're literally going from a big hip hop kind of song from "This Song is Awesome," a very big production kind of technical sound — to "Fucked Up Girl" [now titled "Noel's Lament"], which is kind of French gypsy swing. So the shift in instrumentation is huge, and the technical demands are huge."
And the cost was huge. Fortunately, it wasn't Maxwell and Richmond having to pony up. Bills were paid by Ghostlight Records, the arm of Warner Music Group that handles musical theatre soundtracks.
This album, explains Maxwell, will act as a very expensive business card to continue to sell the show. A promotional device.
"But it's so much more than that because it kills. It's so good. I'm so excited about it, and people have been asking for the music for a long time. Every song sounds better than it ever has. We did it right, and I don't know if I'll ever have a chance to do anything like this again in my life because of the time and expenses that were involved."
Richmond is equally sanguine.
"I really feel — and I don't care how corny this sounds — that we've all created something special and can't wait for people to finally hear it all. And stage it in their heads as they listen along. I think one of the issues this wackadoo musical had, is it couldn't find its weirdo audience without anything online. I am excited by the idea of someone who thinks they are a total freak, listening to this album, knowing somebody out there in the world has got their back."
Apart from Maxwell and Richmond, local actor Kholby Wardell has been the other Cyclone mainstay since those early workshops 13 years ago. He's owned the part of Noel Gruber, Uranium's only gay teen, and has indelibly stamped his show-stopping number "Noel's Lament" (which we all remember by its original, less family friendly title, "Fucked Up Girl") with a certain Kurt Weill-ness.
"I can't believe it's actually, finally, happening. I've been doing this show for the better part of my professional career. I've made multiple families throughout the journey, and I'm ecstatic to have gotten to lay down this show that's meant so much to me in perpetuity for anyone to listen to … For years, people have asked for us to make a recording."
It's an album that will surprise anyone unfamiliar with Cyclone after it left Canada and was reworked in Chicago in 2014 and 2015. New songs, new voices, new ideas. But most of the older good stuff too.
The result is no ordinary cast recording. They're calling it a concept album, and it includes amazing cover art by Butcher Billy, the Brazilian artist whose vintage comic book style seems tailor-made for Cyclone.
Maxwell wrote a new underscore and Richmond created some patter between songs, and, as Karnak, set things up and interacted with the characters, "because we wanted to be of the world of Ride The Cyclone, like an experience in that world," says Maxwell.
There's even a line from Karnak that puts the cynicism of the writers in perspective: "Welcome to the Ride The Cyclone album," Richmond utters in that lugubrious tone, "where, through my years of prognostication, I've realized that the only thing that makes less money than theatre is releasing an album on a streaming service."
Coda
The endless rewrites, Maxwell will admit, almost killed him. Change this, cut that, no wait, go back to the original.
"Ah, theatre," he likes to say with a gritted-teeth disdain.
Sometimes, no matter how good the tune, the producer wanted something else.
"It was fun," says Maxwell. "[Songs] had a certain fire to them, but you have to stand back and ask, Does it serve the greater process? If not, then you have to let go of your darlings. I think I've matured in that way. I don't know whether I've become a better songwriter, but I've definitely experienced that multiple times, to the point where I have a callus on my soul, and nothing hurts me anymore."
So, is he working on another musical?
Laughter ensues. Nervous laughter.
"No, I will never do this again. I kind of want to be that guy that, you know, 'I heard that guy wrote a musical once.' Anything else is going to be anti-climatic, as well as likely kill me."
Order Ride The Cyclone at ghostlightrecords.com.