YAM Editor-in-Chief, Kerry Slavens shares her thoughts on the way material objects connect us to meaning and memories.
By Kerry Slavens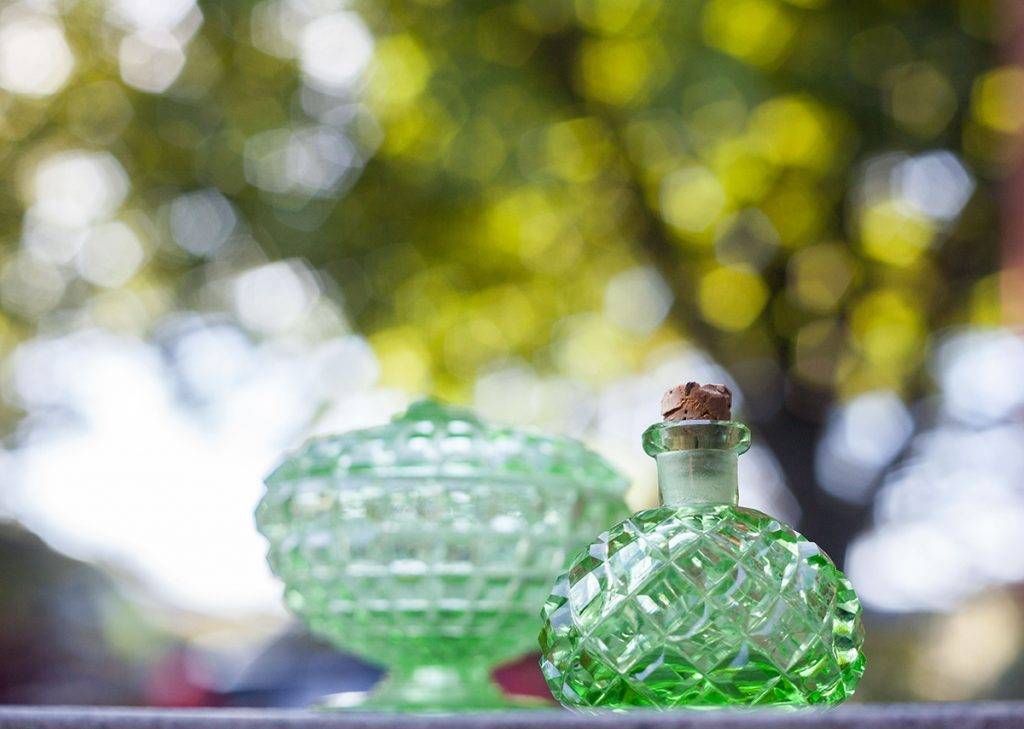 ---
In the 2019 Style Issue of YAM, we decided to learn about some of our city's most fascinating people through the objects that are most meaningful to them, from Empress general manager Indu Brar's running shoes to visual artist Pat Martin Bates' figurine of two boys looking into a pond that Pat has filled with pearls and shells.
After the photo shoot, I went home and considered which of my objects was most meaningful to me. Aside from dear and obvious things like my daughter's baby shoes and poems my husband wrote for me, I finally settled on a vintage vanity set of cut green glass given to me by my grandmother Wanda, who had kept it in a large, handmade cedar chest.
I was just five years old the day she opened her cedar chest, took out the set — a perfume bottle and a rouge pot — and gave it to me. It was exquisitely beautiful, and I remember peering through the green glass at the sunlight. The cedar chest it came from was a magical place where my grandmother, a woman without adornment, kept the many beautiful things that had been given to her over the years, but which, I suppose, had little place in the life of a hard-working country wife.
Filled with lacy nightgowns, silk scarves, Chinese jade, perfumed soaps and glittering necklaces and bracelets, the cedar chest was a source of enchantment to me. For a young girl who loved mud puddles and climbing on roofs, opening that cedar chest was like peering into a mysterious world of femininity, of pretty things hidden away and deemed unnecessary by my grandmother.
I remember asking her why she didn't wear the perfumes or the dressing gowns. She brushed off my question, as if to say, "Look at me and my rough, red hands and my life spent cleaning, cooking and gardening. Where is there a place for such prettiness in my life?"
The green glass vanity set became a feature of every bedroom I've ever had — a symbol of beauty, artfulness and femininity, but because it came from my grandmother, it is also a reminder that the most beautiful things in the world are the ones imbued with meaning and soulfulness. That deeper beauty was the kind of beauty my grandmother possessed.
When my grandmother died, that cedar chest came to me. I opened it expecting to see her carefully tucked-away treasures, but by then it had been emptied. In place of those beautiful objects were swatches of old fabric from my grandmother's living room curtains, pieces of old bedspread, practical things she must have saved "just in case," the way women from the Depression era often did.
I'll never know what happened to the pretty things my grandmother said she was keeping for me, and the cedar chest has gone now, passed to my daughter. Oddly, the chest that was never locked (and never had a key in my lifetime) has locked itself. When my daughter finally opens it, she too will find it empty of objects, but full of dreams.
— Kerry
---
This article is from the September/October 2019 issue of YAM.