The second season of the B.C.-based show Moosemeat & Marmalade has started airing on APTN, bringing back its fun new spin on cooking and entertainment. It's also a window into Aboriginal culture and cuisine.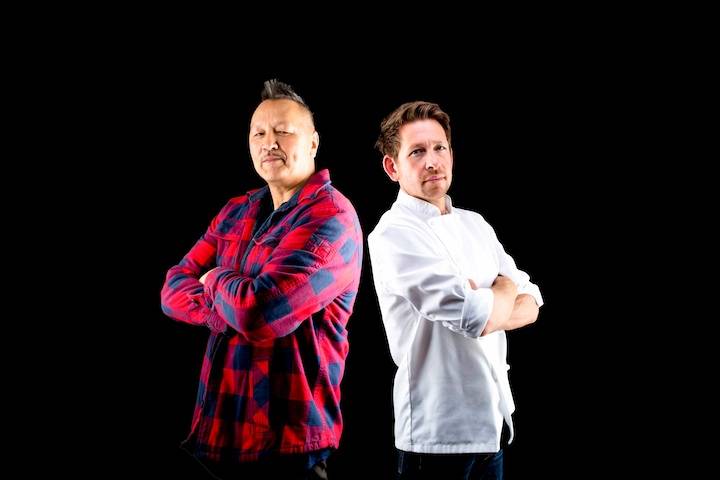 The show stars two Victoria-based chefs: Art Napoleon (above left), a well-known Aboriginal bush chef, and Dan Hayes, originally from the UK and who now runs The London Chef cooking school in Victoria. Both bring their distant approach to cooking and the show has them face off over a variety of dishes.
In season two, Napoleon and Hayes travel from B.C. to Ontario and over to England and Scotland, where the chefs explore classic and not-so-classic cuisines while cooking with guests — including the famous U.K. game hunter Mike Robinson and the eccentric wild rice farmer James Whetung from Northern Ontario. The duo venture into some extreme food tastings, such as singed porcupine, while investigating seaweed farming and diving for the world's best scallops off the Isle of Mull in Scotland. 
The show's website also includes interactive cooking tutorials with recipes. 
For a taste of what to expect, try Chef Dan Hayes recipe for scallops. 
Grilled Scallops With Seaweed Chili & Fennel Butter
For the chili and fennel Butter:
½ tsp fennel seeds, slightly crushed

pinch dry chili

¼ tsp sea salt

¼ tsp crushed or finally cut edible dry seaweed

few rasps lemon zest

1 tbsp parsley, finely chopped

¼ lb Room temperature butter
Mix all ingredients together.
For the scallops:
18 live scallops in the shell

non-edible clean bright seaweed from clean water
Shuck scallops, removing the skirt and rinse to remove any grit. Do not take the meat or coral off the bottom shell. Place a tsp of [chili and fennel] butter on top of each scallop and put under a very hot pre-heated grill (broiler) until butter is bubbling, slightly browning and the shells seem brittle. This should take 2-3 minutes. Remove and put straight onto platter of well washed seaweed. Serve immediately.