One of Canada's brightest stars in cultural management comes home as the new CEO of the prestigious and growing Victoria Conservatory of Music.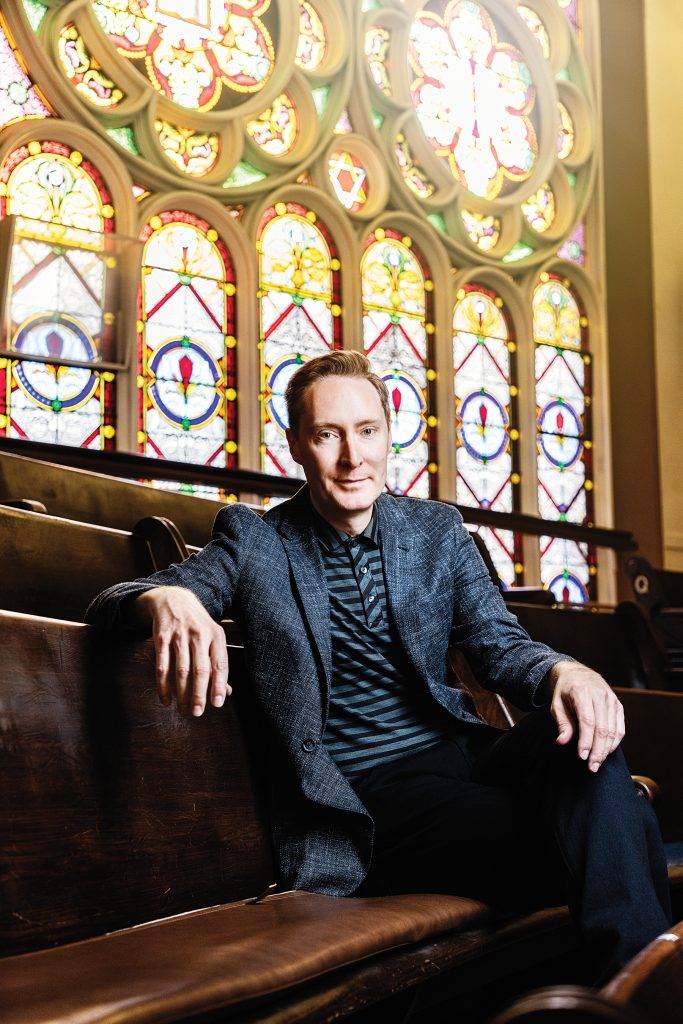 BY DAVID LENNAM
Nathan Medd always had a plan. But plans have a way of evolving.
When he graduated from the University of Victoria's theatre program in 2001, Medd had already mapped his future. It included leading a mid-sized theatre organization by the time he turned 30 and, by 35, to be leading "an A-category theatre organization."
He ticked those goals off his list, picking up a UVic Distinguished Alumni Award along the way. And then COVID came along, and with it, a change in plans. At 44, after dazzling successes at some of Canada's most prestigious arts organizations, Medd returned home last fall as a husband, father and the new CEO of the Victoria Conservatory of Music.
"It almost feels like another life," he says of his former self, laughing a little. "I'd almost forgotten I had that level of clarity or those goals organized just so. Maybe I ticked off my list and now I've got no list and I'm just free-forming for the rest of my career."
From Belfry to Banff
Touted now by many as one of the country's brightest stars in cultural management, with a CV illustrative of his impressive career trajectory, Medd, who grew up in Qualicum Beach, moved immediately from studying at UVic's Phoenix Theatre to increasingly heady roles in arts administration.
He began his career at the Belfry Theatre, spending three years in the decidedly un-sexy role of front of house manager.
The Belfry's then-GM Mary Desprez remembers a young and raw Medd bringing a huge sense of humour to the job.
"Nathan nailed it. He was, and I'm sure still is, a genuinely kind soul," she says. "The volunteers appreciated his gentle oversight of their work, and the audience enjoyed his calm presence and hosting … Did I think Nathan would go on to be such an accomplished arts administrator? I remember hoping so, if only to bring his humour and sense of caring to other theatres."
Medd recalls interviewing at the Belfry in front of Desprez and artistic director Roy Surette.
"They asked that question, 'Where do you see yourself in 10 years?' And I said, 'Well, I see myself on the other side of this table. I want to be you guys.' They both laughed and Mary said, 'You don't want this job.' And I remember that lit a fire in me."
From the Belfry, Medd had stints in Victoria with the BC Arts Council and Intrepid Theatre, then in Vancouver with Electric Company Theatre, helping it triple in size and grow into one of the largest touring theatre companies in Western Canada. Some prestige followed with six years at the National Arts Centre (NAC) in Ottawa as managing director of English theatre, followed by four years as managing director of performing arts at the equally renowned Banff Centre of Arts and Creativity.
He speaks about a career both building infrastructure ("If you're an arts manager you wind up a space maker. Your first job is to acquire the resources for artists to get down to work.") and altering practices that were built in the 1960s, but no longer serve everyone who wants to work in, or attend, the arts.
Medd chooses his thoughts carefully, doesn't rush, thinks about every line, considers the weight of his words. This delicacy and diplomacy have served him well.
One of his legacies at the NAC was establishing a department of Indigenous theatre. Changing how arts institutions regard and deliver their work, bringing that in line with current standards, is something he'll face at the VCM.
"Firstly, as the host of a community music school, and a participation base ranging from one week old to 106 years old, we are a place that everyone should feel at home in. When arts and culture organizations talk about inclusion, we need to recognize that it's a process, not a product. There's no end goal. We are part of this movement to make our institutions matter to more of the surrounding community."
Ian Case, who brought Medd onto the Intrepid team, recognized his potential, stimulated by the big projects and challenges.
"I've watched him pivot from one amazing job to another. He was instrumental in moving Intrepid Theatre to create a theatre space, and the Metro Studio Theatre is a testament in part to his determination and creativity. Plus, Nathan seems to be able to get along with everybody! We should all be so lucky."
Immense Potential
I ask how 16 years away has changed him on his return. He smiles.
"I'm experiencing Victoria as a father now, as a family. I left a single guy. One's experience of Victoria is not totally different, but let's say enhanced by experiencing it through the eyes of your children."
He refers to his partner, Adrienne Wong, as the famous one in the house. She was the inaugural artist in residence at CBC Radio's arts and culture program q and currently runs FOLDA, Canada's live digital arts festival.
"In many ways," he says, "we are opposites, but we can talk shop 24/7 and have for the past 12 years. And that's a blessing. To be able to blow off the steam of our days as arts producers, it works for us."
As the VCM approaches its 25th anniversary since taking over the former Metropolitan United Church space, Medd is excited but cautious in his enthusiasm. He talks about the immense potential of the facility — which has grown from eight students when it was founded in 1964 to more than 4,500 participants a year — and getting a chance to tell its story in a proud way. But he understands the necessity of inclusivity.
"The question we have to satisfy is when someone asks the question, 'What's in it for me?' If we don't have the answer, then we have failed," he says. "You have to have an answer for everyone or you will lose your social licence."