By Iván Meade
Photographed by Joshua Lawrence
When Phil and Anne Dade were building their dream home in View Royal, they wanted something different from the very traditional house they were leaving behind in New Brunswick. With its use of sustainable materials, soaring ceilings, open concept plan, and abundant windows offering stunning views of trees and water, this modern sanctuary is the realization of that goal.
The vision for the hillside home was a creative collaboration between the owners, Keith Baker of KB Design, Christopher Walker of Christopher Developments, and Tamara Bush of InHabit Designs.
Baker describes the aesthetic as "contemporary Pacific West Coast style," which he acknowledges means different things to different people.
"It's contemporary in that its open concept fits with how people live today," he says. "And it personifies the Pacific West Coast in the way it draws inspiration from its environment with its use of materials, and encourages a relationship with the outdoors."
The outside of the home, which uses a simple palette and sustainable materials such as recycled cedar, local stone, acrylic stucco, and polished concrete complements its natural surroundings perfectly.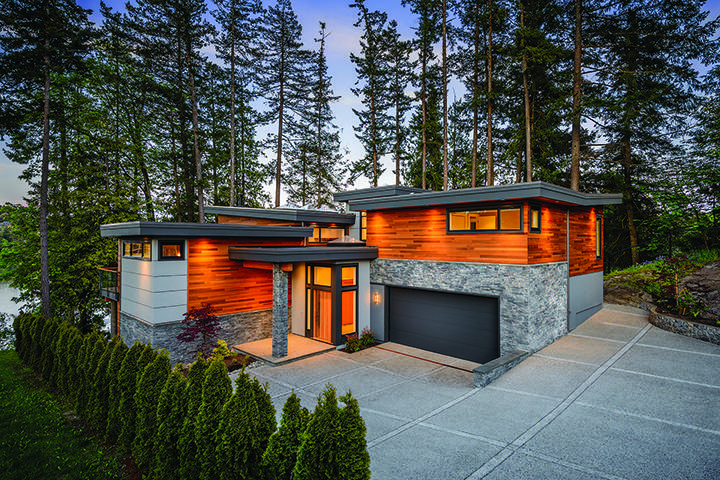 Its West Coast-inspired design was recently a Victoria Home Builders Association CARE award silver finalist for Best Single Family Detached Custom Home over 3,500 square feet.
Baker is especially proud of the entranceway, a "welcoming space that gives one a feel for the rest of the home." Numerous skylights over the floating stairs — an architectural element designed by Walker — allow rare natural light to flood into the north-facing basement.
Luminosity is the unifying theme throughout the Inlet. Light floods into the space from the full-height windows and skylights. With its unique floors adding colour to the space, and the muted palette of whites and natural materials, it truly is a jewel of a home.
Sources
Custom Home Design: KB Design, Keith Baker
Contractor: Christopher Developments, Christopher Walker
Interior Design: InHabit Designs, Tamara Bush
Stair Design: Christopher Developments, Christopher Walker
Light Fixtures: Gabriel Ross and Only Human
Furnishings: Only Human and Sagers
Cabinetry and Millwork: Hobson Woodworks
Tile: Mobile Tile
Tile Installation: Epic Tile
Wood Flooring: Island Floor Centre
Plumbing: City Service Plumbing & Heating
Electrical: Pardell Electric
Landscape Stonework: K2 Stone
Art: Cheryl Taves