Aryze's Rhodo development gives one homeowner a clean slate and a chance at a minimalist West Coast lifestyle.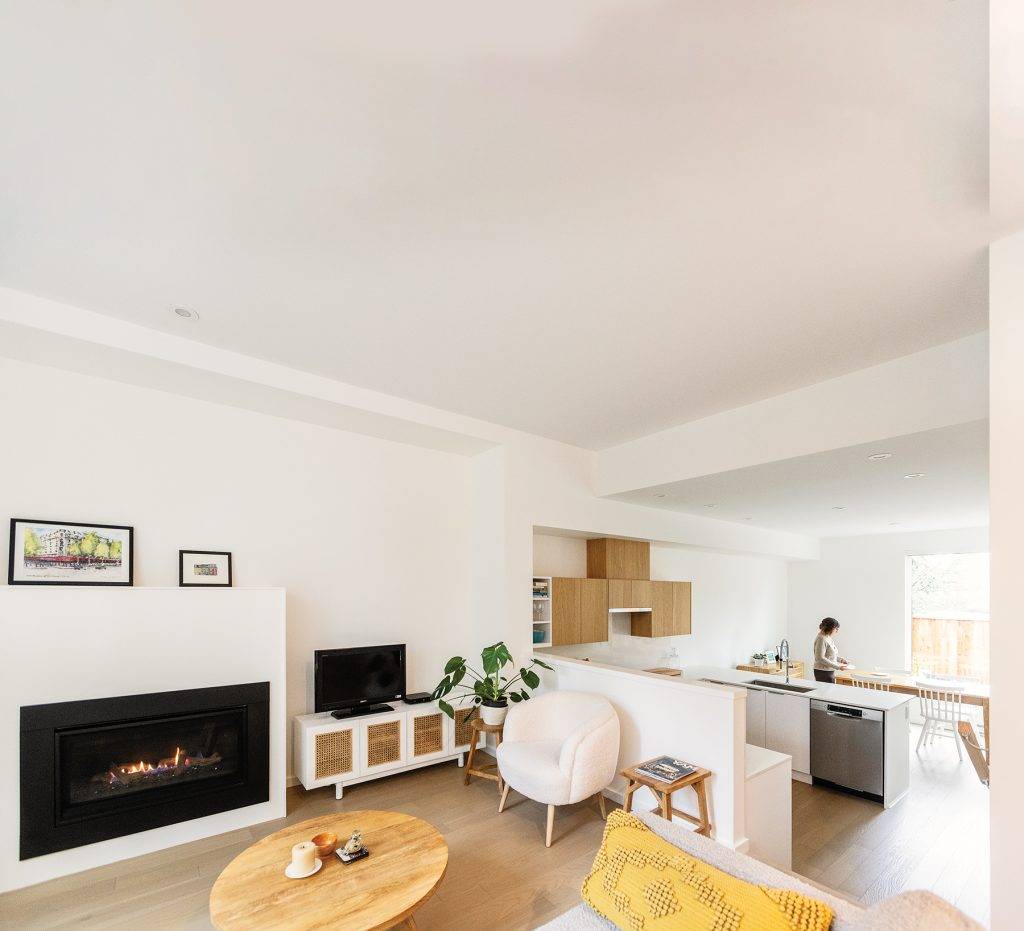 ---
BY DANIELLE POPE | PHOTOS BY JEFFREY BOSDET
When Ann made the decision to relocate from Ontario to Vancouver Island, it wasn't just the change in weather that inspired her — it was the chance to become a homeowner again and be closer to her sister.
"My sister kept saying, 'Come and visit; take a look at the West Coast,' but there was never a chance," says Ann. "Then I retired and was just renting, so there was nothing holding me there any more. I figured I've got nothing to lose and I won't know if it's a good fit until I get there. It would just be a matter of getting rid of all my things and starting a new chapter."
Although the height of the pandemic prevented Ann from travelling, she learned about a new development in Fairfield, not far from the ocean, where her nephew and his family had recently purchased a unit.
Rhodo, dreamed up by the team at Aryze Developments and designed by Vancouver's SHAPE Architecture, was created as a boutique collection of West Coast contemporary townhomes. The concept appealed to Ann, who was on a mission for something that fit without demanding too many choices. She packed up 15 boxes, fit them all in her car and shipped everything out west.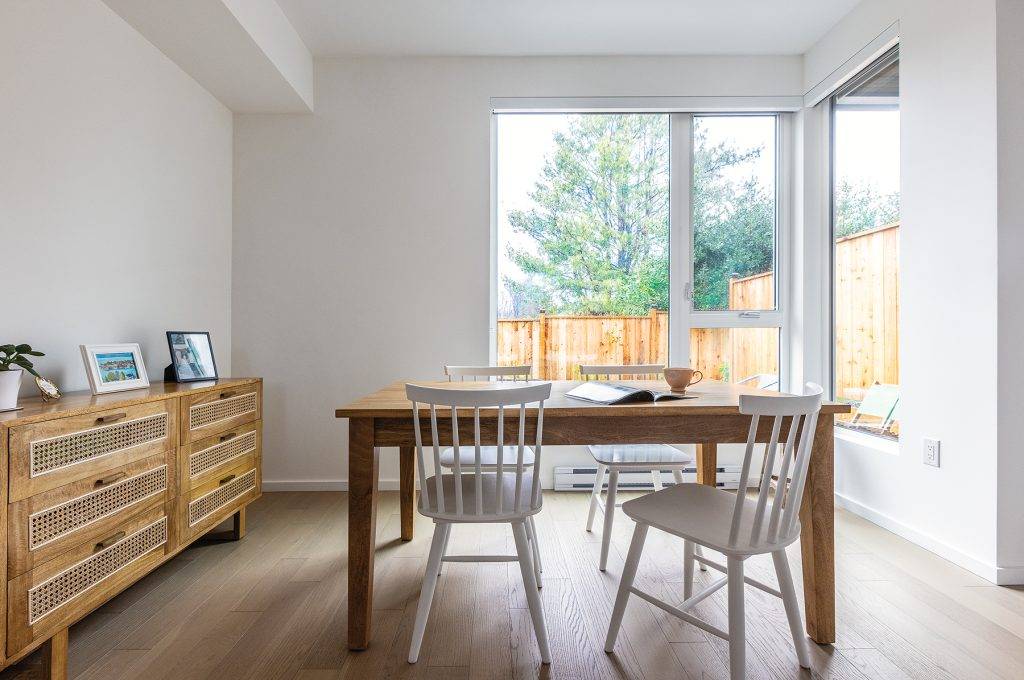 ---
"After researching online, one townhouse in particular checked all my boxes, so I took a leap of faith and purchased it. It was better than I imagined — bigger, brighter and more custom than I thought," she says. "I've never looked back on my decision. I love it here and spend so much time outdoors and at the beach. This is Canada's best-kept secret."
Vision for a Neighbourhood
Unbeknownst to Ann at the time, the Rhodo project had been in development for nearly two decades, from the time the Aryze team first took note of two vacant lots to the time spent working with neighbourhood associations, city planners and city council, then building to ensure the vision matched the neighbourhood.
It was all done with a mission to create a space that would embrace generations of families, complete with ocean views to the south and park views to the west.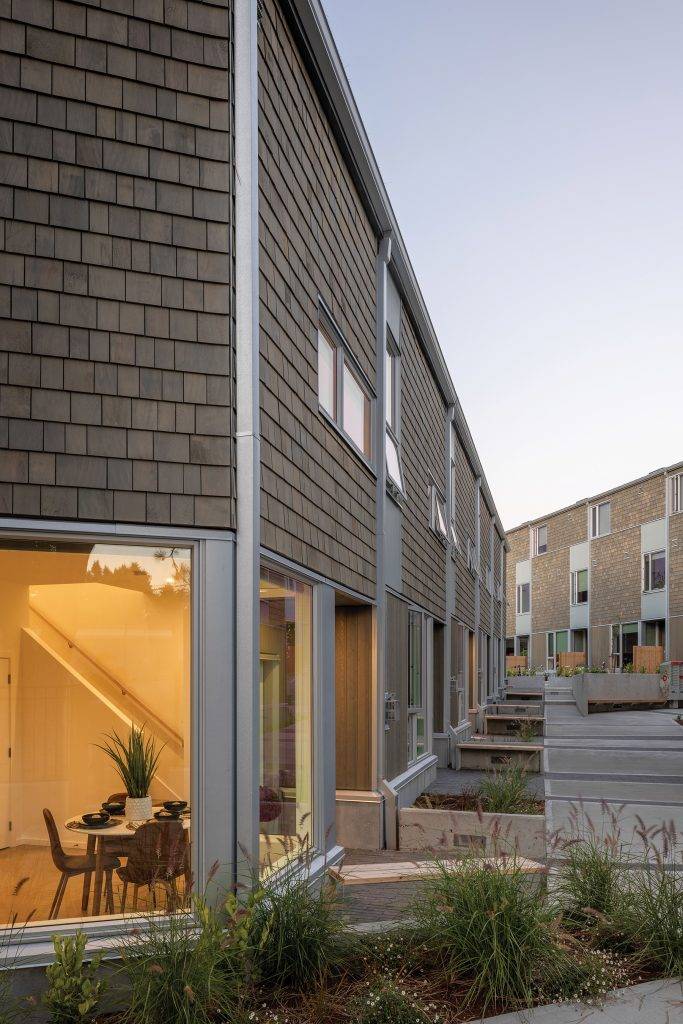 ---
"We really believe in this neighbourhood, and we're principled in our approach to development in this community and how we want to see growth," says Matthew Jardine, principal of construction at Aryze. "A healthy neighbourhood is made up of many demographics. After seeing it all come together, the mix of generations is incredible and it puts a smile on my face to see that we were able to achieve that."
Ann's quest had a few essentials. She needed an outdoor space, and her home has a ground-level patio with a fenced grass backyard. She wanted a new, bright and airy build that would be walking distance to shopping.
She needed two bedrooms for friends who may visit, as well as contemporary, clean lines, natural finishes, neutral tones and a stand-out kitchen. The Rhodo townhome had it all, including an extra bedroom she's turned into an office/workout room.
"The thing I like best here is the vantage points from the kitchen and dining room," Ann says. "The floor-to-ceiling windows let the outdoors become part of the décor. I don't need any artwork on that wall: I'm always looking at the park's seasonal décor."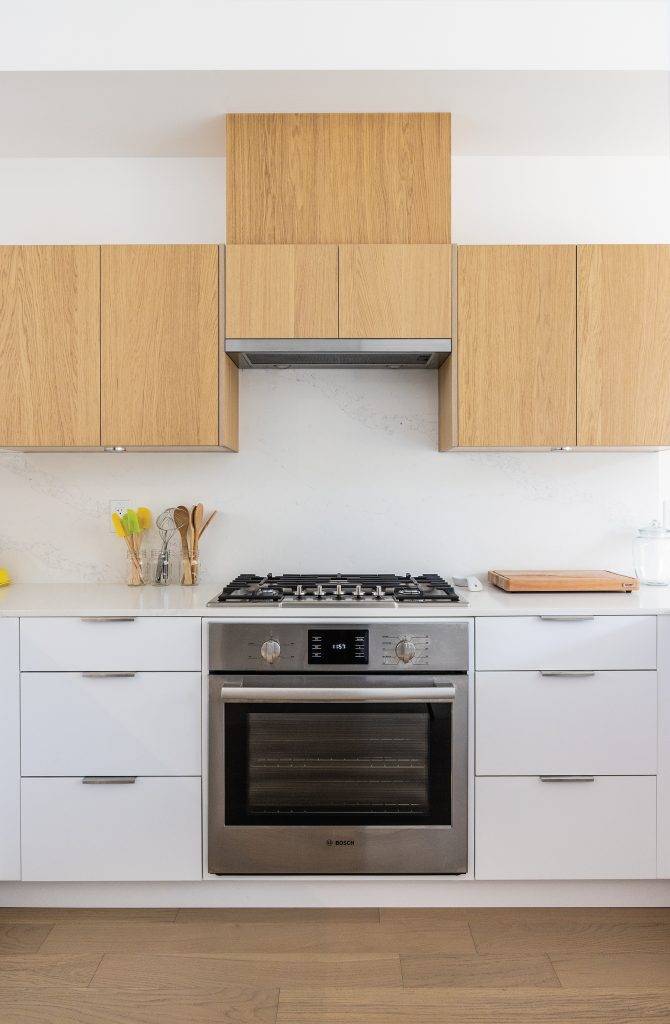 ---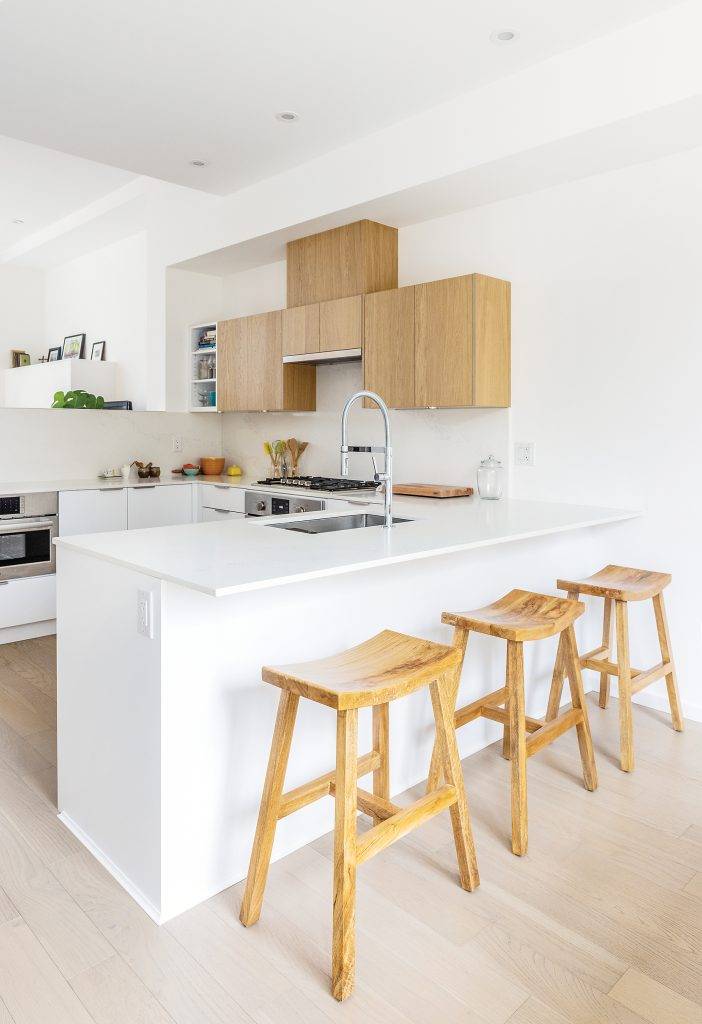 ---
A Natural Palette
Jardine says an important part of Rhodo's concept was its natural palette — cedar shingles, Galvalume roofing, raw aluminum in the guards. It was a vision held by Ryan Goodman, Aryze's late cofounder, who passed away in the fall of 2022.
"Ryan and I always agreed that no one does it better than nature. It's where we feel most alive, so wherever we can, we try to use natural materials," Jardine says. "Ryan was the central piece of this project. He was the common fingerprint, and his fingerprints were everywhere. Rhodo is a great example of who he is — someone with a big heart who cared about people. It was all in the details for him … and his work will be standing for the future."
Details are one element Ann values about her home. Far from cookie cutter, she says, Aryze's work has made everything pop, from the vaulted ceiling to the staggered-panel fireplace mantel to the built-in custom closets in the master bathroom. The defined floor plan in the living/kitchen/dining area made furnishing a breeze — something she did exclusively with pieces from Monarch Furnishings and accessories from Bespoke Design.
"If you're sitting in the living room and there's a mess in the kitchen, you don't see it. That's smart design," says Ann. "I'm more intentional with what I buy now, and I've become a minimalist without really meaning to. I held a mindset of starting new, right down to my clothes."
The shift has become a boon for Ann at a time when social restrictions could have left her more isolated. With family scattered all over the country, she says she picked one of the finest places to open the door on her new chapter.
"I knew I wanted to be a homeowner again, and now I've been able to do that while connecting with my sister and nephew — we get together for holidays and dinners," she says. "I grew up in rural PEI, worked in urban Ontario, so Victoria feels like the perfect balance for my life now."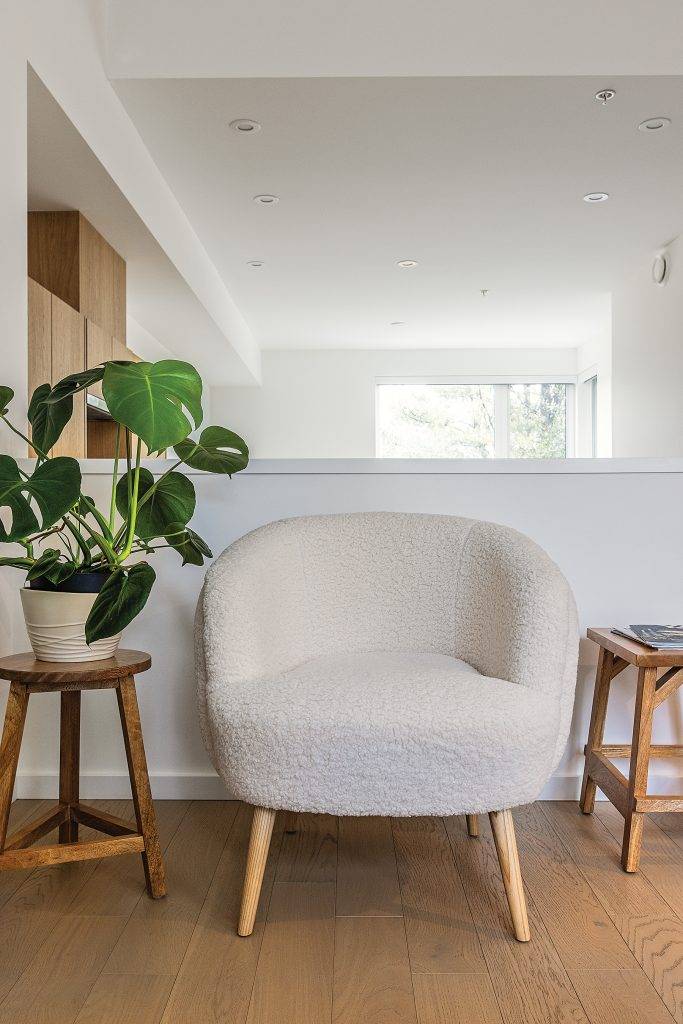 ---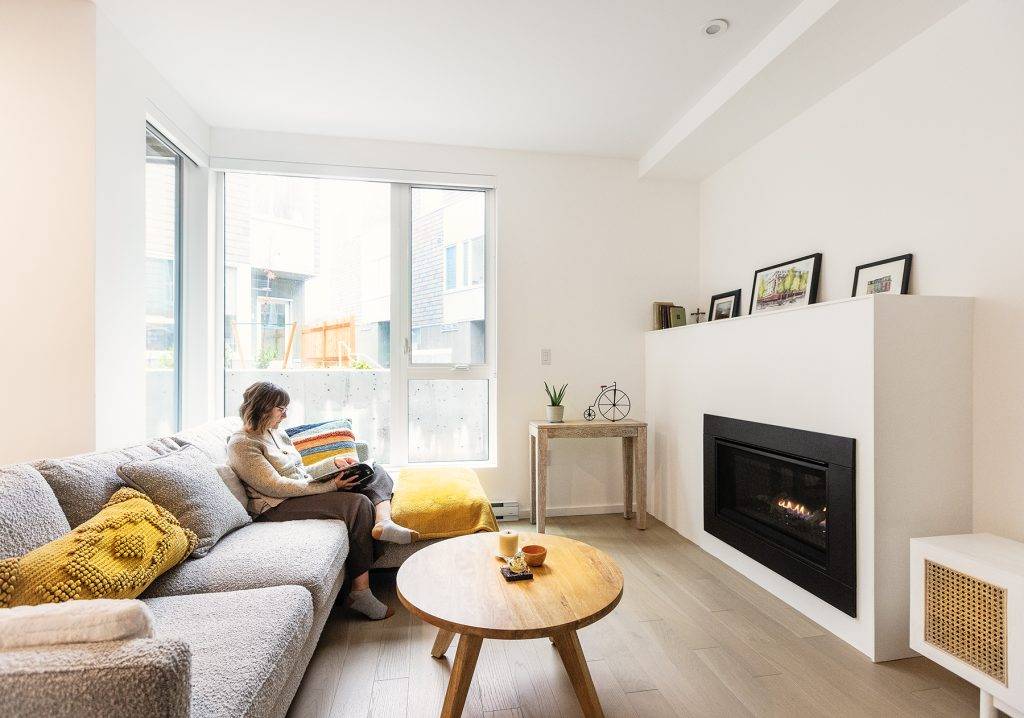 ---
Ann loves the views from her bedroom vantage point. Built-in custom closets in the primary bedroom keep articles conveniently stowed away and out of sight to create a calming space. The bathroom features a floating vanity to carry through the spacious quality of this build, and Grohe fixtures punctuate the room. A well-considered laundry nook includes high-end Whirlpool machines, custom millwork and storage space for linens and supplies.
Resources List
Architectural designer: SHAPE Architecture
Developer: Aryze Developments
Framer/concrete: Westco Construction
Interior doors: Slegg Building Materials
Exterior doors & windows: Ply Gem
Tile & flooring: Hourigan's Flooring
Kitchen appliances: WestCoast Appliance Gallery
Countertops: Stone Age Marble
Landscape design: Biophilia Design Collective
Blinds: S. Laursen & Son Draperies & Blinds
Cabinets & millwork: Pacific Cabinets
Interior glass walls & railings: Phoenix Glass
Interior aluminum railings & exterior aluminum/glass railings: Colonial Railings
Fencing & privacy screens: DJ Fencing
Landscaping: D Byrne Construction & Excavating
Skylights: Ken's Roofing Supplies
Bathroom hardware: Slegg Building Materials
Mirrors/shower enclosures: Builders Choice Shower Doors
Painting: The Painting Dept