By Athena McKenzie
"I'll just put this here for now."
How many of us have uttered those very words as we've thrown our coats across an entryway bench; buried important mail under delivery menus and flyers; or stacked out-of-season clothing, gift-wrapping supplies and things to be donated in a corner of the guest bedroom or basement? You can probably tell these are examples from my own life — and in the spirit of full disclosure, I confess I haven't even touched on the books, magazines and newspapers that seem to be taking over the home I share with my partner, who is also a writer and voracious reader. Apparently, for many people, things get even more cluttered once you throw in children, pets and all the attending accoutrements, such as the constant influx of toys.
According to Stephanie Deakin, owner of RE:Organized! Professional Organizing Services, this 'I'll just put this here for now' mentality is anathema to the professional organizer's ears. And it is a common occurrence in our cultural standard of the more stuff, the better.
"The trouble comes from not having assigned homes for things," she says. "Then there can be conflict about who is responsible for what. Nobody deals with it and clutter piles up."
The Clutter Conundrum
One of the big challenges with getting organized is knowing where to start. Maggie Megenbir of Calm, Cool & Uncluttered Professional Organizing Services counsels that decluttering needs to happen before any organizing systems are put into place.
"Once the excess clutter is gone, people have a better sense of how their remaining possessions can be accommodated in their home or work space," she says.
But what is clutter? Your mind may automatically conjure the accumulated knickknacks and souvenirs taking up shelf space in your home. I think of my own overflowing bookcases and closets. According to Organize Now! Think and Live Clutter-Free by Jennifer Ford Berry, clutter is anything that doesn't serve a purpose or bring you joy. She also believes we often carry clutter in our minds.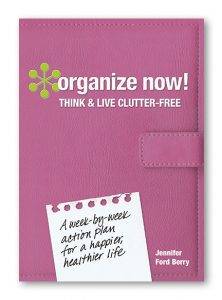 "Negative thoughts feed into the physical clutter around you and the physical clutter enforces and causes more negative thoughts," Berry says. "It's a vicious cycle."
She believes clutter can be defeating and the desire to change can be just as overwhelming — and these feelings often lead to fear.
"Making a decision to get help can be quite intimidating," Deakin says. "Change is difficult, but people are always so glad when they have done it."
The First Step
Consultations with Deakin or Megenbir start with a walk-through of the client's whole house, to get an understanding of how the person or family lives and use their space. People are often ashamed they are not able to manage on their own.
"Most of my clients say, 'I bet this is the worst you've ever seen,' and with most, it's not even close," Deakin says.
If clients find it especially hard to get rid of belongings, Deakin talks to them about common barriers and the psychology of attachment to possessions. Sometimes, if the client needs more help than she can offer, she suggests counselling.
"The emotional aspect of clutter and disorganization is huge, and I believe it's important to get at those issues with every client," Deakin says. "Otherwise, we're 'shovelling snow in a blizzard'. My job is not just to clear the clutter, but also to help the client change his or her habits, and we can't do that without understanding what the underlying issues are. And there are always underlying issues."
According to Deakin, the other big factor contributing to disorganization — and I'm pretty sure this is at the root of the disarray in my own home — is our busy lifestyles. She says the key to this is managing priorities, not necessarily managing time.
Pick Your Battles
Like many of my goals, my own desire to start "managing priorities" and getting our home organized kicked into high gear at the start of the new year. Online research (a.k.a. procrastinating) led me to Apartment Therapy's January Cure, a month-long, project-based guide to getting organized — lucky for me (and my habit of using as many delay tactics as possible) the January Cure draws from the more in-depth, do-it-at-any-time program in The Eight-Step Home Cure, the book by Apartment Therapy's founder Maxwell Gillingham-Ryan.
His book divides homeowners into two camps: warm or cool people. And he stipulates that one is not better or worse than the other, just different. Cool people, he explains, use their homes less, want them to be as low-maintenance as possible and are great at avoiding clutter. Warm people, on the other hand, tend to obsess more about their homes, and are challenged by excessiveness and attachment to people and things.
Looking around our living room at the stacks of books, magazines and DVDs, the collection of coloured glass and all the knickknacks from our travels, it's pretty safe to say we're both squarely in the warm camp.
Whatever type you might identify with, the cure, according to Gillingham-Ryan, is balance. Warm people achieve this by "weeding" out some of the stuff, while cool people try "watering and feeding" or adding some warmth and personality to their space. Looks like I need some weeding gloves.
Gillingham-Ryan may use gardening analogies, but he advises thinking of your home as a body made up of four parts: bones, breath, heart and head. The bones are the physical structure of your home, the breath is the arrangement of your home, the heart (which is trickier to define) refers to the emotional feel of your home and the head refers to the purpose of your home.
His eight-step home cure is organized into an eight-week program; each week has an assignment aimed at each of these elements. You can also pick one major area to make over completely that will solve at least one of your main problems with your home ("the one-room remedy").
I decide to focus on the entryway. It's my goal that when I leave for work each morning, I won't spend 10 frantic minutes looking for my purse, keys and coat, all of which tend to migrate around our home willy-nilly. This area has also become the dumping ground for mail, shoes, reusable shopping bags, newspapers and books (yes, they're everywhere).
The first step is making sure everything has an assigned home. Deakin says it must be just as easy to put items where they belong as it is to put them in a pile of clutter. As I work my way through the first step of "the one-room cure," which involves creating your vision for the space and making a shopping list, I come up with a plan for the area inside my front door. A big issue is the lack of a coat closet, so converting an existing freestanding wardrobe into the "assigned home" for coats and shoes seems logical. I add a coat-rack to my list to be the proper place to hang bags and coats-of-the-season, which will be just as easy as throwing it on the bench, on top of the mail.
Top of Mind
The mail is another issue entirely. In my talk with Deakin about common problems for getting organized, she says some people are "out of sight, out of mind." That's why things are left in the open, so they won't be forgotten. In my house, keeping the mail on the bench is the visual trigger to pay the bills. The challenge, says Deakin, is to keep things in sight but not looking cluttered or to use other visual triggers as a substitute.
"I might use coloured sticky notes to remind you about tasks that have been put in a drawer; pop-up reminders on the computer; or a note on the back of the door that reminds you to do something before you leave the room," Deakin says. "Even a list of tasks in large print, prominently displayed, can serve as a good reminder. The key is that these things have to change or move, otherwise we stop noticing them. I recommend changing them up once a week."
To my list, I add a basket for mail, a recycling bin for the newspapers (to go in the wardrobe) and plan to use bright sticky notes in my calendar about recycling newspapers and paying bills.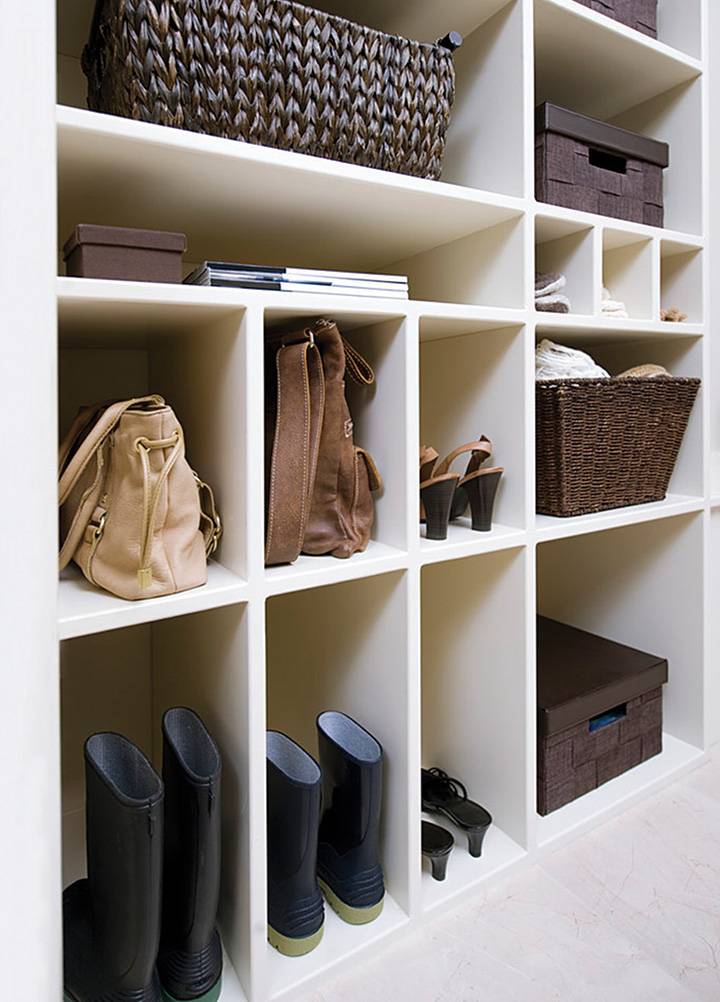 Setting Boundaries
A large component of Organize Now! Think and Live Clutter-Free is about setting boundaries. Berry believes setting limits on the stuff we own is crucial.
"I help my clients use containers, shelves and drawers to create boundaries and set limits for their belongings … A large basket could be a boundary for the magazines in a home. All magazines belong in the basket when not in use. The basket also sets a limit for the number of magazines in the home."
While this may seem obvious to me, the piles of books and magazines around our home are testament to the fact that it's not something we've put into practice.
The next step on my path to organization is setting these limits. Not only have I acquired a magazine basket, if a new book doesn't have a space waiting for it in one of our many bookcases, then one of the old ones has to go; and the same goes for clothes in the closet.
It's clear that if this organizational make-over is going to stick, I need to develop a program for maintenance and set some hard boundaries. Luckily, my old "I'll put this here for now," routine at the door has evolved into an efficient system of 'everything in its proper place,' making my mornings infinitely less harried — all the proof I need that getting organized is worth the effort.