By Cinda Chavich | Photos by Jeffrey Bosdet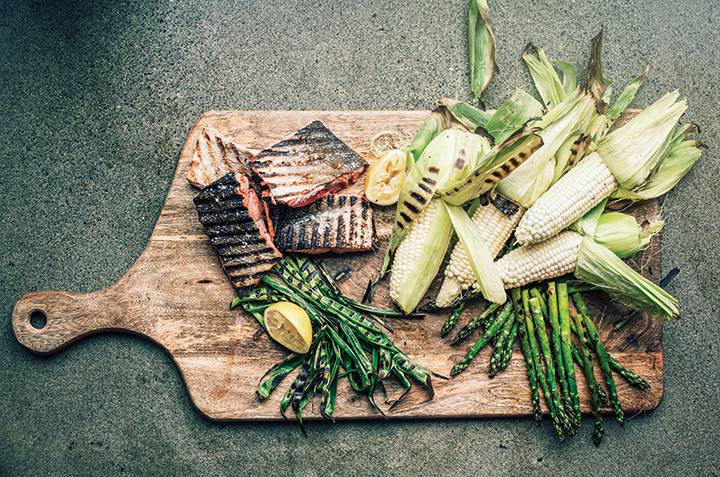 As a Canadian food writer, a question I'm often asked is: "What is Canadian cuisine?"
While the answer can be quite complex — delving into our history of First Nations traditions, Indigenous wild foods, multiculturalism and regional specialties — it can also be rather simple. Like any other place in the world, what people here eat depends on where they come from and where they've ended up.
It's why you'll find French baguettes called báhn mi in Vietnam, the Chinese-Peruvian stir-fry of onions, tomatoes, beef and potatoes in Lima, and Muslim specialties at the end of the Silk Road in Xian, China.
Regional Food Traditions
Since we're a mere 150 years into this experiment of Canada, during a time when world migration has been progressively more rapid, our international influences are less entrenched, though equally eclectic.
That's because the principle is the same. Every region has its own specialties, depending on who arrived, from where and when. Wherever people end up in the world, they eat what they know and cook what they have.
Maple syrup, the original foraged food, was being collected and eaten by Indigenous peoples long before the first immigrants arrived. Indigenous peoples also taught immigrants about Saskatoon berries, manomin (wild rice), rose hips, spruce tips, camas root and clams, and how to roast meat in pits and make the herbal medicinal concoction known as Labrador tea.
When it comes to post-contact cuisine, first wave English, Scottish and French traditions are the backbone, but there are many layers in this multicultural stew, from the eastern Europeans and Ukrainians of the Prairies to the Loyalists of southern Ontario to the Chinese and Japanese immigrants of the West Coast.
Toss those ethnic ideas with the ingredients at hand — whatever is accessible to the average family — and you have the backbone of Canadian food traditions, from West Coast salmon
bakes to Prairie perogies, British butter tarts, French-Canadian tourtiere and Maritime lobster rolls. Dig deeper and you'll find foods specific to individual communities — bar mitzvah-inspired Schmoo Torte in Winnipeg, spicy Clamato Caesars and cowboy flapjacks in Calgary, smoked meat and bagels in Montreal, and fiddleheads, salt cod and screech in the Maritimes. It's home cooking, the kind of food people tend to bring to potluck parties and share at celebrations, and it's the perfect way to mark confederation.
A B.C. BARBECUE FOR CANADA DAY
A backyard barbecue or a family picnic is a great way to celebrate Canada Day. At her website, FoodDayCanada.ca, Canadian food writer and activist Anita Stewart encourages Canadians to plan a party every summer (this year on August 5) — "light a campfire … sweep off the deck for a neighbourhood supper … dig a roasting pit … fire up the grill and use only Canadian ingredients to create a feast of a simple dinner that honours our extraordinary culinary history."
Using the hashtag #fooddaycanada, cooks share recipes and menus on social media, ranging from seared bison rib-eye and McIntosh apple pie to vegetarian chili. Here on the West Coast, with our strong connection to the sea, coastal Indigenous traditions and subsequent infusions of British and Asian immigrants, there's plenty to choose from.
In putting together the menu below, I've shared some of my own recipes, and collected some from local chefs and bakers. It's all food for thought for a big party revolving around a salmon barbecue with seafood chowder or fresh local oysters, hot-smoked salmon and cold-smoked tuna for snacking, Dungeness crab cakes, spot prawns, Chinese dumplings or even California rolls.
Add some fresh local corn, seaweed salad, wild mushrooms and B.C. wines or local craft beers to round out the menu, with a fruit pie or crumble (think local apples or blueberries) or festive red-and-white strawberry shortcake with a tray of creamy Nanaimo bars for dessert.
Of course, feel free to add your own family favourite dishes. Maybe a creamy crab dip or little skewers of bocconcini and cherry tomatoes? How about a bumbleberry pie from a local baker?
While Wikipedia claims poutine is "the national dish of Canada" — and the Quebec creation has become a fast-food staple from coast to coast — I'm sure many Canadians would beg to differ. After all, Canadian cuisine is whatever is traditional in your family and your community, from pemmican to mussels, and salt cod to sushi.
It's the taste of near and far, and exactly what it means to be Canadian. Happy birthday to all of us!
---
MENU
APPETIZERS
Crab and Pine Mushroom Cakes (recipe below)
Creamy Crab Dip
Cold-Smoked Tuna with Wasabi Mayonnaise (recipe below)
Local Baby Buffalo Mozzarella and Cherry Tomato Skewers
MAIN COURSE
Grilled Corn on the Cob (recipe below)
Grilled Wild West Coast Salmon (recipe below) or Spring Salmon Burgers
Potato Salad
DESSERT
Nanaimo Bars (recipe below)
Bumbleberry Pie
Mini Strawberry Shortcakes
Classic Lemon Loaf and Berries (recipe below)
---
CRAB AND PINE MUSHROOM CAKES
Chef Bill Jones of Deerholme Farm outside Duncan is a mushroom expert and forager. This is his tasty recipe for Crab and Pine Mushroom Cakes, made with these sweet, wild B.C. mushrooms. You can substitute enoki mushrooms for a milder flavour. From The Deerholme Mushroom Book by Bill Jones (TouchWood Editions).
• 1 lb white fish (cod, halibut, sole)
• 1/4 cup whipping cream
• 2 cups crab meat (from a 1.5 lb crab)
• 1 cup finely diced pine mushrooms (or enoki)
• 1 tsp minced garlic
• 1 green onion, thinly sliced
• Salt and pepper to taste
• 1 cup panko or bread crumbs
• 2 tbsp canola oil
In a food processor, pulse the fish until a rough paste is formed. Add the cream and process until a smooth paste is obtained. Transfer to a mixing bowl and add the crab (without any juice), mushrooms, garlic, green onion, salt and pepper. Mix until smooth. The mixture should form into a ball — if it's too wet, you can add a few bread crumbs. Fry a small sample
to test the seasoning.
Using an ice-cream scoop or 1/4-cup measure, scoop up the mixture and form into a ball with your hands. Roll in the panko to coat evenly. Press into a cake and place on a tray lined with parchment. Repeat to form remaining cakes.
Heat oil in a non-stick pan; add the crab cakes and fry until golden brown on each side. If you need to fry in batches, transfer the cooked cakes to a warm oven and let rest while you cook the remaining cakes. Serve warm with coleslaw or mayonnaise flavoured with lemon and garlic. Makes 8 cakes.
---
COLD-SMOKED TUNA WITH WASABI MAYONNAISE
I buy pieces of cold-smoked tuna loins from Finest At Sea, slice them paper thin and serve them over a dab of wasabi mayo on a seaweed rice cracker, available at the supermarket. Very West Coast, very easy and very popular.
• cold smoked tuna loin, sliced paper thin
• 1/4 cup mayonnaise
• 1/2 to 1 tsp wasabi powder or paste (to taste)
• Japanese rice crackers with seaweed (nori)
Freeze the tuna partially to make slicing easier, then use a sharp knife to carve off paper-thin slivers. Set aside. In a small bowl, combine the mayonnaise and wasabi powder and mix well, adding more wasabi to taste. Place a dollop of wasabi mayonnaise on each cracker and top with a rolled slice of smoked tuna. Serve immediately.
---
GRILLED WILD WEST COAST SALMON
Whether you cook a whole side of salmon to serve as a main dish or pick smaller, skinless fillets to eat as salmon burgers with mayonnaise, lettuce and tomato, it all starts with my tried-and-true marinade, kicked up with Canadian whisky. You can make a refreshing salsa to serve with your salmon — cut sweet corn from the cob and toss with chopped green onion, minced red pepper, jalapeno, lime juice and cilantro. Or whirl up a tasty burger sauce of mayonnaise, chipotle chili, lemon zest, ketchup and sweet pickle relish in the blender.
• 1 whole side of wild B.C. sockeye or spring salmon (or skinless individual salmon fillets for burgers)
Marinade:
• 1/2 cup Canadian rye whisky
• 1/4 cup olive oil
• 2 tbsp soy sauce
• 2 tbsp maple syrup or brown sugar
• 4 cloves garlic, pressed or minced
• 1 tsp white pepper
Optional (for salmon burgers):
• Whole wheat buns
• Lettuce
• Tomato
• Mayonnaise or burger sauce (see above)
In a shallow dish (large enough to hold the fish in a single layer) combine the marinade ingredients. Set the salmon, flesh side down, into the dish, and refrigerate for about 2 hours.
Preheat the barbecue to 400°F. Place the fish skin side down on the well-oiled grill (or use a grilling basket or grilling mat) and cook for 8 to 10 minutes, until the fish flakes easily.
For added flavour, cook your salmon on a cedar plank, or add some smoke with alder or applewood chips. Just soak the chips in water, wrap in a foil pouch that's been punctured in several spots, then set over the gas burner until it starts to smoke. Place the salmon on the grill and cover while cooking.
---
GRILLED CORN ON THE COB
Grilled corn is really just corn that's steamed on the cob and in the husk. Make sure to buy corn with bright-green husks — the fresher, the sweeter, as the sugars in corn start turning to starch the minute it's picked. So get your corn close to home at Silver Rill farm.
Peel back the husk, leaving it intact at the base of the cob, and pull out all of the corn silk. Rinse the corn and fold the leaves back up around the cob. Tie closed with a few pieces of string or a strip of the husk, and then soak the cobs in a sink full of cold water for about 10 minutes. Put the corn on the hot barbecue grill, or right on the hot coals, and steam the corn for 15 to 20 minutes. The husks will get a little charred on the outside and the water that's trapped within the husk will steam the corn as it cooks. Peel the charred husks away and serve the corn with plenty of fresh butter.
---
NANAIMO BARS
Everyone's mother makes Nanaimo Bars, but at Ruth and Dean, Susannah Ruth Bryan (a.k.a. queen of beautiful cakes) takes this ubiquitous bar to new heights, literally doubling down on the creamy custard filling. "They're terribly unstylish, but they're so good," she says. Here's her recipe.
For the base:
• 2 ounces semi-sweet chocolate, chopped
• 1/2 cup butter, softened
• 1 tsp vanilla
• 4 tbsp pasteurized egg whites (or one large egg)
• 2 cups graham wafer crumbs
• 1 tsp salt
• 1 cup unsweetened coconut
For the filling:
• 1 cup butter butter
• 8 tbsp custard powder (Bird's Custard)
• 8 cups powdered sugar
• 3/4 cup milk
• 1 tbsp vanilla
• 2 tsp salt
For the glaze:
• 5 ounces semi-sweet chocolate, chopped
• 5 tbsp butter
Start by making the base. Place 2 ounces of chopped chocolate in a glass bowl and microwave at medium power for 2 to 3 minutes, stopping every 30 seconds to stir the mixture, until the chocolate is melted. Whisk in the softened butter, stirring until melted and incorporated, then add vanilla, egg, graham wafer crumbs, salt and coconut. Stir to combine.
Line the bottom and sides of a 9 x 13-inch pan with parchment paper, leaving the ends of the paper hanging over the edge of the pan (this will help you lift out the bars later). Press the base mixture evenly into the pan. Chill base for 1 hour.
Meanwhile, make the filling. Cream the butter in a bowl with an electric mixture and beat in the custard powder, powdered sugar, milk and vanilla until smooth. Spread the filling evenly over the base and chill well — for several hours or overnight.
For the glaze, place the chocolate and butter into a microwave-safe bowl and microwave at 50% power for a minute or two, stirring every 30 seconds, until the mixture is melted. Whisk together well and spread evenly over the chilled custard. Use a knife to score the pan into triangular bars, cover with plastic wrap, and chill overnight.
Lift the entire confection from the pan using the parchment paper and set on a cutting board. To cut the bars, use a sharp knife that's been dipped into hot water and rinsed well between each cut. You can store the Nanaimo Bars in a covered container in the refrigerator for a week, or freeze for up to 3 months.
---
CLASSIC LEMON LOAF AND BERRIES
This is one of my favourite recipes for a portable, summer dessert. With a lemon loaf, you have the backdrop for an impromptu berry shortcake — just top with sweet whipped cream or lemon yogurt and fresh blackberries, blueberries or strawberries. Jazz up this pound cake with 3 tablespoons of poppyseeds or a little minced fresh lemon thyme from the garden if you're feeling fanciful.
• 1 3/4 cups all-purpose flour
• 1 tsp baking powder
• 1/2 teaspoon salt
• 2 large eggs
• 1 large lemon (preferably organic)
• 1 cup granulated sugar
• 3/4 cup plain or vanilla yogurt
• 1/4 cup canola oil (or any other neutral-flavoured oil)
Drizzle:
• 1/4 cup fresh lemon juice
• 1/4 cup icing sugar
Toppings:
• Sweetened whipped cream or Greek-style lemon yogurt
• Fresh blackberries, strawberries or blueberries
• Fresh mint leaves to garnish
In a bowl, combine the all-purpose flour, baking powder and salt.
Scrub the lemon well and dry. Using a lemon zester, remove the yellow zest from the lemon. Chop the zest finely and add to the flour mixture.
Roll the lemon on the counter to soften, then cut in half and juice, using a lemon reamer. Set the juice aside for the drizzle.
In a separate bowl, beat the eggs with the sugar, yogurt and oil. Fold in the flour mixture and mix until the batter is smooth. Add extras like poppy seeds now.
Preheat the oven to 350°F. Grease a large 9×5-inch loaf pan. Pour the batter into the pan and smooth the top. Bake loaf in preheated oven for 50 to 60 minutes, or until a bamboo skewer inserted into the top of the loaf comes out clean (no uncooked batter clinging to it).
Set the loaf, in the pan, on a rack to cool. Whisk together the lemon juice and icing sugar to make a drizzle. Make more holes in the top with the skewer and drizzle the lemon mixture over the hot loaf. Let it cool completely before turning it out of the pan. Wrap tightly in foil to store or freeze.
To serve as shortcake, slice or cube the loaf and arrange in dessert dishes, top with whipped cream or yogurt, and fresh berries. Garnish with mint.
Makes one large loaf.