Follow YAM's guide for making the most of the satisfying and versatile spud.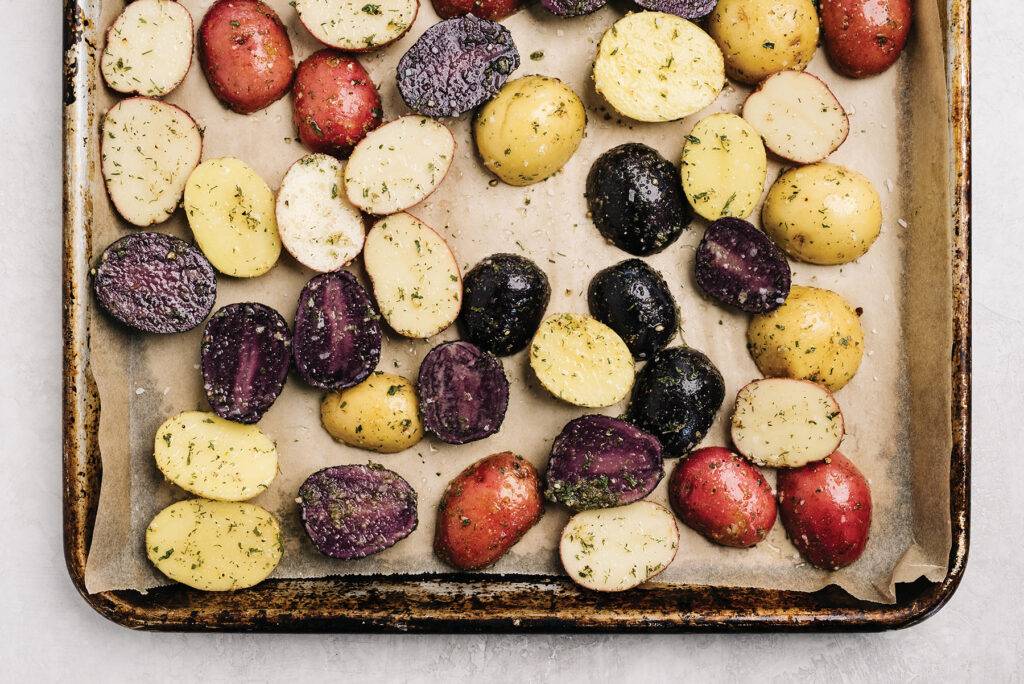 ---
BY CINDA CHAVICH
It's hard to predict what March will bring in this neck of the west coast woods — warm days bursting with the first flush of leafy greenery and early blossoms or another dreary month of winter.
What you can predict is the annual celebrations, including the beer-swilling St. Patrick's Day parties and the spring seders of Passover (April 5 to 13 in 2023). Both always include potatoes on the menu because, at this time of year, it's a given that we'll still be eating storage crops and root vegetables, especially potatoes.
That's not a hardship for me. Quite the opposite. It's hard for me to imagine a world without potatoes: addictive rippled potato chips and squidgy potato perogies, creamy potato-and-leek soup, crispy potato kugel, curried potatoes with green beans, and tender Norwegian lefse or Irish farls with smoked salmon.
Never mind the everyday potato mash, hash and fries. There's even a new vegan potato "milk" made with the ubiquitous root.
Yes, the potato shines in so many cuisines around the world; it's a rare week when there are no potatoes on our plates.
GLOBALLY LOCAL
The potato was originally a plant indigenous to South America, domesticated by pre-Incan civilizations in the Andes around 400 BC and spirited away to Europe by Spanish invaders in the 16th century.
The hardy root vegetable was planted across Europe to prevent starvation, but, in a twist of bitter irony, led to the Irish potato famine in the mid-1800s, when a blight caused potato crops to fail over three consecutive years. By then, potatoes made up 80 per cent of the local diet for both humans and livestock. Millions were left without food. The Irish emigrated en masse to escape the famine and brought a love of potatoes with them.
Today the potato is the fourth largest food crop in the world, after corn, rice and wheat.
Canada has long been a big potato producer. In the early 1800s Lord Selkirk arrived on Prince Edward Island with a group of Scottish immigrants, bringing the potatoes that seeded an industry that continues to thrive there today.
When the Hudson's Bay Company brought potatoes to Fort Langley in 1827, the Indigenous people of Haida Gwaii were already growing a fingerling variety, recently traced through a genome project to cultivars in Mexico and Chile.
The isolated Pemberton Valley, north of Whistler, has become a kind of seed potato vault, wedged between two mountain ranges that have protected its potatoes from encroaching diseases for decades. Designated a seed potato control area in 1945, it's known to grow some of the best virus-free seed potatoes in the world, supplying growers from Western Canada to Idaho, Oregon and California.
At least 27 potato varieties are grown in the Pemberton Valley, including Sieglinde, Eramosa, Warba, White Rose, Pontiac, Chieftain, Russian Blue and Yukon Gold, the lovely, yellow-fleshed and tasty potato created by Canadian plant breeders at the University of Guelph. No potatoes sourced from outside the valley can be planted in this official virus-free zone.
Across the Creek Organics has been growing potatoes here since 1912, while the Pemberton Distillery uses organic local potatoes to make its award-winning Schramm potato vodka and other spirits.
In Peru, where the root vegetable is rooted, you'll still find an astonishing array of heirloom varieties in the local markets (some 4,000 recorded there) and, in Andean communities, Indigenous women tend native potatoes for food, trade, medicine and cultural practices.
The potato is a local food in every way, produced around the world for local markets. That's what keeps the price affordable — as grain prices skyrocket and global supply chains splinter, potatoes, grown close to home, are a staple most of us can count on.
PICKING THE RIGHT POTATO
Potatoes come in many different shapes and sizes. There are literally thousands of cultivars, each with unique attributes. Some potatoes are firm when cooked and best for salads and frittatas (think waxy round red Pontiac and Norland), others mash easily and have an inherent buttery flavour when roasted (Yukon Gold or Sieglinde), while long white Kennebec are versatile and make excellent fries. The starchiest spuds (russet or Idaho) are dry and fluffy, good for baking and ideal when you're making gnocchi.
In summer, look for a variety of interesting small fingerling potatoes from local growers, such as the knobby, nutty Pink Fir Apple, tasty oval red Roseval (French Fingerling) or yellow banana fingerling potatoes. These are all low-starch potatoes that keep their shape when cooked.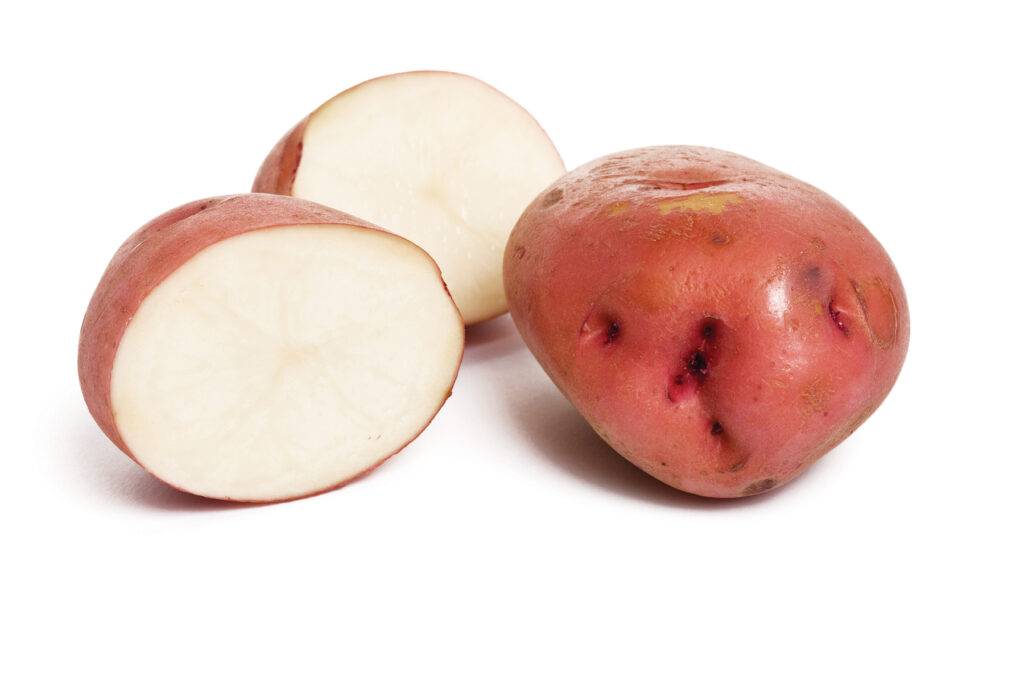 Red Pontiac (left) – These waxy potatoes are ideal for salads and frittatas. Pink Fir Apple (center) – An heirloom fingerling that's trendy again, this potato makes terrific chips. Warba (right) – The versatile, early-ripening Warba is best baked or boiled.
---
Early new or nugget potatoes such as the Warba, only grown in B.C., have very thin skins and can be enjoyed without peeling. Later crops have thicker skins, appropriate for storage, so you may want to peel them (though all potato skins are edible and offer extra fibre and flavour). Just remember to avoid any potatoes that have a green tinge (a result of exposure to light and heat), or make sure to pare any green portions away before cooking. And don't eat raw potatoes — uncooked potatoes contain solanine and lectins, which can make you sick.
A POTATO IN EVERY POT
Potatoes are more than just starchy sides for basic meat-and-potato meals. They can star in any course.
A tiny baby potato, halved and roasted until crisp, makes a nice hors d'oeuvre when topped with a dab of crème fraiche or sour cream, and a bit of smoked salmon.
In India, spiced potatoes fill samosas and are rolled into crispy dosa pancakes. And sliced potatoes are the basis of any Spanish tortilla or Italian frittata, both of which make great tapas-style starters.
Potatoes also shine in soups, the base of an elegant potato-and-leek potage or a chunky fish chowder with lots of cubed potatoes, clams and other seasonal seafood. In the European tradition, potato soups range from cool and creamy vichyssoise to hearty combinations with smoked sausage, carrots, mushrooms and dill.
And don't miss out on main dishes that feature potatoes, such as Greek moussaka, a layered casserole of potatoes, eggplant and minced lamb, or Peruvian causa, a cold potato casserole made by layering spiced mashed potatoes with tuna or shrimp salad and sliced avocados.
Potatoes also fill perogies and knishes, and are the main ingredient in classic Italian gnocchi, the binder for fish cakes and the topping for meaty shepherd's pies.
Of course, boiled, mashed, roasted and fried potatoes are always welcome in a supporting role, whether you're serving basic bangers and mash or coq au vin. Dress them up in a gratin with cream and cheese, or serve them cold in summery salads with mayonnaise and sliced radishes or tossed in mustardy vinaigrettes.
A HEALTHY CHOICE
Potatoes get a bad rap in the low-carb world, but potatoes are more than empty white calories — they are a surprisingly nutritious vegetable, especially when served with the skin.
One baked spud delivers two milligrams of vitamin C along with a good amount of B6, folate and magnesium, plus a ton of potassium (about 940 mg or 20 per cent of your recommended daily amount).
And if you're worried about the blood-sugar-spiking glycemic index of potatoes, try cooking, cooling, then reheating them or using them in other recipes. The cooling step actually changes the makeup of the starches and reduces the glycemic impact by 40 per cent. Or make that creamy mash with potatoes and (mostly) cauliflower, a sneaky substitute for the usual starchy side.
So, pass the potatoes and celebrate the humble spud. Mashed, smashed, fried, baked or gooey in a gratin, potatoes are the universal meal maker!
10 Tips + Techniques for Terrific Taters
Boiled and Mashed
•Boil or steam potatoes whole, if small, or cut into large cubes. Cook until tender. Mash with butter, milk or cream and season with salt and pepper. Rustic mashes, with the skin, include all of the healthy nutrients and fibre. If you like a garlicky mash, add whole garlic cloves to the pot while cooking potatoes.
•Fold in finely chopped green onions or chives and top with extra butter for Irish champ, add dill and feta, or make Parmesan potato mash with sour cream, grated cheese and butter.
•For rustic colcannon, boil your spuds with chopped onions, parsnips and cabbage, then make a chunky mash with butter and cream.
•Use leftover mash for salmon cakes, to top pot pies and in potato griddle breads such as Norwegian lefse, Scottish potato scones or Irish farls.
•I like an old-fashioned ricer to crush cooked potatoes that are destined for dishes like gnocchi or potato breads. It keeps the potatoes dry and fluffy. Don't be tempted to use a food processor — the results will be gummy, not light.
Roasted and Baked
•Bake whole, washed russet potatoes in their skins. Stab with a fork (to prevent explosions), rub with oil and salt, and bake at 400°F for 45 minutes, or until soft inside. Then slice the top lengthwise, squeeze to fluff and top with butter; sour cream; chopped, crisp bacon and/or minced green onion.
•For a perfectly crispy potato, do this: Steam or boil whole nugget potatoes, skin on, until barely tender (I like Yukon Gold), place them on a parchment-lined baking sheet, press them lightly with a potato masher (just to break the skin, flatten the potato a little and expose some of the fluffy interior), drizzle with olive oil (or duck fat) and sprinkle with sea salt. Then bake in a hot 400°F oven until golden brown and crisp (about 45 minutes).
•For easy roasties, peel and cut larger potatoes into big chunks, boil in water for five minutes, then drain and shake in the dry pan to rough up the edges. Toss with olive oil (or duck fat) and salt and roast in a hot oven until brown and crispy.
•Tossed with a spicy paprika sauce, crispy roasted potatoes become patatas bravas, a popular Spanish tapas dish. Or use roast potatoes as the base for a hearty breakfast hash, topped with sautéed mushrooms, scrambled eggs and melted cheese.
•Oven fries start with scrubbed russet potatoes, cut lengthwise into wedges. Heat a baking sheet in a 450°F oven until hot, toss potatoes with olive oil and salt, place on a hot pan and bake 20 to 30 minutes, until brown and puffed.
Four Potato Recipes to Try
1. Potato Gratin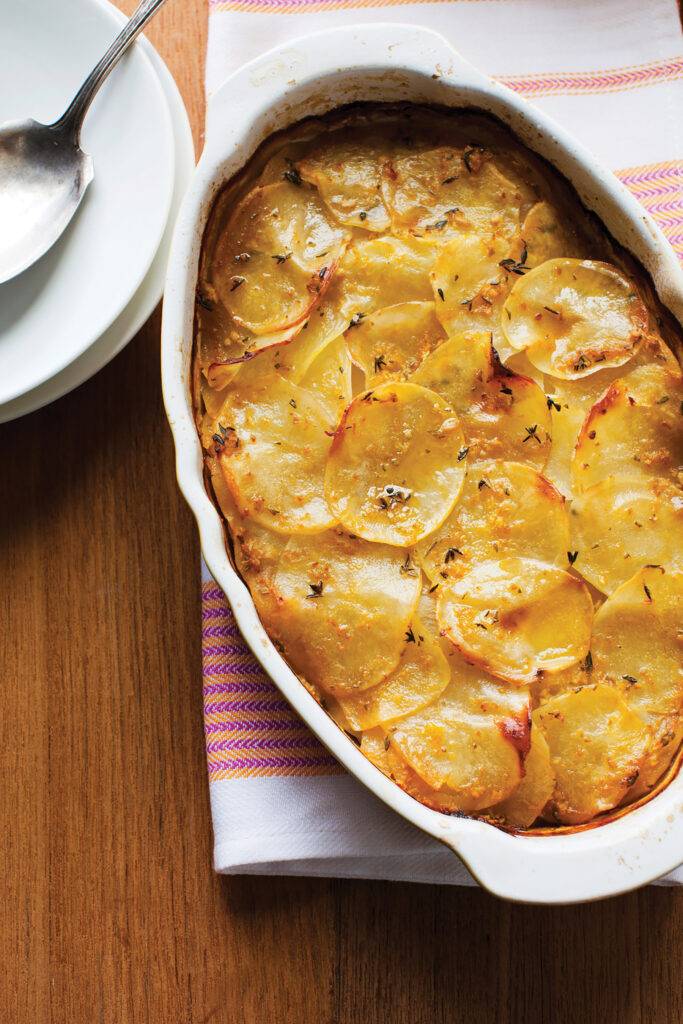 ---
The French potato gratin (a.k.a. pommes dauphinois) is the simplest way to take the humble spud into decadent territory. There are many variations, some made with parboiled potatoes and cream sauces or with the addition of a layer of sautéed onions or leeks, but this is easy and elegant.
• Butter or olive oil (for greasing the pan)
•4 baking russet potatoes (about 2 lb), peeled, divided
• 3 cloves garlic, peeled and slivered, divided
• Salt and freshly ground pepper
• 1 cup shredded Gruyère or old Cheddar, divided
•1½ cups heavy cream (or half cream and half
sour cream, whisked together), divided
Preheat oven to 350°F. Lightly grease a shallow oval gratin dish with butter or olive oil.
Slice potatoes very thin using a mandoline.
Place a third of the sliced potatoes in the bottom of the gratin dish, arranging them in concentric circles. Scatter half the garlic over top, season with salt and pepper, then sprinkle with a quarter of the cheese. Drizzle with about a quarter of the cream.
Repeat with a second layer, then finish with a layer of sliced potatoes. Pour the remaining cream over top and sprinkle with the remaining cheese.
Bake uncovered for 60 to 70 minutes, until bubbly and golden brown.
Serves 4 to 6.
2. Mini Potato Kugels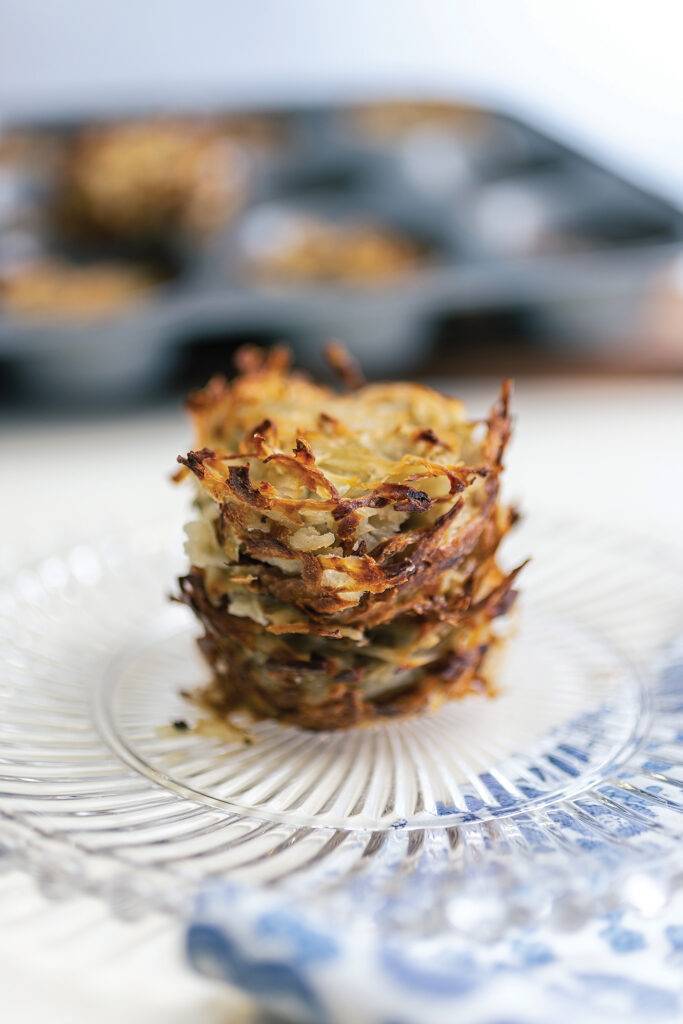 ---
You can bake this kugel mixture in a buttered baking dish, but using a muffin tin makes this Passover classic the crunchiest. They are like crispy potato latkes, without all of the work of frying, and great for breakfast, lunch or dinner!
• 1 to 2 Tbsp vegetable oil (for greasing the muffin tins)
• 2 lb baking potatoes (about 4), peeled and grated
• 1 medium onion, peeled and grated
• 3 eggs, beaten
• 1 Tbsp olive oil + extra for drizzling
• ½ tsp salt, or to taste
• Black pepper, to taste
Preheat oven to 350°F. Grease muffin tins with vegetable oil. Alternatively, you can use cooking spray or parchment liners.
Use a food processor fitted with a grating disc (or the large holes on a standard grater) to grate potatoes and onion. Place in a sieve and drain for 30 minutes, squeezing to press out excess moisture.
Combine the potatoes and onions in a large bowl and stir in eggs, 1 Tbsp olive oil, salt and pepper.
Fill muffin tins with potato mixture. Bake 45 to 60 minutes or until tops are brown and crisp.
Loosen from pan while still warm. Serve immediately or refrigerate (or freeze) and reheat on a baking sheet in a hot oven (to retain crispy exterior).
Makes 1 dozen.
3. Perogy Pizza
Inspired by a flatbread served at Category 12 Brewing Bistro, my recipe for this carbs-on-carbs pie is pure comfort, one that evokes my favourite perogy flavours — potatoes, fried onions, bacon and sour cream!
• 2 Tbsp olive oil
• 1 large onion, chopped
• ½ tsp salt
• 3 pieces lean, double-smoked bacon, chopped
• 2 cups mashed potatoes
• 2 Tbsp melted butter
• 2 green onions, chopped, divided
• 1 ¼ cups shredded cheese (such as a mixture of mozzarella and Parmesan), divided
• 2 single-serve prebaked pizza shells, naan, pita or other flatbread
• Pinch of crushed chili flakes
• Sour cream and chopped green onions to garnish
Preheat oven to 400°F.
In a sauté pan, heat the olive oil over medium-low, add the chopped onion and salt, and cook until browned and caramelized, stirring occasionally to prevent burning.
Cook the bacon until crisp and drain on paper towels.
Stir about a quarter of the caramelized onions into the mashed potatoes, then add the melted butter, half the chopped green onion and ¼ cup of the shredded cheese.
Place the flatbreads on a baking sheet and top each with the mashed potato mixture, dividing the mixture evenly between each flatbread and smoothing it into an even layer. Top each with the remaining cooked onion, chopped bacon and shredded cheese. Sprinkle each pizza with a pinch of chili flakes.
Bake for 10 to 12 minutes, until bubbly and beginning to brown on top. Serve perogy pizza drizzled with sour cream and sprinkled with additional green onions.
Serves 2 to 4.
4. Potato and Green Bean Curry
I love to cook this simple potato curry with fresh green or yellow beans, but feel free to substitute other vegetables (think cauliflower, broccoli, carrots, Brussels sprouts) to change it up. Serve with roti (Indian flatbread) or rice.
• 2 Tbsp butter or ghee
• 1 tsp whole cumin seeds
• 1 onion, chopped (about 1 cup)
• 1 Tbsp minced fresh ginger
• 1 tsp ground turmeric
• 1 tsp dried fenugreek leaves (methi)
• 2 large Roma tomatoes, seeded and chopped (about 1½ cups)
• 2 cups potatoes, cut into 2-inch pieces
• 4 cups (1 lb) green or yellow beans, stems removed
• ½ cup water
• 1 tsp garam masala
• ½ tsp Asian chili paste (or to taste)
• 2 Tbsp chopped fresh cilantro
In a large saucepan, heat the butter over medium-high. Add the cumin seeds and stir until they sizzle and pop. Add the onion and ginger, and cook together for 5 minutes, until onion is softened and starting to brown.
Stir in the turmeric, methi, tomatoes, potatoes, beans and water, and combine well. Bring to a boil, cover, reduce heat to low and braise for about 10 to 15 minutes, until the potatoes are just tender.
Gently stir in the garam masala, chili paste and chopped cilantro.
Serves 4.