From the solitary soul who treats cold water immersion as an intense meditation to the social groups who use it to connect with others, many locals are braving the year-round ocean plunge. In an effort to understand the appeal of cold water therapy, our editor takes a chilly dip. 
By Athena McKenzie | Photo by Belle White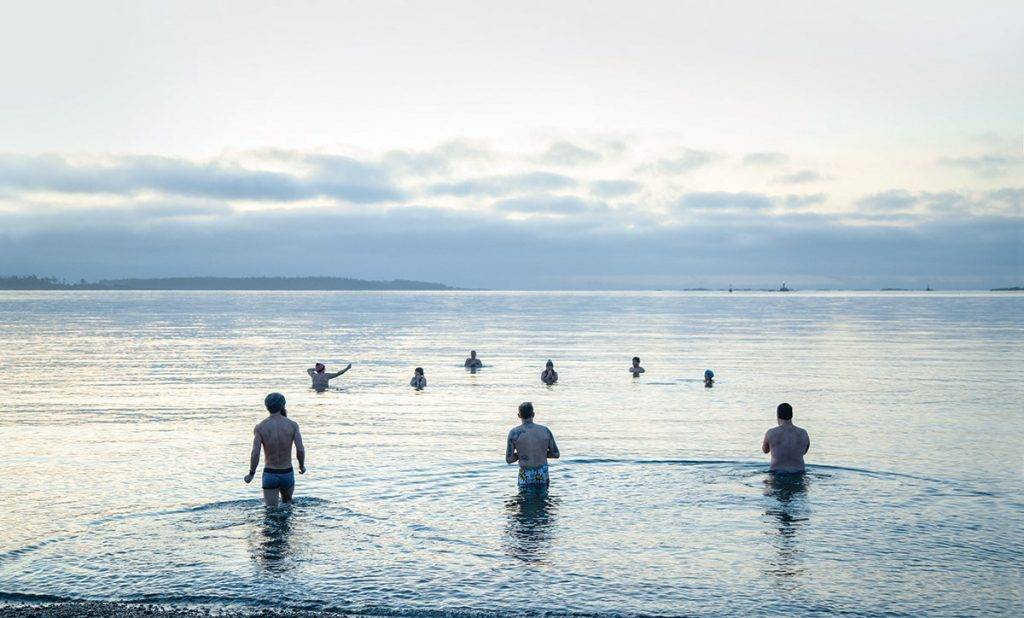 It was a few minutes after 7 a.m. on a brisk morning last February and the sun had just emerged from the ocean, bathing Willows Beach in a muted pinkish light. The heads bobbing above the water were back lit, reduced to simple silhouettes that could have easily been mistaken for an energetic group of seals. But their voices were distinctly human.
"Are you coming in?" they called, waving me toward the water.
And despite my misgivings when I awoke at 6 a.m. and sleepily pulled my swimsuit from its winter storage, I responded by shedding my boots and cozy layers and headed to the water's edge. I'd been thinking about the moment for days, and in its imagining I had really believed my brain would make me stop. Like the time years ago, when I tried to walk on the glass floor at the CN Tower in Toronto: looking 342 m (1,122 ft) straight down, my feet refused to step off the carpeted area onto the glass panel, some primal preservation instinct kicking in. But there was no such hesitation as I reached the water's edge.
I waded in, joining the Oddballs, — a group who meet to take the plunge of cold water therapy together — clustered in water that was neck deep. 
There was a lot to take in: the tingling sensations in my arms and legs, the cold breeze, the panorama of the ocean and mountains, the dogs on the beach, the friendly questions from my fellow dippers. After five minutes, I was encouraged by the others to get out. As a first-timer, there was a risk of overdoing it. For the next little while, there was a flurry of activity as the Oddballs left the water, donned their bathrobes and headed off to their respective workdays.
At that time, this group of friends had been meeting every day for months, gathering in winter's pre-dawn dark, to partake in their daily ocean dip — many going even in the rain or snow. It begs the question: "Why?"
"I think the primary thing is the mental benefit," says Andy Bernhart, the original Oddball, whose social media posts sharing his morning ritual drew a random assortment of friends looking to join him on his forays. "It just puts you in a really good mood. I feel like my stress resilience is quite a bit better too. I don't respond to stressors in the same way. Part of this is that [cold water immersion] is not an easy thing to do. But when you just do it anyway, you can take this attitude towards other things. You don't worry about them as much." 
Kate Dorion, another Oddball, credits the ocean dip and the regular morning routine with turning around her seasonal depression. Last winter she shared one of her morning dunks on Instagram, and the beautiful sunrise lighting and her mindful assessment sparked many interested queries.
"The new routine of cold water therapy has changed so much in me," she wrote. "It's been my happiest winter on record in terms of my mood. I've avoided the depression that likes to visit most autumns and winters. And I'm so thankful. To wake everyday early, to be in nature, to experience the beauty that is our coast, to be with wonderful, uplifting people has been game changing. It's only been a couple of months, but I can't see why I would stop!" 
Quiet Solitude
While the Oddballs embrace a more social approach to cold water immersion, there are even more locals who prefer the solitary plunge. Travel along the region's beaches, and chances are you'll find these brave souls, chilling out in the water year-round.
One such adventurer is Lynda Raino, the founder of Raino Dance. Introduced to the concept of the cold water dip by Raino Dance's new owner Monique Salez, Raino fell in love with the practice. 
"It's an odd thing to do, to walk into freezing cold water," she says. "And yet it's so invigorating and empowering. It sets up your day, and you can feel like you have some power over some of the powerless parts of being alive. Who doesn't need that?"
After trying several local beaches, Raino settled on Gonzales, as she doesn't need water shoes and the cove is fairly protected. "There's only people with dogs there in the morning. It just has a lovely feeling to it."
While Raino initially thought she wanted to get some social interaction out of the activity, she discovered the pleasure of being alone and truly embraces the calming properties of being out in the water.
"I love the meditative quality of it," she says. "It can be so peaceful. I'm delighted to say that I enjoy it being a solitary activity."
Along with the mental perks and the invigoration of cold water therapy, Raino also points to the physical benefits she herself has experienced, primarily the reduced joint pain from her dance injuries. 
"It just makes my body feel great," she says. "Which still sounds vague when people ask me why I do it." 
The Iceman
It's impossible to look into cold water immersion without stumbling across Wim Hof. Full confession? I'd never actually heard the name before, but as soon as I started sharing my cold water plans, people started asking me if I was doing my "Wim Hof breathing." 
Wim Hof has become a bit of a global cultural phenomenon in recent years, making innumerable media appearances all over the world to share his breathing technique and his nearly superhuman ability to withstand cold. (He enjoyed a recent resurgence after appearing on an episode of Netflix's Goop Lab that saw Gwyneth Paltrow's staff taking a swim in frigid Lake Tahoe.)
When Hof was a much younger man, he started experimenting with ice baths. He discovered that he could control his breath in such a way that allowed him to overcome the sensations, which he says, "brought him closer to his soul." This led him to his Wim Hof method, which encompasses the three pillars: cold therapy, breathing and commitment. 
Hof believes his program unlocks a ton of health benefits, from balancing hormone levels and boosting energy to reducing stress, strengthening the immune response and much more. Regular ice baths are also credited with increasing beneficial brown fat stores, which help keep one warm and convert stored-up fat into heat — but more research is needed. 
While there are limited scientific studies regarding cold water immersion, there is plenty of anecdotal evidence. And the studies that have been done are encouraging. In A Practical Guide to Cold Training by Jesse Coomer, the author looks at some of the research on cold water immersion.
A 2008 study, published in The Scandinavian Journal of Clinical & Laboratory Investigation, specifically focused on cold exposure as a way to alleviate pain and found positive results from the body's increased production of norepinephrine. Of course, Coomer is quick to point out that repetition of exposures over time is necessary for these benefits. 
"When a person does one cold exposure without repeating it regularly, that person is no better off than the person who does one good day at the gym without repeating it regularly," he writes. "Yes, there are some initial benefits, but they are acute, and they probably are overshadowed by the unpleasantness of the experience."
Another case report, published in the British Medical Journal, proposed that cold water immersion could be an effective treatment for major depressive disorder. It followed the progress of a young woman who was prescribed cold immersion as a treatment for her life-long depression.
"A programme of weekly open (cold) water swimming was trialled," writes the study's co-author, a researcher at University College London and the woman's physician Dr. Christoffer van Tulleken. "This led to an immediate improvement in mood following each swim and a sustained and gradual reduction in symptoms of depression and consequently a reduction in, and then cessation of, medication. On follow-up a year later, she remains medication-free."
The Benefit of Rituals
Neil Tran, another solo dipper, says he wanted to challenge himself with cold water immersion. After suffering years of nerve damage and pain from a neck injury, a successful surgery to replace the damaged discs meant he could feel tactile senses in his hands and feet again.
"I've been able to feel really amazing sensations in my body again," he says. "Going into the ocean and feeling the cold and all those feelings in my fingertips and my feet — I haven't had that for ten years. So I totally embraced it."
Tran is aware of Wim Hof and does try to regulate his breathing when he does his daily dips of cold water therapy along Dallas Road, but he is not a hard-core Wim Hof practitioner. 
"Of course, breathing is a big part of this whole practice," Tran says. "For me, it's really just a ritual, beyond the sensation and stuff. There was this goal of forming a new habit. It's just me. I've got my coffee, I'm in the water and just breathing and watching the horizon. You just focus on being in the moment. I get this really amazing mental clarity."
While it does take regular practice to reap all of the benefits, I understood the appeal of cold water immersion almost immediately. The first morning, the constant ache in my lower back was wonderfully numbed for the remainder of the day. There's also the euphoria of trying something new and literally immersing myself in nature.
Since that day in February, I have indulged in several more immersions of cold water therapy, including summer dips, when I'm the only one at the beach braving the ocean chill. I'm excited for the weather to turn cold again. There's a magical synergy between the cold air and water, which makes the world seem bright and new. Who wouldn't want to take advantage of that? 
Continue Reading… A weekend getaway to Sooke