What is it about oysters? They inspire trendy bars, beachside grilling feasts and elegant celebrations paired with crisp champagne.
In her gorgeous new cookbook, Oysters: Recipes that Bring Home a Taste of the Sea, food expert Cynthia Nims tells the story of oysters and how to best appreciate their flavour through tips, tricks and recipes, such as this endive and radicchio salad.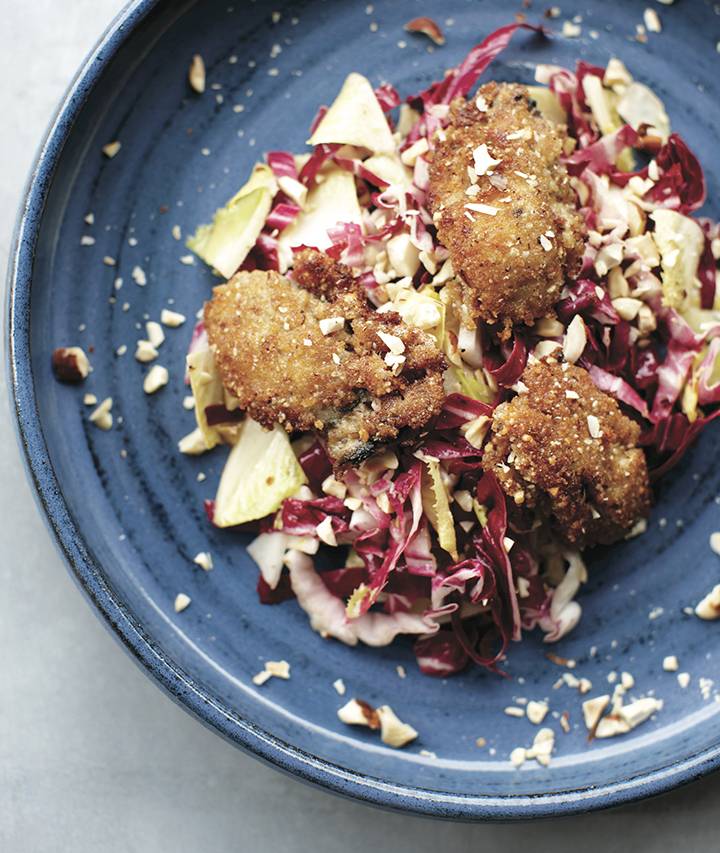 There are a lot of delicious complementary things going on in this salad: tender and crunchy, earthy and briny, fresh and bitter. You can prepare the greens and dressing and coat the oysters up to an hour in advance, refrigerating the greens and oysters. The
greens should be dressed and the oysters cooked just before serving. If you don't have
hazelnut oil on hand, you can simply use more of the olive oil for the dressing. As a variation you could swap out the radicchio and use four ounces of arugula instead. Whether using jarred or just-shucked oysters, keep them in their briny liquor until just before coating in the bread crumbs, as it will offer just the right amount of moisture for the crumbs to cling to.
Makes 2 to 3 main course servings or 6 appetizer servings.
4 large heads Belgian endive (about ¾ pound)
1 small head radicchio (about 8 ounces)
1 cup hazelnuts (about 4 ounces), lightly toasted and skinned, divided
¾ cup fine dried bread crumbs
Kosher salt and freshly ground black pepper
3 tablespoons red wine vinegar
1 teaspoon Dijon mustard
¼ cup mild olive oil, plus more for frying
2 tablespoons hazelnut oil (optional)
18 freshly shucked small to medium oysters or jarred extra-small to small oysters, with their liquour.
Preheat the oven to 200 degrees F. Line a rimmed baking sheet with brown paper or paper towels and set an oblong wire rack on top, if you have one.
Trim the stem ends from the endive and discard any blemished outer leaves. Cut each endive in half lengthwise and cut away the triangular core from the base. Cut across each half into roughly 3/4-inch pieces. Put the endive in a large bowl.
Halve the radicchio and cut away the tough core. Discard any blemished outer leaves. Cut across each half into slices about 1/4 inch thick and add them to the bowl with the endive. Cover with a damp kitchen towel or paper towels and set aside.
Put 1/2 cup of the hazelnuts in a food processor and pulse until finely ground(take care not to overgrind or you might end up with hazelnut butter). Add the bread crumbs and a good pinch each of salt and pepper, and pulse a few times to blend. Transfer the mixture to a plate. Coarsely chop the remaining½ cup hazelnuts.
In a small bowl, whisk together the vinegar and mustard with a good pinch each of salt and pepper. While whisking, drizzle in the olive and hazelnut oils.
Heat about 1/4 inch of olive oil in a large heavy skillet, such as cast iron, over medium heat. Keep in mind that the heavier the pan, the longer it will take to preheat.
While the oil is heating, toss 2 or 3 oysters at a time in the nut-crumb mixture, coating each oyster well and patting to remove excess. When the oil is heated, carefully add about 6 of the oysters (don't crowd the pan; cook fewer if needed) and cook until nicely browned, about 3 minutes. Turn the oysters and brown on the second side, 2 to 3 minutes longer. Transfer the oysters to the prepared baking sheet and keep them warm in the oven while frying the remaining oysters. Add a bit more oil to the pan and allow it to reheat if needed between batches.
Rewhisk the dressing to mix, then pour it over the endive and radicchio and toss well to evenly coat. Arrange the salad on individual plates and top with the oysters. Sprinkle with the remaining 1/2 cup hazelnuts and serve right away.
All rights reserved. Excerpted from Oysters: Recipes that Bring Home a Taste of the Sea by permission of Sasquatch Books. (c)2016 By Cynthia Nims