By Cinda Chavich.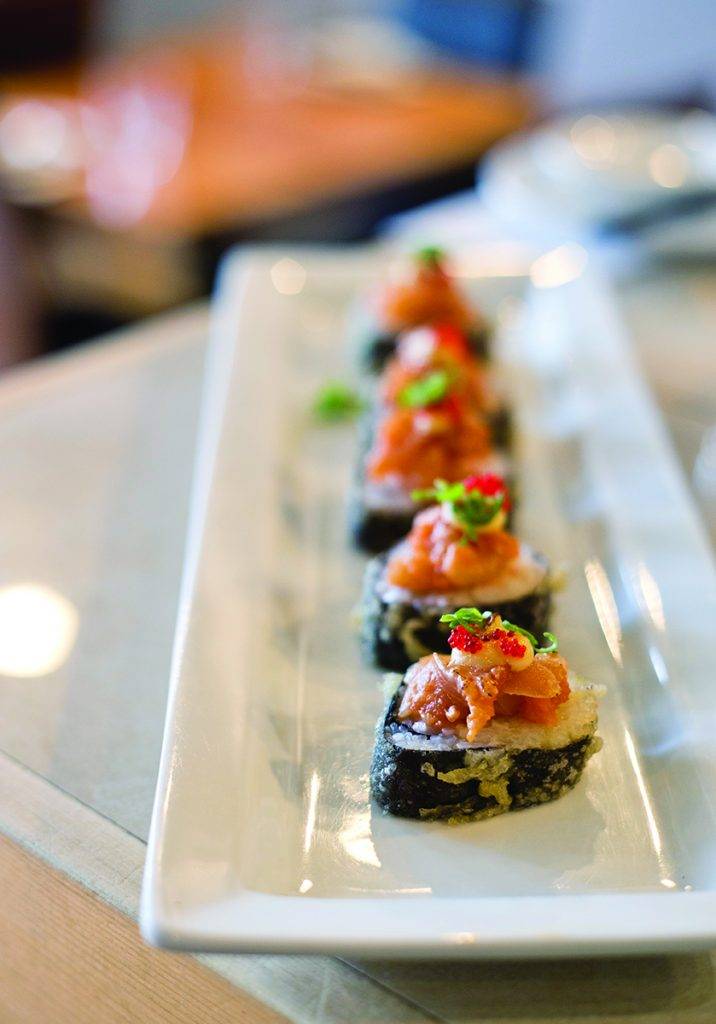 Like all coastal communities, we share a historic reliance on the ocean's bounty. You'll find fish and shellfish on local menus, from wild salmon and sablefish to the cultivated West Coast oyster. Stir in the culinary traditions of Pacific Rim cultures and you get a unique coastal fusion of flavours, one that's on delicious display in the city.
From Japanese tapas, Baja fish tacos and southeast Asian noodle bowls — many top local chefs rely on a mash-up of Pacific Rim flavours on the plate.
Cultural Fusion
At Dobosala Cantina & Ride Thru, chef Kunal Ghose is the master of cross-cultural combos. His Pling Pling crispy duck and pork samoza comes with Latin-inspired tomatillo salsa verde and Indian chili-date chutney, while his take on an Indian paratha is stuffed instead with smoky cheddar, black bean masala and queso fresco.
Fresh Pacific seafood turns up in ceviche, sushi and poke. And the rolled tortilla cone or tacone — perhaps Ghose's most iconic local creation — is filled with tender gochujang chicken, seared tuna tikka taki or tempura salmon.
"The tacone is inspired by both a taco and a Japanese hand roll," says Ghose, noting his own cooking style has morphed with the changing tastes of his West Coast customers.
"What started as Indo-Pacific food now embraces food from all Pacific Rim countries, from Mexico and Peru, to Korea and the Philippines."
With his "half Bengali, half British" heritage, Ghose says the urge to create a new kind of multicultural cuisine comes naturally. And with a worldly Victoria clientele, combining local products and exotic flavours makes sense. "It keeps the creative juices flowing," he says.
At Nubo Japanese Tapas, and the new neighboring E:Ne Raw Food and Sake Bar, there's a similar fusion of cultures on the sharable izakaya menu, from classic Japanese donburi bowls and flame-seared aburi sushi, to creations like the green bean tempura, falafel, avocado and refried bean roll, the British Fish N Chips roll (with prawn tempura, fish eggs and potato chips) or a pulled pork "burger" in a crispy rice bun.
East Meets West
The artistry of Japanese-born Chef Takashi Ito runs through the creative cuisine at AURA, the elegant, waterfront restaurant at The Inn at Laurel Point.
"I felt Victoria was ready for something different, so I decided to do Japanese-influenced North American cuisine," Ito explains.
"I introduced wakame, shiso, chawanmushi, okonomiyaki. My first menu had a miso bouillabaisse and sweet onion dressing (one of my signatures). I even made dessert of kanten and kinako."
AURA restaurant chef Manpreet Sethi (from Singapore) and pastry chef Kimberley Vy (with Chinese, Vietnamese and Laotian roots) playfully push the Pacific Rim envelope with Asian ingredients too. Whether it's her Thai milk tea mousse dotted with tamarind gel, or his inspired foie gras and pandan leaf appetizer, east meets west on the plate.
"Kim and Manpreet have diverse backgrounds and are well travelled," Ito adds. "Our offerings became broader, a lot more Southeast Asian items on the menu — Laos rice, ssamjang, gochujang, laksa."
When AURA reopens this spring, after a $10 million hotel renovation, the restaurant menu will have some modern additions, too, says Ito.
"One dish that will be on the new menu at AURA is dashi poached spot prawn, okonomiyaki, spot prawn karaage and togarashi aioli," says Ito, describing his plate that won first place at the Canadian Culinary Championships earlier this year. "Our next menus will continue to be influenced by the Pacific Rim."
It's all part of the coastal culinary zeitgeist, where what's in the pantry often starts with the sea.
---
This article is from the May/June 2019 issue of YAM.