Choose the right wines for your big turkey dinner, your NYE oyster bar and every social event this season.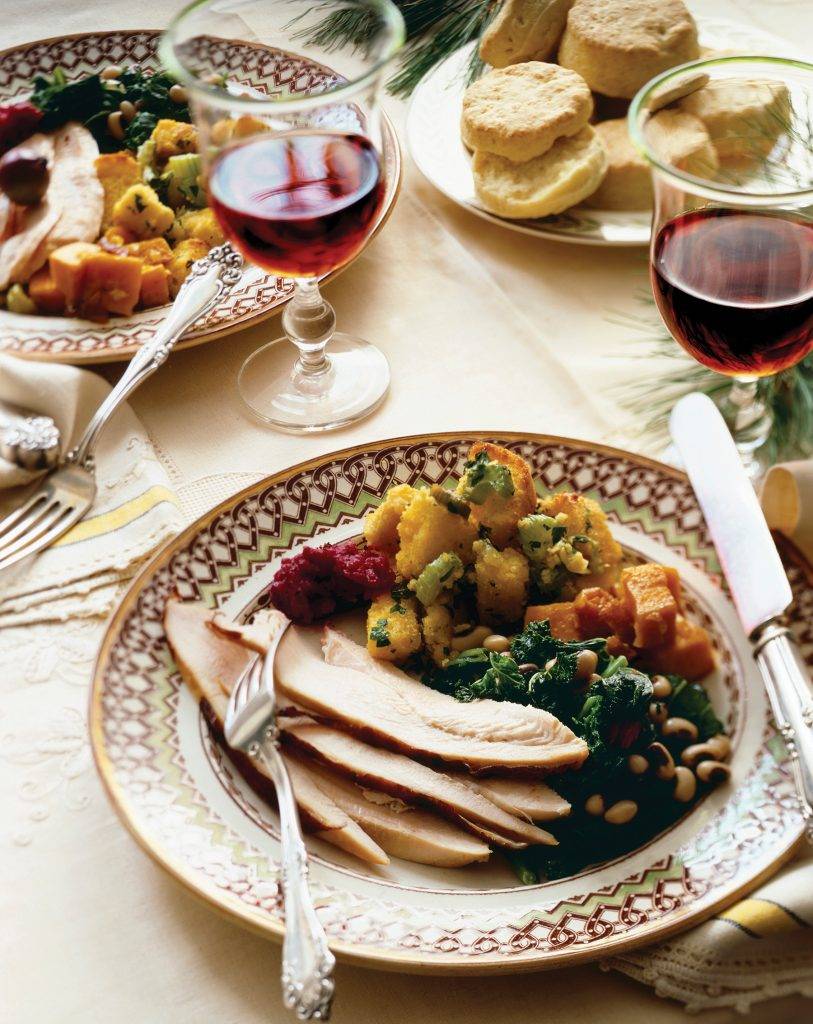 ---
BY JOANNE SASVARI
If you're anything like me, after the last two years of smaller, quieter celebrations, you're more than ready to fling your doors open this holiday season and invite everyone you know to gather around your table. But before you do, give some thought to the wines you plan to serve them.
The right wine will make your food taste better, your guests feel more comfortable and yourself oh-so-much happier.
"Holidays are fun because there are so many flavours going on and so many wines to choose from," says Jayme Beaudry, the general manager and wine program director at Zambri's. Adds Adrienne Bertrand, the Union Club's assistant food and beverage manager: "It's a marathon, the holidays, all those meals. It's a marathon and you've got to treat your body well."
Whether it's passed canapés, brunch or a fancy dinner, festive food tends to be rich, with many flavours competing at once.
Here are some basic pairing rules to keep in mind:
•Choose a wine with a similar weight, intensity and character to the food you're serving.
•Richer foods need acid to cut through the fattiness.
•Spicy foods demand sweetness and/or spice.
•Tannins (the bitter flavours in some red wines, like Cabernet Sauvignon) clash with spice and salt.
•Pair the wine with the sauce and sides, not the protein.
"When it comes to wine pairing, especially when it comes to holiday dinners, people will just focus on the main protein," says Jasmin Dosanj, sommelier at Wind Cries Mary. "But there are a lot of side dishes, so you have to think of the whole meal. There are so many different textures and acid levels."
Also keep in mind that you may love that super-funky natural wine, but not all your guests might agree. Choose wines that are more likely to appeal to a crowd than to a niche taste. Medium-bodied and lightly oaked wines with a touch of acidity (such as Pinot Gris, unoaked Chadonnay, Gamay, lighter-bodied Merlot and Syrah) are food friendly and accessible.
But don't overthink it. As Beaudry says, "If you like the wine and you like the food, it's not a bad pairing."
Here's what some of Victoria's top somms recommend for your holiday festivities.
Canapés and Other Small Bites
"Definitely bubbles. Bubbles go with everything," says Beaudry.
Dosanj agrees. "I would definitely start with sparkling, like a Crémant de Jura or, if you're really celebrating, some actual Champagne," she says. "There are some amazing grower Champagnes out there." (Crémants are bubbles made in the traditional Champagne style but in other regions of France. Grower Champagne generally refers to wines from the Champagne region that are made and bottled by the same person who grew the grape.)
Prosecco is another classic sparkler, but fruitier and with softer bubbles than Champagne. "But something different I'd try to serve, especially for lunch or brunch, is Lambrusco, a dry red sparkling wine," says Beaudry. "It's good with cured meats or a cheese board. I've never had anybody who doesn't love it."
Rosé is another good welcome sipper, and versatile enough to go with lots of different foods. "When you pour, it looks festive, no matter what," says Bertrand. "And if you can get pink bubbles, even better."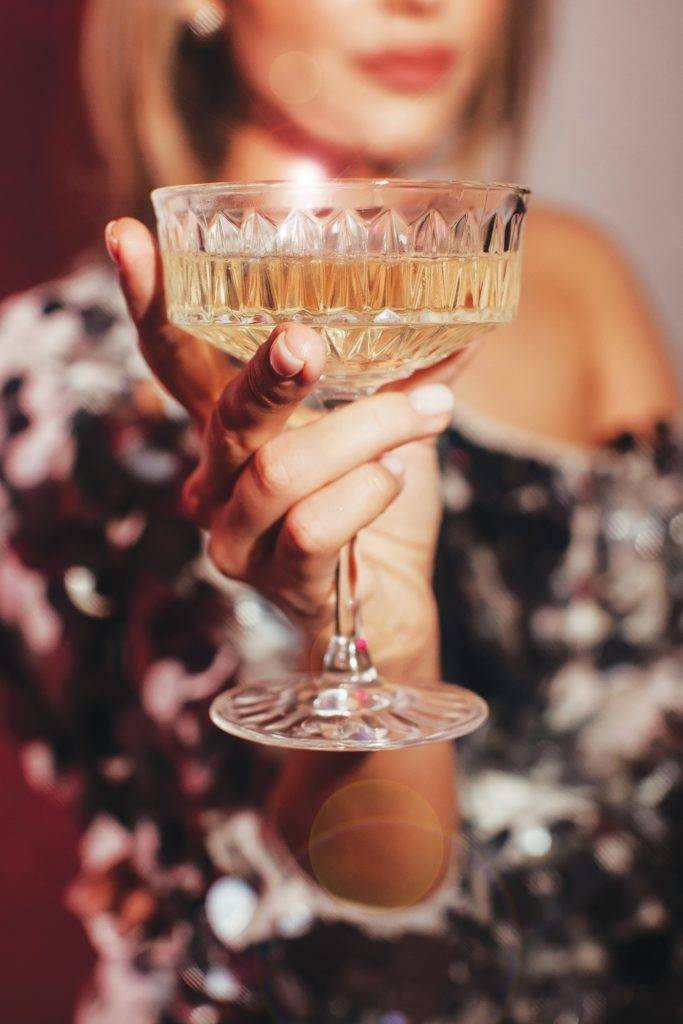 ---
The Big Bird
Given how ubiquitous turkey dinner is for all our fall and winter celebrations, you'd think we'd have nailed the wine pairings by now. But no. "What we get stuck on is we think of turkey as chicken," Beaudry explains. Turkey has a deeper flavour, and the stuffing, gravy, cranberry sauce and other sides add richness and complexity. "So you can definitely have a red wine," she says.
She recommends Cesanese, a red grape from Lazio — Casale del Giglio produces an excellent one. "It's got lots of cherry spice to it, it's a good price point and it's very crowd pleasing," Beaudry says. "It's what we served last year at all our holiday parties."
Bertrand, on the other hand, suggests a B.C. Merlot. "It is very food friendly. Merlots got a bad rap, but here in B.C. it's done very well," she says. "And Syrah, what a wonderful option."
For Dosanj, a rustic, earthy, spicy Sangiovese like a Rocca delle Macie Chianti Riserva "would be my number one go-to." She also recommends bright, food-friendly and crowd-pleasing Oregon Pinot Noir or Gamay from Beaujolais. "Especially when you're dealing with a group of people, you want a wine that people will enjoy," she says.
"If you must have white wine," Bertrand adds, "think of something with some texture, like an oaked Chardonnay or Chenin Blanc that has a minerality to it."
Fancy Prime Rib Dinner
Nothing says "celebration" like a glorious standing rib roast with gravy, Yorkshire pudding and all the fancy fixin's. This is your opportunity to pull out the big reds, the Bordeaux blends, California Cabs, opulent Super Tuscans, Barolos or that bottle of Black Hills Estate Nota Bene you've been hanging on to.
But Beaudry has another idea. "I am loving Nebbiolo from a region called Valtellina," she says. (Nebbiolo is a tannic but fruit-forward Italian red wine grape grown in the Piedmont region and used in the wines of Barolo and Barbaresco.) "It's not a Barolo, it's an alpine Nebbiolo. The colour is really light, but it packs
a big punch."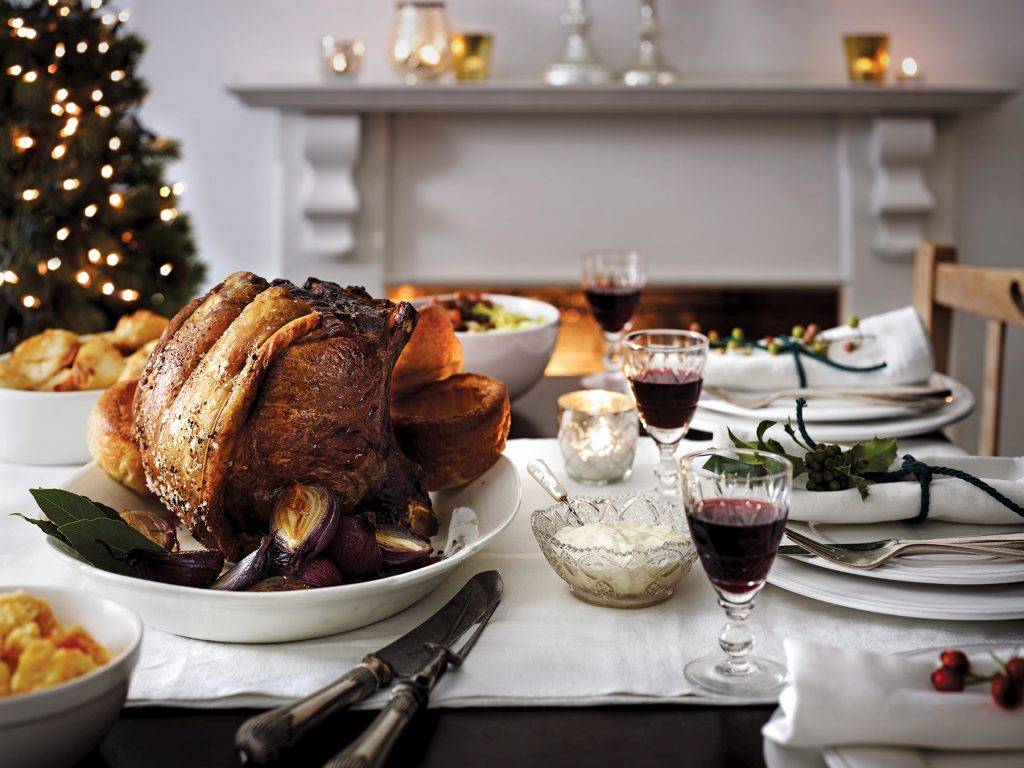 ---
Brunch
Brunch, whether it's the traditional Boxing Day eye opener or any of the many other occasions we gather for a mid-day meal, is all about fried things, eggy things, salty, fatty, buttery things slathered in syrup or hollandaise. Not to mention, as Dosanj notes, "You might be a little hungover." She would serve a fizzy red Lambrusco, "a lighter style that's well rounded."
Bertrand, too, would offer bubbles. "I'm thinking a sparkling cocktail, maybe with grapefruit," she says. "I'm always for bubbles with eggs." She likes the idea of something "light, light, light," like a Moscato.
Then again, maybe brunch isn't the time for wine. "If you're having all that salt and fat, you could just have a beer," Bertrand says. "If you're having a brunch after a long night, it's an easier pairing."
---
NYE Seafood Feast
Is there a better way to usher out the old year and welcome the new than with a glamorous, over-the-top chilled seafood buffet? Freshly shucked oysters, lashings of caviar, crab legs, prawn cocktail, "seacuterie" — it's a spread to remember and a way to indulge in all the bounty of the West Coast (see our story on page 54). The wine you choose should live up to it.
Sparkling wine, such as Vancouver Island's own Charme de L'île or traditional brut from Vigneti Zanatta or Blue Grouse, is a natural. But why not go beyond the bubble?
"When you think of seafood, you think of a certain flavour profile," Bertrand says. That profile is light and a little bit neutral, with a touch of minerality and maybe even a slight salty note. She suggests Muscadet, a light white wine from the Loire Valley, or Albariño and other whites from Northern Spain and Portugal.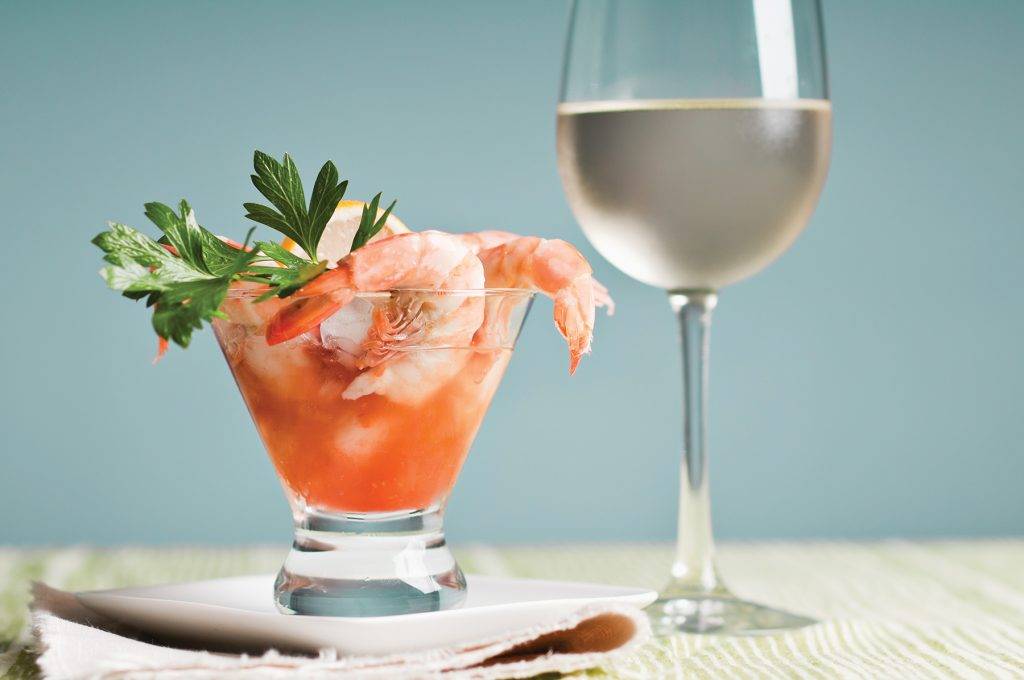 Similarly, Dosanj would reach for a Chablis, the lean, flinty Chardonnay from Burgundy, which often has a saline note. "Most Chablis has a lot of minerality and little to no acid, which would be great with a seafood platter," she says.
And, Bertrand says, don't count out red wines like a lightly chilled Pinot Noir or Gamay. "Blue Mountain does a great Gamay, or Averill Creek for Pinot Noir here on the Island," she says. "If you think of a seafood tower, just think lighter."
Pairings for All Occasions
Over the winter months, there are dozens of other events and situations where you may be called on to choose a wine. Here's a guide to help you out for (almost) every occasion:
1 | Vegetarian and vegan fare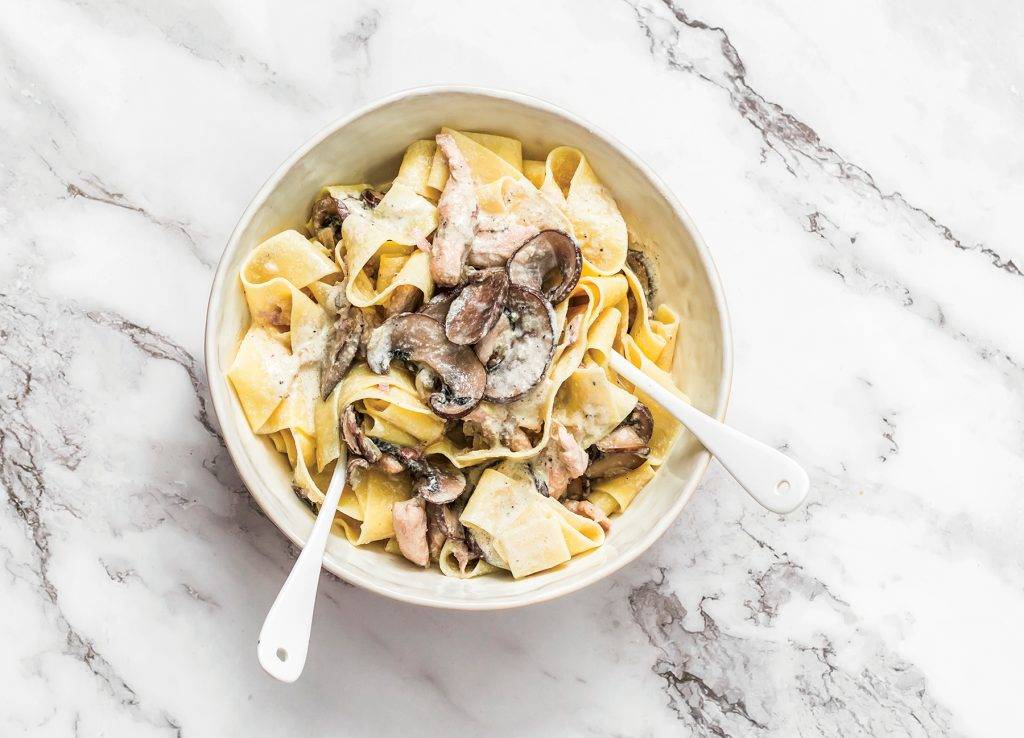 Traditional pairing rules tend to focus on animal proteins — red wine with beef, for instance, or white with fish — so where does that leave the plant-forward folks? In pretty much the same place, because modern pairing rules are all about matching the flavours, not the ingredients. Pair cashew cream pasta with a complementarily buttery Chardonnay or contrasting Pinot Noir; spicy chickpea curry with an off-dry Riesling; and savoury mushroom Wellington with a luscious red blend.
2 | Hanukkah
The table will be loaded with lots of savoury flavours during the Festival of Lights. Pick a wine bold enough to stand up to them, but with enough fruit, spice and acid to balance them out, like Syrah or Gamay.
3 | Lunar New Year
Chinese food, with its myriad umami, salty and at times spicy flavours, is notoriously difficult to pair. Welcome the Year of the Rabbit on January 22 with the easygoing versatility of rosé or a lighter red like Pinot Noir or Gamay. Then again, bubbles are celebratory and go with everything.
4 | Feast of the Seven Fishes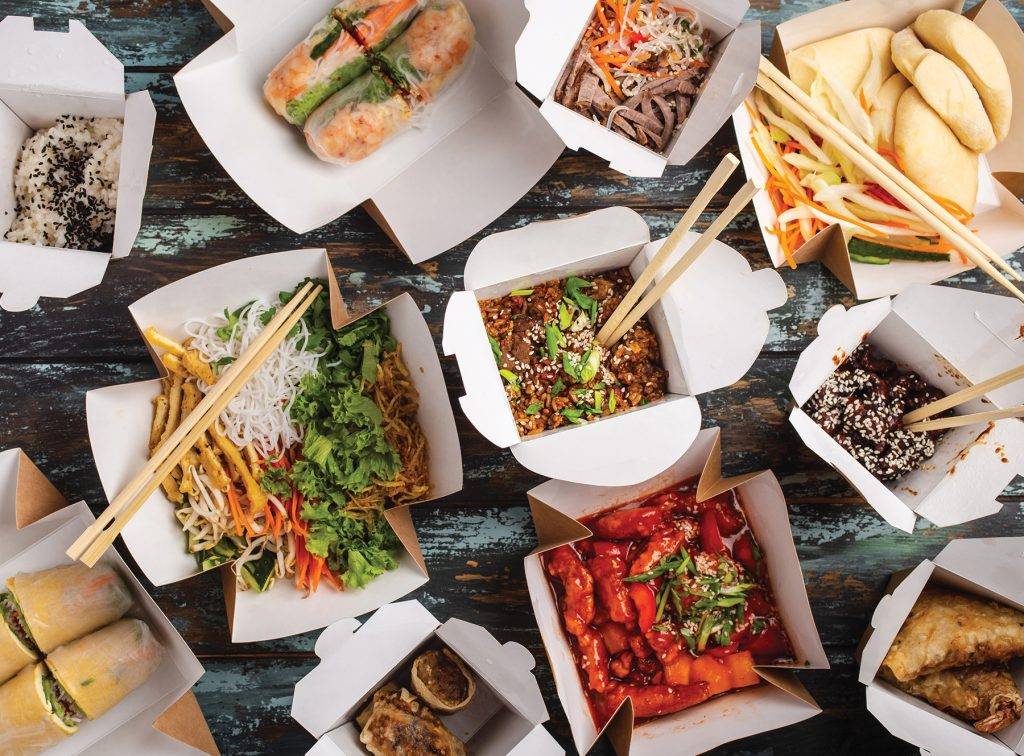 White wine is the go-to for this Italian seafood extravaganza celebrated on Christmas Eve. Choose a crisp, high-acid Verdicchio for lighter courses and something rounder like Chardonnay or Bellone for richer ones.
5 | Netflix and takeout
If you're ordering Thai or Indian cuisine to enjoy with your favourite holiday movie, remember that tannin and spice are mortal foes. Avoid big reds and choose aromatic whites, rosé or light, fruity reds.
6 | Dessert
The general rule for pairing wine with dessert is that the wine should be sweeter than the dish. That doesn't always apply — Cabernet Sauvignon, for instance, can partner beautifully with chocolate — but for the most part you should consider dessert wines such as Port, some sherries, and late-harvest or icewine.
They come in a huge range of flavours and sweetness levels, though, so also consider the secondary characteristics. A rich Cognac or nutty, spicy tawny Port would be great with Christmas pudding or the gingerbread trifle on the cover, while a luscious Riesling icewine would be a better partner for lemon tart. If in doubt, ask your wine store for advice.
Gingerbread, Pear and Dulce de Leche Trifle
Recipe by Joanne Sasvari
Sweet pears, creamy caramel and spiced cake combine in a perfect dessert for a wintry celebration. Rushed for time?
You can replace the gingerbread below with store-bought cake of any sort and/or use purchased dulce de leche instead of making your own. Pair with a V.S.O.P. Cognac or tawny Port. Serves 8 to 10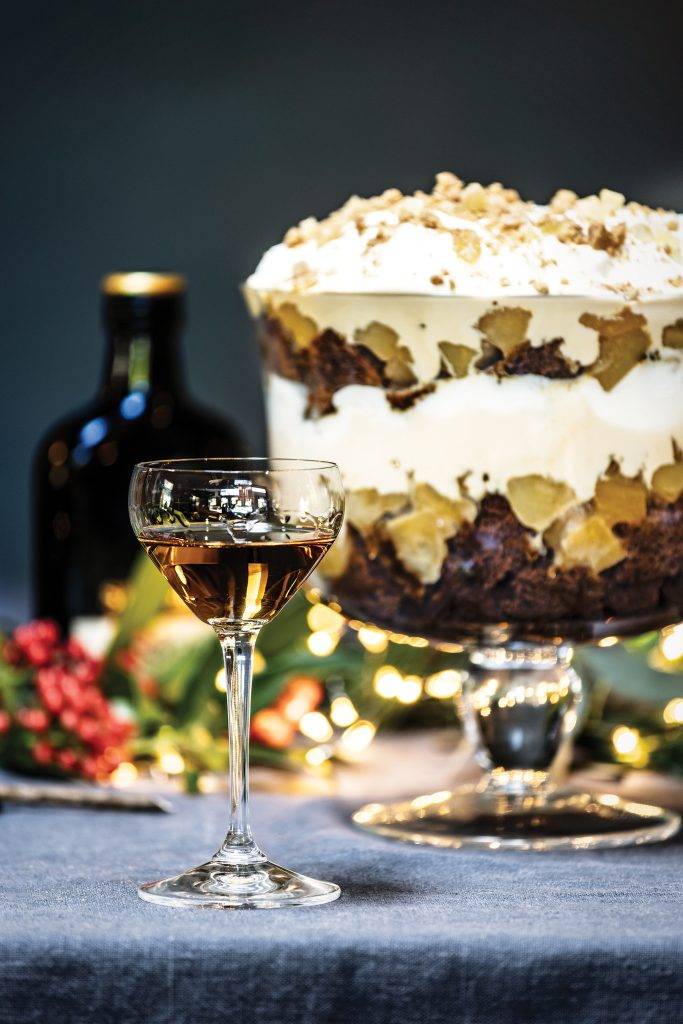 ---
Gingerbread cake:
• Softened butter for greasing the pan
• 1 ½ cups flour
• 1 tablespoon baking soda
• 1 teaspoon cinnamon
• 1 teaspoon ground ginger
• 1 teaspoon ground cloves
• ½ teaspoon salt
• ¾ cup granulated sugar
• 1 large egg
• ½ cup applesauce
• ½ cup molasses
• 1 tablespoon freshly grated ginger
• 1 tablespoon vegetable oil
• ¼ cup hot water
Caramelized pears:
• 4 tablespoons butter
• 6 pears, peeled, cored and cut into 1-inch cubes
• ¼ cup brown sugar
• ½ teaspoon ground ginger
• ¼ teaspoon salt
Trifle:
• 2 cups whipping cream, divided
• 1 cup dulce de leche (see note)
• ½ cup brandy, tawny Port or sherry (or more, if you prefer a more spirited trifle)
• ¾ cup finely chopped crystallized ginger, divided
Garnish:
• Gingersnap or gingernut cookies, crumbled
• Finely chopped crystallized ginger
Make the gingerbread cake: Preheat oven to 350°F. Butter an 8-by-8-inch square baking pan, or line it with parchment paper.
In a medium bowl, mix flour, baking soda, cinnamon, ground ginger, cloves and salt.
In a large bowl, whisk together the sugar and egg until thick and pale. Stir in applesauce, molasses, fresh ginger, vegetable oil and hot water. Stir in flour mixture, mixing until fully incorporated.
Pour into the prepared pan and bake about 35 minutes, or until a wooden skewer inserted in the centre comes out clean. Cool in the pan for about 5 minutes, then turn out onto a rack and cool completely. Cut cake into 1-inch cubes.
Cook pears: Melt the butter in a large frying pan over medium heat. Add pears. Cook, stirring, until softened, about 5 minutes, then stir in brown sugar, ground ginger and salt and cook for about 10 more minutes or until just starting to caramelize. Remove from heat and cool completely.
Whip 1 cup of cream until soft but firm peaks form, then gently and gradually fold it into the dulce de leche. Whip the other cup of cream separately. Set both aside and keep chilled until needed.
When you're ready to make the trifle: Layer half the cake cubes in the bottom of a trifle or other glass bowl, then drizzle with brandy, Port or sherry. Spoon half the caramelized pears on top of the cake and sprinkle with ¼ cup crystallized ginger. Top with half the dulce de leche mixture.
Repeat all the layers, then top with the reserved whipped cream and garnish with crumbled ginger cookies and the remaining ¼ cup of crystallized ginger. Serve immediately, or cover and chill for up to one day.
Note: You can purchase dulce de leche at most grocery stores, but it's easy to make your own. Remove the label from a 300 mL can of sweetened condensed milk (such as Eagle brand) and lay the tin on its side in a deep pot. Add enough water to cover by at least 2 inches, then bring water to a boil.
Cook at a lively simmer for 2 hours, replenishing water every half hour or so. (It's important to keep the tin covered with water so it doesn't explode under pressure.)
Drain pot and run cold water over the can until it is cool enough to handle. Pop open the lid, and the condensed milk will have transformed into sweet, thick, irresistible caramel.