Illustrator and muralist Lydia Beauregard is constantly seeking new ways to enhance the beauty of her surroundings.
By Laura Brougham | Photo by Jeffrey Bosdet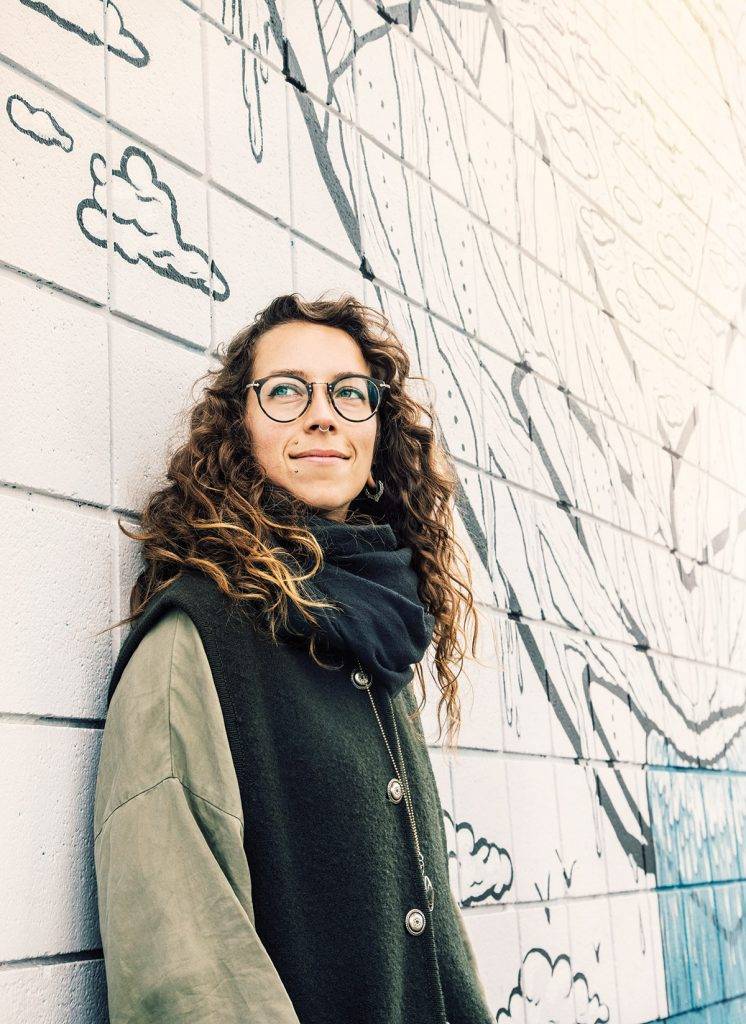 Though Lydia Beauregard is relatively new to the City's mural scene, she's hit the ground running — and shows no sign of stopping. Two years ago, the Concrete Canvas Rock Bay Mural Project commissioned her first mural. Since that time, the artist has completed several projects, both public and private, including the mural under the Johnson Street Bridge.
"I like to take every wall as a brand new opportunity and try to do something completely different," Beauregard says. "That means I generally don't have a lot of similar works; so far, everything looks quite different from each other. Hopefully, over time, everything [shows] a natural theme."
Beauregard says she has been drawing and illustrating her whole life, and made the decision around five years ago to start selling her work.
"Everybody knew I was an artist and they would just come to me for merchandise and random little projects," she says.
Beauregard credits the Concrete Canvas project with sparking her recent opportunities.
"I am so new at this, and I'm so grateful that this city is incorporating more art and allowing newer artists, who haven't really done it before, to actually partake in it," she says. "It's such a privilege to be able to do things like this."
What's your idea of perfect happiness?
Sunshine, being surrounded by beauty and music and having a strong and loving support network.
Who is your hero?
My mother, which is maybe a cliché thing to say, but she definitely set the foundation in my life for spirituality and all the things that I love the most in this world.
Which living person do you most admire?
I admire those who go unnoticed.
Which public figure do you most admire?
Eckhart Tolle. He is probably the person that I would say I admire the most because he is spreading the word of being here and now, and that's what I'm trying to really achieve.
What do you consider the most overrated virtue?
I would say having to be proper, and having to keep this face about [ourselves], because we can be more honest if we aren't trying to be so courteous and proper all the time.
If you could be any animal, what would you be?
A fly or a small insect so that I could just go unnoticed and see the world.
What's your greatest fear?
Public speaking and being misunderstood.
What do you admire most in your friends?
Friends who listen very well and who can hold deep conversations.
What trait don't you like in yourself?
Trying to go too fast and holding on to things.
What trait do you most deplore in others?
Impatience and an obvious sense of ego.
What's your greatest extravagance?
I have too much clothing, too many sketchbooks and too many diaries.
Which words or phrases do you most overuse?
I think it's more a lack of words — I think it's laughter, I just use laughter in uncomfortable situations way
too much.
What or who is the greatest love of your life?
The sun.
If you were a painting, which one would you be?
Mona Lisa because everyone is always trying to understand her, but they really will never know.
On what occasion do you lie?
If I am trying to keep someone's privacy.
If you could change one thing about yourself, what would it be?
The need to hold on to things and keep them, just in case. Be able to let things go easier.
What's your most treasured possession and why?
My glasses so that I can actually see the world clearly. It's very scary not to put on my glasses.
If you were a book, which one would you be and why?
The dictionary so that we could all communicate better.
If you were to die and come back as a person or a thing, what would it be?
A tree so that I could stay put, be in one place for one time and just become part of the surroundings, and be inhabited by birds and all those pretty things.
Continue reading… Interview with local Designer Trista Smith