A tasty coffee cake to serve for breakfast or to take to a casual potluck party. Use heirloom apples, the kind that will hold their shape when cooked.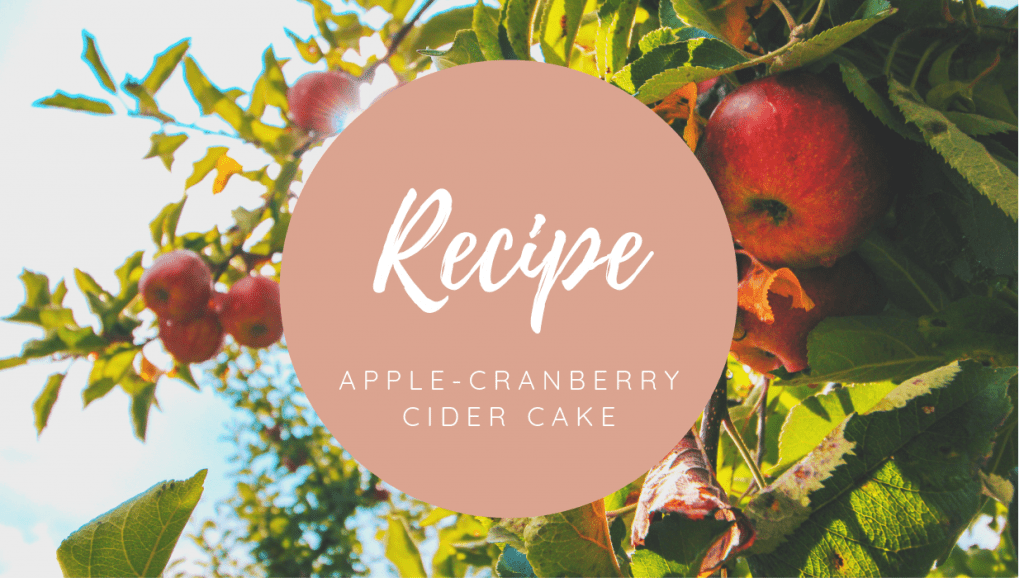 ---
Cake:
• Juice and finely grated zest of 1 small lemon, divided
• 3 cups chopped apples
• 1/2 cup dried cranberries
• 1 cup cider
• 3/4 cup softened butter
• 2/3 cup white sugar
• 2/3 cup brown sugar
• 3 eggs
• 1 teaspoon vanilla
• 1 1/2 cups unbleached flour
• 1 cup whole wheat flour
• 2 teaspoons baking powder
• 1 teaspoon cinnamon
• 1 teaspoon ground ginger
• Pinch of ground nutmeg
• 1/2 teaspoon salt
Glaze:
• 1 cup icing sugar
• 1 tablespoon lemon juice
• Reserved cider soaking liquid
Preheat the oven to 325˚F. Butter a deep 8-or 9-inch springform pan (with removable bottom).
Zest the lemon and juice it. Set the zest aside and combine 2 tablespoons of the lemon juice with the chopped apples. Set aside.
In a heatproof measuring cup, combine the cranberries and cider. Microwave on high for a minute, until the cider is hot and steaming, then set aside for 15 minutes to plump the cranberries.
In the bowl of an electric mixer, cream the butter with the white and brown sugars until light and fluffy. Add eggs one at a time, beating after each addition. Add the vanilla.
In another large bowl, combine the flours, baking powder, cinnamon, ground ginger, nutmeg and salt. Using a spatula, fold the wet ingredients into the dry ingredients, stirring until just mixed.
Drain the soaked cranberries, reserving the soaking liquid. Most will be used in the glaze. Fold in the cranberries, 2 tablespoons of the soaking liquid, the apples and lemon zest into the batter.
Pour the batter into the prepared pan. Bake the cake on the oven's bottom rack for 25 minutes. Move to the centre rack, and bake for 30 to 40 minutes longer, or until the top is golden and a skewer inserted in the centre comes out clean.
Cool on a rack for 15 minutes, then release the cake from the pan to finish cooling.
To make the glaze, place the icing sugar in a bowl and stir in the tablespoon of lemon juice and enough of the reserved soaking liquid to make a nice pourable glaze. Pour the glaze over the cooled cake, smoothing the top and letting it drizzle down the sides.
Makes 1 cake (10 to 12 portions).
---
This article is from the September/October 2019 issue of YAM.