Poached pears can be served atop fresh greens with shaved Parmesan, or with sweetened whipped cream for a simple dessert. These cider-poached pears are the autumn treat you've been looking for.
By Cinda Chavich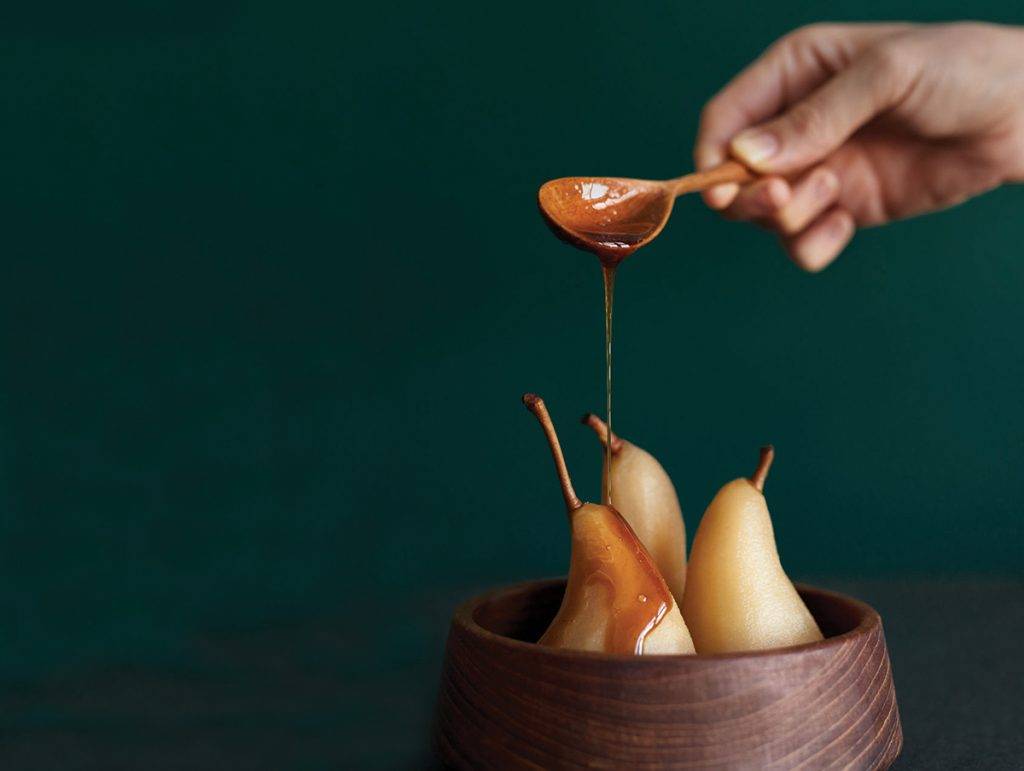 ---
I love to poach pears to serve atop fresh greens with shaved Parmesan, or to serve with sweetened whipped cream for a simple dessert. Use spiced cider or substitute regular cider, and add 2 star anise and a cinnamon stick to the poaching liquid. Make sure to use Bosc or Anjou pears.
Ingredients
• 4 pears (slightly underipe Bosc or Anjou as Bartletts will fall apart when cooked)
• 1 bottle, 750 mL Wassail Cider from Sea Cider (or other cider infused with warm winter spices)
• 4 tablespoons honey (optional, but add if serving for dessert)
Instructions
Peel the pears, leaving the stem end intact. Use a melon baller to neatly remove the cores, or cut pears in half lengthwise and remove the cores.
Bring the cider to a simmer in a deep sauté pan, just large enough to hold the pears in a single layer, and stir in the honey. Add the pears and poach over medium heat for 10 to 12 minutes. Use a skewer to poke the pears to check for doneness. (They should be tender but firm; don't overcook or the pears will be mushy.) Let the pears cool in the poaching liquid, then cover and refrigerate.
If using the pears to top salads, slice lengthwise into 1/4-inch slices, leaving the tops attached, and fan over greens that have been tossed with a vinaigrette made with the reserved poaching liquid, olive oil, Dijon and a splash of balsamic.
For a dessert, you can leave the pears whole. Place in a dessert bowl and top with a dollop of sweetened whipped cream and a dusting of cinnamon. Simmer the poaching liquid to reduce to a syrup and drizzle on top.
Serves 4.
---