Recipe from Castro Boateng of House of Boateng | Photo by Belle White
House of Boateng in Langford, B.C. hosted a long-table dinner featuring traditional African cuisine, including this Ghanian-style spinach stew, topped with eggs, avocado and African yam.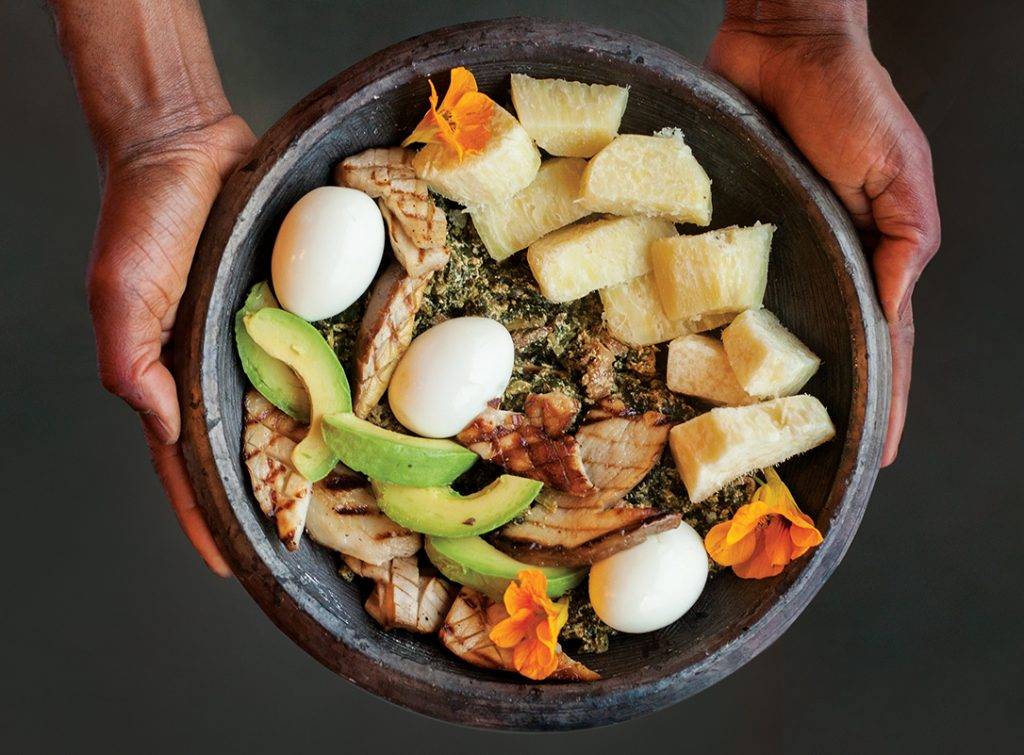 Castro says his mother always made this classic Ghanaian stew with two large smoked mackerels (about one pound) — deboned and shredded into the mixture. But he's upgraded to modern tastes with mushrooms — chopped fresh chanterelles for this fall feast that have been sautéed until tender and browned in butter. Egusi seeds are a kind of melon seed used in West African cuisine. They add a nut-like flavour and help to thicken the stew.
African Yam (Cocoyam) 
This is a large, long white yam with a dark, rough skin. It can be boiled to serve like boiled potatoes or deep-fried like French fries.
• 1 kg cocoyam
• salt to taste
Peel yam and cut into medium- size pieces. Place yam in salted water to cover. Bring to a boil, then simmer for 30 to 40 minutes or until fork tender. Drain well.
Spinach Stew and Foraged Mushrooms

• 1 pound fresh wild or cultivated mushrooms (chanterelles, oyster mushrooms, brown mushrooms, etc.)
• 2 red onions, peeled and sliced
• 1 cup of vegetable oil or palm oil
• 1 tsp of cayenne
• 1 Tbsp ginger, chopped 
• 4 plum tomatoes, roughly chopped
• salt & pepper to taste 
• 1 1/2 cups (200g) egusi seeds (if you can't find egusi seeds, you can substitute pumpkin seeds)
• 3 lbs fresh spinach leaves or frozen spinach, chopped
Accompaniments:
• 5 avocados, peeled and sliced
• 5 hard-boiled eggs, peeled
• boiled cocoyam (see recipe above)
Clean the mushrooms. Chop half of them and slice half of them.
In a saucepan, sauté sliced onion in oil until softened. Add chopped mushrooms, cayenne, ginger, tomatoes, season with salt and pepper and simmer for 10 minutes.
In a separate bowl, add enough water to cover the egusi, then place in a blender and blend until puréed to the consistency of whipping cream. Add the egusi mixture to the sauce and simmer for 5 minutes.
Blanch the spinach in salted boiling water for 2 minutes. Chill in ice cold water and then squeeze to remove excess water.
Roughly chop the blanched spinach and add to the sauce.
Simmer for 10 minutes for all the flavours to combine.
Meanwhile, sautée the remaining sliced mushrooms in a little oil until browned (to garnish the stew).
Serve the spinach stew in a wide serving bowl garnished with sautéed mushrooms, sliced avocado, hard-boiled eggs and yam pieces.
Serves 10.
---
This article is from the January/February 2020 issue of YAM.