Recipe by Castro Boateng of House of Boateng | Photo by Belle White
The House of Boateng in Langford, B.C. hosted a long-table dinner that featured a traditional African feast, including jollof rice with shrimp and chicken sausage. Chef Castro Boateng knew there were a few vegetarians in the room so he made some without sausage as well!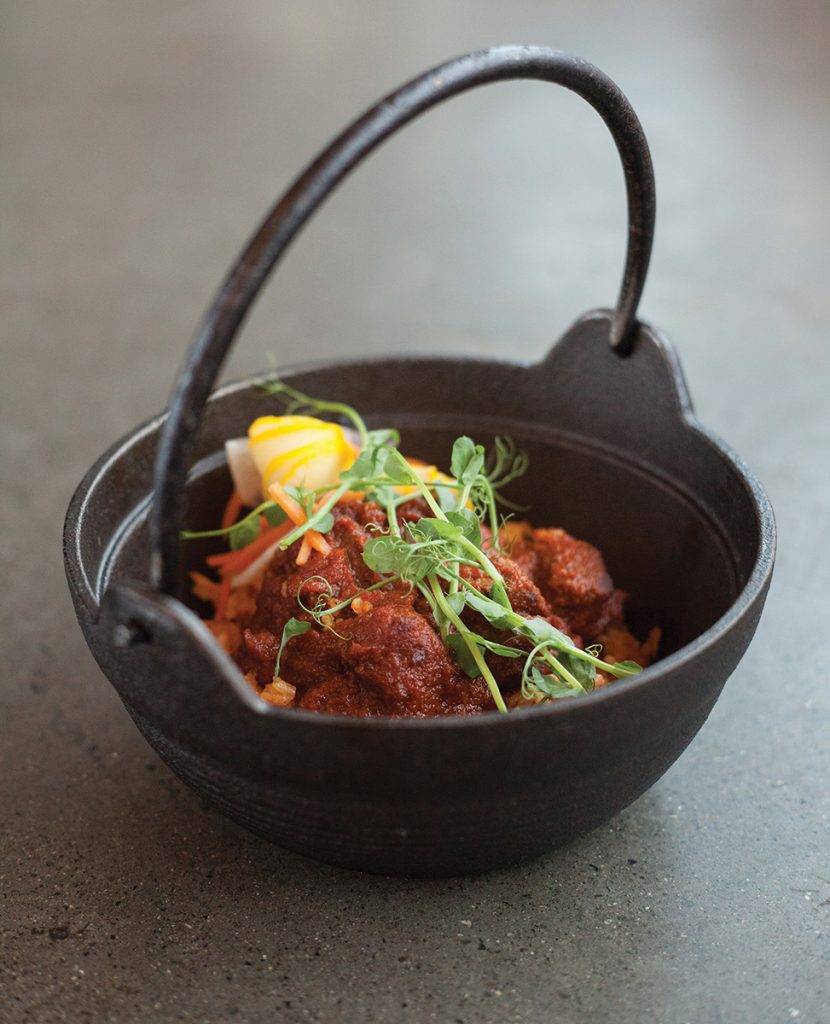 Ingredients
• 1 large onion, peeled and diced
• 1/4 cup vegetable oil or palm oil
• 1/4 cup chopped fresh ginger
• 2 tsp ground coriander
• 1 Tbsp curry powder
• 1 tsp chili flakes
• 2 Tbsp paprika
• 2 cups chopped whole tomatoes, canned or fresh
• 1 habanero pepper, finely chopped
• 1/4 cup tomato paste
• 4 cups chicken or vegetable stock
• salt and pepper to taste
• 2 cups long-grain rice
• 3 raw chicken sausage links, sliced
• 1 lb shrimp, peeled and deveined
• 1 cup fresh peas
• 3 scallions, thinly sliced
Directions
In a medium saucepan, sauté onion in vegetable oil over medium heat. Lower the heat, then add the ginger, coriander, curry powder, chili flakes and paprika. Keep stirring to prevent the spices from sticking to the bottom of the pan.
Add the chopped tomatoes, chopped habanero pepper and tomato paste and simmer for 10 minutes, then add the stock. Season with salt and pepper. Simmer the spiced sauce for 40 minutes or until the sauce is reduced to about 4 cups.
Meanwhile, rinse the rice in cold water a few times to remove some of the starch. Stir the rice into the sauce, then add the sausage. Bring the pot back to a boil, then lower the heat and simmer, covered, for 20 minutes or until all the liquid has been absorbed and the rice is tender.
Use a fork to fluff the rice. Season shrimp with salt and pepper, then add the shrimp and peas to the rice, place the lid back on the pot for 5 minutes to allow the shrimp and peas to cook. Serve the rice garnished with scallions.
Serves 8.