By Cinda Chavich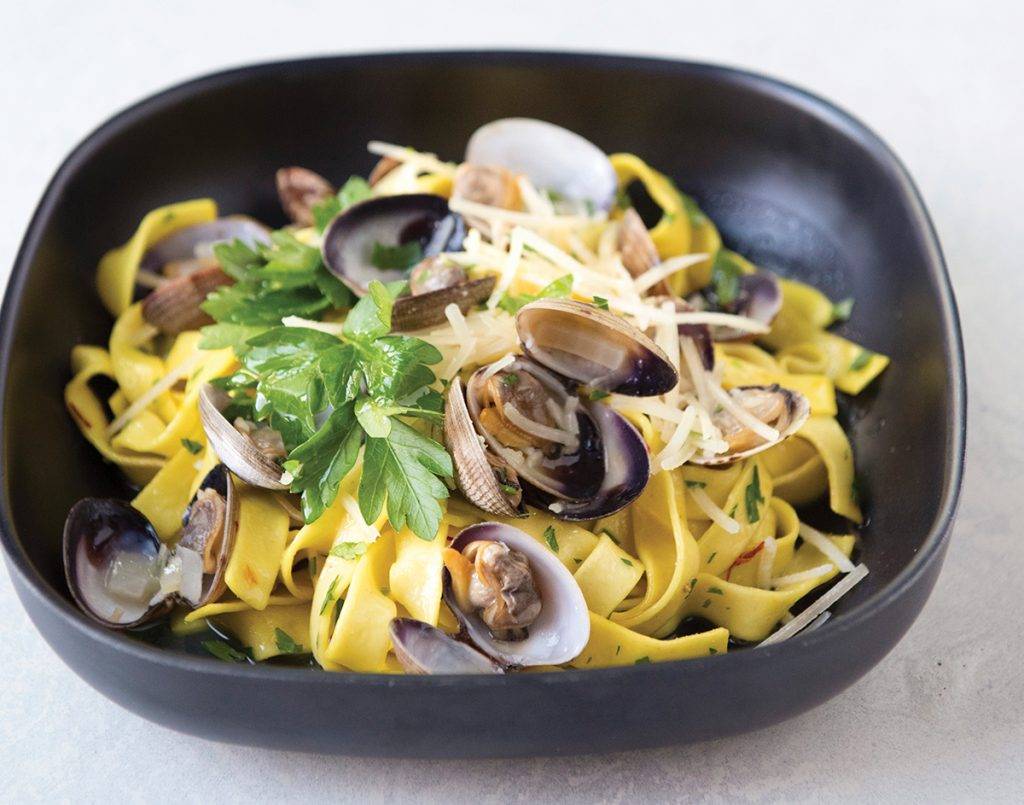 Chef Aaron Lawrence of La Pasta shares this recipe for saffron fettuccine with clams. Make your own pasta from scratch or look for his freshly made pasta at the shop in the Victoria Public Market or at the Zero Waste Emporium.
Ingredients:
• 2 lbs fresh local Manila clams, well rinsed
• 1 lb saffron fettuccine pasta
• 5 cloves garlic, finely minced
• 1/2 cup finely diced shallots or onion
• 1/4 cup butter
• 1 1/2 cups white wine
• 1 tsp saffron, crushed
• Salt and pepper
• Chili flakes to taste
• Zest from whole lemon
• Juice from half of the fresh lemon
• Chopped Italian parsley
• Freshly grated Parmesan
Directions:
Rinse the clams well and discard any that do not fully close when tapped.
Cook your chosen pasta al dente (so it still has a little bite to it). Do not overcook. Drain well, toss with a little olive oil to ensure the noodles do not stick to each other, then set aside.
In a deep pan, place the garlic, shallots and butter. Sauté over medium heat until the shallots are cooked through but not yet browning.
Add the white wine and the clams. Cover the pot with a lid and cook until the clams are all opened. Remove any that have not opened.
Drain the clam stock into a separate pot and add the saffron, lemon juice and zest to the clam stock. Place on medium-high heat and reduce the stock by a third.
Place the noodles into the stock and add salt, pepper and chili flakes to taste. Add the clams, sprinkle with fresh parsley and portion into four servings, finishing off with fresh grated Parmesan. Makes 4 servings.
Saffron Fettuccine
Ingredients
• 1/2 cup water
• 1 tbsp saffron
• 1/2 tsp salt
• 2 cups flour
• 2 lightly beaten eggs
Directions
In a small pot, combine 1/2 cup of water with crumbled saffron and simmer over medium heat to reduce to 1/4 cup. Set aside and cool to room temperature.
In a medium bowl, combine flour and salt. Make a small well in the middle, add the beaten egg, and mix to combine. Drizzle saffron reduction slowly into the mixture to form a stiff dough.
On a lightly floured surface, knead the dough for 4 to 5 minutes, then roll out to desired thickness and cut into fettuccine strips or use a pasta machine to achieve the desired cut. Set aside to dry for a few hours on a clean cloth. Cook the pasta after the sauce is prepared.
Makes 4 servings.