Seafood dishes signify special occasions with their aromas and rich flavours – making them perfect for the Holidays.
By Cinda Cavich
---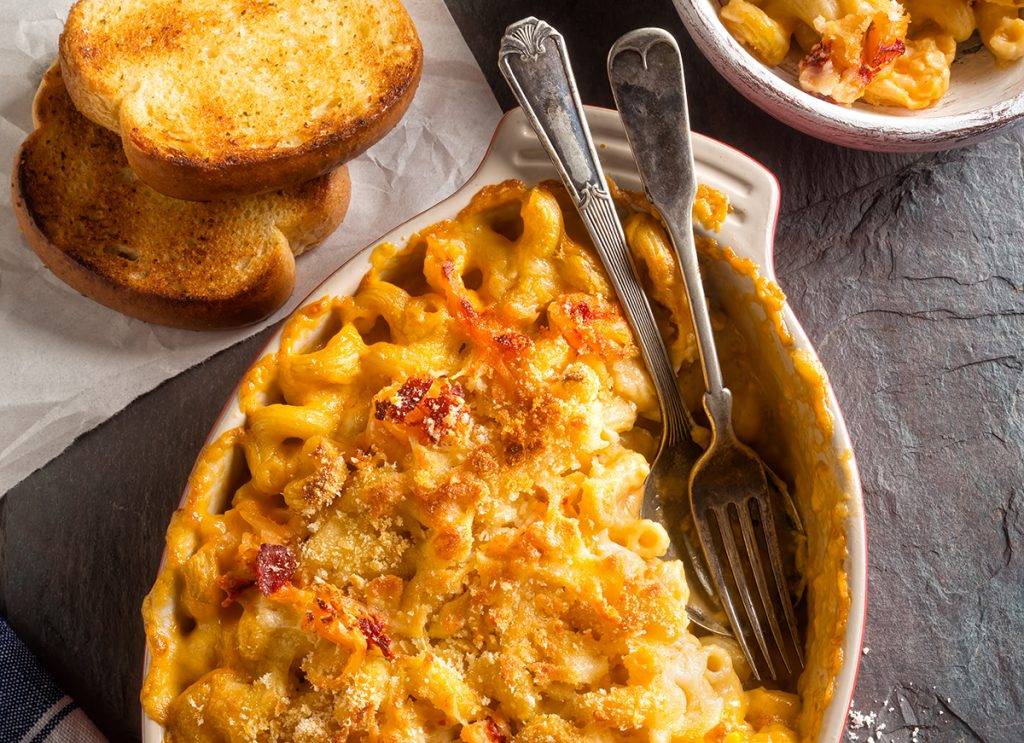 Lobster Macaroni & Cheese
Local Dungeness crab may be substituted for the lobster in this homestyle dish.
Filling
1 (8 ounce) package macaroni (or other short pasta), cooked (save 2 cups of the pasta water)
4 tbsp butter
4 tbsp flour
1 cup milk
1 cup cream
1/2 tsp salt
Freshly ground black pepper, to taste
1 cup shredded Gouda cheese
1/2 cup shredded old cheddar cheese
1 round of Boursin cheese (plain or variety of your preference)
1 lb lobster meat, well drained, and chopped coarsely
Topping
1 cup panko bread crumbs
2 tbsp melted butter
For tips on how to cook lobster and crab, read our holiday guide to cooking seafood.
Preheat oven to 400°F. Cook macaroni in boiling salted water for 7 to 10 minutes, until just al dente. Drain, saving about 2 cups of the pasta water, and set pasta aside.
In a large saucepan, melt butter over medium heat and whisk in flour, forming a thick roux.
Slowly pour in the milk and cream while whisking to prevent any lumps from forming. Bring to a boil, whisking constantly, and cook for 2 minutes. Reduce heat to low and simmer, continuing to stir, for 10 minutes, until sauce is smooth and thick. Stir in the salt and pepper. Add the cheeses, and stir just until cheese melts. Mix in the cooked macaroni and lobster.
If the mixture is too thick, add in a bit of the reserved pasta water until the perfect mac and cheese consistency is achieved.
For topping, mix panko bread crumbs with melted butter. Season with a pinch of salt and pepper.
Pour the mac and cheese mixture into a nice baking dish, and top with panko crumbs. Bake at 425°F for 12 minutes, or until topping is golden brown.
Serves 4.
Bouillabaisse
This is my recipe for a showstopper seafood stew that's perfect for holiday parties. I like to make the broth a day in advance (it helps to intensify and marry the flavours), then reheat it to quickly poach the seafood right before serving. Use whatever fresh white fish you like, plus shrimp, crab, mussels, scallops, clams or any combination of shellfish. Serve the bouillabaisse in large-rimmed soup bowls with a sliced baguette, sweet butter and rouille (recipe follows) on the side. For more tips on cooking seafood, see our holiday guide to a seafood feast.
Broth
2 tbsp virgin olive oil
2 onions, finely chopped
(about 2 cups)
3 cloves garlic, minced
1 cup slivered fresh fennel (or 1 cup slivered celery and 1 tsp fennel seed,
or a splash of Pernod)
1 tsp saffron threads, crumbled
2 bay leaves
1 sprig fresh thyme (or 1/2 tsp dried)
Zest of 1 orange, finely grated
1 red chili pepper, crumbled
8 cups fish stock or clam broth
3 tbsp tomato paste
1 14-ounce (398-ml) can tomatoes, whirled in a blender until smooth (or tomato passata)
2 cups dry white wine
Salt and freshly ground black pepper
Fish and seafood
2 lbs white fish (bass, halibut, sablefish, sole)
1 lb large shrimp, peeled and deveined
2 lbs mussels (or clams), scrubbed
Cooked lobster or crab meat to finish, if desired
Chopped fresh Italian parsley to garnish
Rouille (recipe below)
Sliced, toasted baguette
Make the broth a day in advance. In a large soup pot, heat olive oil and sauté the onion, garlic and fennel for 10 minutes. Add saffron, bay leaves, thyme, orange zest, chili pepper, fish stock or broth, tomato paste, tomatoes and white wine. Bring to a boil over high heat, reduce the heat to low, and cover and simmer for 30 minutes.
Remove thyme and bay leaves and purée the soup in a blender until smooth. Season with salt and pepper. You can stop at this point, cover the soup and refrigerate overnight.
Just before you're ready to serve dinner, bring the soup to a boil. Cut the fish into serving pieces and add to the soup. Simmer for 2 minutes. Add the shrimp and mussels. Cover the pot and simmer for 3 to 4 minutes longer, until the mussels open. Discard any that do not open.
Divide the fish and seafood among individual serving bowls (use wide, shallow soup plates) and ladle some of the broth over top.
Garnish each bowl with some cooked crabmeat or chopped lobster meat, if desired, and sprinkle with chopped fresh parsley. Serve sliced baguette, fresh or toasted, and spicy rouille on the side.
Serves 8.
Rouille
Bouillabaisse is traditionally served with rouille, a spicy red sauce or aioli, a garlicky mayonnaise. Traditional rouille is made with breadcrumbs, saffron, cayenne, garlic, egg yolks and olive oil, all combined to form a mayonnaise-like emulsion. You can make a speedy version by placing 1/2 cup of commercial mayonnaise in a blender with 4 cloves of roasted garlic. Whirl until smooth, then add 1/2 teaspoon of Dijon mustard and, with the motor running, incorporate about 1/3 cup of extra virgin olive oil into the mayonnaise. Add a large pinch of cayenne pepper or paprika to make it red and spicy. Cover and refrigerate for up to 2 days. Pass the sauce with the bread so diners can add a dollop to their fish stew.
Dungeness Crab Cakes
Anne Best of Oak Bay Seafood shares her recipe for crab cakes, bound with mashed potato. You can also dip the cakes in dried potato flakes before frying, for an especially crispy crust. Serve with tartar sauce, cocktail sauce or spicy chipotle aioli.
Crab Cakes
10 oz shucked Dungeness crabmeat (fresh is always best)
2.5 to 3 oz mashed potato (depending on how crabby you like your cakes)
Salt, pepper and ground dried garlic to taste
1 to 2 tbsp mayo to bind (Hellman's to keep them gluten free)
Panko crumbs to coat (omit this for gluten-free cakes or use dried potato flakes)
Grapeseed oil to panfry
Gently blend crabmeat and potato with a fork.
Mix in salt, pepper, garlic and mayo.
Form mixture into 4 balls, then pat into cakes.
Sprinkle some panko in a shallow pan and lightly press each surface of the cakes in the crumbs to coat. This will produce a nice crispy golden finish when they are pan fried.
To heat through, add enough grapeseed oil to a frying pan to prevent sticking at medium- high heat. Cook cakes for about 3 minutes until the panko crust is crispy and golden. Carefully flip the cakes and brown second side or, if you are using an oven-proof pan, place in the oven at 375°F for 5 minutes to finish.
Delicious served with a really good cocktail sauce or a chipotle aioli.
Makes 4, 3-ounce crab cakes.
For more information on cooking seafood, see our holiday guide to cooking a seafood feast.
NOTE: If you are preparing the crabmeat yourself, the meat yield is about 25% of the weight of the live crab. Otherwise, call ahead (24 hours notice) for cooked, shucked meat.
This recipe is from our November/December 2018 issue of YAM.