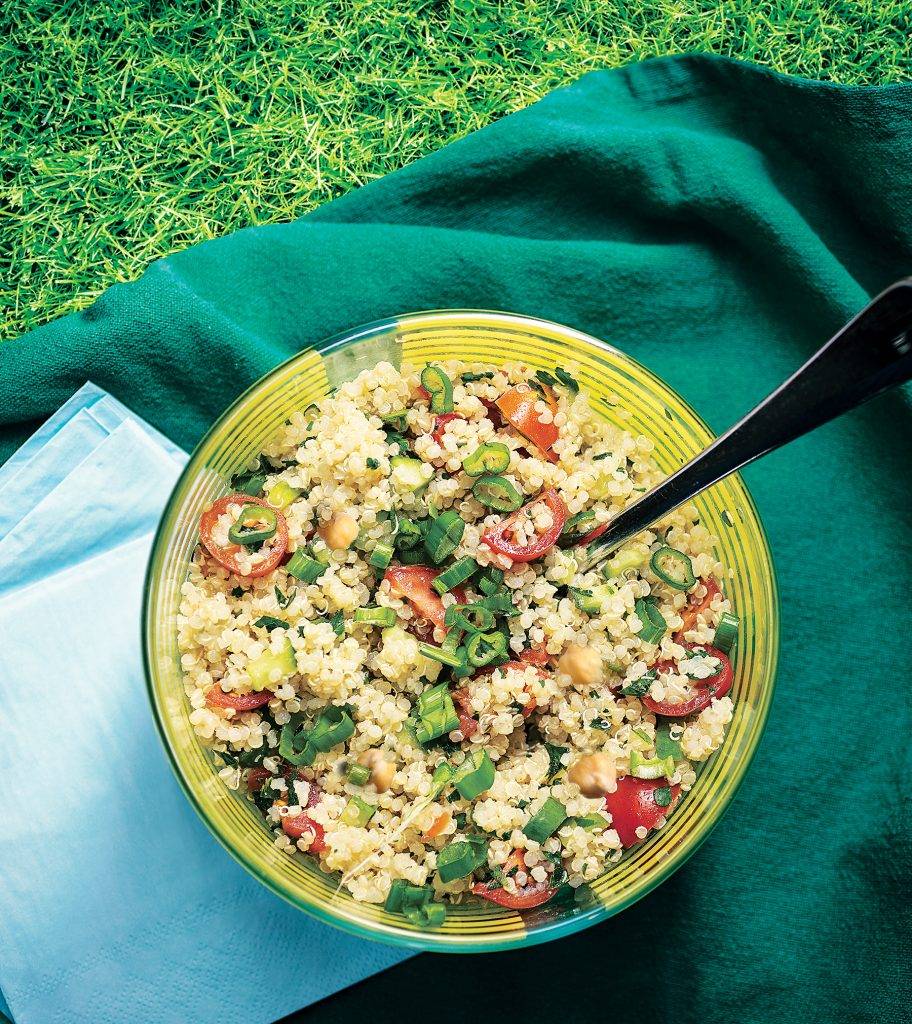 A new take on tabouli — with protein-rich quinoa and added chickpeas — this portable salad makes a cool summer meal. 
BY CINDA CHAVICH
•3 cups water or broth
•1 1/2 cups quinoa
•1 cup chopped grape tomatoes
•1 cup finely diced baby (mini) cucumbers
•1/2 cup finely chopped Italian parsley
•1/4 cup finely chopped fresh mint (optional)
•2–3 green onions, finely chopped
•14-oz (398-mL) can chickpeas, rinsed and drained (optional)
Dressing:
•1/4 cup olive oil
•1/4 cup fresh lemon juice
•1 large garlic clove, minced or pressed
•1/2 teaspoon salt
You can make this salad extra portable by packing it in small glass jars.
In a saucepan, combine water (or broth) and quinoa and bring to a boil over high heat. Reduce heat to low, cover and simmer for 10–15 minutes. Remove from heat and let stand, covered, for another 5 minutes (the quinoa will be al dente). For softer quinoa, leave it covered for 10 minutes before you remove the lid and fluff with a fork to separate the grains. Transfer to a bowl.
For dressing, whisk together the olive oil, lemon juice, garlic and salt and pour over the warm quinoa, tossing to season the grain.
Add the chopped tomatoes, cucumbers, parsley, mint (if using), green onions and chickpeas
(if using). Toss to combine. Cover salad and chill. Serves 4.