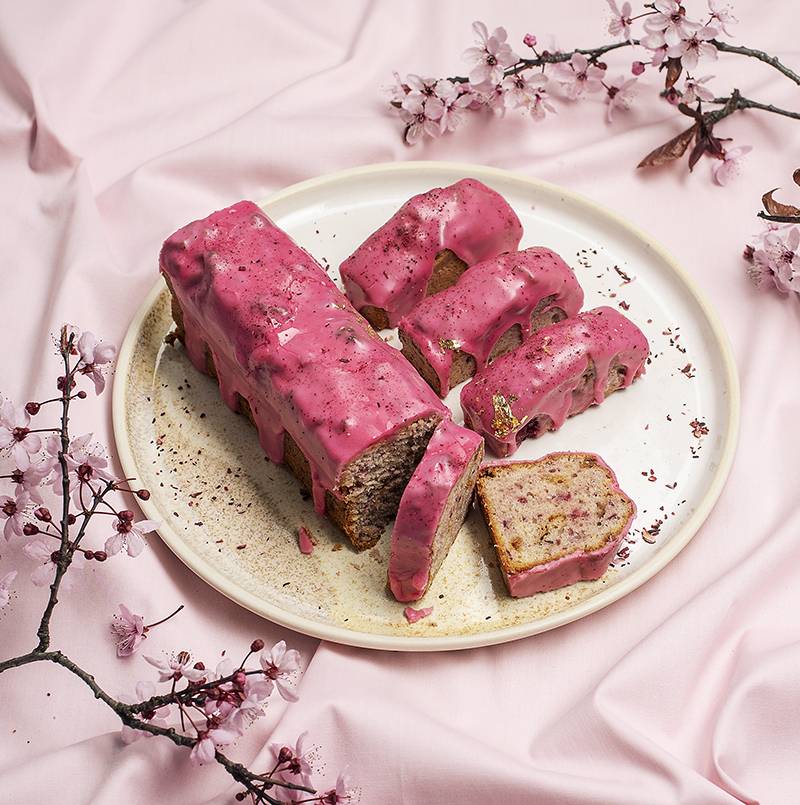 ---
Kimberly Vy, the talented pastry chef at AURA restaurant at the Inn at Laurel Point, shares this pretty pink cake to bake and take on your Hanami picnic. Make it in a loaf pan or in small individual pans and glaze with pink hibiscus icing for a pretty in pink presentation.
Look for dried hibiscus tea (a.k.a. Agua de Jamaica) at Latin American grocery, Mexican House of Spice, downtown on Douglas Street.
Makes two 8×4-inch loaves, four to six miniature loaves or 12 to 14 financier moulds.
---
Cake
1 cup + 2 Tbsp unsalted butter (1 1/3 cup if making hibiscus butter – see method below), melted
8 egg yolk
2 ½ tsp lemon zest
1 ½ cups + 2 Tbsp caster (superfine) sugar, divided
4 egg whites
1 teaspoon cream of tartar
2 ¾ tsp baking powder
2 ¼ cups + 2 Tbsp all-purpose flour
2 ½ Tbsp loose hibiscus tea
1 ¼ cup fresh or frozen raspberries
½ cup + 1 Tbsp finely chopped white chocolate
¾ cup hibiscus flower, finely chopped
Hibiscus Glaze
¾ cup water
3 Tbsp loose leaf hibiscus tea
1 ½ cup powdered sugar
Garnish
Finely chopped hibiscus flowers
You can use plain, unsalted butter or, for a pink cake, first infuse the butter with hibiscus tea. To make the hibiscus butter, heat 1 1/3 cups of butter in a saucepan until melted, then add about ¼-1/3 cup of dried hibiscus flowers. Heat together on low for 5 minutes, then let steep for 5 minutes more to release additional colour. Strain the butter through a fine sieve, pressing to release as much as possible. You should have 1 cup plus 2 tablespoons of hibiscus butter.
To make the cake, in the bowl of a stand mixer, whisk the egg yolks, lemon zest and ¾ cup of the caster sugar until light and creamy.
Separate the eggs. Separately beat/whisk the egg whites with the cream of tartar. When a soft peak is reached, slowly add the remaining ¾ cup + 2 tablespoons of caster sugar, beating to create a stiff meringue.
Fold the meringue into the yolk mixture to lighten.
Combine the baking powder and flour and sieve into the batter, folding to combine.
Warm the melted butter (or hibiscus butter) and stir in a small amount of the batter into the butter, before stirring it into the remaining mixture.
Fold the raspberries and white chocolate into the batter – if using frozen raspberries, the batter should turn a nice pink colour.
Spoon batter into buttered 8X4-inch loaf pans (or mini loaf pans), and bake at 170 C/338 F for 30-40 minutes, until a toothpick inserted in the centre of the cake comes out clean, and cake springs back when pressed.
Meanwhile, make the glaze. Boil the water and pour over hibiscus tea to brew, the colour and flavor will be very concentrated. Once the tea has cooled, pour through a mesh strainer and set aside.
Sift powdered sugar into a mixing bowl. Slowly whisk in the brewed and cooled hibiscus tea 1 tbsp at a time. Continue to whisk until glaze is smooth. The glaze should run off the whisk in a thick flowing ribbon, if the glaze is too thin, add more icing sugar. If the glaze is too thick, add more tea. This will depend on taste and aesthetic preferences.
Cool cakes and remove from the pan(s). Place loaves on a rack and pour glaze over top starting from one end and making your way down the center to the other. The glaze will drip nicely down the sides.
To create a more even glaze that covers all sides, add more tea to the glaze and pour over top in a side to side motion starting from one end and making your way down to the other. Tap again to ensure even coating.
Sprinkle chopped dried hibiscus flowers over top the glaze. Alternatively, you can place a segment or two along the corner, or down the center in a pattern. Tomake it a bit more chic you may also add some silver or gold leaf.
Let the glaze set for 30 minutes, it will harden to form a soft eggshell like coating.