By Shelora Sheldan
The season demands you take advantage of the local bounty and embrace the bold, fresh flavours — and what better way to savour the season than by entertaining al fresco? In that spirit, I've designed this gourmet cookout menu as a playful, delicious symphony to summer, with a balance of seafood and meat offering up lively flavour notes and textures. Start pulling together your guest list for this fun, easy feast that's sure to become an annual affair.
---
YAM's GOURMET SUMMER COOKOUT MENU
• White Wine Sangria
• Skewered & Grilled Prawns in a Lemon-Honey-Herb Marinade
• Whole Clams on the Grill, Tossed in Chimichurri
• Whole Corn on the Cob, Cooked in Husks with Chili-Lime Butter
• The Ultimate Molten Cheeseburger
• Steaks with Hanks Dry Rub
• Watermelon Salad with Goat Cheese
---
STARTERS
When your guests arrive, greet them with refreshing glasses of wine and fruit-spiked sangria. As they mingle, whet their appetites with prawns drizzled with a pungent marinade of herbs and citrus; and clams, steamed open on the grill and tossed with a spicy Latin American-inspired chimichurri sauce.
White Wine Sangria
Serves 8
Present this refreshing summer sangria in a glass pitcher or a vintage punch bowl.
• 6 cups fresh fruit (strawberries, peaches, berries, mango), cut into chunks
• 1 cup fresh mint, plus extra for garnish
• 1 bottle crisp white wine (Sauvignon Blanc or Pinot Gris)
• 1/2 cup orange liqueur
• 1 lemon, cut into wheels
In a large punch bowl or glass pitcher, combine cut fruit, mint and orange liqueur. Mash fruit and mint gently with a wooden spoon until mint is bruised and fruit begins to release its juices. Add wine and lemon wheels; stir to combine. Refrigerate at least an hour before serving in ice-filled glasses. Garnish each with a sprig of mint.
---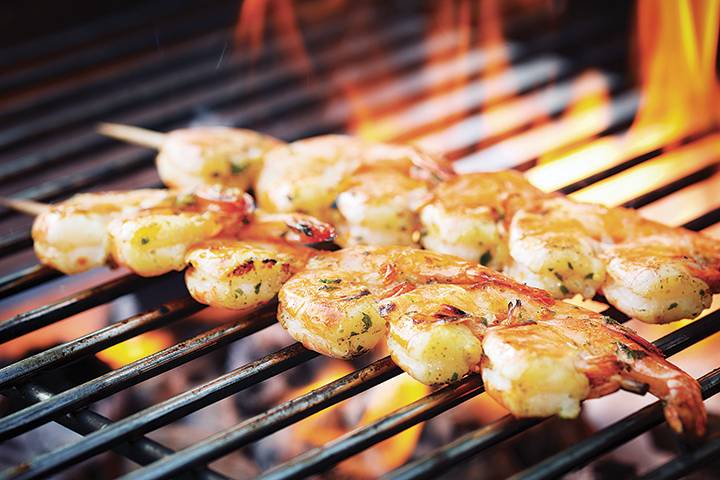 Skewered & Grilled Prawns in a Lemon-Honey-Herb Marinade
Serves 6 (four prawns each)
• 24 fresh or frozen prawns or shrimp, cleaned, tails intact (Ocean Wise is preferred)
• 2/3 cup olive oil
• 2/3 cup freshly squeezed lemon and orange juice (approx. one lemon and one orange)
• 2 garlic cloves, minced
• 1 1/2 tbsp honey (or sugar)
• 1 1/2  tbsp freshly chopped oregano
• 1 tbsp chili flakes
• Sea salt to taste
• Coarse ground pepper
• Arugula for garnish
Clean the heads and shells off the prawns or shrimp, but leave the tails intact — they make nice handles for eating. Whisk marinade ingredients together; pour over prawns. Cover and marinate in the refrigerator at least 1 hour or up to 4 hours. While your grill or barbecue is heating, remove prawns from the marinade and skewer them, four per stick. (Skewer through the plump part of the flesh and near the tail so they keep their "C" shape.) Grill on high heat until opaque and showing dark and crispy-looking grill marks (it won't take long). Sprinkle with salt and pepper. Turn the skewer; cook the other side. To serve: Lay down fresh arugula leaves on small plates, add a skewer of prawns on top and drizzle with boiled marinade.
---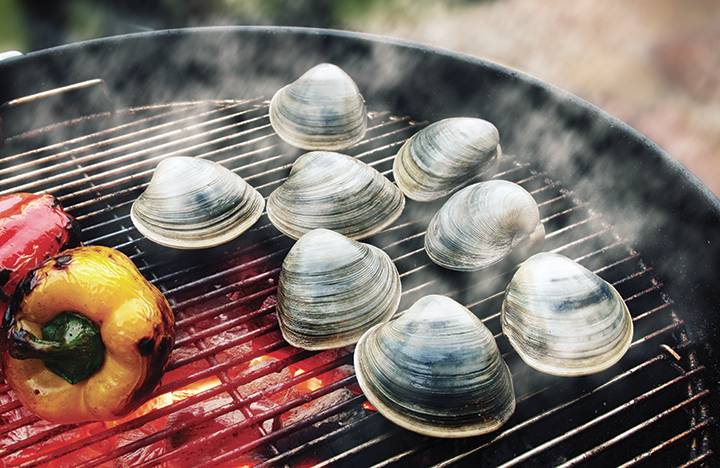 Whole Clams on the Grill, Tossed in Chimichurri
Clams (About 10-12/person) If the grill or charcoal is hot, then the clams, mussels or oysters will be easy to open. Just place them on the grill and cover. The shellfish will open within minutes. Carefully remove them, retaining as much brine as possible. Place in a large bowl and drizzle with chimichurri. The brine blends beautifully with the herbaceousness of the sauce. Add a hit of freshly squeezed lemon.
Eat standing up or dish up in small bowls.
Chimichurri (Makes about 1 3/4 cups) Chimichurri is the pesto of Argentina. It's traditionally used on grilled meats, but I like to use it to enliven clams or mussels straight off the grill. My version includes dried chile de árbol and tequila for an extra flavour kick.
• 8 to 10 small dried chilis (Chile de árbol are the best)
• 5 cloves garlic
• 1 1/2 cups flat leaf parsley
• 2 tsp dried oregano
• 1/3 cup apple cider vinegar
• 1/4 cup tequila, reposado or gold
• 1/2 cup olive oil
• Salt to taste
On a dry cast iron griddle or pan, briefly toast the chilis (if you don't like too much heat, discard the stems and seeds) and grind them in a blender with garlic and parsley. Add vinegar, tequila, oregano and salt and slowly drizzle with olive oil until well combined.
---
MAIN COURSE
For dinner, keep it simple. Corn cooked in its husk is a fun and rustic preparation, perfect for dining al fresco — and the accompanying chili-lime butter just makes it sing. And then there's the centrepiece of your meal: gourmet burgers and steaks. My juicy Ultimate Molten Cheeseburger recipe features patties stuffed with mouthwatering cheese. Decadent but delicious summer fare.
Whole Corn on the Cob, Cooked in Husks with Chili-Lime Butter
Remove silks from ears of corn; leave husks attached. Pull husks back in place and use a piece of the husk to make a tie to hold the husk in place over the corn. Soak corn in a pot of water for an hour or so. Place cobs on a hot grill, turning frequently, to steam-cook the corn inside. The husks will char nicely. If they're burning too much, place on the cooler side of the grill until fully cooked (5 to 10 minutes). To serve, peel back husks and drizzle with chili-lime butter. Salt to taste.
Chili-Lime Butter:
• Juice of two limes
• 3/4 cup butter
• 2 tbsp chili powder (or to taste)
Slowly melt the butter, add lime juice and chili powder. Stir to combine and set aside until ready to use.
---
The Ultimate Molten CheeseBurger
Makes 6 burgers
• 10 oz ground pork
• 10 oz ground sirloin
• 4 rashers of double-smoked bacon, chopped fine
• 2 medium jalapeños, stemmed, seeded and chopped fine
• 1/3 cup red onion, minced
• 2 tbsp Dijon mustard
• 1/2 cup (packed) chopped cilantro
• 3 oz grated Monterey Jack (goat cheese, mozzarella or Cambozola are great, too)
• Salt and freshly ground pepper
• Bun of choice
• Garnishes, as desired
In a large bowl, mix ground beef, pork and bacon together. Add chopped jalapeños, red onion, mustard, cilantro and salt and pepper until well combined. Form into 5-ounce patties. Use the grated cheese to form into 1/2-ounce balls (about the size of ping-pong balls), then mould each patty around a cheese ball. Pat out to an even shape (ensure cheese is well concealed). Set on a plate, cover with plastic wrap and refrigerate until the grill is ready. Oil the grill, and cook the patties on both sides until done. If the grill is too hot, move the patties away from the direct heat until cooked through. Heat/grill your bun of choice before serving. Have the condiment tray ready.
---
Dry Aging for Delectable Steaks
For many steak aficionados, dry-aged steaks are the only way to go. Dry aging is a controlled process that breaks down the collagen that holds the muscle fibres together and toughens the meat. Dry aging also removes excess moisture. A dry-aged steak goes beyond the usual AAA grades of premium 21- to 28-day-aged beef. At Victoria's Village Butcher, the process takes from 35 to 45 days and produces a remarkable depth of flavour, a tender end-product and a cooking aroma akin to buttered popcorn. It's a miracle on the grill.
Chef Sean Brennan recently added aged ribeye from Vancouver's Two Rivers Meat to his steak menu at Brasserie l'École. Aged between 40 and 45 days, even at $50 each, these steaks sell out quickly. "It's kind of like an aged wine," says Brennan. "Stronger, richer, with a more beefy flavour."
HINT: Don't cook a dry-aged steak to any more than medium. You want that buttery fat melting off of it, with the edges just a bit crispy.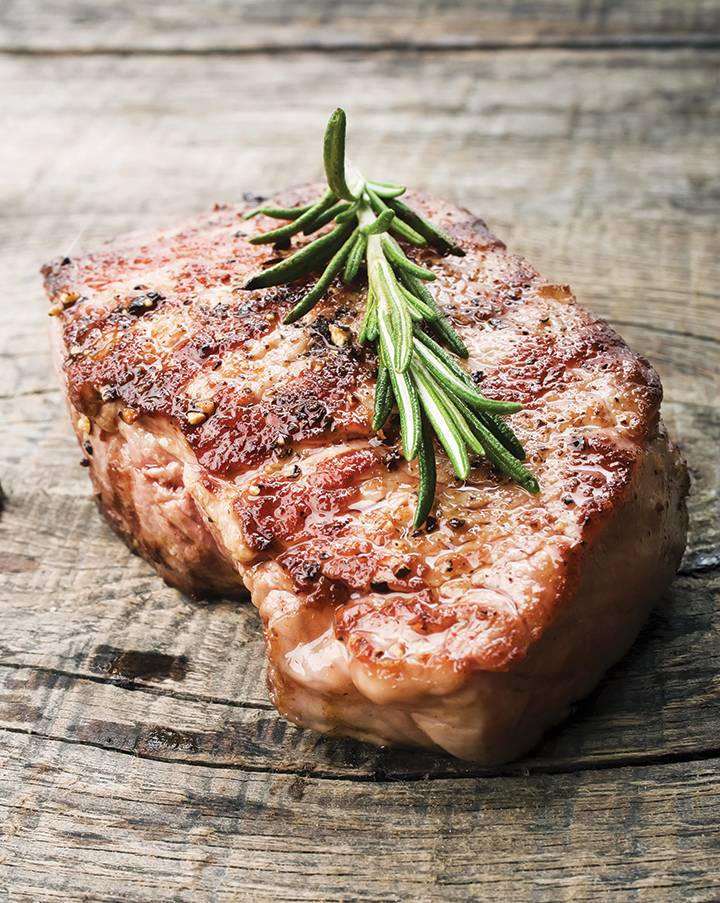 Hanks Basic Barbecue Rub
Courtesy of Clark Deutscher, co-pit boss, Hanks on Douglas
• 1/2 cup brown sugar
• 1/2 cup kosher salt, plus 1/4 cup salt for the meat
• 3/4 cup paprika
• 1/4 cup granulated onion
• 1/4 cup granulated garlic
• 1/4 cup dried thyme
• 1 tbsp ground coriander
• 1 tbsp ground cumin
• 1 tbsp ground allspice
• 1 tbsp ground cinnamon
• 1 tbsp ground ginger
• 1 tbsp celery seed
Sprinkle the 1/4 cup salt on the meat before adding the rub. Wait 10 minutes. Mix all the spices together. While the coals are heating, rub surface of meat evenly. Once the grill is nice and hot, start cooking.
---
TO FINISH
Nothing says summer like a fruit-based dessert. For the finish, serve up a tantalizingly simple watermelon salad with goat cheese. This finale is as unexpected as it is elegant and, I might add, completely refreshing.
Watermelon Salad with Goat Cheese
Serves 4
This elegant dish, eaten with a knife and fork, makes a refreshing first or last course. The addition of salt and olive oil might sound unusual, but the salt lends sweetness to the melon, and the oil adds a touch of richness. Use quality extra virgin olive oil, and salt flakes such as Maldon or Vancouver Island Salt.
• 3 1/2 lb watermelon, cut into triangles, about 3/8″ thick
• 6 oz goat cheese
• Quality olive oil
• Salt flakes
• Black pepper, coarsely cracked
Artfully place four watermelon triangles on each plate. Crumble goat cheese over top. Sprinkle lightly with olive oil, salt and pepper.