By Melissa Gignac
Fall fashion evokes visions of sumptuous, cozy cashmere paired with quintessentially autumnal textiles like collegiate corduroy, tartan and tweed in rich, warm, harvest-season tones. While these classics are always in style, turning to the runways for a hit of what's hot now invigorates sartorial staples by injecting the colours, textures and shapes that are having a fashion moment.
This season is all about powerhouse tailoring and sizzling hot red, either in a single piece that pops or head-to-toe scarlet, like this runway outfit from Theory.
Ravishing Red
Greta Gerwig's live-action ode to the doll be damned, Barbie pink has been dethroned! Fall 2023 runways ran red, awash in sensual scarlet, crimson and ruby tones. From sleek suits at Theory to sculptural evening wear at Alexander McQueen, red is running hot. Donning such a dramatic shade might feel intimidating for those with neutral leanings, but there's no need to shy away — there's a red for everyone! Warm skin tones glow against reds with an earthy, orange undertone like coral and brick, while cooler skin is complemented best by the blue undertones of crimson and cherry. If you're still feeling timid, ease into red and embrace this trend with saucy stockings.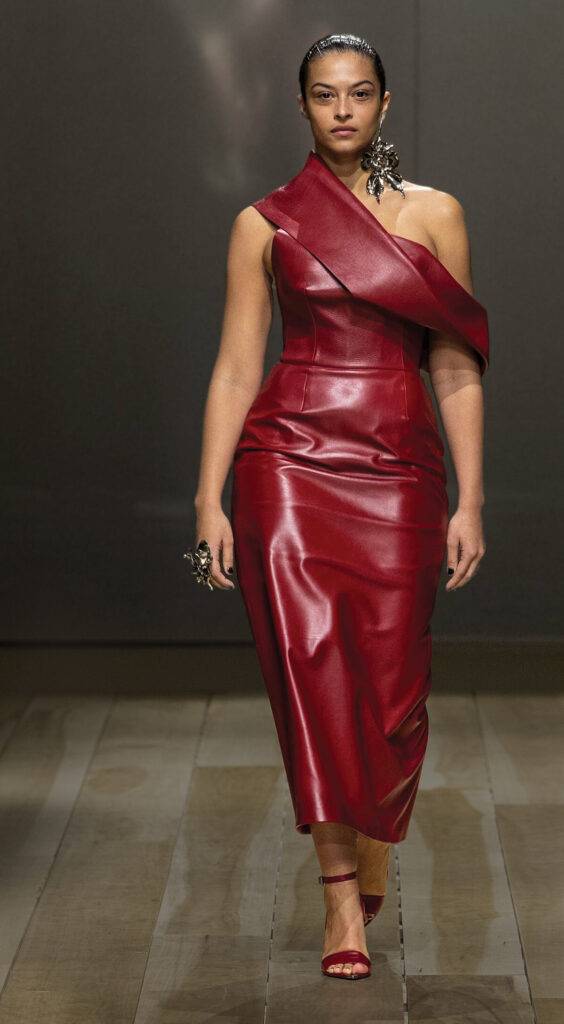 Savage Garden
Florals may be associated with spring, but they make a darkly romantic statement in autumn's richer tones. And florals don't have to mean delicate, pretty prints. Sarah Burton for Alexander McQueen emblazoned skirts, suits and evening wear with an oversize orchid motif, equal parts floral fetish and anatomical art, while Coco Chanel's signature camellia burst from knitwear and tweeds, and added textural interest to metallic textiles. Fall's best florals are bold, relying on scale to make an impact.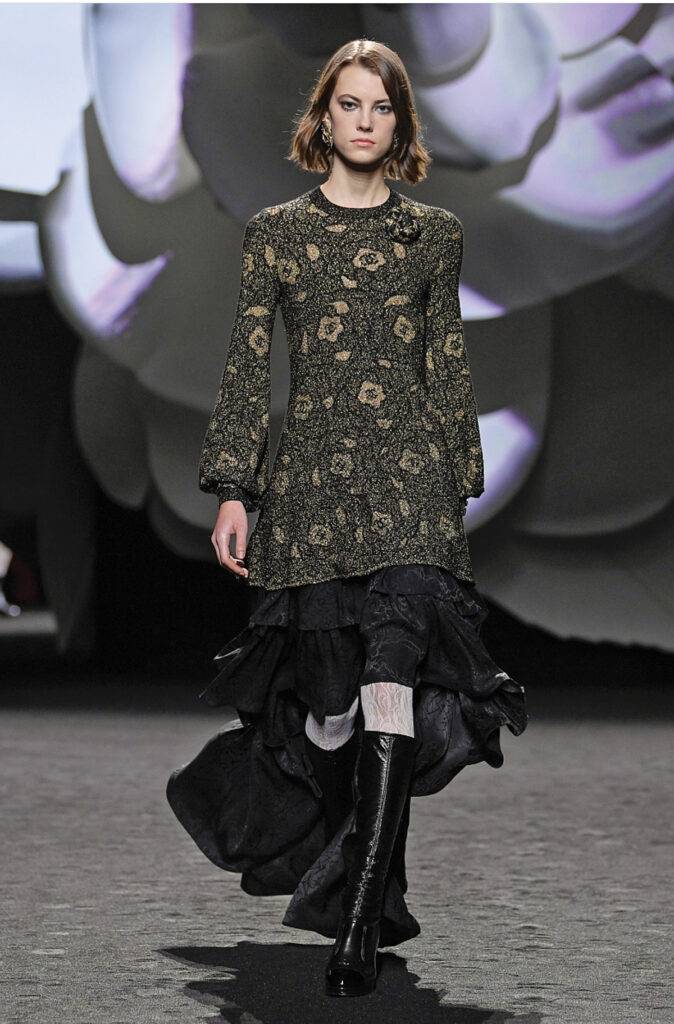 Exaggerated Suiting
Slouchy, academia-inspired menswear chic has been usurped by strong lines and exaggerated shoulders. We aren't talking "boyfriend fit" — unless your boyfriend is built like former football legend William (The Refrigerator) Perry, with a penchant for couture. The new boxy, knee-grazing blazers pair with everything from fluid trousers to a leather LBD. To avoid looking swamped, your best bet is to balance volume on the top with slim lines on the bottom. If you're feeling bold, pair with shorts and tights — an unapologetically leggy look to transition into fall. This strapping silhouette carries over to outerwear as well with overcoats reminiscent of Dick Tracy and '80s-esque sloped-shoulder leather coats making a comeback.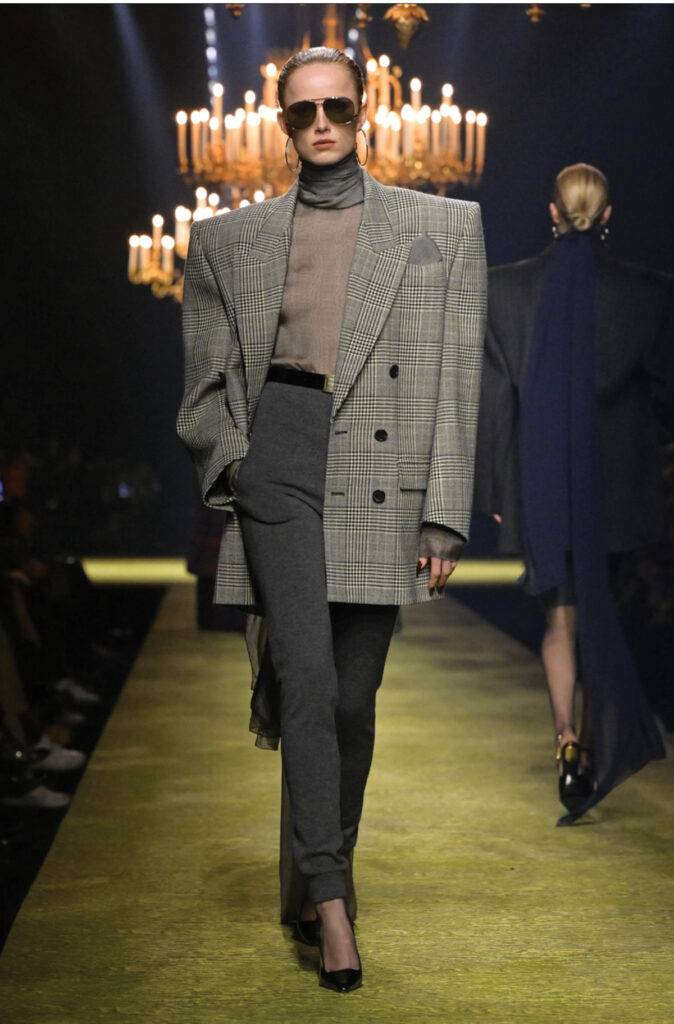 Boudoir Chic
An extension of '90s minimalism, unapologetically feminine lingerie looks slink from the bedroom to the street. The ubiquitous cowl-neck, bias-cut slip dress is as much a closet staple now as it was pre-millennium. If you're feeling daring, swap out satin for sheer silks and chiffons and treat yourself to foundation garments intended to peek through. For those of us harbouring an inner goth, sheer black lace and tumbles of tulle scream screen siren with a dark secret. No need to feel exposed in your underpinnings — lingerie looks inspired by corsetry layer beautifully under leather or a simple button down. Paired with suiting they play homage to Madonna's iconic Express Yourself video look.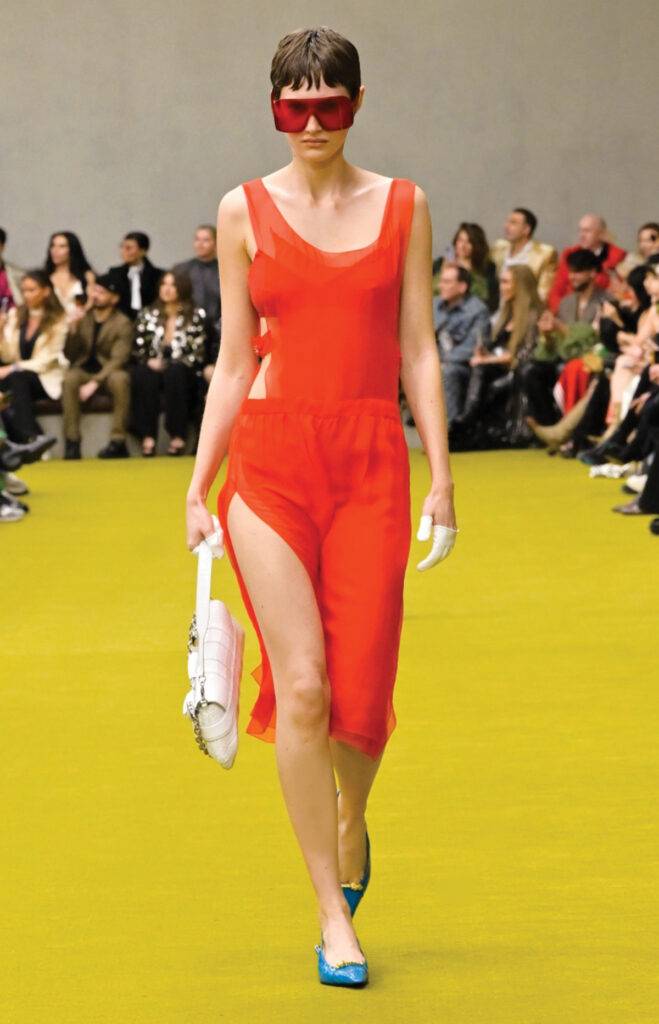 Elevated Oxford
Keeping with the tradition of borrowing from the boys, simple white button-ups ranging from classically corporate to sweeping frocks with thigh-high slits take a decidedly for-her turn this season. Pair with a narrow black tie for a (Wo)Men in Black-inspired esthetic or look for amplified lapels and oversize cuffs to make a more modern statement. You can always reach into his closet for the real deal — think of how Sharon Stone tucked an unbuttoned Gap shirt, nicked from her husband, into a Vera Wang column skirt on the Oscar red carpet.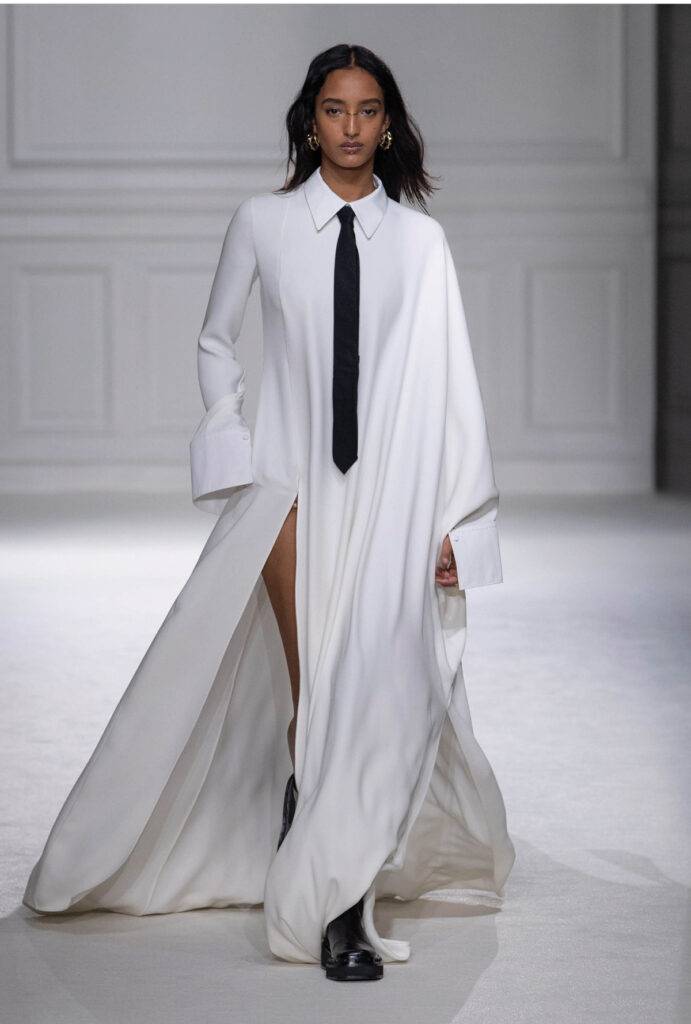 Hot Hosiery
Be it feisty fishnets, jewel-box gems or co-ordinated patterns, hosiery is playing peekaboo and demanding its due attention. Daniel Lee's first collection for tartan titan Burberry layered its signature textile with skirts over leggings in matching or contrasting tartan tone, while opaque chartreuse peeked out through sheer lace at Gucci. If bright tights feel a little too self-consciously superhero, take a nod from Chanel, where white lace complemented signature tweeds, or Victoria Beckham, who paired punky black fishnets with everything from oversized blazers to elegant evening wear. Just steer clear of textured patterns on stockings that match your skin tone — from a distance, they can look like a skin disorder.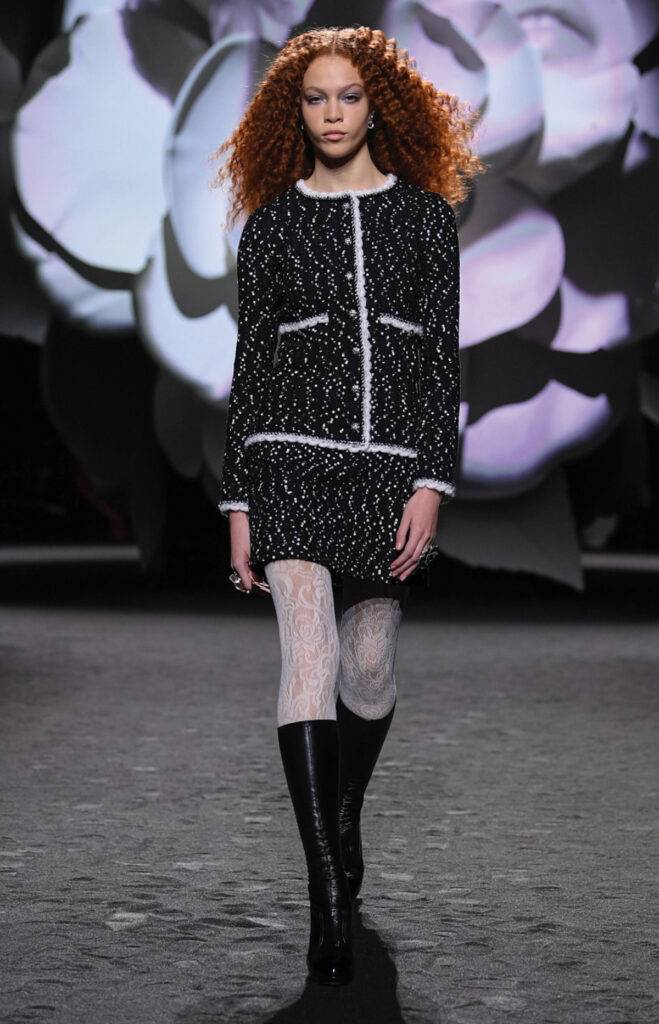 Wrap It Up
We crave coziness as the mercury drops, but that doesn't have to mean bulky or boring. Scarf-inspired outerwear lends the comfort of the ubiquitous "shacket" (shirt + jacket), with a shot of chic that belongs nowhere near the barn. Toteme's scarf jacket in felted wool edged in blanket stitches is sure to inspire a sea of dupes.
If you lean toward the sleeping bag security of a puffer, look to Junya Watanabe's inflated shrug for inspiration.
Supple, draped leather, as seen at Saint Laurent, introduces an unconventional use of one of fall's staple textiles. Whether built into outerwear or slouching across your shoulders, scarves are taking centre stage.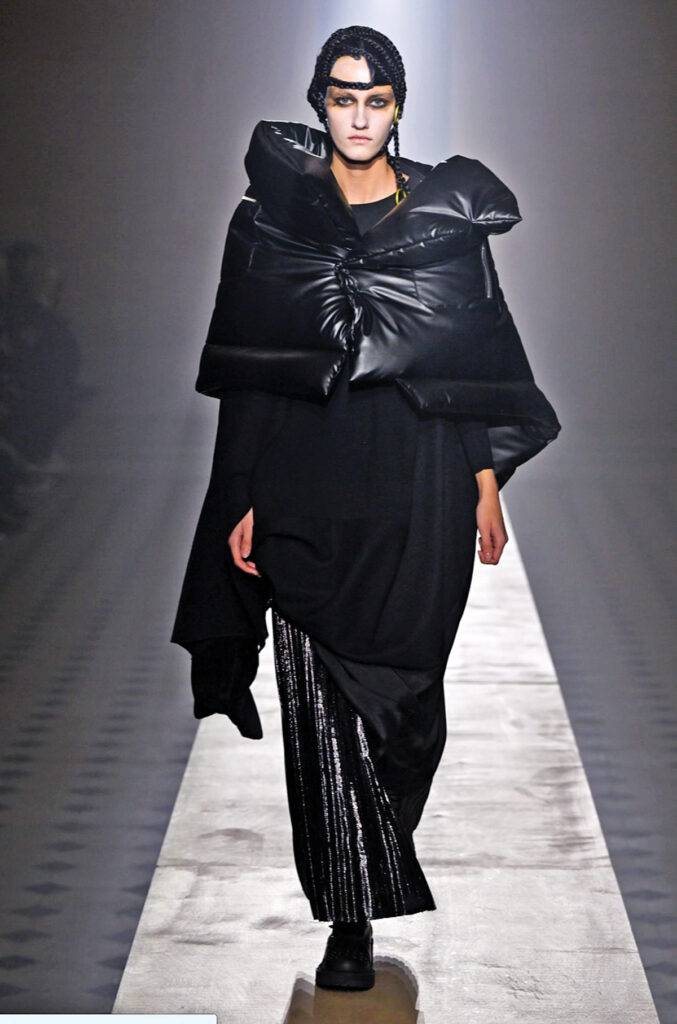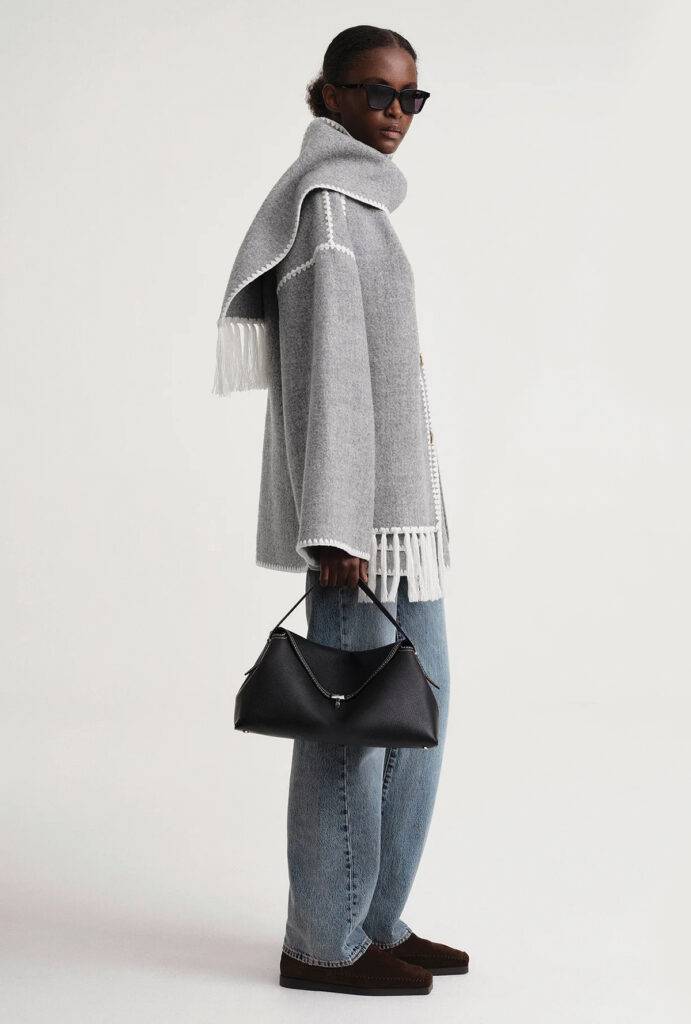 Birds of a Feather
From the moment Euphoria star Hunter Schafer stepped onto the Oscar red carpet with Ann Demeulemeester's single feather adorning her bust, it was clear that feather(s) were having a moment. Of course, most of us need more than just one! Feathers, and feather-effect fringe, lend a luxe texture similar to furs, but feel fresher floating off the gowns and onto outerwear. Voluminous plumes feminize androgynous shirts and ties, and balance temporal with tough when paired with fall-standard combat boots. Carwash-effect metallic fringe is also hot, giving a feather effect that's PETA friendly.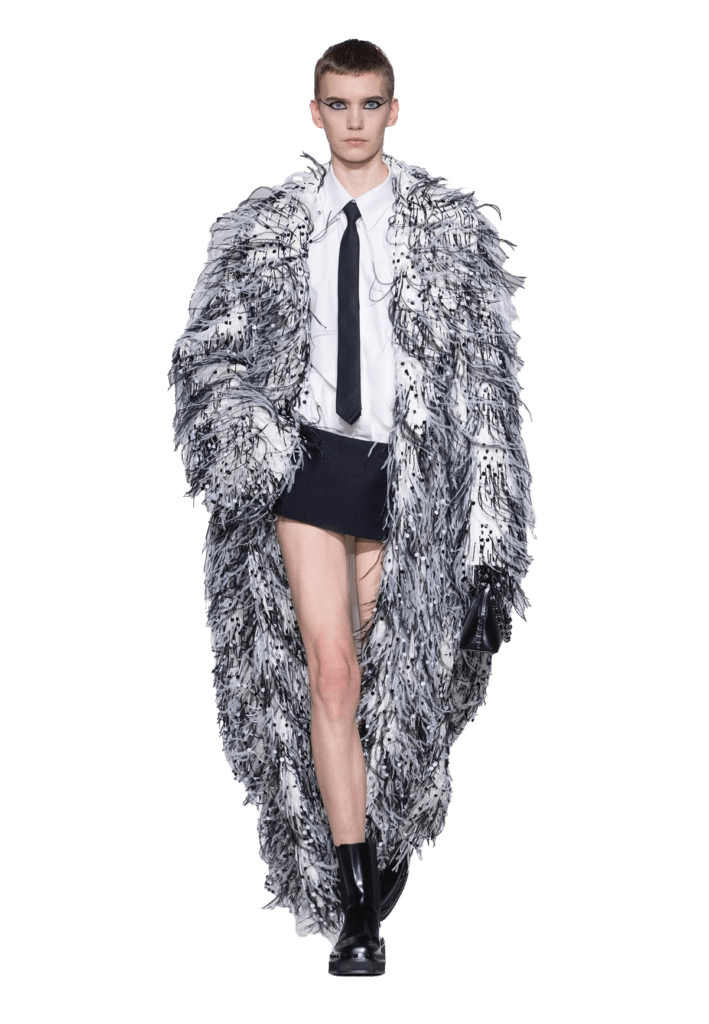 Leather Everywhere
Moto and bomber jackets are going nowhere, but leather is breaking boundaries with new applications and technologies. Bottega Veneta's knee-high socks of knit leather evoke a luxury storm-watch staycation, while their printed leather mimics the look of items normally produced in cotton and denim. Layered leather is a big trend, but if you balk at that much hide, tailored leather trousers paired with a chunky knit is a classic fall combination. Swap classic black leather pants for cognac and caramel shades that evoke the pumpkin spice vibe of the season.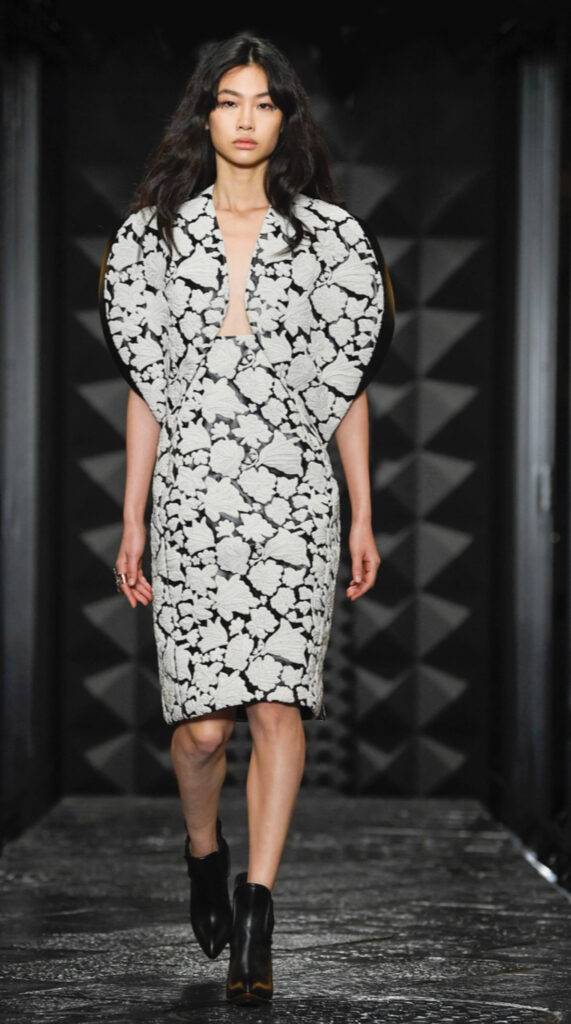 Express Yourself
Runways might dictate trends, but personal style is about identifying an esthetic that feels uniquely you. For most of us, copping looks straight from couture fashion houses isn't practical — or possible. Think of fashion forecasts as a mood board from which to pull inspiration.
If you like the look of leather, but not the idea of being encased in it, introduce a piece like Alexander McQueen's wraparound leather bustier to get the flavour without buying the whole meal. Worn under an oversize suit, over a white shirt with jeans or toughening up a floral skirt, it's a surprisingly versatile piece that plays well with other fall trends, and we're sure to see pieces at more accessible price points emulating this and other runway looks.
For some, eschewing trends altogether in favour of a reliably uniform look is where personal style lives. Whatever your style expression, dressing in a way that makes you feel good ensures that you're wearing the clothes, and the clothes aren't wearing you.