By Danielle Pope
Experts reveal how to maximize the impact — and the selling price — when your home hits the real estate market.
If you had seen Jason Binab's Oak Bay house when he first purchased it in 2010, you wouldn't think it was the same structure he decided to sell this spring — and you'd be right.
The character house on Florence Street was built in 1911 and boasted nearly 100 years of modifications, right up to 1970s wood-panelled walls and dirty pink carpet. Now, the renovated beauty is as much show-home as it is family dwelling, with clean cedar siding, enormous windows and a clay colour palate. This wasn't just an effort in beautification, however. Binab was able to list the property for more than double what he paid four years ago.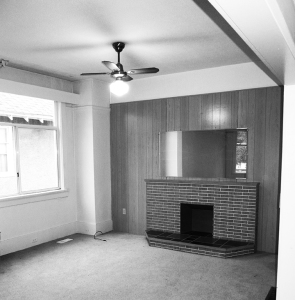 Knowing how and when to update your home is as much an art form as the renovations themselves. While it can be tempting to customize a room with your favourite sailing theme, understanding which renovations bring the best return will increase your chances of a successful sale. No need to give up those dreams of installing gold-plated toilets just yet, but what the experts suggest might stop you from pouring your money down the drain.
Everything but the kitchen sink — well, that too
Not every renovation is as extreme as Binab's. His family had planned to renovate their Oak Bay home from the start, but it soon became clear a massive overhaul was needed.
Binab, a realtor at Binab Property Group, had to apply for four variances to get the work done. He ripped the house to its studs on the main level, then removed the upper floor and created a new level with a 750-square-foot master bedroom. A large addition was added to the back of the house and contractors even dug into the basement to pour a new foundation. Despite the changes, Binab was able to retain the original charm.
"Essentially, the house is brand new," he says. "It was an extreme renovation but it was so fun, in the end, to see our vision come to life."
Along with the benefits of having a tailored home base, the numbers add up. The house cost Binab $483,000 in 2010. With the overhaul completed in one year at $550,000, Binab was able to list the property in March for $1,195,000.
Where the value is
There's a lot of space between a complete revamp and a few upgrades, however, and the top-value renovation for almost any house is clear: kitchen and bathroom.
"The kitchen and bathroom are usually the first two things you see and think, 'Oh man, if these aren't updated, what else haven't they done?'" says Amy McGeachy, interior design professional and host of CHEK TV's Design District. "If you walk in and see '90s-era pink walls, some people won't look past that."
Clean lines, textured tiles, bamboo flooring and stainless steel appliances remain popular, but the changes need to be more than surface: kitchen and bathroom upgrades should turn the space into an attractive, functional area for a wide range of users.
"There are always little flaws you learn to live with, like a dishwasher that can't open all the way beside a door, or a bathroom cabinet that's the wrong height, so you have to consider those things in your upgrades and do what makes sense for the space, not just what follows a trend," says McGeachy. "There should be a home for everything."
While kitchen and bathroom renos can range from affordable to astronomical, Binab says so long as you stick within the value of the home and neighbourhood, every dollar invested is likely to return you at least $1.25.
"I have a client who bought a house for $680,000 in Broadmead," he says. "They spent about $30,000 in the kitchen — including appliances — and $30,000 between three bathrooms, then added some paint and a new deck. Their house sold for $830,000."
Back to basics
While shifting the look of a house can be a romantic notion, realtor Mike Garman says the most valuable renovations aren't so sexy.
"There are three things every buyer wants to know about: the windows and roof, the perimeter drains and the presence of an underground oil tank. If you take care of those three things, you will be ahead of the game," he says.
Owners and buyers can contact their local fire department to find out if there is or ever has been an underground oil tank located at the property. While removal can be costly, the safety risk is a common concern for Victorians and will completely deter buyers, says Garman, who had his own construction business for 14 years before joining forces with his brother Scott at Sotheby's International Realty Canada. Windows and roof should be replaced to standard (typically every few decades), and the same goes for drains around the house.
"When you're looking at spending $15,000 on renovating a kitchen or underground drains, of course people want to do the kitchen, but those drains will be bad news if you don't take care of them."
While home-improvement networks have fuelled a do-it-yourself culture, Garman says the value comes from doing things the right way. That means getting all the necessary permits (technically, you even need one to swap out a chandelier), or hiring a professional to do the job.
"Shows like Extreme Makeover have distorted our views about how easy and quick it is to do improvements," says Garman. "The first things buyers are going to want to see are the records and the signs that a project was done correctly."
Location matters, but so do the details
Before you get out the drawing board, Garman urges clients to understand the limits of a property's location.
"Every neighbourhood is different, and you have to know your demographics to know whether or not a renovation is a good idea," Garman says. "If you're in Vic West and you put in gold toilets and marble floors, you're never going to get that back … you have to keep in mind what your ideal buyer values."
Growing up in Victoria, Garman has a pretty good idea of what the market will bear. He says Langford families value affordable space. Gordon Head homes should come with rentable suites. Fairfield clients want ensuites with a bath and three bedrooms on the same level. People purchasing in Oak Bay and Uplands want to see quality construction and high-end materials. Those aiming for a downtown condo want sleek, modern looks
and bright space.
"Really, the worst thing you could do is put in a reno that doesn't fit the rest of the house," Garman says. "Sometimes, what you really need to do is just clean the house up.
Everything is in the details."
Let there be light
When it comes to details, little can replace the importance of good lighting. Luckily, it's also one of the cheapest and easiest renovations for your home, with a guaranteed return.
Jack Petrie, owner of Newport Realty, turned his dated 1970s kitchen into a French country masterpiece, thanks in part to the skylights and recessed lighting that showcases his new tile flooring, almond walls and white cupboards. Petrie says the goal should be creating a place where guests want to hang out — and lighting does a lot of that heavy lifting.
"When you're renovating, you have to think about light. You want a room that inspires you to sit down and spend some time there, and have friends spend time there," Petrie says. "If you fall in love with the light, you fall in love with the home."
Garman has a similar stance. The realtor used pot lighting to "raise" the ceilings of his Gordon Head home, then went one step further and lengthened his windows by dropping them down an extra foot.
"It isn't easy to widen a window, but lengthening is a simple task and, for the few hundred dollars it costs, you will get that back a thousand times over," Garman says. "Everyone who comes into our home is surprised by the brightness and the view."
Going above and beyond  
Lisa Williams markets a view as much as she does an estate. "There is a certain price point where buyers expect they won't have to renovate," says Williams, a waterfront and unique property specialist with Sotheby's International Realty Canada. "But they understand they may have to for the right place, and that's reflected in price."
Even at the multi-million-dollar level, kitchen, bathroom and natural light reigns supreme, but quality is paramount.
"When you can pay $3 million for a home, you aren't going to be taken to the cleaners," says Williams. "These clients are looking for value and they can see a real difference in the character of work."
Be careful with customization
Even when you've found your dream home, Williams says focusing on renos that make a property appealing to the masses is one of the most important things you can do — resist the urge to get too customized.
"Plans change. If you install that glass-blown dining room fixture you bought in Las Vegas for $25,000, you're not necessarily going to find a buyer who agrees with your taste," she says.
"Sometimes, it's fine and you understand that money is never coming back, but it's a challenging market for everyone right now. You have to be smart about what you do to your home."