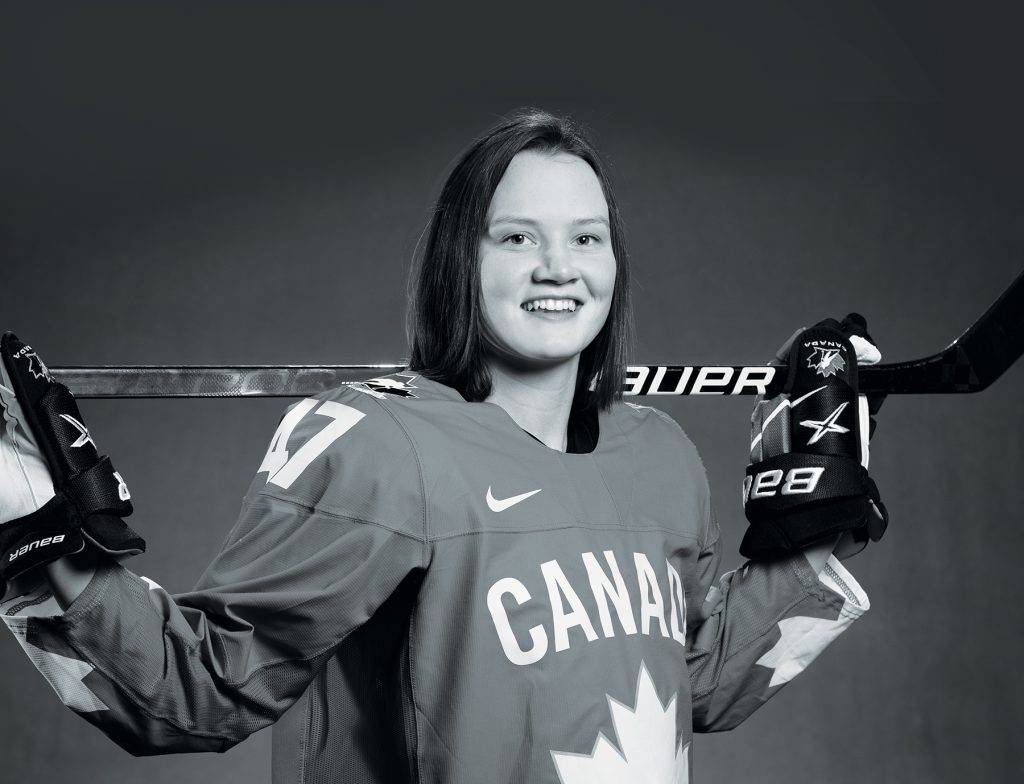 BY JENNIFER HARTLEY
The first hockey player from Vancouver Island to play on the national women's team, captain of the 2015 silver-winning International Ice Hockey Federation Under 18 Women's World Championship team and one of the top Canadian players for that tournament is none other than hometown hockey dynamo Micah Zandee-Hart.
Most recently, she made us even more proud as part of Team Canada's women's hockey team at the Olympics, bringing home the gold. She also made history as the first player from the province to play on the Olympic roster for women's hockey.
In short, she is hockey royalty. While she is a highly accomplished athlete, she is also kind, focused and surprisingly calm, (must be the Victoria vibe flowing through her veins).
What is your idea of perfect happiness?
For me, it's being able to be able to do something that I don't consider work. I am already doing something I love, so I am perfectly happy.
What is your biggest fear?
Disappointing those who support me, not that I think I have, but it has always been a huge fear.
Who do you admire most?
That is an easy one because it is my mom. The best part about her is that she finds joy in everything she does. She works with seniors, and they love her and she loves them. There is a mutual respect. She finds joy everywhere and is grateful for everything.
"The people who have had the most impact on my life have been my coaches and teachers."
A book that positively shaped you?
Leaders Eat Last. Leadership takes different forms. Read it!
Most important lesson you have learned?
That is a whopper. I have learned so many things, but I think the biggest one right now is the notion you get out of life what you put into it. It applies to everything.
What makes you laugh?
Sarcasm. I come from a lot of chirping and ribbing. Seinfeld, Friends always get me.
What are three things you can't live without?
My journal, music, and activity or exercise.
What does a hockey hero like you do in your spare time?
I connect with my family since I am away a lot. I am a TV junkie, and I enjoy reading and writing, too. I write on my computer, in a journal, wherever I can. [Stay tuned for a book from her one day.]
Three words to describe yourself?
Determined. Optimistic. Calm.
Best advice you've received?
My mom always told me: "You have never walked a day in someone else's shoes. Say 'hi' and 'thank you' no matter where they come from and have your heart open to other people."
What comes next?
Hopefully, the next Olympic cycle (or two) will work out for me. I also love coaching. The people who have had the most impact on my life have been my coaches and teachers. In fact, teaching in general and being a role model is my second passion, so hopefully something long term comes along. [Micah graduated from Cornell University in 2020 with a degree in psychology and a minor in English.]
This is YAM's City Issue … so what do you love about Victoria?
First and foremost, I love the ocean. I just love all the different parts of Victoria. Growing up on the Saanich Peninsula, you are surrounded by animals, the ocean and farms. Downtown has an old-city vibe and is full of culture but then drive three hours up-Island and you can ski. There are so many different parts to the region and so many people from different places. There is so much here to love.
Indeed. And Micah, we love you.