It may look like a frivolous Hollywood accessory, but your bar cart can make entertaining both easy and elegant.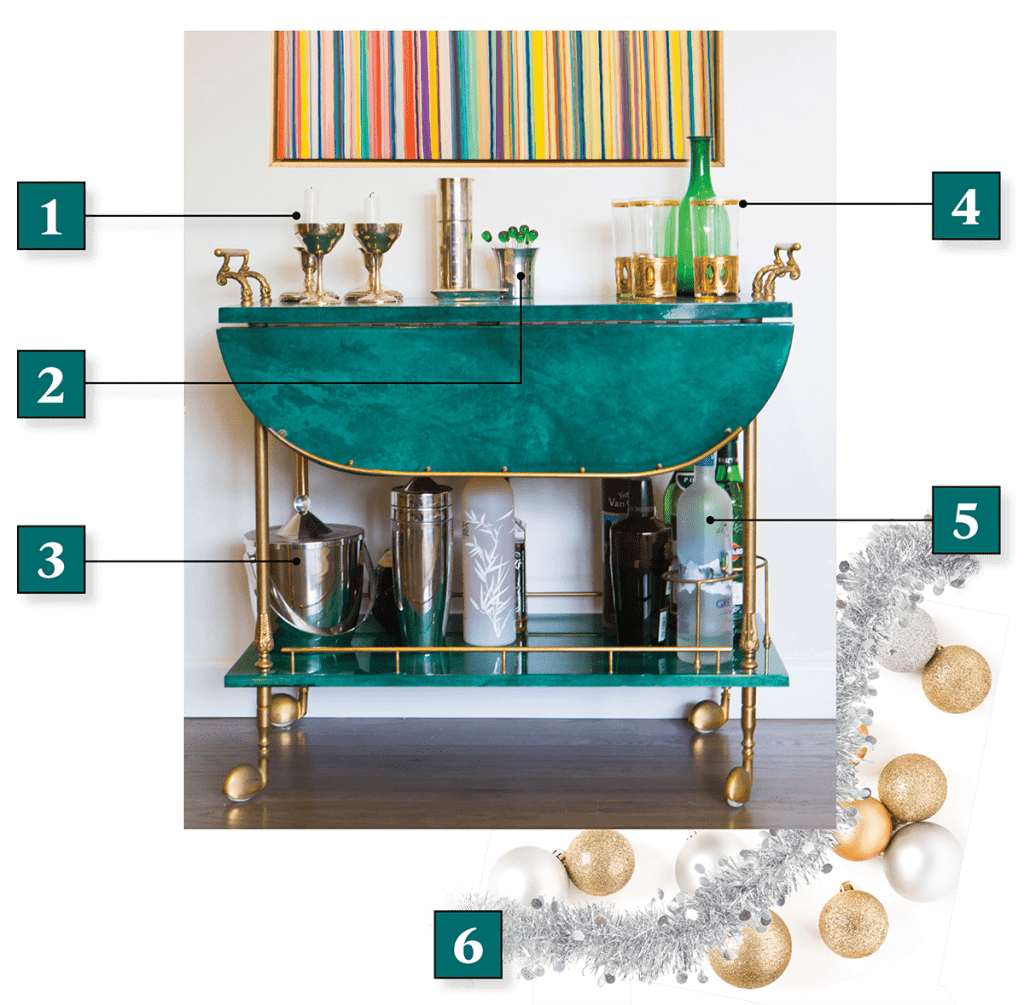 The rest of the year your bar cart may be a repository for books and bills and other detritus, but holiday season is its time to shine. Keep it well-stocked, and it will make your entertaining both easy and actually enjoyable.
In her new book, The Five-Bottle Bar: A Simple Guide to Stylish Cocktails (Touchwood Editions), author Jessica Schacht has a whole section dedicated to "The Art of the Bar Cart." She suggests stocking it with all the essential tools: shaker, mixing glass, bar spoon, strainer, glassware, ice bucket "and then something to make cocktails in."
"I also have a couple of decanters that I like," she says. As for spirits: "Gin and whisky, I would definitely recommend on the bar cart for making easy cocktails. If you have gin, whisky and amaro, you're going to be able to make a lot of cocktails."
Shawn Soole, the bar manager and executive barkeep at Clive's Classic Lounge, suggests stocking "middle-of-the-road, versatile base spirits; not too cheap, not too expensive, but ones that you can use in multiple drinks, or sip neat." He suggests starting with the basics — gin, vodka, rum, bourbon, rye and tequila — then adding modifiers such as Campari, sweet and dry vermouth, simple syrup and citrus.
"A gin that can stand up both in a gin and tonic or a gin Martini, or a bourbon that makes a fantastic Old Fashioned, but can also be sipped neat later in the evening — those are the best brands to get," he says.
Most importantly, he adds, "Entertaining shouldn't be stressful — Christmas already is." The perfect bar cart will let you roll that seasonal stress right out of your house.
Wondering how to stock your bar cart? We've got some ideas for making it both beautiful and functional:
1 | Stock your bar cart with some pretty glassware for the kinds of drinks you like to serve, such as coupes for "up" drinks and Collins glasses for long ones.
2 | Along with your glassware, include a decanter or two for house spirits or premixed cocktails.
3| Add a few bottles of basic spirits for the drinks you make most often, especially gin, vodka, whisky and vermouth.
4 | Don't forget the bar tools and accessories.
5 | Just before guests arrive, fill your ice bucket with fresh ice.
6 | In addition to stocking it with the essentials, you can dress your bar cart up for the season with festive garlands and ornaments.