Get out of the mall and into the true spirit of the season with these high-touch/low-stress December events at the Royal BC Museum.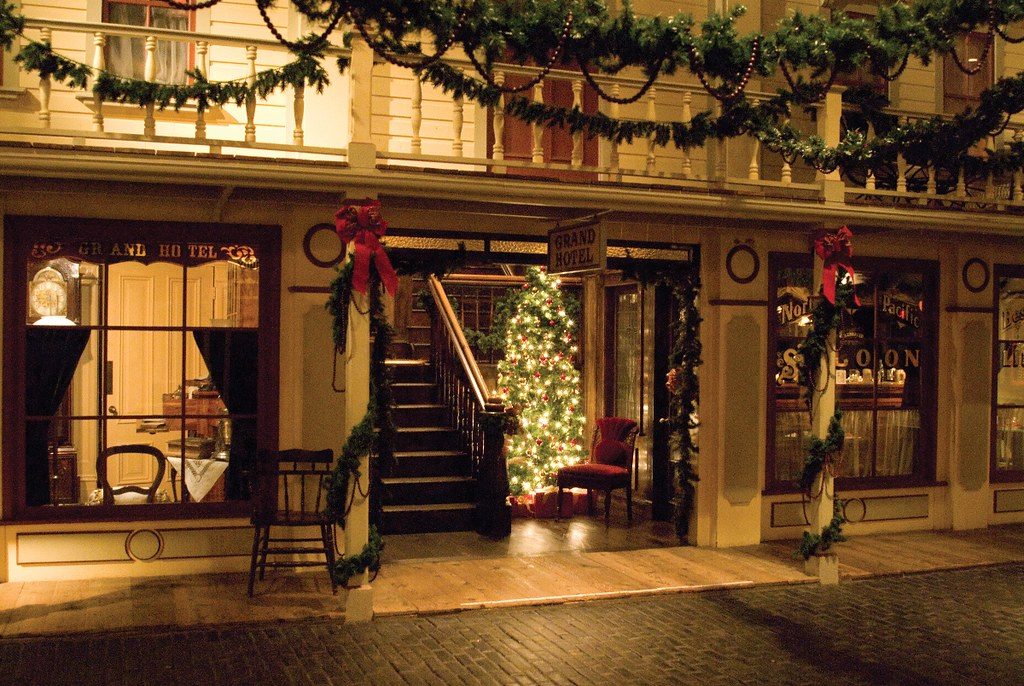 Kick off the season on Dec. 1 with the 13th annual Carol-Along with the Carillon on the Royal BC Museum plaza from 4:30-5:15 pm. It's a one-of-a-kind carolling party led by Provincial Carillonneur Rosemary Laing and the Newcombe Choir. Hot chocolate and cookies provided! Free.
Starting Dec. 6, Father Christmas returns to Old Town to hear the holiday wishes of the young—and young-at-heart. He'll be on his throne every Friday, Saturday and Sunday until Dec. 22, from 11 am to 3 pm. Included with admission or membership; photos by donation: $5 suggested. Keep the old-timey vibe going with a visit to Helmcken House—the oldest house in British Columba still on its original site—for a living history tribute to the Christmas celebrations of a bygone century. Open noon-4 pm until Jan. 5; included with museum admission or membership, or by donation.
It's a mix-and-mingle without a hint of Kris Kringle at the next Museum Happy Hour! Come to the Natural History Gallery on Dec. 12 from 5:30-7 pm for a Festive Non-Holiday Party complete with drinks and light refreshments—and not a Christmas tree in sight! ($10 per person; food and drinks available for purchase.) Let the kids make merry too—our Parallel Play Childminding is available for this event (5-7 pm; $15 per child).
Make time for Maya: The Great Jaguar Rises! The acclaimed feature exhibition closes Dec. 31 and makes a perfect holiday outing for visitors of all ages. Don't miss this multi-sensory feature exhibition which has earned rave reviews for its rarely seen artifacts and family-friendly interactives. (Tip: come for the exhibition and stay for the gift shop, featuring beautiful sustainably sourced, fairly traded handcrafts from Guatemala!) Included with admission or membership.
Chill Out with the family during Wonder Sundays on Dec. 1, 8, 15, 22, 29 from 1-3 pm in the new Learning Centre. Explore the art and science of snow and cold through fun interactives: discover the peculiarities of penguin feet, the benefits of blubber, and the beauty of the seven basic snowflake shapes. Included with admission or membership.
Baby, it's cold outside! Warm up with a hot chocolate from Sequoia Coastal Coffee and get to know "Buster": an entirely new species of dinosaur—Ferrisaurus sustutensis—and the first dinosaur species unique to BC. He, and the work of paleontology curator Dr. Victoria Arbour, are the focus of the Helijet-sponsored Pocket Gallery (in Clifford Carl Hall) until Feb. 26, 2020. Buster is one of the most complete skeletons ever unearthed here in BC. Free.
Bond with a book this holiday season—or give one as a gift! Check out the fascinating history titles at rbcm.ca/books or ask your local bookseller for books published by the Royal BC Museum.
Celebrate the arrival of 2020 like Maya royalty! Join us in the rainforest setting of Maya: The Great Jaguar Rises at a jungle party for the ages. Fun reigns supreme at Early Shift, our annual New Year's celebration with music, activities and games suitable for the whole family. Dec. 31, 6:00–8:30 pm; $24 per adult, $16 per youth.
Note:
The Royal BC Museum will be closed Dec. 25, 2019 and Jan. 1, 2020. For up-to-date event information, visit our online calendar and museum blog.
This news release was received in November, 2019.