He tells the story of West Coast Indigenous people through powerful lines and brilliant colours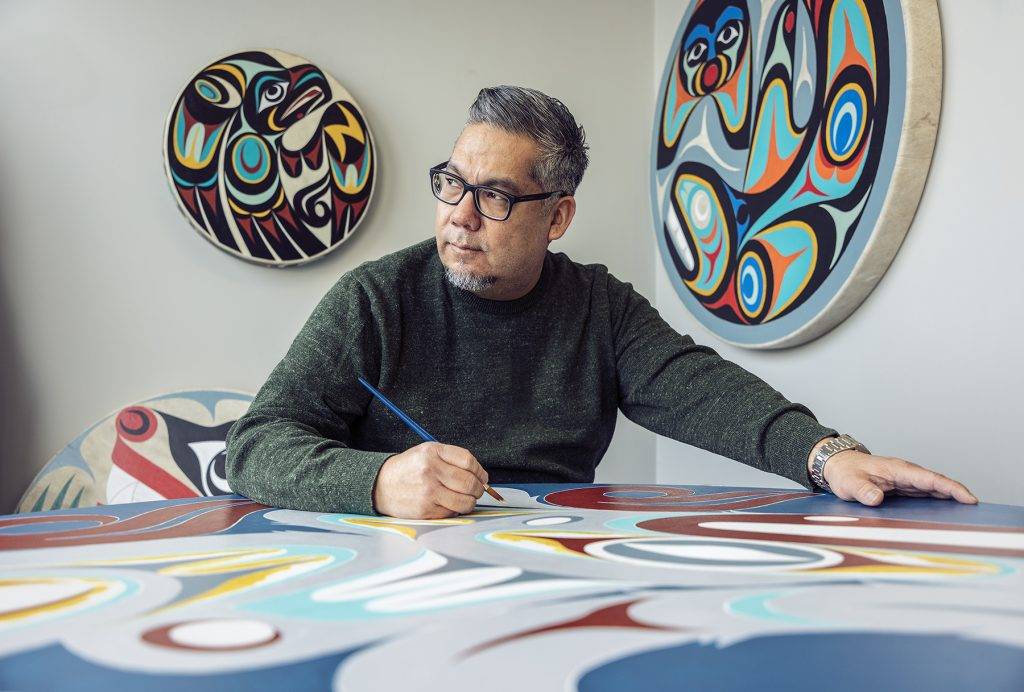 BY DAVID LENNAM
Maynard Johnny Jr. is sitting at a table in his Duncan studio, working on a new design, drawing a heron with a pencil. He'll spend hours later meticulously adding colour — from a surprisingly vibrant palette featuring turquoise, purple, sage green, yellow and bright orange.
It's this explosion of colour that has made Johnny's art pop, both artistically and commercially.
The Coast Salish and Kwakwaka'wakw artist is gaining attention of late from collectors, from peers and from institutions like BC Ferries, which commissioned him to create the wrap-around design for its Salish Heron (one of four new Salish-class vessels featuring graphics from Indigenous artists).
His work has appeared in New York, at the Juno Awards, in movies and on TV. He created the first Indigenous mural in his hometown of Chemainus and is working on an archway in front of that town's water wheel (watch him talk about all that on CBC TV's Still Standing). His design graces the jerseys of Victoria's soccer team,
Pacific FC.
As he approaches age 50, Johnny is taking stock of several decades of hard work and likes to say he's part of the Salish renaissance, bringing his culture's art forms to the forefront of the commercial market.
"I've been in the game for 30 years now and, in the last five, six years, people look at my career and go, 'Oh, you're successful, you're skyrocketing.' Well, It took me 25 years to get to this point," he says.
He's a fascinating chat: irrepressibly candid, humble and philosophical, willing to share observations, criticisms and the story of West Coast Indigenous peoples — historical, cultural and emotional.
Our conversation runs from the neo-expressionist artist Jean-Michel Basquiat to groundbreaking Salish artist Susan Sparrow Point. ("She opened the door and I walked right in.") It covers his quitting drinking, family trauma ("Without getting too detailed, I lived a really traumatic life growing up and it took a lot for me to get out of it and art played a huge role"), his friendship with Haida artist Robert Davidson ("a superstar"), getting to the point where Johnny's own work commands $100,000 per year ("I want to be able to take three months off a year to teach art to children"), and fame.
"It's not important to me to be famous … I want to teach my grandkids and my daughter it's great to have this notoriety, but accept it humbly." 
And then there is 215 (the number that symbolizes the recognition and recovery of children who died at Canada's residential schools), racism and reconciliation. "Truth and reconciliation is going to take decades. It's not going to happen in the next year or two or three or four or five," he says.
He covers all this while working on the drawing, the sound of his pencil smooth, a serene white noise against the traffic lining up next door at Tim Hortons.
I bring up how we too often give artists like Johnny labels like "Indigenous," rather than just "artist," and I expect a different response.
"I kind of like it," he says, "because it sets us aside from everybody else. Because it's ours. The reason we get so pissed off when non-Natives do our art is because this is one thing we've managed to hold onto throughout all the bullshit."
Johnny taught himself by studying the work of Davidson as well as Nuu-chah-nulth painter and carver Art Thompson and Kwakwaka'wakw artist Mark Henderson, scrutinizing how they used forms and shapes. But he veered away from the traditional black and red designs we all know, instead infusing his work with brilliant colour.
"When people say, 'Why don't you use traditional colours like black and red?' I say, 'Well, first of all, why is it traditional if it's black and red?' The only reason a majority of West Coast artists used black and red was because, back then, that's all we had access to. Salmon eggs and berries and soot from a fire; that's how we made colour. But now we have all these paints and colours available to us, so why not
use them?"
He adds: "I remember reading an interview with a Kwakwaka'wakw carver named Willie Seaweed and the interviewer asked, 'Willie, you use a chainsaw to rough out a totem pole and circle templates to make your eyes in your masks and your poles. Don't you think that's cheating or a shortcut?' And he answered, 'Why? If it makes my job easier, why not use it?' "
There was some great advice Davidson gave Johnny when he began to feel guilty of selling his culture through his art. "He goes, 'Why do you think that?' And I said, 'Because I'm making money from selling our traditional art form.' "
Davidson's response was to ask Johnny if he made ceremonial pieces and sold those. "I said 'no' and he said, 'Well, you're not selling your culture. You're showing people the beauty of your culture and sharing it with the rest of the world so that they know who we are.' "
I ask what he wants people to know about him and he exhales, considering the question.
"It changes every moment. Every accomplishment changes where I want to go, what I want to be," he says. "In the end, when I go, and hopefully it's a long time away, I want to leave a legacy that I made change for my people, made change for my family, that I made change in this country and this world that will better everybody else."
He talks about "working his butt off" to gain success, but as his star rises, he hopes his work piques curiosity about the plight of the First Nations.
"Because I'm creating this piece is not going to make the world a better place. But whoever buys this and says, 'Man, I wanna know who Maynard is 'cause I really like this heron,' they look me up and go, 'Oh, he's done work with Hope and Health, Pacific FC and BC Ferries, did a mural in Chemainus, did an archway in Chemainus. He's made change in his community and his world and for Indigenous people.'
"I want people in my community and my territory and province and country to look at Indigenous people through a better lens than what they've been shown so far," he says. "We are an amazing people. We've thrived to make it through all the oppressions and racism of Canada and we're still here making a difference in this world for the better."
He pauses, maybe reflecting on what he's told me, but then adding the essential coda.
"I want my grandkids to look back and go, 'Wow, my grandfather did a lot of great things for his people, did a lot of great things for his community."