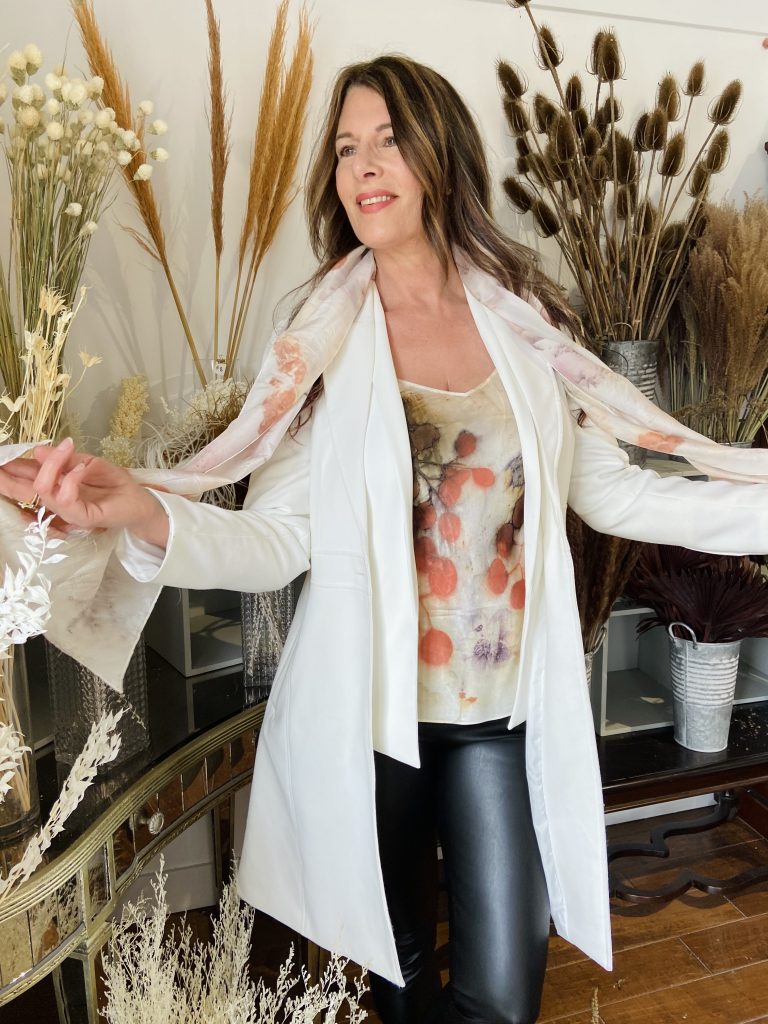 by Emily Dobby
When the Coronavirus was unleashed on the world, Victoria-based Salish artist Sandra Froher retreated to the natural world; she began to spend more and more time outdoors, absorbed in a quiet dialogue with nature.
She started experimenting with natural dyeing and instantly felt a kinship with the process – a practice that was passed down through generations from her Coast Salish ancestors.
It was only four years ago that Sandra reconnected with her Stó:lõ ancestry and her Skwah First Nations roots in the Fraser Valley. Her Stó:lō ancestry dates back to the late 1800s as a descendant of her great Grandmother Tata Mary Ben wife of (William Prest) Shiatox of the Skwah reserve in Chilliwack, BC.
Her family had long been disconnected from the First Nations part of their heritage and she felt a sense of peace wash over her when she learned about her extensive network of Skwah First Nation family (around 300 cousins): "There is a feeling of calm that so much love is present in our family; there is a newly discovered strength among us and the possibilities for more connection once Covid is gone is endless," she says.
Since the reunion of cousins, Sandra and her direct family have received their Status and have bonded over their rich cultural heritage.
She began communicating with this web of relatives and re-connecting to rich stories from her ancestors about Indigenous ways of knowing and healing from nature: "Having a connection to the reserve means I can walk on the lands of my ancestors and feel their presence… I can't wait to forage from the lands to tell my story through art."
Her eco slow dying practice emerged as a process that felt like a rediscovery.
ECO SLOW DYEING
Eco slow dyeing brings together the therapeutic energies of plants, their healing virtues, their beautiful fragrance, as well as the spiritual beauty of land and place.
The tradition of natural dye making has been around for hundreds of years. Coast Salish women were chosen to pick plants for medicinal healing and colour dyeing.
The eco pigment process begins by connecting with nature through walking, foraging, and gathering indigenous plant materials to create a dialogue around land, memory, and kinship.
Sandra loves foraging Maple leaves, Blackberry leaves and berries, Rose Hip berries, Hawthorn berries, Stinging Nettle leaves, Wild Chicory flowers, and Salmon berries. When she ventures out on a foraging trip, she only selects what she needs and respects the reciprocal give and take of the cycle of nature.
She then creates a mordant using found rusted iron which intensifies the strains in the plant cells and tissue preparations to adhere to the silk fabric. Some of the dye baths include other materials such as green tea, and purple cabbage to change the colour of the silk.
Through a ritual of care and labour, she bundles the organic materials tightly with string in the fabric, before the layers are stacked and steamed over hot water for many hours.
From start to finish, the foraging, bundling, possible soaks in baths to steaming, and then ironing can take up to five hours.
Her favourite part of the dyeing process is connecting with the great Creator and being on the same energy field as nature when picking plants: "It's like the closest thing to being with Creators energy," she says. "I also love the surprises while unbundling the silk, the heavenly smells in your home while steaming the preciousness of each piece."
The natural dyes blend well together because of the variety of colour molecules, or chromophores in each pigment which can be changed by adjusting the pH levels. This is different from industrial dyes which are made from one or two colour molecules that can produce a lack of harmony in appearance.
Sandra's oeuvre is to convey a dialogue around the coexistence of human life and nature through energy and colour.
She finds herself investigating traditional dyeing methods in order to slow down, and think with care and gratitude for the land, its healing properties, and pay respect to her ancestors' ancient knowledge of botany and natural healing.
Her kinetic energies materially transform into washes of colour and texture. Her art has always been an energy process: "My passion for art first emerged on a professional level when I sculpted my own body to become an award-winning, world-class champion athlete."
Eventually, she channeled energy through her body onto fabric and the canvas to describe what she calls 'energy art'.
For more information about Sandra Froher: https://www.sandrafroher.com