Slip into September with new menus, new techniques and autumnal flavours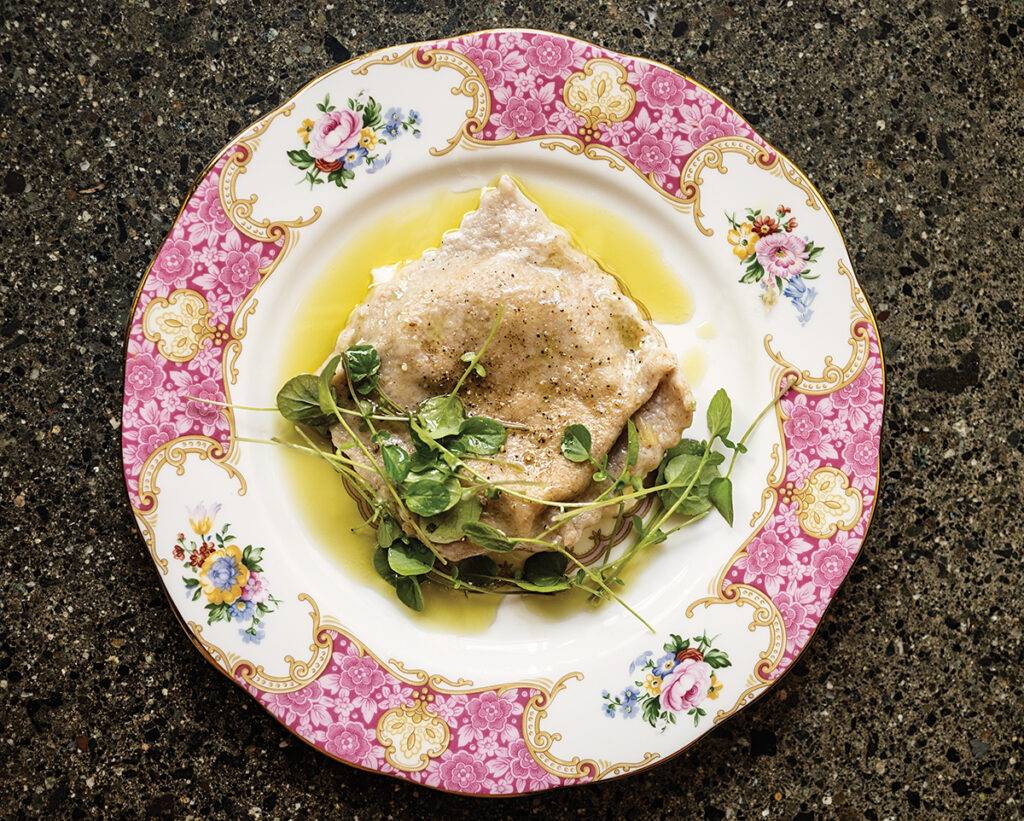 BY CINDA CHAVICH
Return of the Tasting Menu
Is it a sign of the times?
The tasting menu may seem like an elaborate — and sometimes expensive — way to dine. But we're seeing more chefs dumping their à la carte selections for a fixed menu, or at least a very clearly curated one.
For a small, chef-run restaurant, it can be the best way to organize the kitchen, ensure consistent staffing, control food costs and reduce waste. But it's also a win for the diner looking for top-quality cuisine and ever-changing seasonal menus from chefs who constantly push into new territory.
Nowhere *A Restaurant is a prix-fixe, tasting-menu-only restaurant, with multiple courses (usually eight, but up to a dozen) based on what's available any given week. There's only one chef cooking, so the tasting menu usually has some unexpected and eclectic selections. It's always an experience.
Ugly Duckling Dining & Provisions, chef Corbin Mathany's new contemporary restaurant in Chinatown, offers two menus that change weekly — a three-course menu (with three choices per course) and a six- to seven-course tasting menu. Both are always a revelation and an amazing window into his kitchen's creative talent.
The Courtney Room chef Brian Tesolin excels at the tasting menu, too, this year celebrating the restaurant's fifth anniversary with a tasting menu of their greatest hits — such as stinging nettle ravioli or yuzu custard with caviar and surprise pop rocks.
For parties of 8 to 12 guests, AURA's Ken Nakano offers a chef's tasting menu at the Inn at Laurel Point, with several courses including seared scallops with XO sauce, cured and glazed pork belly and chicken breast with wheat berries.
Many restaurants around town also routinely organize dinners with visiting winemakers, like the ones at Zambri's, which feature live-fire cooking from their new head chef Matias Sallaberry. The Oak Bay Beach Hotel hosts a winemaker's dinner series throughout the year, too, with multi-course menus created by executive chef Kreg Graham.
Brewery & the Beast
Topping off the festival season is Victoria's favourite day of craft beer and meaty noshes, Brewery & the Beast, September 24 at Starlight Stadium in Langford.
One $150 ticket gets you into the main event — an all-inclusive pass to an afternoon of food, drink and live music.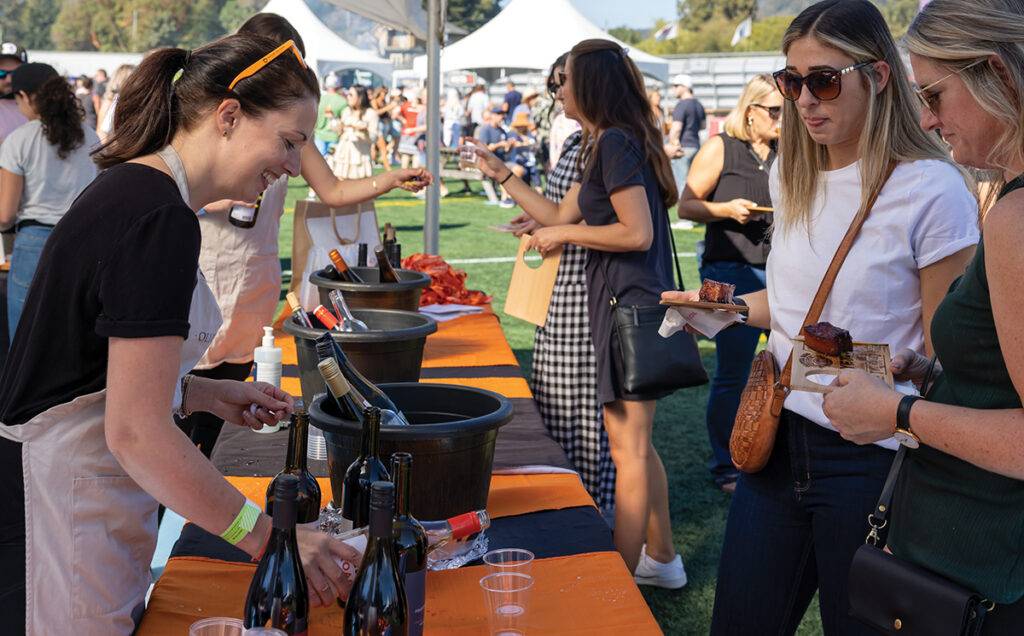 For libations, there's beer from our many local brewers, as well as cider, cocktails, wine and non-alcoholic beverages. On the food side, expect to find your favourite city chefs firing up the barbies for lots of smoky snacking, from meaty bison ribs and cowboy steaks to smoked salmon, wicked wings, pork belly burnt ends and suckling pig porchetta sizzling
on the spit.
Last year's lineup included visiting chefs, too — like Ontario Indigenous chef Zach Keeshig of Naagan serving his smoked duck and salmon, and the team from Tofino's Lil' Ronnie's Beachside BBQ — so expect some delicious surprises!
Dry and Delish
You may have heard about dry-aged beef — the way to take a steak into the tenderest territory — but now city chefs are dry aging fish, too.
Dry aging in temperature- and humidity-controlled conditions improves the flavour and texture of fish by removing excess moisture, leaving a tender, clean-tasting result. It's a technique that's been used by Japanese sushi chefs for centuries, and it's becoming popular among a new generation of chefs on this side of the Pacific. Aging can tenderize lesser cuts and increase the shelf life of fish, so it's also a good way to reduce waste in the kitchen.
If you'd like to try the results, some city chefs have added dry-aged fish to the menu.
At end dive, fish is aged in a special refrigerator imported from Germany. Whole fish, including local salmon and albacore tuna, are received from Finest at Sea, cleaned and then hung on hooks in the dry-aging fridge. The albacore is typically used in crudo, tartare and ceviche dishes while salmon, aged with the skin on, is pan-fried and basted with butter for a tender and crisp result.
And with a high-tech Italian dry-aging chamber, The Courtney Room serves a full selection of dry-aged beef cuts plus aged fish dishes like its 14-day dry-aged New Zealand kingfish crudo. 
Nuts for Hazelnuts
Did you know that a species of hazelnut grows wild in British Columbia? The native Corylus cornuta or beaked hazelnut is a tall, bushy shrub found in the province's Interior and coastal regions. It produces a small nut that has long been a food source for Indigenous people, who also used the young branches for weaving and the roots to produce an intense blue dye.
B.C. also has a small number of commercial hazelnut farms, with nearly a third of B.C.'s hazelnut production coming from Vancouver Island and the Gulf Islands, and the rest from the Lower Mainland. A blight nearly wiped out the fledgling B.C. hazelnut industry a decade ago, but with the help of provincial government grants, many growers have replanted their orchards with newly developed blight-resistant varieties. Production is rebounding.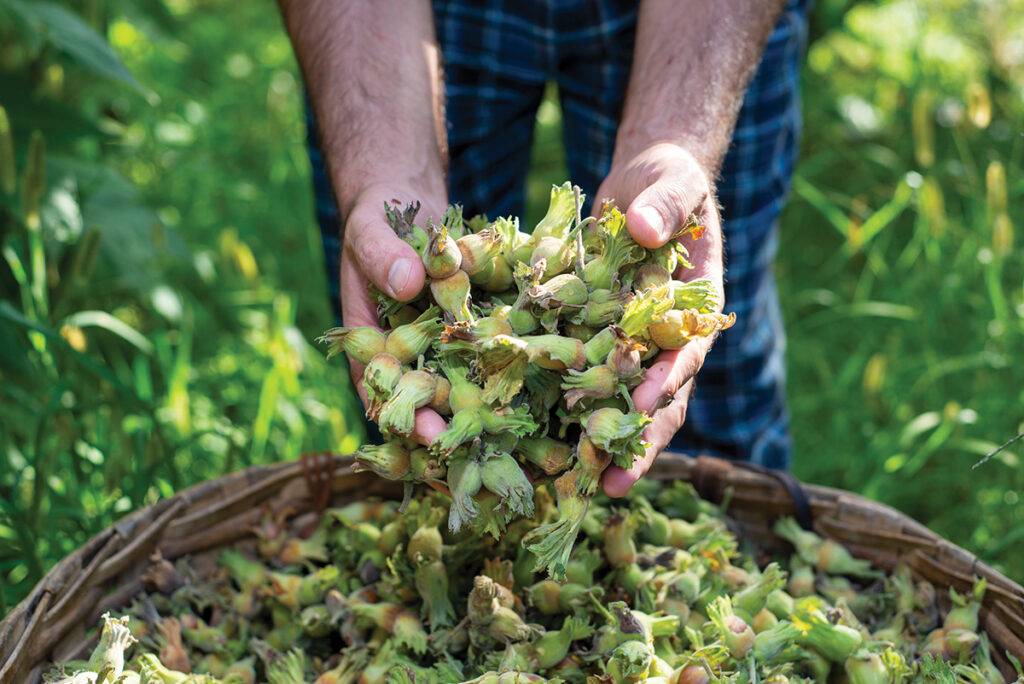 The vast majority of the world's hazelnuts are grown in Turkey and one-quarter of global production goes into the popular spread Nutella. Though B.C.'s production is tiny by comparison, growers say hazelnuts have been farmed here since the 1930s and, as in Oregon, the main U.S. growing region, our coastal climate is perfect for hazelnuts.
Hazelnuts are harvested in October, so look for locally grown hazelnuts from Island Hazelnut Farm in Ladysmith, the Healing Farm in Saanich and Sea Bluff Farm in Metchosin. Find them at farmers' markets and small grocers like The Local General Store or The Fickle Fig Farm Market.